Last year I read two books that significantly changed the way we managed the boys' schoolwork. The Board is a result of reading those books, and while I never planned to post this project here, it made such a difference in our lives that it's worth sharing.
It's best to begin at the beginning, which in this case was 2016. I was at my wit's end regarding the boys' lackluster executive skills. This is the diplomatic, millennial way to say they were disorganized, messy, and constantly forgetting their homework and obligations. They always did their homework, but they didn't always turn in their homework. Sometimes it was on the table, sometimes it was in their backpacks. Sometimes they forgot their music instruments. Sometimes they forgot their altar serving assignments. Sometimes, sometimes, sometimes I felt like I was always yelling.
The first book I read was Smart But Scattered. This book was great in helping me identify their strengths and weaknesses and reminded me of the obvious–we don't all share the same gifts and what comes naturally to one (mom and dad) may seem daunting for another (Mikey and Nico). It also disabused me of the notion that once they hit middle school they magically mature into multi-tasking wizards.
Once children reach middle school, the demands on executive skills increase dramatically–and, we would argue, in many cases unrealistically. […] That means more support, rather than less, is critical. Think about how children learn to ride a bike. At the point where the training wheels are removed, they need more guidance, encouragement, and support from parents than they did when they were riding around with training wheels. The onset of adolescence, and the brain growth that accompanies this stage, requires the same thing.
The second book I read was even more amazing and focused on boys: That Crumpled Paper was due Last Week: Helping Disorganized and Distracted Boys Succeed in School and Life. This is the book that inspired The Board and changed our lives forever. The Board is the tool that helped me guide the boys while still allowing them to build and develop their executive skills.
Warning: The Board is not for everyone.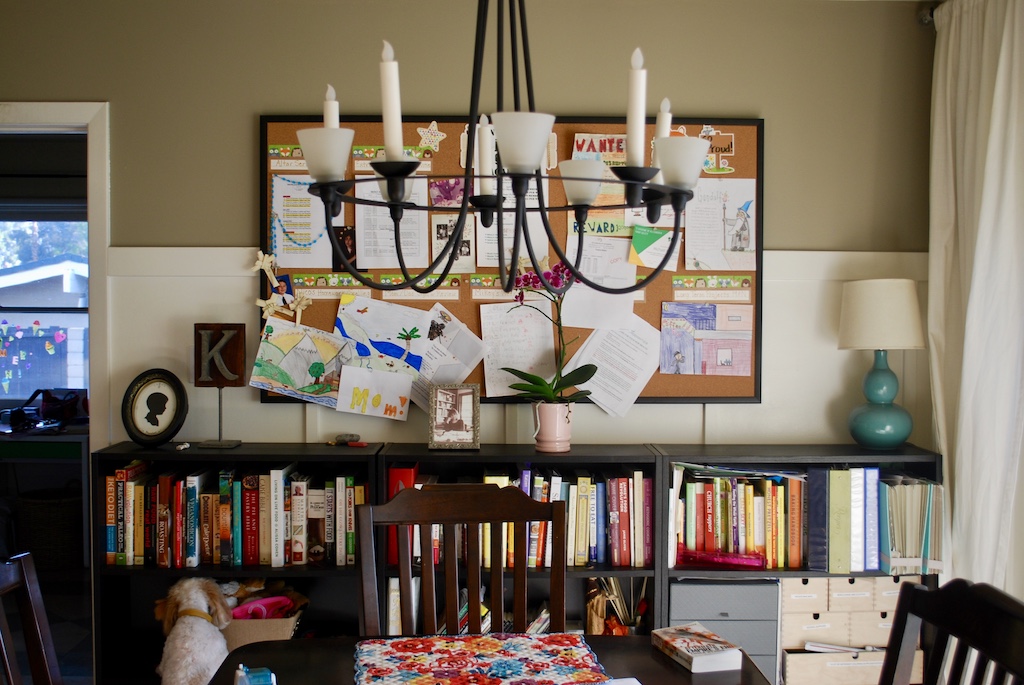 Based on their "dis-organizational" style, I determined that Mikey and Nico function best with clear, visual reminders displayed in a prominent location. They also needed set locations for frequently accessed paperwork/longterm assignment instructions, a bin to place items for us to sign or review, and several calendars. I bought a 5'x3′ bulletin board and turned my dining room into a War Room.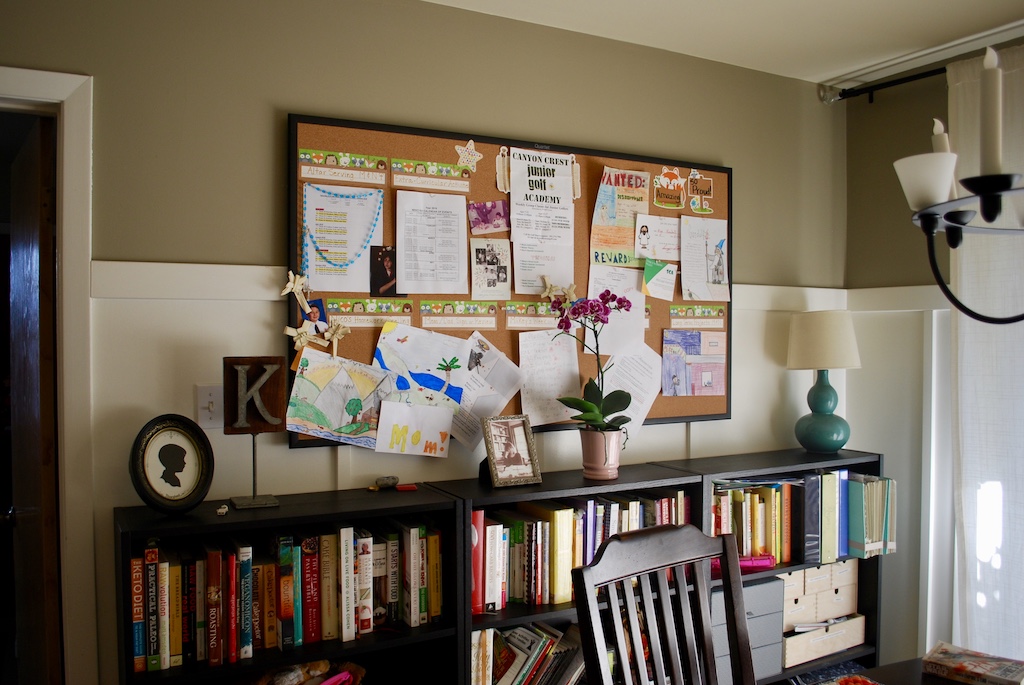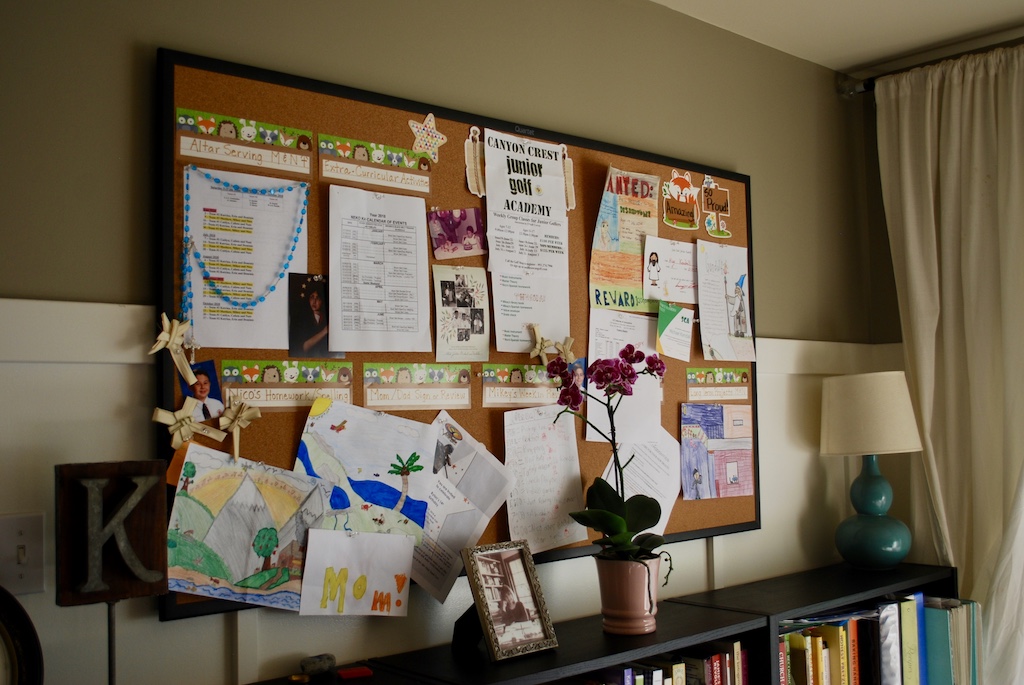 This is what it looks like after the end of a very successful year. The bottom row has been usurped by Nico's artwork, but I'll walk through what it looks like normally.
I took the boys to a school supply store and had them pick out nameplates for me to use as headers. Nico chose a Woodlands Animal theme. I used the nameplates to create the following sections, which you can see starting from the top left moving in a clockwise formation.
Altar Serving (their quarterly assignment calendar)
Extra Curricular Activities (karate, game schedules)
Every Day (not seen as well in this picture because it's blocked by a golf camp flyer, but there's another picture below)
Amazing/So Proud (where they pinned whatever work they were proud of)
Long Term Assignments (where they pinned instructions for longterm assignments, MLA format guides, or anything they needed to refer to more than once)
Misc/Special Events (here is where they pin school flyers, coupons, party invitations, etc.)
Mikey's Schedule (Mikey posted his weekly homework schedule here, though by the 2nd trimester he didn't need to anymore)
Mom/Dad Sign or Review (filed trips forms, permission slips, etc.)
Nico's Schedule (Nico pinned his spelling words/homework contract here)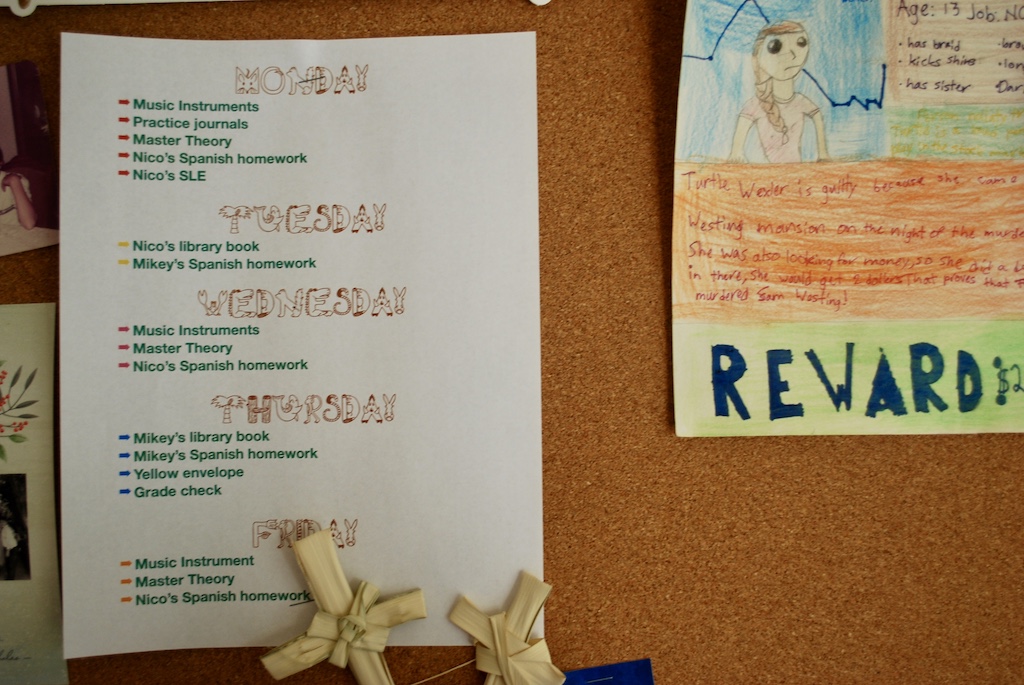 Here is a closeup of the Every Day schedule (blurry, sorry, wasn't expecting to share this online). This is a quick list the boys checked before heading out the door. Nico chose the fonts and colors with Mikey's approval. Both books made it clear that the children have to be a part of the process or it won't work. I came up with the idea for The Board because Mikey did well with a tiny board he had above his desk and Nico kept trying to put his stuff on it, too. They said they wished their whole life could be on a board. Wish granted.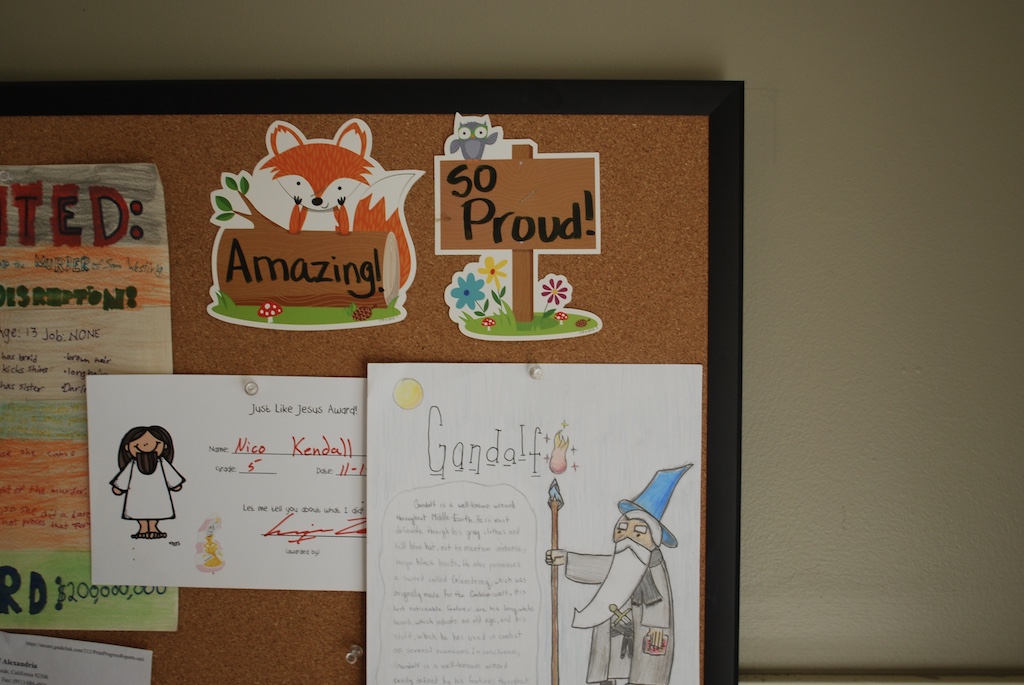 Close up of the Amazing/So Proud section.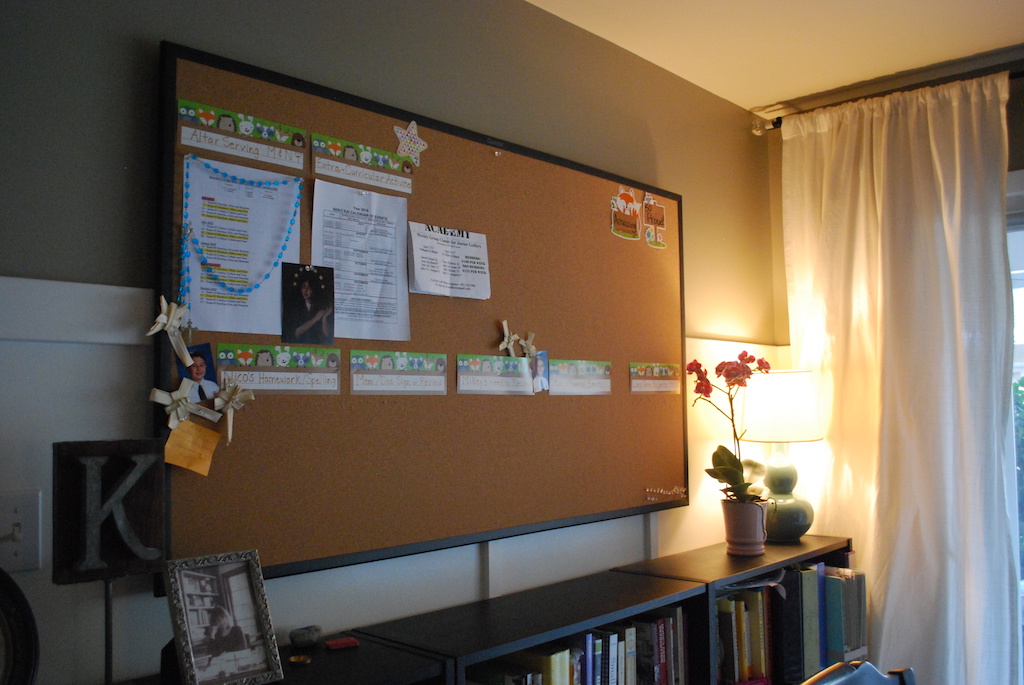 Here is The Board with everything down for the summer. The only calendars left are altar serving and karate, which are year round. I know it looks like a cluttered mess above, but during the year it was pretty tidy and, more importantly, it worked so well for us! Because Nico's homework contract was right there while we ate, we ended up doing spelling bees during dinner, or helped him memorize the Preamble to the Constitution, or talked to Mikey about the school dance coming up, or discussed our plans for the weekend based on the calendars. The War Room made dinner peaceful.
Many of my friends told me straight up that they would never, ever do this to their dining room. That's fine! I agree it's not for everyone. Most people use their phones to do what I did, but that didn't work for us. A friend of mine adopted the idea for her son and bought a large board for above his desk. Another friend relies heavily on a planner. At the end of the day, you have to do what works for you or it won't work at all. Three cheers to finding what works!
EDIT: I had a request for a picture of The Board when I first posted about it last year on FB (personal page, no link). Here is a cell phone picture I found from October 2017, shortly after our lives changed for the better.