Today feels like a good day to reach across the table and pull towards my chest piles of words on various subjects tangentially related, if only so I can deal them out to you rapid fire like a poker dealer under pressure. You are in for a treat. We'll start with an update on my TV watching progress, briefly discuss alarming manscaping trends in Hollywood, rant about weird people on social media, and close with my plans for the blog.
I've gone from never watching TV to watching The Walking Dead, Fringe, Sleepy Hollow (recommended to me by a student), Tudors, and Hell on Wheels. Movies are still hit and miss, though I did watch several excellent miniseries over the spring and summer. You can read my post on that here. [Spoiler: watch Arn: The Knight Templar]

The Walking Dead I continue to watch, even though it's teetering on the ridiculous for me now. Confession, and this annoys my husband to no end, I usually get bored with TV shows after the 3rd season. I'm at that point with The Walking Dead. Last week's episode with the wall of walkers and the outbreak in the sick ward had redeeming qualities, so I'm not giving up. I had to watch while pacing the room in a panic, which is what I expect from a show about a post-apocalyptic world.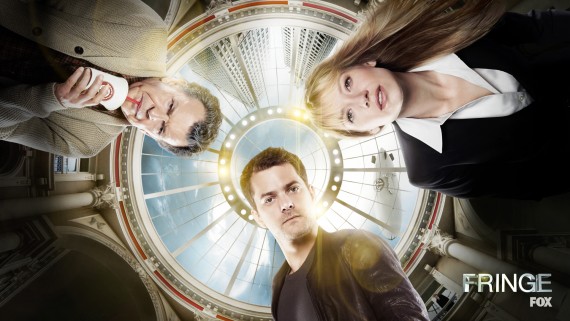 Fringe is a show my husband loves thanks to your recommendations. I started off loving it, but we've hit the 3rd season so my interest is waning. I don't see where the series is going once they wrap up this plot line, and I can't see how they can extend the current plot line much longer with any success. The show was cancelled this year, so maybe I have my answer.
Sleepy Hollow is interesting and sometimes scary as hell. The dialogue is excellent. One of my 7th grade girls recommended it to me and I try to watch everything the students recommend. One, I'm honored they care enough to recommend to me a favorite show. Two, it gives us something to talk about. Three, it helps me understand what they might like in a book.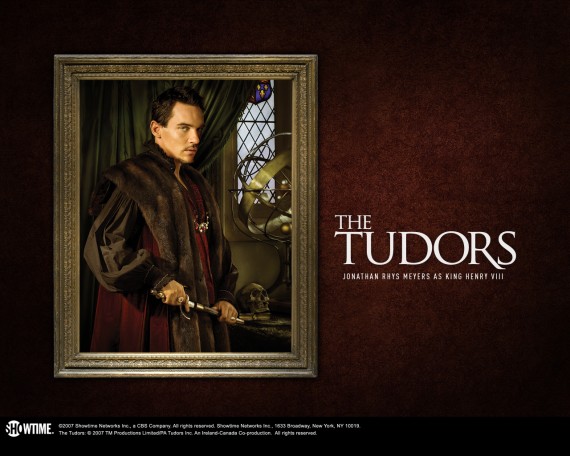 The Tudors. Oh, The Tudors. I didn't even make it to the 3rd season! Never have I hated so many characters in my life. King Henry, that trollop Anne, the Cardinal, every other person in Henry's court…endless. I spent most of my time in a low simmering rage telling myself disturbing things like, Well, at least Anne ultimately gets beheaded.
!!!
More than that, though, I found the nudity disturbing–but not for reasons you suspect. The nudity was your usual titillating cable variety. (Not necessary, in my opinion, but whatever. Maybe I'm a prude.) What I couldn't stand was the sight of all those men so perfectly, freakishly groomed. Bleached teeth, spray tans, and the waxing, my God, the waxing. Hollywood studios sure do like their men hairless. Theories (because you know I've thought about this): better lighting/they look more muscular; easier to apply body makeup; look more youthful.
Whatever the reason, it creeps me out. A man who naturally lacks body hair: no problem. A man obviously groomed to a smooth prepubescent finish: problem. A TV show must now meet The Tudor Rule in order to stay on my watch list.
At least 85% of the cast must maintain unaltered in appearance an amount greater than or equal to 52.5% of the genetic material housed within their nuclei for two or more scenes.
Breast implants? You better follow that up with the ability to move your forehead. Body like a Peruvian hairless dog? So help you God if your teeth aren't beige. [Henry Cavill grew out his chest hair for Superman. This actually made the news, and it was funny.]
Sadly, I will probably revisit The Tudors. Maybe. We'll see.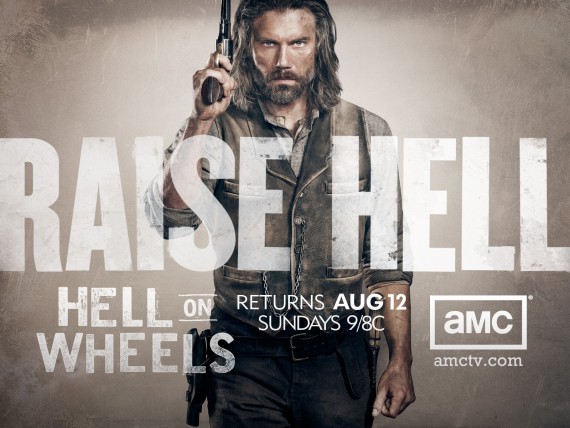 This brings me to Hell on Wheels. This is my favorite show right now, but those of you who know my love of historical fiction can't be surprised to hear I love a show about the transcontinental railroad in post Civil War America. The third season finished in October and–gasp!–I look forward to watching the 4th season. (The show hasn't yet been renewed, but it will be.) I know many of you haven't watched it, so I won't go into the controversy surrounding the season finale except to say I loved it, but I also loved the ending to Gone Girl. Never underestimate death by paper cut.
I have one huge problem with Hell on Wheels, but it's a diatribe worthy of its own post scheduled for another day.
Oddly enough, Hell on Wheels inspired me to watch Supernatural because Anson Mount–one of the few actors I follow on social media and the first actor I bothered to engage on Twitter–has a large female fan base. Since this is the first time I've participated in social media this way, I didn't realize it was de rigueur to tell a man you don't know you want to sop him up with a biscuit.
Supernatural came into play because of this book on the show's overzealous fans. I started watching the show because I wanted to know what it is that has so many women losing their minds (and marriages, jobs) for Sam and Dean. Or Anson Mount, Charlie Hunnan, Norman Reedus, etc. I've watched several episodes and still don't get it, but maybe I'm too pragmatic for fanaticism.
Or maybe I'm too polite and compassionate. Too shy? Introverted? I'm something, because I don't care if Anson Mount can kick start a shut down ovarian system with his steely-eyed gaze and leave it humming like a Vespa in Florence: tweeting him or any other celebrity provocative comments is weird. One, directing those comments at a man doesn't make them less objectifying. Two, what on earth is your goal? Let's say your male celebrity of choice is in Kentucky on business and found your tweet offering "hugs…and stuff ;-) ;-)" original, witty, and irresistible. He now wants to take you up on your very generous offer. Congratulations, @horseluvr, you lassoed yourself a winner! Nothing says quality like whatever it is you just scheduled in less than 140 characters, including emoticons.
Maybe I'm too pragmatic for hookups, too.
Hold on, I know what I am. I'm smart. What happens online usually stays online, and I try to tweet wisely. I fail magnificently most of the time, but only when it comes to feminism, politics, and hipsters. Sex tweets: totally under control with the exception of dinosaur literature, which I will not link to again because what has been seen cannot be unseen. I'm also fair. My husband absolutely, positively refuses to participate in any sort of social media, but I act as if we're linked and he can read everything I write. I would hate for him to read something questionable from me to anyone, celebrity or not, when I know if he were to do the same I'd have him singing falsetto in 10 seconds flat.
This is good, because the students the other day were surprised to hear I was on Twitter and Instagram. They immediately wanted to know my name. I immediately went and marked everything private and set age restrictions–and I still didn't give them any of my profile names. Good thing I have a blog name that makes no sense, eh?
I decided that, because they are tweens, they will find me. Tweens are like miniature CIA Agents, only better with computers. My plan is to stop blogging here, hopefully early 2014, and establish a book-heavy blog with PG content. I won't limit myself to young adult/children's literature, though I'll probably feature it often since I'm around it so much. Books, TV, things I'm obsessing over for the moment. I don't have plans to blog about the boys since my goal with a new blog is to give them privacy.
That's today's plan. Come back tomorrow for what I'm sure will be an entirely new plan.