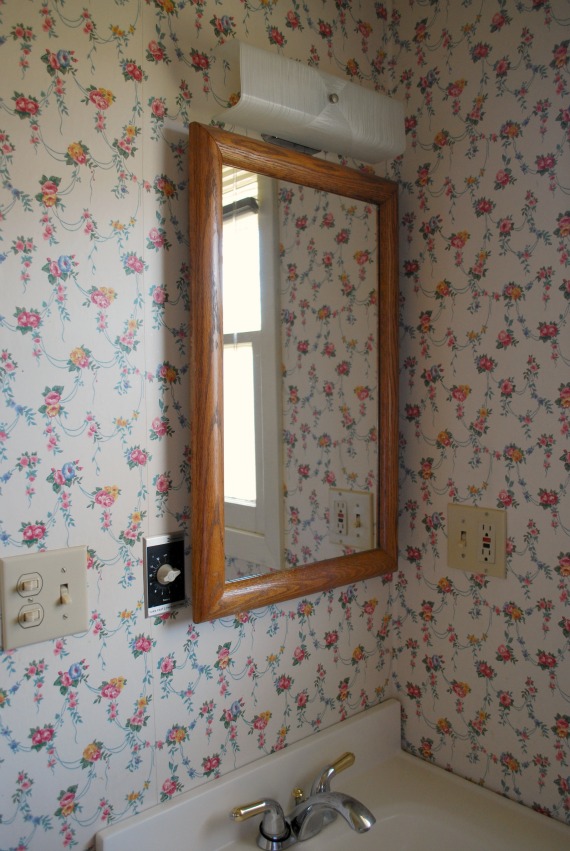 I know what you're thinking, and the answer is yes. I have the ugliest bathrooms in blog land. Maybe not the ugliest, but I'm one of the dumb ones willing to post pictures of them without a mind blowing after to compensate for my "bravery."
The previous owner loved honey oak and floral wallpaper. It's everywhere and we don't have the money to do a full bathroom remodel, which is what this bathroom requires, and that's that. See here.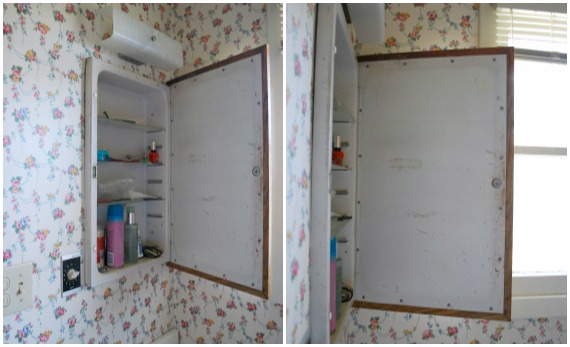 We aren't medicine cabinet people, as you already know, so we really only use this to store things we kind of use but not really so let's not throw it away because the minute we do that's when we'll need it. The only thing in the cabinet I do use are my bobby pins because the truth is, I only wear bangs because it allows me to go longer between root touch-ups. I hate the feeling of hair touching my face, and the first thing I do when I walk in the door is pin my bangs back. I keep them in a plastic baggy to keep them corralled and also because that cabinet scares me.
I've cleaned it and scrubbed it down, obviously, but after almost 40 years of opening and closing, it showed wear. Mostly it yellowed and faded, but in some spots the paint started to chip. We don't have fancy things like ventilation in our bathrooms, so I was worried about rust. My great idea was to paint the door interior with magnetic paint and then spray paint the entire cabinet a clean white with that rust prevention metal paint stuff (industry term). I was going for this, but without the strip. I was a little worried that it would be even messier than the strip, but I didn't give it too much thought until the Mister came home and pointed out the obvious.
We don't use the medicine cabinet for much, so while it's a great space saving idea, we don't need to save space. Simple cups attached to the door would work just as well, look neater, take less work. He even offered to paint the cabinet for me. Don't be too impressed. It's because he finds my painting skills inferior.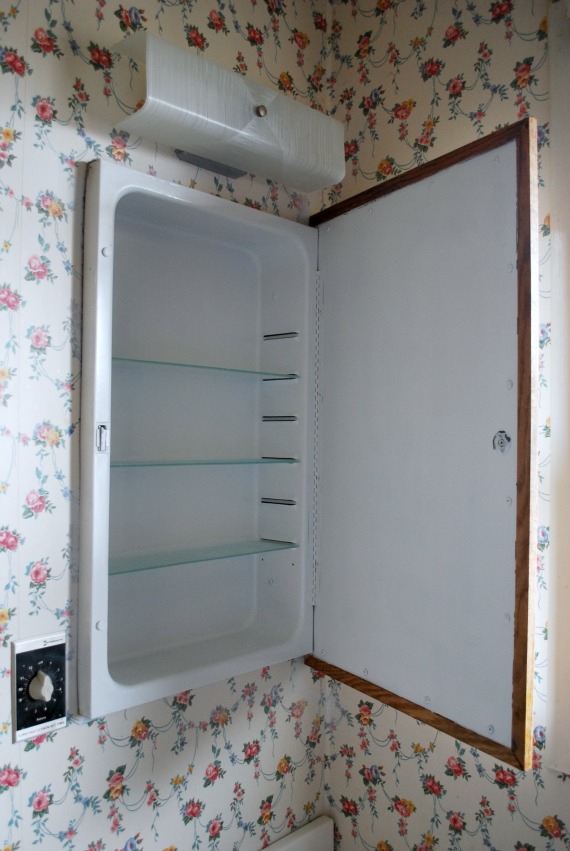 He did it over the weekend and I thought it looked great. A vast improvement! He told me he didn't like it and that it was not good enough to go on the blog. Huh? Why not?
I guess I needed the obvious pointed out to me. The many imperfections, small areas where it could be better, paint that wasn't smooth, and of course the fact it was all still very ugly. He didn't say so, but I think he was concerned it would be a disappointing update.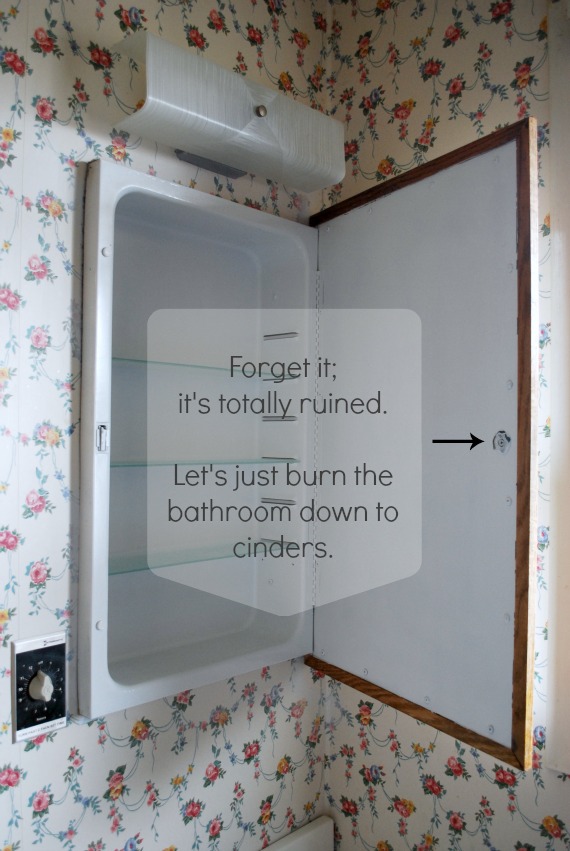 Whatever, dude. It's a 35+ year old honey oak mirror sandwiched into floral wallpaper above a 1970s cabinet with two-tone faucets. Of course it's still ugly! The only way to make it attractive is to tear it all down and start again, which we can't do. That's life.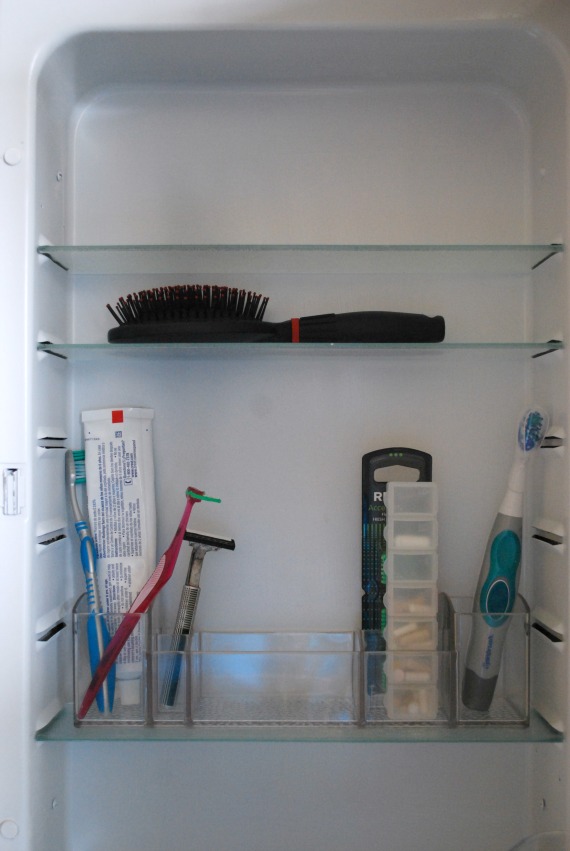 The way I see it, we can open a yellowed out cabinet a few months away from rusting or we can open a bright white, clean but imperfect cabinet with a few organization things (industry term) to keep things organized.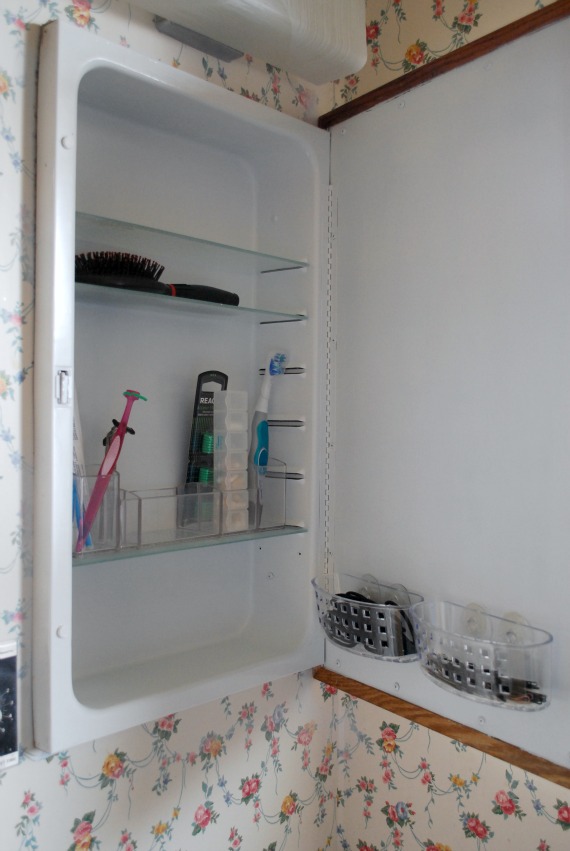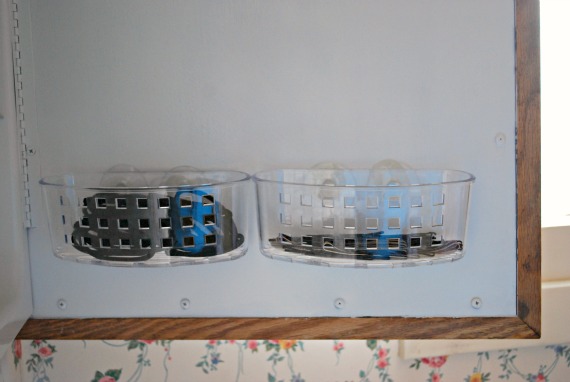 Here's how I store my bobby pins and ponytail holders. I used sponge caddys from Bed Bath and Beyond, the kind you would normally use in your kitchen sink. It's not what I had in mind, but they work. I ran into a big problem–they wouldn't suction! It was easily remedied with my favorite Quake Hold, so not all was lost. [Edit: the Quake Hold didn't hold, which is no surprise given our no ventilation situation in the bathroom. I'll need to up my game and use adhesive putty, which is what I would have used it I had some on hand.] I cut a piece of cardstock to fit the bottom of the caddy to keep the bobby pins from falling out. If you're wondering why I don't just store them on the shelf, it's because I've tried that before and they fell all over the place. Also, a naughty elf took the containers for bobby pins and pony tail holders off the shelf of the cabinet and then never puts them back so they just sat on the miniscule counter for weeks cluttering up the entire space and falling into the sink until, "Just so you know, Jules, I really love to brush my teeth surrounded by bobby pins! It's awesome!"

//////////////////////////////////
This post was part of The William Morris Project, a weekly series that details the steps I am taking to create an intentional home. You can see more of my goals and completed projects here. To learn more about this project, start here.
//////////////////////////////////
Now itís your turn! Feel free to share how you have lived according to the William Morris quote, ďHave nothing in your houses that you do not know to be useful or believe to be beautiful.Ē Made a plan? Cleaned a drawer? Bought a sofa? Tell us about it with a link or comment. A few guidelines:
Please link to a specific post, not a general blog address.
Your post must relate to your efforts to create an intentional home. I have a delete button, and Iím not afraid to use it.
No links to giveaways, please.
Letís use this weekly link up as an opportunity to gather inspiration and motivation. Click links. Discover new people. Say hi and good job. I know I will.