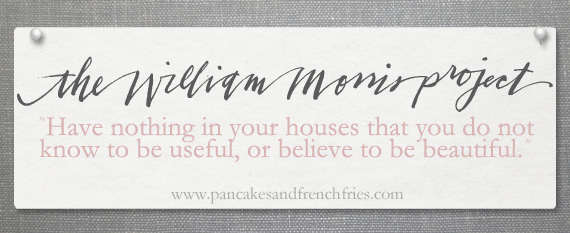 I decided this week would be a good one to work on the bathroom off the laundry room, the one with all original fixtures and a charming corner sink.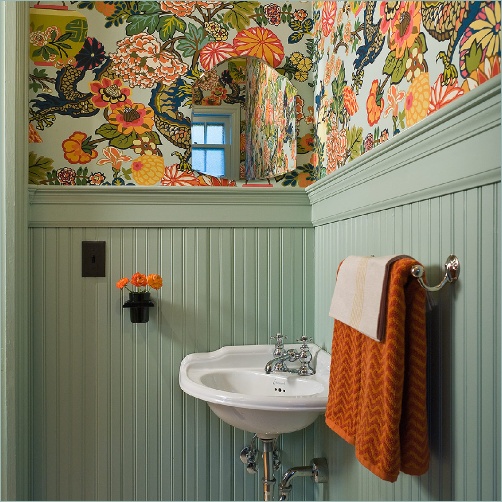 Not my bathroom.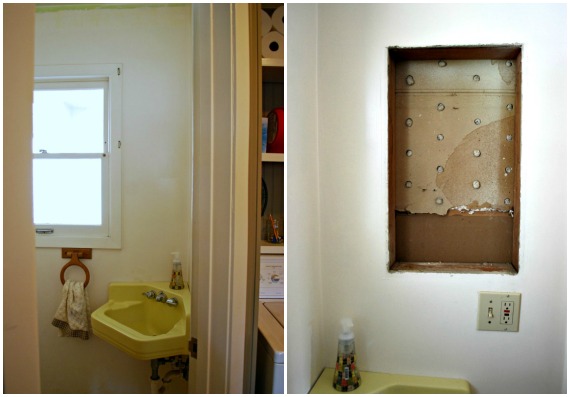 There she is!
My bathroom has a yellow sink and a yellow toilet with a honey oak lid that matches the honey oak ship anchor ring/stock/eye that doubles as a towel hook. Both matched the medicine cabinet that was meant to look like honey oak but was, in fact, some sort of woodish contact paper. I know this because Nicholas peeled it like a sticker last year.
I was going to make a grand production of cleaning it out (look! I did something this week!) but the Mister beat me to it and then removed the cabinet. I have spent quite a while searching for something that fits that space. The Mister refuses to buy anything that isn't the exact size of that opening, and because of it's size we are looking at cabinets you would find in a dorm room. It shouldn't peel, so I should consider it an improvement. I'm holding out hope that something will come up that works and doesn't look too cheap.
We were going to keep the yellow sink and toilet because they work perfectly fine, but oof. They look so banana in those pictures! I've always thought a commanding wallpaper and bead board (see above) would do much to make the sink and toilet look charming, but the Mister isn't on board. I can't mention the word wallpaper around him without him twitching. He's still traumatized.
Is it terribly wasteful of me to want a new sink and toilet? I'm torn. I don't want to replace original, American made fixtures with something from a big box store but…bananas. I'll price everything out and see how I feel afterwards. Maybe after I see the cost of updating everything for a bathroom so small you can't completely open the door (not exaggerating) I will look at those bananas and call them golden.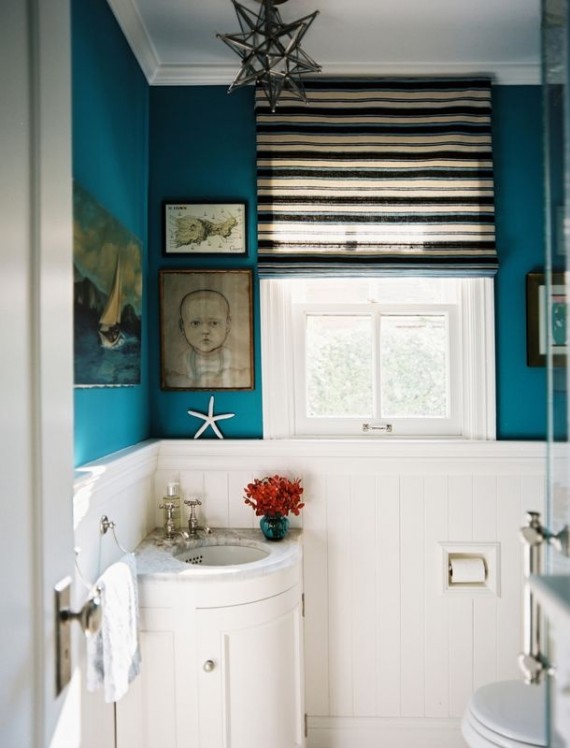 I've included this picture because it had an interesting corner cabinet. The marble top is lovely. Sadly, I don't think it would fit in my little water closet. I'll have to source it and get measurements, but I'm pretty sure the bathroom door would scrap against it every time it opened and closed.
That was my fairly unproductive week. How about yours? Hey! I almost forgot. The other day I realized that I should be pinning your projects to my William Morris board on Pinterest. If you have a problem with that, just let me know.
//////////////////////////////////
This post was part of The William Morris Project, a weekly series that details the steps I am taking to create an intentional home. You can see more of my goals and completed projects here. To learn more about this project, start here.
//////////////////////////////////
Now itís your turn! Feel free to share how you have lived according to the William Morris quote, ďHave nothing in your houses that you do not know to be useful or believe to be beautiful.Ē Made a plan? Cleaned a drawer? Bought a sofa? Tell us about it with a link or comment. A few guidelines:
Please link to a specific post, not a general blog address.
Your post must relate to your efforts to create an intentional home. I have a delete button, and Iím not afraid to use it.
No links to giveaways, please.
Letís use this weekly link up as an opportunity to gather inspiration and motivation. Click links. Discover new people. Say hi and good job. I know I will.