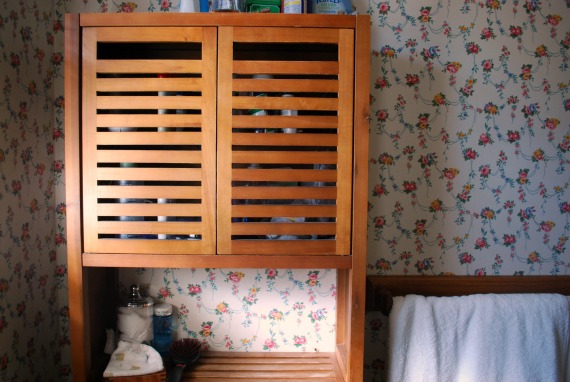 If actions speak louder than words, then the most intimate rooms in our homes speak volumes. Without societal pressure–to conform, to make pretty, to be likeable–it's easy to relax our hold on the lid and allow our subconscious to bubble up to the surface.
The previous owner of our home, bless her heart, loved floral wallpaper. It was in every single room of the house except the main living quarters, which is where I imagine her docile husband finally put his foot down. The yellow roses in the wallpaper of our bathroom match, in a way, the yellow tile of our shower. They do not match the atomic accent tiles.
Shortly after we bought the house, I had a few girlfriends over for a tour. At the time I was working; we expected my salary to pay for months and months of renovations. We started with the kitchen. I thought the wallpaper and yellow shower was charming in a grandma sort of way. It was on our to-do list, but it wasn't terrible. It was functional and clean. The previous owner, she of the broom closet, was immaculate. The tiles in our house were all original, and there was not a single grout stain to be found in white grout over 50 years old. It was quaint and fussy, and I thought my friends would think the same.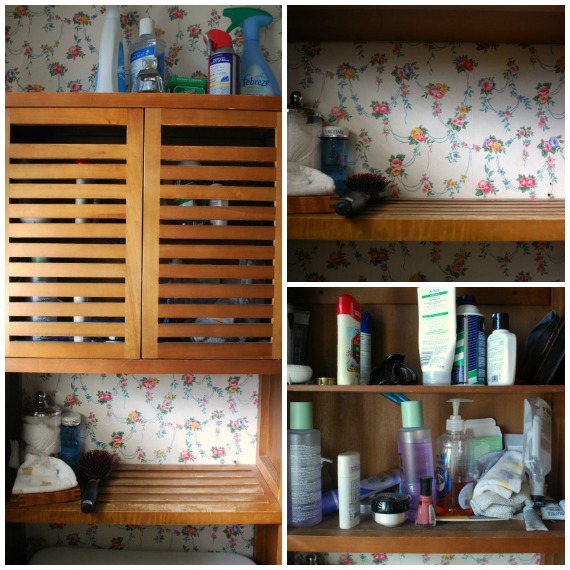 Two of my friends were neither charmed or amused. Both gasped dramatically when they saw the bathroom. One even clutched her head and then covered her eyes.
"I couldn't possibly live in a house with a bathroom like that!"
"I'd get dizzy just getting ready in the morning!" (She was the one clutching her head.)
"It's too much, it's just too much. I need my environment to be beautiful or I get depressed."
And so on, and so on.
I've come to the realization that in life some people are just really stupid, and you can't avoid them any better than a cold virus on the handle of a shopping cart. You can swipe the bar with a sanitizing wipe and you can limit your interactions to people who seem reasonably intelligent if it makes you feel better, but really all you can do is hope for the best. Stupid people, like viruses, are built to last. They plod through life extolling their special brand of wisdom, too dumb to be worried about natural selection. There's no point in hiding. They'll find you just like they found me.
This happened 7 years ago, when I wasn't as confident as I am now. My reaction was to laugh and make jokes about my horrible yellow bathroom. I agreed with them. "Hah! Hah! I know, right? That wallpaper is crazy!"
Secretly, I wondered if they realized that 40% of the world's population lives without indoor plumbing. They'd be thrilled with my yellow tile and rose wallpaper.
I allowed their words to infect me. They crawled up my nose, squeezed past my lips, and shot straight through my eyes to rest in the back of my brain. I found myself embarrassed of our master bathroom, the same one I once thought was quirky and funny. When I decided to stop practicing law and stay home, our budget changed and our renovation plans were put on hold. I treated our master bathroom like a project waiting to happen, always looking to the future when it would be better, more acceptable. Perfect!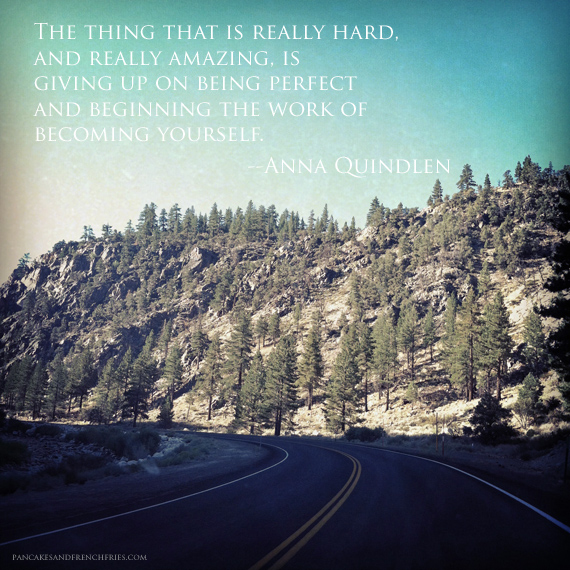 Waiting for perfect takes a long time. More than 7 years, that I know. Since perfect takes at least 7 years to arrive, I should have taken a day or two of the previous 2,555 to, I don't know, organize our toiletries? Toss out beauty products that didn't deliver. Grab a basket and corral those tiny items that will always look messy no matter how diligently you line them up.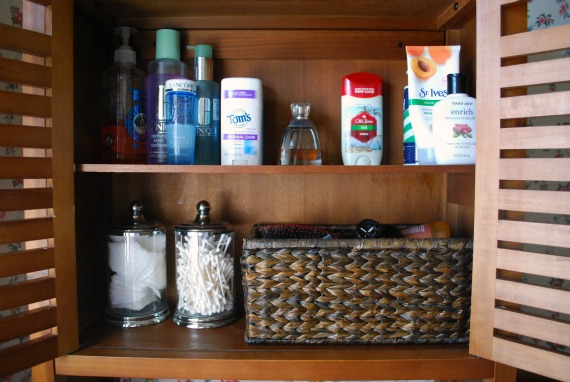 Appreciate what you have, keep it tidy. In the rooms no one sees, the ones solely for you, give it the same attention you would give the room everyone sees when they walk in the door. How you treat those rooms is how you treat yourself. That's what I told myself as I shifted, cleaned, polished.
An imperfect room should be treated with the same gentleness you would use to treat your imperfect self. And, if you're not so gentle with yourself–I know I'm not–maybe that's something to think about as you toss out an empty bottle of lavender lotion.
::::::
I didn't put up the link-up code until early morning (PST) yesterday. I know at least one of you came to the blog before it was up. If you want to include your links, please do! The link closes in one week.
::::::
New here? For the next 31 days I'm living according to the famous William Morris quote, "Have nothing in your houses that you do not know to be useful or believe to be beautiful." You can learn more about the project here, and catch sneak peeks of my projects by following me on Facebook, Twitter, or Instagram (I'm @pancakesfries).