The broom closet is actually a project I wanted to do last October, but it was so messy the mere idea left me too overwhelmed to tackle it and too embarrassed to post pictures of it online. Since then I have purged and decluttered most of the house and somewhere along the way my dignity and pride ended up in a bag for Goodwill. I have no shame.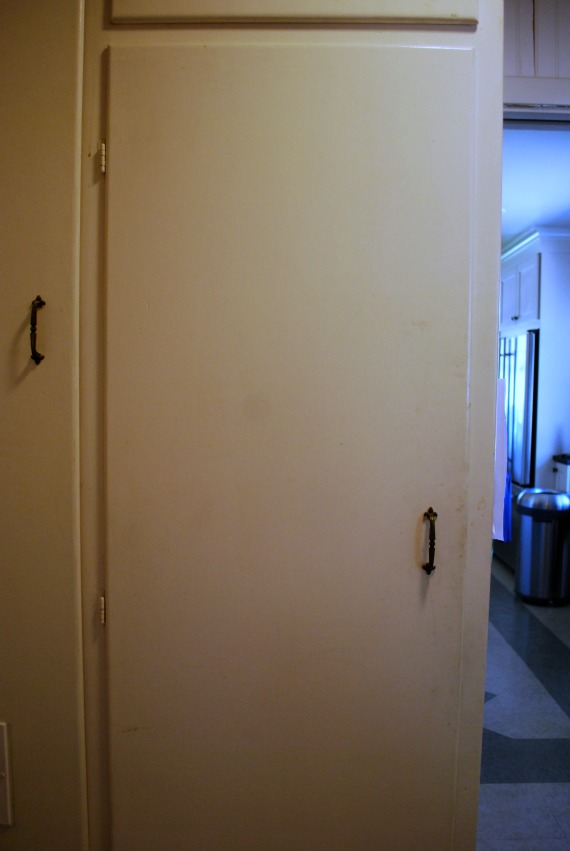 The broom closet is in the laundry room, across from the washer and dryer. That's not really important, but I'm trying to set a scene. Picture it:
In the spring of 2005, I convinced my husband to consider looking at houses closer to my parents so that my mom could watch Mikey while I was at the office. I quickly found a house–our home now–that appeared perfect. I decided we should take a look; he wasn't interested. Not in the least bit discouraged, I concocted a long chain of events that landed us in front of the house with a cell phone and the realtor's phone number. It was Easter.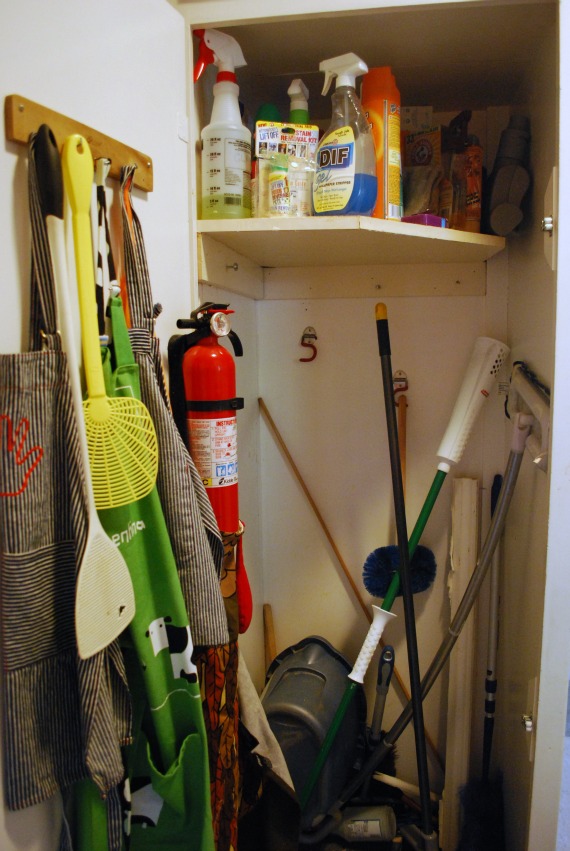 This isn't even at full capacity. What's missing is the vacuum, which I left in the bedroom as an art installation after vacuuming out my mom drawer. The broom closet has looked like a falling Jenga tower, since the day we moved in, but on the day we visited this house for the first time it was pristine and organized. I know this because the woman of the house, a tall, retired schoolmarm wearing culottes and Duo Sas sandals the color of boiled chicken, opened it with a flourish and said, "Look! You could have your very own broom closet. Not too many wives these days can say that these days, can they?"
Not too many wives these days can say they touch a broom with regularity, either, but I don't hear them complaining. I should know; at the time I was one of those wives. (Probably still am, but that's irrelevant to the story.)
I pushed my lips around in the shape of a smile and murmured something noncommittal. My husband, on the other hand, barely kept his laugh in check at the idea of me (1) having a broom closet and (2) using it.
True to form, I just tossed in things I thought belonged in a broom closet. Brooms, for one. Cleaning supplies. The vacuum. Other stuff. I didn't stress too much about it, and when I needed a shelf (the previous owners opposed shelves for some reason) I was content with my husband installing a leftover shelf from our kitchen remodel.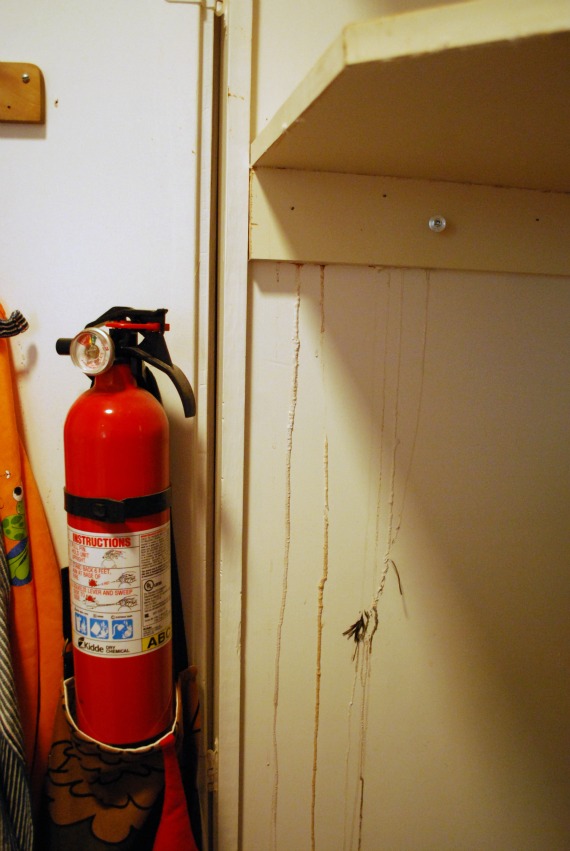 I use the broom closet regularly now, but not the supplies on the shelf. It's too crazy up there, and I'm short enough to avoid making eye contact. The cleaning supplies I do use I keep under the sink because they're easier to find. (Telling.) Last week as I was pulling out the vacuum I noticed a strange, solid drip along the side wall that almost looked like battery acid. I followed it up and discovered something up on the shelf leaked at some point. I couldn't avoid cleaning this mess any longer.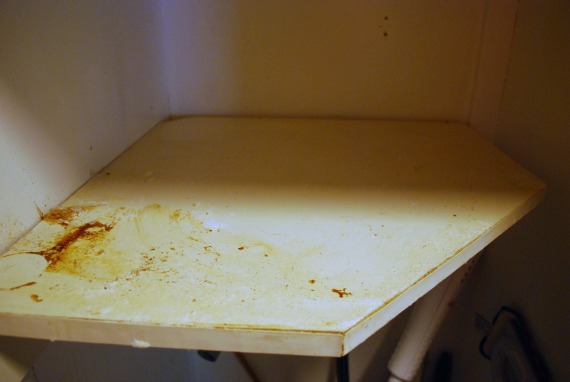 Whatever it was bubbled the wood veneer.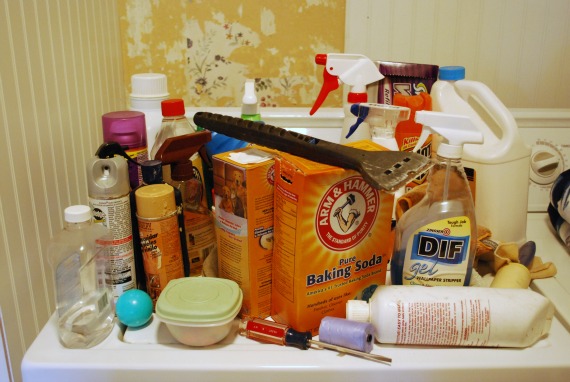 I took everything out and used the long handled blade to scrape off the dried chemicals from the wall and shelf. This worked really well. After that, I started tossing everything I didn't need. That wallpaper remover was the first to go.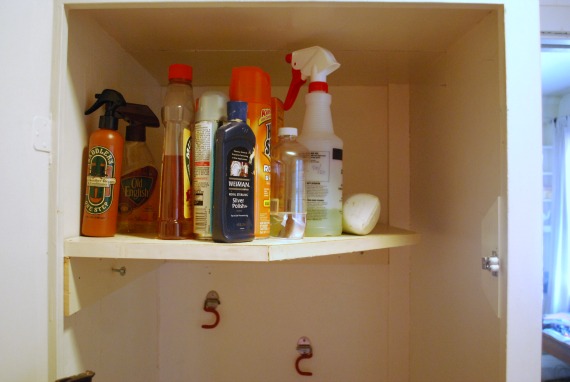 I put everything I used back on the shelf, but quickly realized I could do better.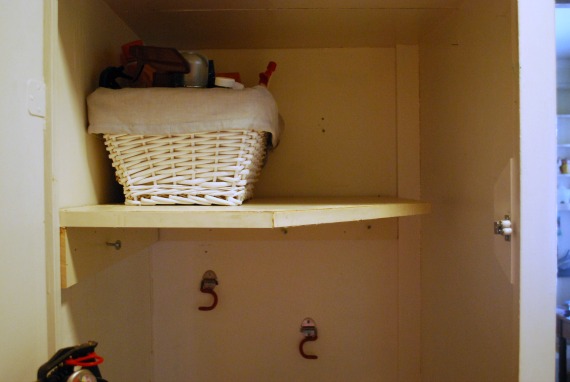 I went out to the garage and put everything in an old basket from Mikey's nursery. That gave me enough room to store our bucket up there, too.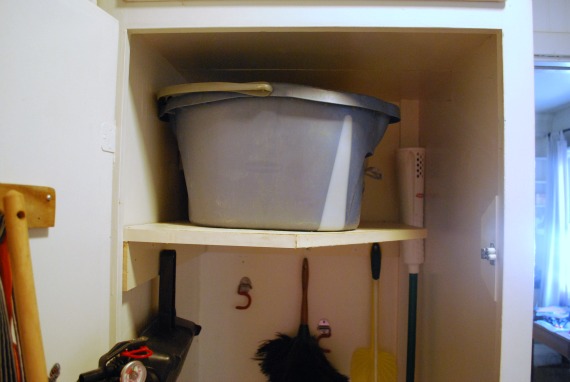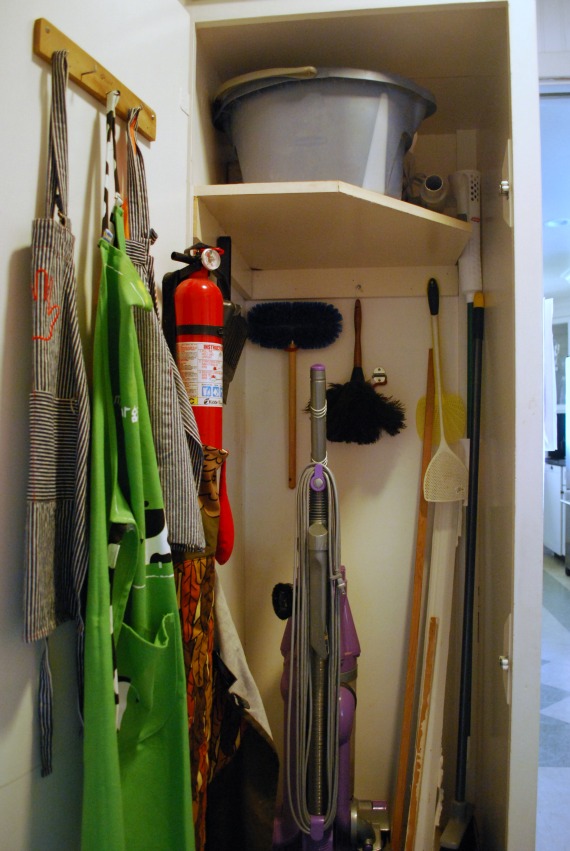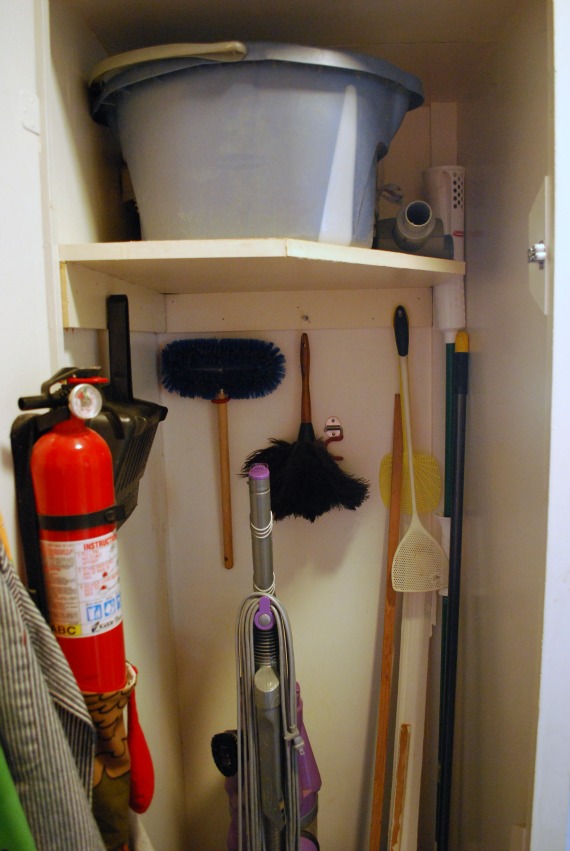 I made quick work of the rest of the closet, and by the time I was done everything was in place and stationary. I'll repaint the interior and replace the shelf soon, but for now there is enough open space for me to easily take out and put back the vacuum for regular housekeeping.
But let's not get crazy.
::::::
New here? For the next 31 days I'm living according to the famous William Morris quote, "Have nothing in your houses that you do not know to be useful or believe to be beautiful." You can learn more about the project here, and catch sneak peeks of my projects by following me on Facebook, Twitter, or Instagram (I'm @pancakesfries).