Happy New Year! I assume everyone resolved to do something this year, yes? I didn't. I figured the five goals I set for myself on my birthday were enough to keep me busy. Of course, I still managed to spend the last 10 days over-thinking my goals, my blog, my life. People don't suddenly stop acting crazy just because it's Christmas, you know.
My goal to have nothing in my home that is not useful, beautiful, or both is not going as well as it did in October. I thrive on assignments and move forward with momentum. October was the perfect storm of achievement. I had an assignment and I worked on it everyday. Things happened. Now, things are not happening.
Over the break, I debated doing my William Morris project for a year, five days a week with weekends off. I asked the opinions of family, friends, bloggers, and readers and 75% thought it was an incredibly bad idea. Family and friends reminded me how exhausting it would be. Bloggers and readers pointed out that I would, essentially, completely change the focus of my blog. That gave me pause. I don't want to be a DIY blogger, and I suspect the internet doesn't want me to be one, either. I can't imagine tricking out my pantry with bunting, washi tape, and oil cloth. I lean towards the practical, and wipeable contact paper is fine, thanks.  Reading my DIY blog would be as exciting as reading a dental blog.
Your bicuspids are transitional teeth located between the canines and molars. They are also known as premolars.
See what I mean?
Right before I was supposed to make a decision about my William Morris goal, I decided to email my blogging mentor. While I was waiting for her reply, I found an inspiration journal from a couple of years ago. On the first page I had written a quote, one of my favorites. When Nester replied a while later, she quoted my quote back to me in a round about way. I took it as a sign.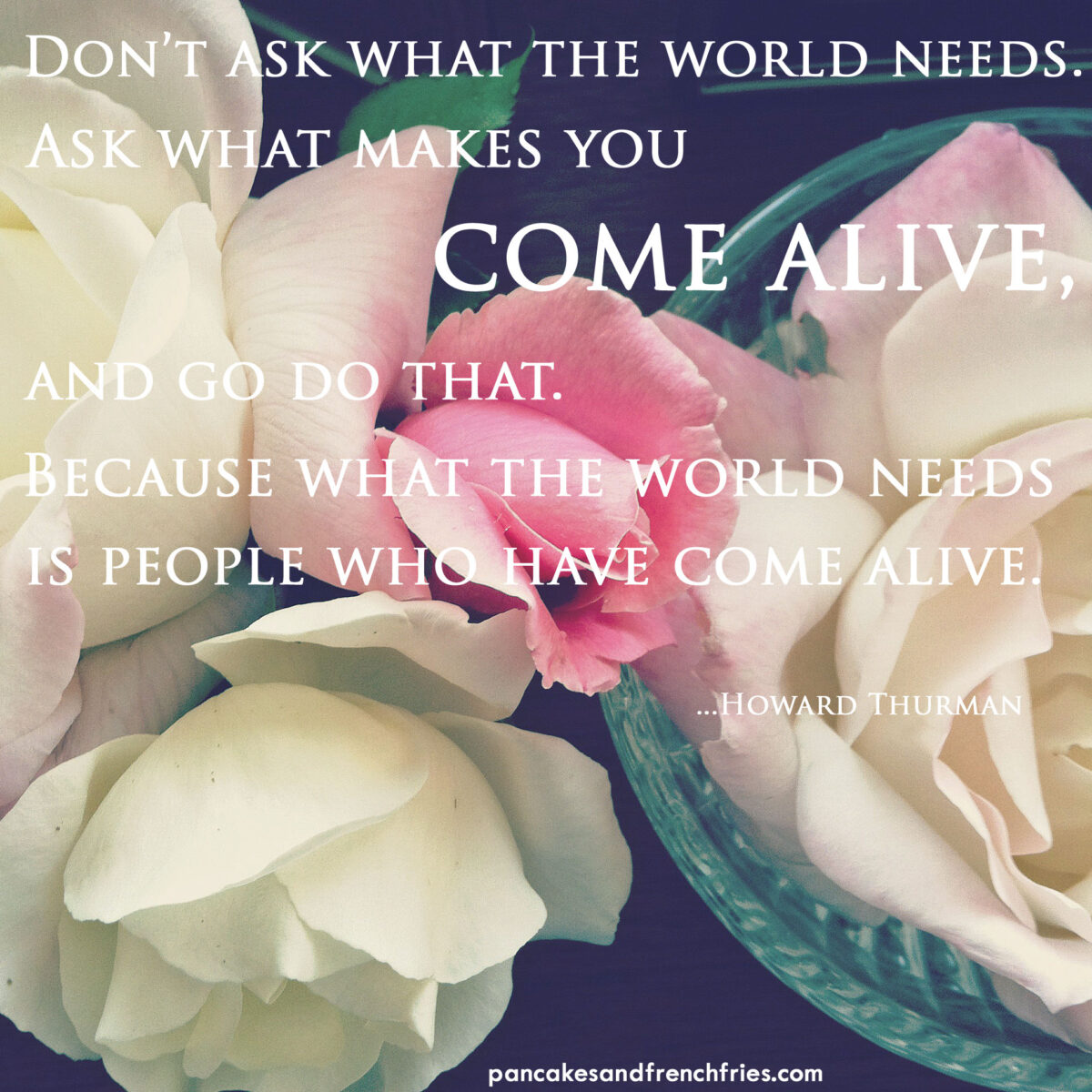 What makes me come alive? I supposed everything I blog about here.
Reading. I love everything about it and am willing to read anything. Even Nicholas Sparks. (I haven't yet, but I would.)
Writing. I'm good at it.
Learning. Jokes aside, reading about bicuspids was oddly satisfying.
Domesticity. The educated, girl-power attorney in me doesn't always want it to be so, but I love keeping a home. I love cooking, baking, decorating, wifery-ing-ly(?), and raising boys. Actually, I only don't want it to be so when I visit with friends from law school and feel like a boring country bumpkin. The rest of the time, I'm good.
So, it will be more of the same around here. More of my old fashioned, slightly quirky taste in things like roses and colors that aren't mauve. More books, naturally. And, yes, even more William Morris. More me, that's all.
What makes you come alive?
………………….
This post is linked up with Kevin and Layla Palmer at The Lettered Cottage.