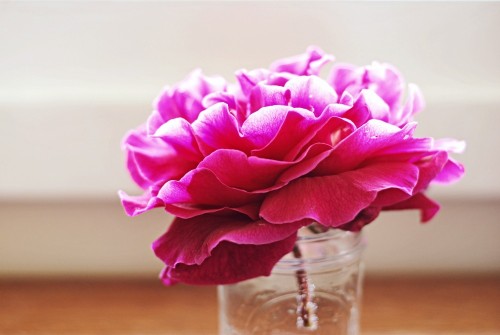 I once received in high school a gift of a dozen roses, eleven red, one white. They were from a boy who thought I was someone worth giving roses to, and he bought them for me because he knew they were my favorite flower. What he didn't know, and I didn't know then, either, was that I love roses from the garden far more than roses from the florist. Roses from the garden open up fat and wide. Commercial roses never move past a loose bud stage. A freshly clipped rose smells heady and romantic. Half the joy of roses in the home are the way they scent a room. Store roses are for looks only, so I have experienced.
But he didn't know this, and neither did I.
He knew I mentioned my love of roses regularly. Repeatedly. Annoyingly often, I'll bet. He knew that when we studied the work of  Gustavo Adolfo Béquer in fourth period advanced Spanish class and were assigned to write a poem inspired by Béquer's post-romantic style, I wrote about the end of a love affair, using charred, fallen rose petals for symbolism. Don't ask me how the rose petals charred. Too much sun? Or how I, someone who had never dated or been kissed knew about love affairs, broken or otherwise. Family Ties episodes?
Somehow I managed, and that awful post-romantic poem was good enough for the teacher to read out loud to the class. And he, fifteen years old and looking to make an impression, noticed I loved roses.
The following year we had a huge falling out, and for a while I hated roses all because of him. I told my boyfriend senior year that under no circumstance did I ever want to see a rose darken my doorstep. He had no idea why, but considering the price of roses, he didn't argue.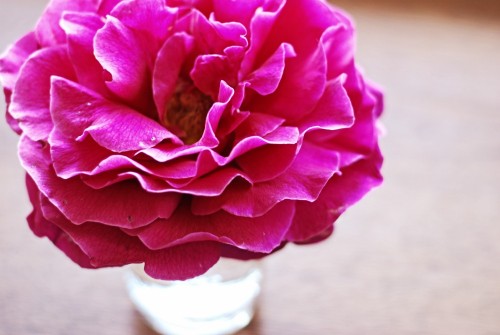 Time moves forward; you grow up. I did, which is how I came to love roses again–but mainly the kind that grow in gardens. This much I know now. What I don't know is if that boy ever sees a rose and thinks of me, fourth period advanced Spanish class, and that ridiculous poem about love and roses.