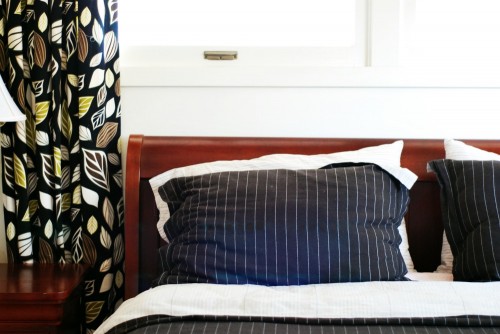 I make our bed every day unless I am sick. I don't always make it in the morning, either. If I'm running late and don't have time,  I'll often go back at 4:00pm and make it before I start working on dinner. I don't do it because I'm a rigid, tidy person. Really, it's because I'm a fan of the big bang-small buck school of thought. A bed takes up so much real estate in your bedroom that it will instantly make you bedroom appear 75% cleaner if you take the five minutes it takes to toss back a few covers and smooth a few pillows.
That reminds me: pillows. I've considered it, and after much deliberation and an 11 year experiment, I've decided I hate them.
For the last 11 years, we had an embarrassment of pillows on our bed. It was an embarrassment because only three of them were for sleeping. We had European pillows, standard shams, decorative pillows, bolsters, and, tucked in the madness, four lumpy pillows on which to lay our pampered heads. Of the four sleeping pillows, we used three regularly. I use two pillows, and the Mister uses the bottom left 1.75″ of one pillow, so the fourth pillow's only purpose was to keep my head from exploding at the lack of symmetry.
Like I said, an embarrassment.
One day, while fluffing and smoothing and bolstering and decorative pillowing, I decided I wouldn't mind taking a lit match to the entire bed and watching it all going down in a downy blaze. Instead, I decided to simplify.
I got rid of the floral and six pillows and replaced the chintzy lot with simple bedding from Target's Thomas O'Brien line. The duvet feels like it's cut from a man's suit, and the sheets are thick, like an oxford. I know most people these days are obsessed with thread counts and soft sheets, but I like the scratchier, rougher feel of thick cotton. Besides, there is something to be said about waking up feeling like you're wrapped up in Don Draper's suit.