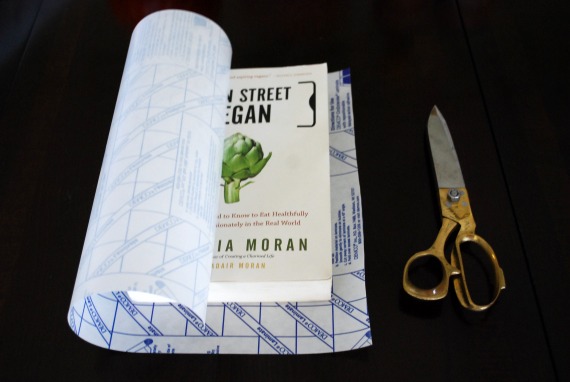 Over the summer I spoke a lot about wrapping books for the library on Facebook, Twitter, Instagram, here, church, the supermarket…anywhere there was an ear and a platform, basically.
It didn't occur to me that some people wouldn't know what I meant when I said I was wrapping hundreds of books. A few people thought I was setting up a blind date with a book program, one friend, who gives me way too much credit, thought I was wrapping them up for a giant "Christmas in August" book party with the students. Still other people thought I was wrapping everything in brown paper like regular textbooks.
In reality, I was wrapping new paperbacks with laminate so they last longer. I mentioned that in a comment somewhere (the problem with whining in so many venues), and then moved on to complain about something that was more inclusive and allowed everyone to coddle me like a baby koala bear with a broken paw.
Only yesterday did it occur to me that wrapping books with laminate is someone everyone should try, especially if you have little ones. The books I could have saved from Nico's gummy mouth!
Here is how I taught myself to do it last year, when one too many Goosebumps books crumbled into a fine dust in my hands. There may be other, better tutorials out there, but this is my method.
Lots of pictures with this one! Let's get started.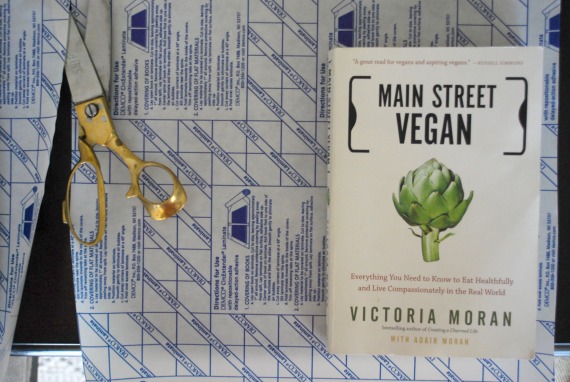 Grab a book you want to wrap. It's okay if it looks tattered beyond repair! The laminate won't make it look new, but it will keep it from breaking down more and it will look slightly more presentable. In this case, I'm wrapping a book I read at the pool all summer (Main Street Vegan by Victoria Moran). It has water damage and a minimally frayed cover.
The first thing you will need is book laminate. For the library, I use Demco CircExtender Laminate. It creates a permanent bond 6-24 hours after application.
PROS: permanent, strong, matte finish, rolls come in multiple sizes
CONS: may be difficult to work with (you get used to it), bubbles are difficult to remove, extremely tacky, requires trial and error, cost, availability
This is the laminate I prefer, but I've wrapped enough books that I can do it in my sleep. I rarely have to reposition a book once I set it on the laminate, and that's key with this brand. They say you can reposition it, but they are liars. I can only find this laminate online, so that's an issue.
While I was still figuring out my technique, I used clear Contact paper, which is far more user friendly and available in small rolls at Staples and Target.
PROS: price, availability, easy to apply and forgiving of mistakes, completely reposition-able, matte finish.
CONS: not permanent, may require taped ends for secure application, not as sturdy, more expensive in store unless you buy it in bulk online or through business catalogs
Cut out the laminate.
Most chapter books will require between 12″-14″ of wrap (12-14 squares). You want an inch or more of laminate all around your book.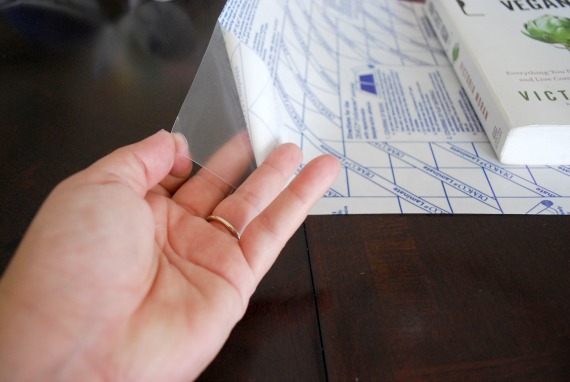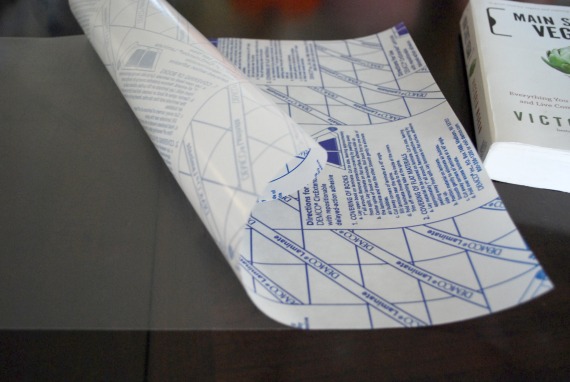 I remove all the paper backing and place the book on top, but in the beginning I removed only half of it, like you see in the pictures. I removed the paper as I went, almost like applying a band-aid.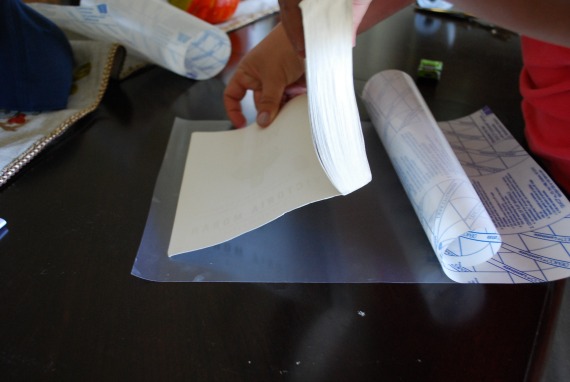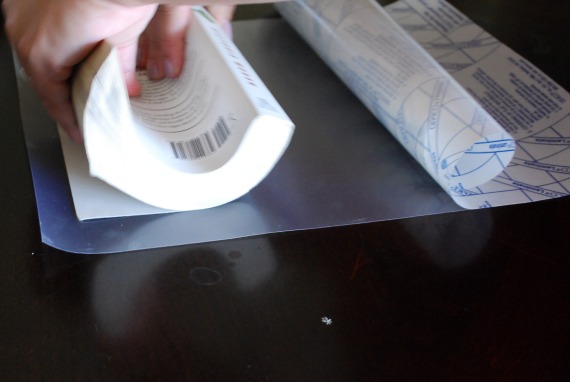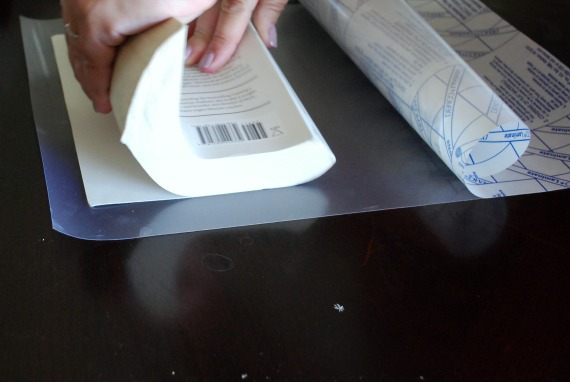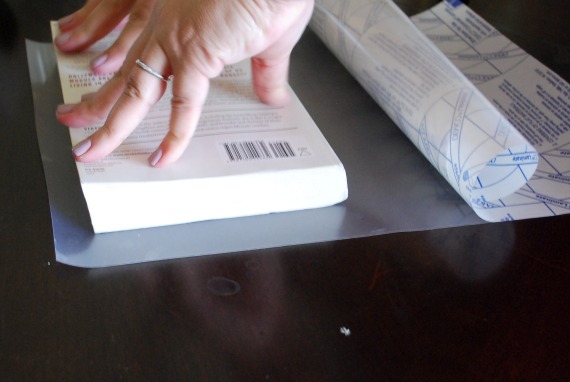 Roll Book Onto Laminate
This is the best way I can explain it, but I had Mikey take a million pictures of the process for reference. Keeping in mind your 1″ border, you place the edge of the book down onto the laminate and then roll the rest of the book on. You do this to avoid air bubbles. If you place the book down flat, air bubbles are guaranteed. Once I roll on the book, I put pressure on it and smooth it out like you would a tablecloth. I have no idea if this prevents air bubbles, but it's habit now.
Note that I have removed only 1/2 of the paper backing.
At this point, before I move on to the next step, I flip the book over once and check for air bubbles. I smooth out those I see, just like I would if applying wallpaper.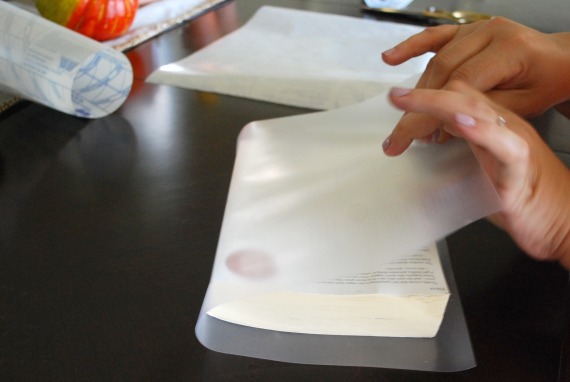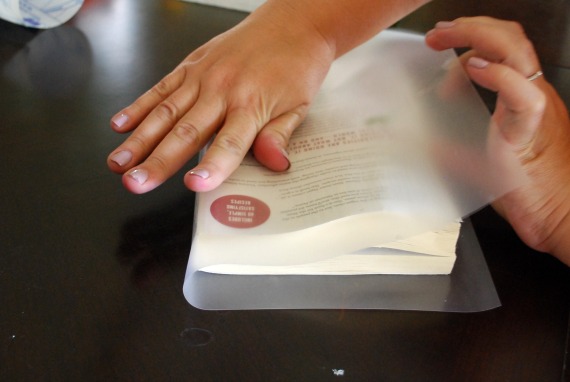 Apply Laminate to Back
Remove the rest of the paper backing (if you haven't already), flip the book over, and firmly tug the laminate over the spine of the book. Then beginning smoothing the laminate onto the backside of the book, almost like a reverse of the "roll" step above. Watch for air bubbles.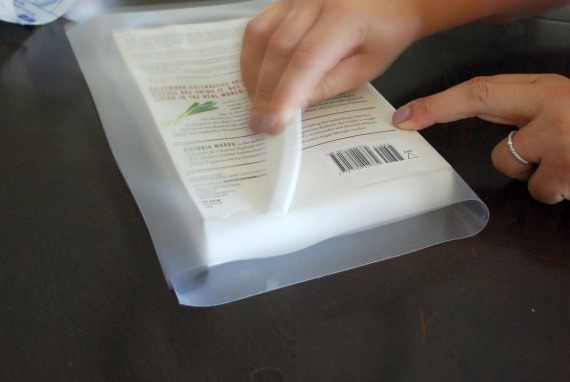 Smooth down laminate.
Using a bone folder, squeegee, credit card, ruler, etc., smooth out the laminate. In some cases, you'll be smoothing out air bubbles. In this case, I was just making sure the laminate had a nice, strong bond to the book.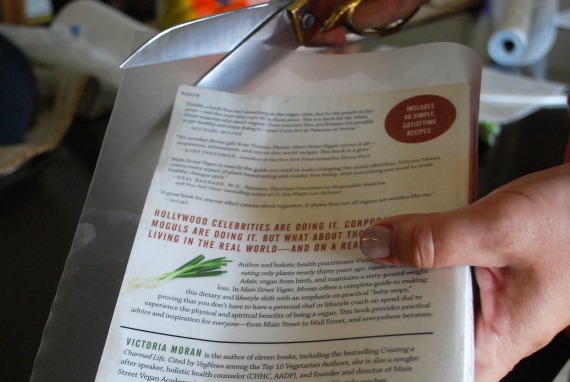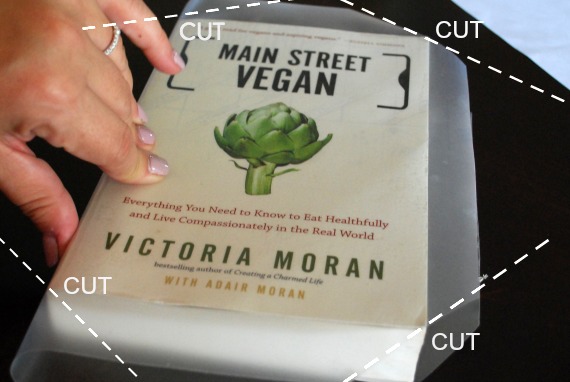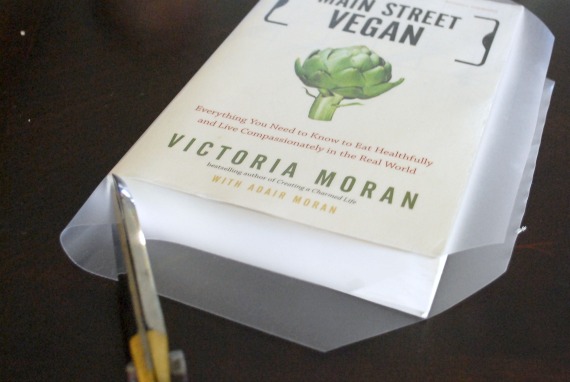 Cut the corners off the laminate, including those by the spine. This is the part some people find confusing. Even at the spine, you are cutting at an angle to create mitered corners. You can use straight cuts, but it will make wrapping the book harder. Also, your end product won't look as nice.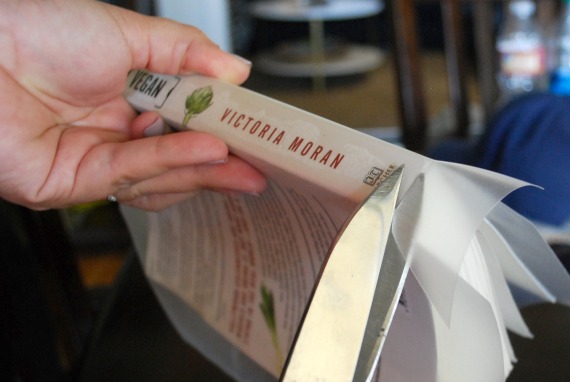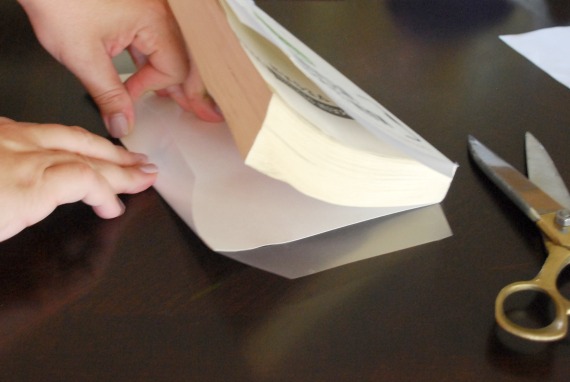 Wrap laminate around book.
Hopefully these last two pictures show why mitered corners will make your life easier as you wrap the interior of the book with laminate. Tug firmly so that the laminate is flush with the edges of the cover, then smooth onto book.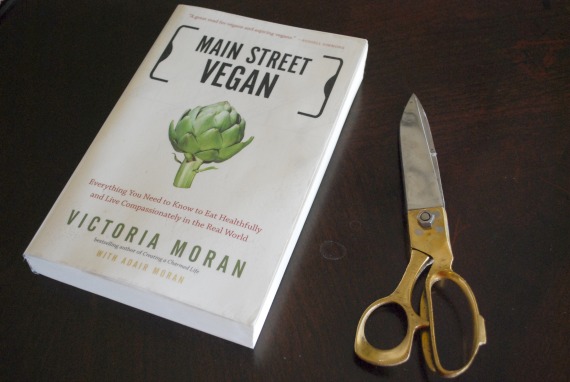 That's it! Done! I should have done this before I read it for two months at swim practice, but there you go.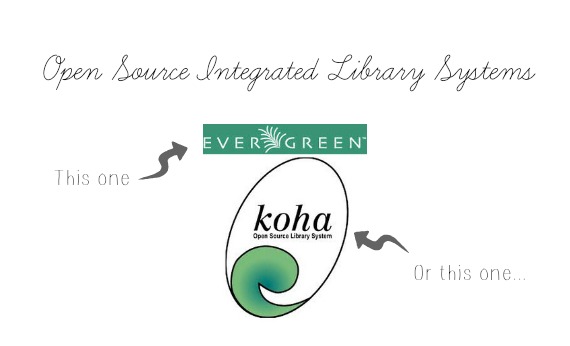 Last year, even without any sort of electronic management system, I was able to keep stored in my memory everything I needed to know about acquisitions, circulation, and cataloging. If a child said they liked dinosaurs, I knew where to go and what we had. Now, with the influx of books we received from generous parents (and my own friends!), my optimistic goal of reorganizing the entire library, and my time away from the library aiding in other classes, I need help.
I'm looking at open source systems since a proprietary model is not an option this year. If you have experience with Evergreen, Koha, or any other integrated library system, I'd love to hear your thoughts.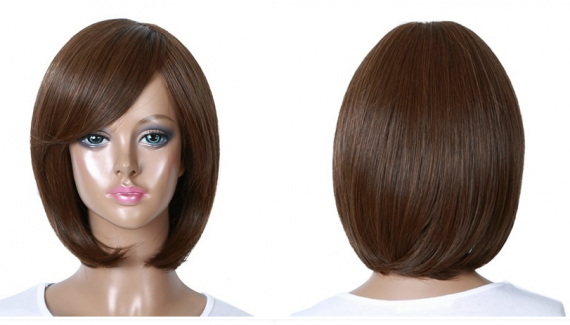 One should always spend time around children when one is feeling especially cocky.
On top of aiding in the 4th grade and volunteering in the library, I'm now spot-aiding in Kindergarten. The children so little! I can't believe my own boys were ever so young, especially Mikey. I was walking by one little boy who stopped me with a quick tug on my sleeve. I bent down with a smile.
"Mrs. Candalellella? Why are you wearing a wig?"
Sigh.
Also:
The younger grades at school are becoming obsessed with Halloween, specifically the costume I'm planning to wear. I tried telling them that I would most likely not wear a costume, but they won't hear of it. There is one particularly enthusiastic group of 3rd grade girls who won't let the issue go. I know they are huge Harry Potter fans, so I said I would maybe go as Hermione.
Dead silence. A few nose wrinkles and shared glances.
"Actually, Mrs. Kendall, you should be Mrs. Weasley," said one.
"No, no!" said another. "Professor Sprout! You could totally be Professor Sprout."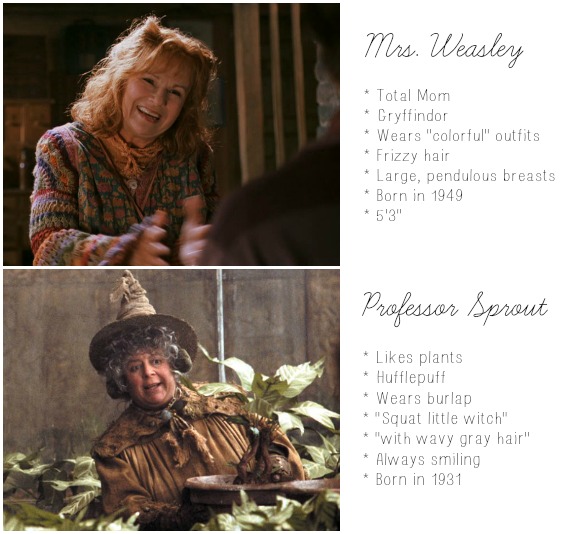 That's all I have to say about that.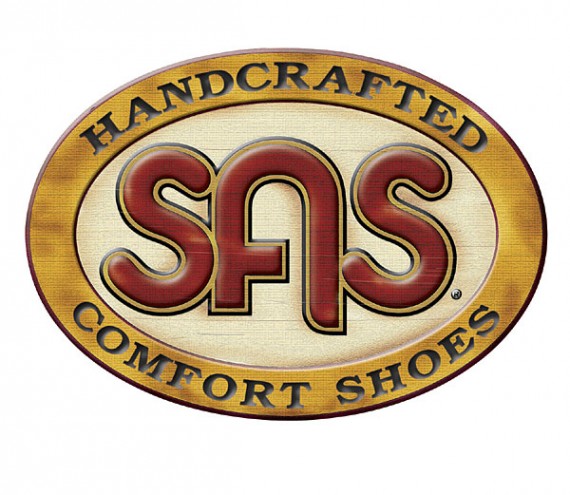 I aide 4th grade and Kindergarten. I have 1 hour of lunch/recess duty every day, and 15 minutes 1st recess every 3rd week. I then go to the library, where I shelve, organize, and help the kids find books. I am not exaggerating when I say I spend the majority of the day on my feet. I'm looking for my pedometer because I'm curious to see how many steps per day I'm walking. I must walk more now than I did when I took daily walks. But, my feet are paying the price. I've tried comfortable shoes (Bare Traps, FitFlops–I have these) but apparently they aren't comfortable enough. I used to wear and love Danskos. Maybe it's time for me to go back? Please, spill the beans on your favorite comfortable shoes. And I mean comfortable. I'm almost to the point where I'll wear something unattractive. Almost.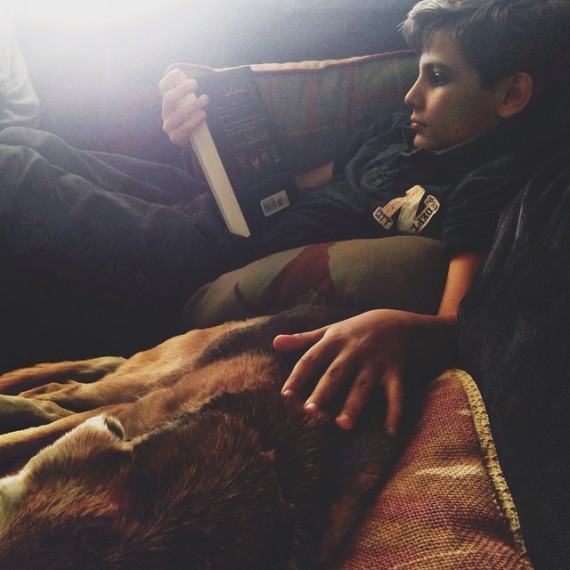 Life Lessons From the 5th Grade
by Mikey
Open book tests are hard. If you ever hear there is going to be an open book test, this is what you need to do: a) freak out b) calm down c) study hard d) wash, rinse, repeat
Don't multi-task. It is a really, really, really bad idea to read your Percy Jackson book (Battle of the Labyrinth) behind your social studies book in class.
Don't get cocky. If you take a math test and you think you aced it, and then tell everyone that you aced it–including your mom–don't be surprised when you get a D. It's called Karma.
Don't go super fast during tests because you will make careless mistakes. If you have extra time, check your answers to make sure you weren't being cocky. (see number 3)
4th graders will copy all the games you play at recess because they have no imagination.
If people laugh at you, just think in your mind that those people are overrated.
The Lightening Thief movie is nothing like the book. It is the most inaccurate thing I have ever seen in my life. I think that the movie directors got the story mixed up but when they realized it they had already spent a lot of money on the movie and couldn't redo it without going over budget. The movie is so wrong that if you do a book report in class on The Lightning Thief I will totally know that you only watched the movie.
Always practice for music class! It will backfire on you if you don't!
Having your mom work at the school is awesome because if you forget your clarinet and give her puppy dog eyes she will go pick it up on her lunch time.
Every October for a few years now, I've done 31-day posts on organizing and decluttering. For obvious reasons, this year I'm not going to do that. Last week, if you asked me what I was doing, I would have said that I'm taking the entire month of October away from blogging and social media. At the end of that time, I would have made my mind up about what to do, where to go.
I think last week's meltdown had a lot to do with hearing the Mister did not get a promotion that would keep him home instead of traveling all the time. Now, after a few days to process what this means, we're taking it in stride. He still has an excellent job, we have our health, and we have our boys. His time away from home we'll just have to figure out. Our number one goal is to create more intentional family time. I'm feeling much better about things.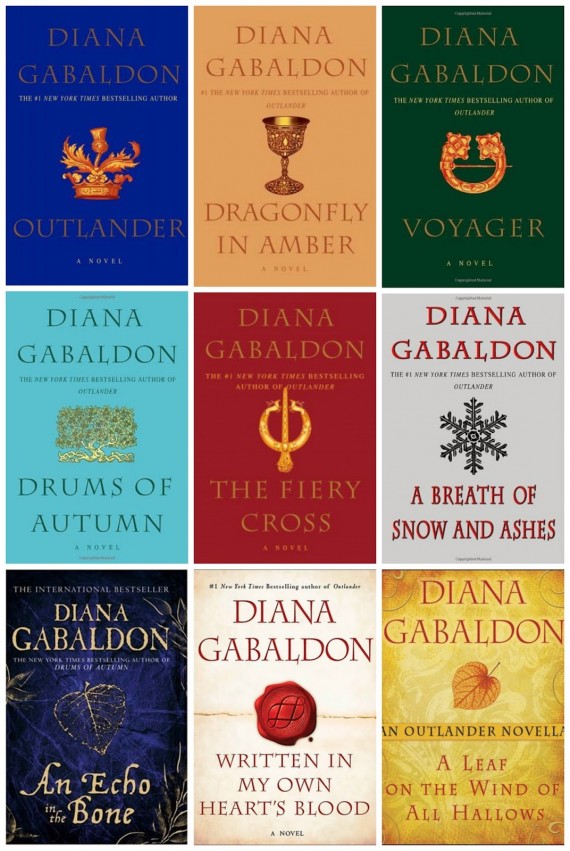 I've been toying with putting the boys in Boy Scouts (they both really want to do it) because of all the trips and family activities they offer. The only reason I haven't signed them up yet is that I hear it will be a lot of work for me. Meetings, dinners, weekly activities…I'm not sure I can put that on my plate. Does anyone have Boy Scout experience? Is it worth it, especially going all the way up to Eagle Scout? I know one guy who was an Eagle Scout, and he is doing very well for himself. The Mister knows two Eagle Scouts, both at executive levels in his company. It sounds like a ticket to success from our limited experience, so we need perspective. Perhaps a few of you know Eagle Scouts who are bottom rung cookers in a small-town meth ring?
In the meantime, I have a book club pick. Since it's such a long book, I'm going to give us at least two months to read it.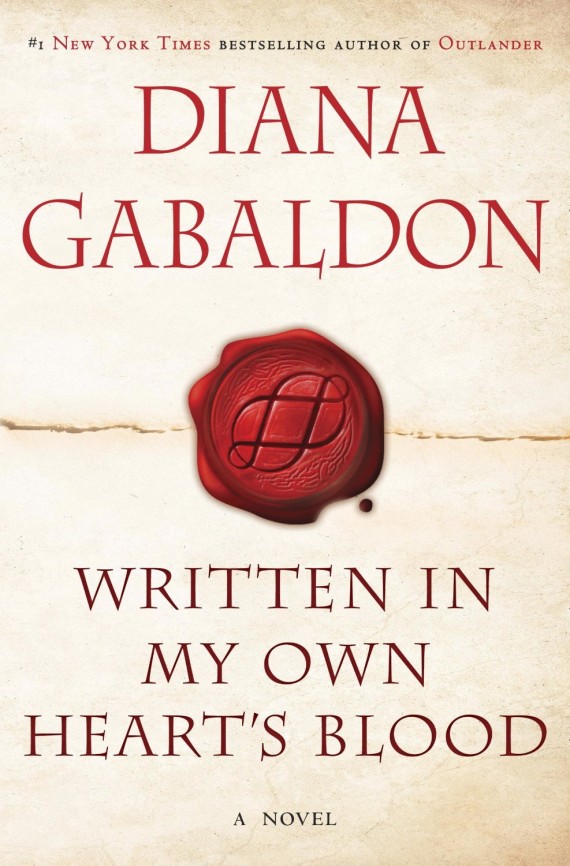 It's Diana Gabaldon's Written in My Own Heart's Blood. I've been reading the Outlander series for the last…10 years? It takes Gabaldon 2-3 years to complete a book, and I know when I started reading the series the first three were already out. My friend Kendra and I have been waiting for the series to become a movie/TV show for years, and I remember when they were talking about turning it into a movie, we were dubious. If you've read the books, you know they are impossible to make into a movie. You can't take a 900 page book and condense it to 90 minutes without losing some of the magic, to say nothing about major plot points.
I got cable for the first time in years so I can watch the show. It hasn't been too bad! I was really worried, but so far it's been great. Kendra, true to form, is one of the admins for an Outlander fanclub. She was invited to the premiere at ComicCon!
What say you? Have you read any of the books, and are you ready to give a 900 page book a try?
(I know from Facebook that some of you consider the books fluff, and some of you think they're way too dense and not fluffy enough. There are definitely differences in opinion!)
Yesterday the Mister had to take his mom to the emergency room. She's okay now, but at the time she was tired and miserable and hours away from going home. I was out running errands when the Mister texted me about getting comfortable clothes for his mom.
Of course, I said. Since I didn't have her house keys and she lives 30 minutes away, I offered to go buy something. He agreed. I went into one store, then another. Yesterday was the first day in recorded history that cheap sweat pants in a size Medium were not available in the United States. Except, of course, at one store. My last resort. The place I only go in case of extreme emergency. Not just regular emergency, extreme emergency.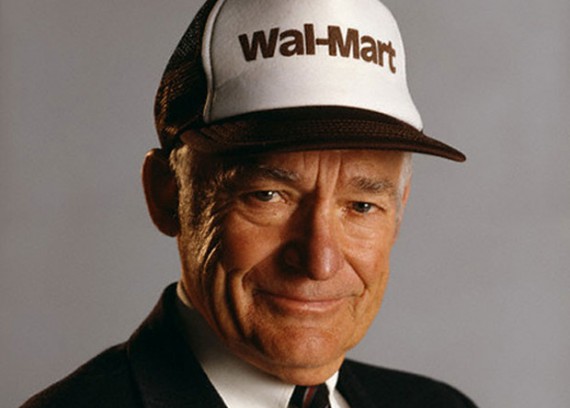 There are several topics one doesn't mention in polite society: (A) religion, (B) politics, (C) income, and (D) Walmart. Not-so-coincidentally, talking about D usually involves A, B, and C. I'm going to disregard my biological impulse for self preservation and devote an entire post to my personal rules for shopping at Walmart.
Rule No. 1: Never Shop at Walmart
I get a pass on this one since it was an extreme emergency.
Status: FAILED.
Rule No. 2: Arrive with an Empty Bladder
I didn't, so I had to venture into the Walmart bathrooms. Again, I get a pass on this one since it was an extreme emergency. I tried, unsuccessfully, meditation, mind-over-matter, and the pee-pee dance to prevent the inevitable.
Status: FAILED.
Rule No. 3: Maintain a Positive Attitude
Create a Wall of Happy. Say excuse me, please, and thank you. Show respect to fellow shoppers. Smile beatifically at the parents of children having tantrums. Be a good person.
Rattled from breaking two of my hard-and-fast Walmart rules, my Wall of Happy started to crumble.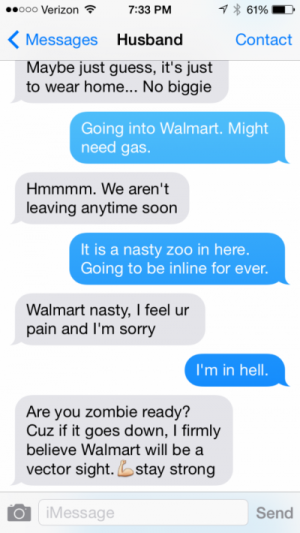 Status: FAILED.
Rule No. 4: Bring Entertainment
I usually have a book in my purse, and of course there is always my phone. But because it was an extreme emergency, I decided to forgo a cart or hand basket in favor of grabbing what I needed. Then I walked to the "Speedy Checkout" register, only to stand in line with my arms full of miscellanea, unable to access my entertainment.
Status: FAILED.
Rule No. 5: There is no "Speedy Checkout"
Management must instruct their employees to affix Walmart price tags with spit and wishes, because there is always at least one item in 75% of the shopping carts without a price. This produces all sorts of outrage as everyone else in line waits for the mythical Price Check Employee to appear in a swirl of smoke and intone, The Soft Touch Hanes Sweat Pants, classic fit, are $9.86."
There is also at least one shopper who will produce 400 unorganized coupons on a Sunday afternoon, ready to do battle over the price of a 32-pack of Gatorade.
I stood for 20 minutes in the "Speedy Checkout" line listening to a woman argue about the price of juice before remembering Rule No. 5.
Status: FAILED.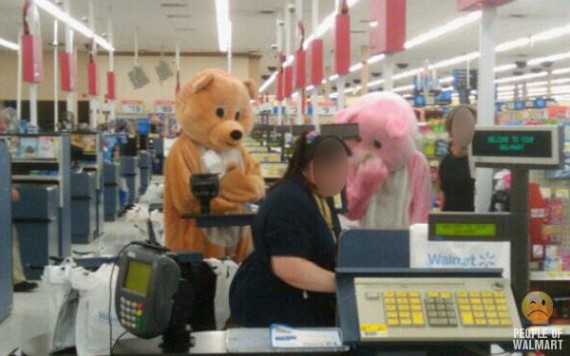 Rule No. 6: Expect the Unexpected
There will always be that one guy wearing something you can't believe, or that one employee you can't believe has a job. This is normal at Walmart, The New Colossus of shopping.
"Keep, ancient lands, your storied pomp!" cries she
With silent lips. "Give me your tired, your poor,
Your huddled masses yearning to wear spandex,
The street-rat-crazy of your teeming shore.
Send these, the butt-cracked, tempest-tost to me,
I lift my lamp beside the golden door!"
I call her Babushka, the 4'3″ fuse attached to my cannonball. Babushka, though I don't know if she's a Russion grandmother. Her age is indeterminable, maybe early 50s. I know she wears a headscarf tied under her chin and looks like she walked out of a Van Gogh painting. Actually, she bears a horrifying resemblance to the late Zelda Rubinstein, down to the stiff walk and raspy, child-like voice.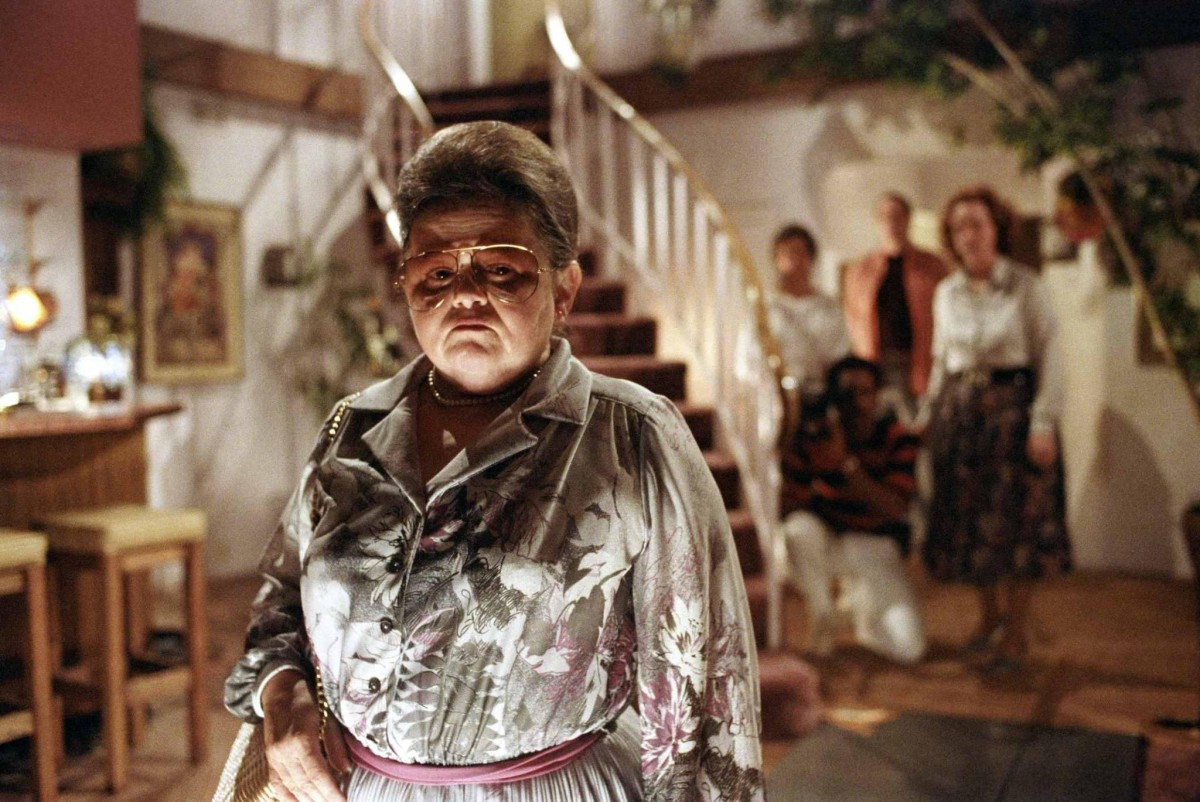 Babuska, my nemesis. It's not the first time I've stood in her line, which always takes forever. When I see her, I run. But this time, this time she got the best of me. I was in line, almost 20 minutes by this point, when they did a shift change. I watched with dismay as a black, simple headscarf made it's way through the aisle of bottled water like the dorsal fin of a hungry shark. I was doomed.
True to form, Babushka slowly and methodically scanned each item. If an item didn't scan, she did it again, even slower than before. Watching her scan items is like watching a sea anemone creep along the ocean floor. She scans an item three times before reaching for the handheld scanner. I commend her for working; it must be a grueling, exhausting job. I wish she didn't have to work at Walmart. I still want to strangle her with her headscarf.
She requested so many price checks that the mythical Price Check Employee stopped coming back. The crowd behind and in front of me started sharpening their pitchforks. "Why are we here," said a woman holding a lamp.
"We've been here too long," I said. "We're invested in this line, so now we can't leave."
Four college boys tried to buy everything plus one white serving dish without a price tag. Babushka turned the bowl over and over and over again, perhaps looking for the answers to life's most important questions. She began randomly scanning the bowl with her hand scanner in case the tag was invisible, I suppose.
I had enough. I, normally a patient person, came unglued. "Gentleman," I called out. "If there is no price, you are not getting the bowl. Let the dream go and move it along." Four pairs of entitled eyes turned and looked at me. I looked back.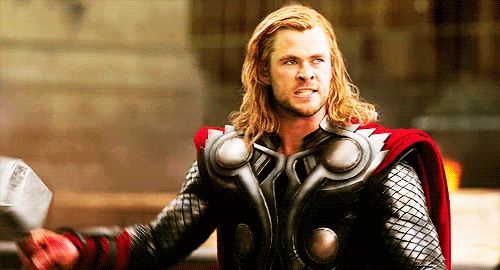 At this point, I had been standing for 30 minutes in line to buy $7 worth of clothing. I started imagining my 30 minute drive to the hospital, walking through the halls, searching for my husband and mother in-law. Babushka, Babushka, Babushka. I texted the Mister that he would have to meet me in the parking lot.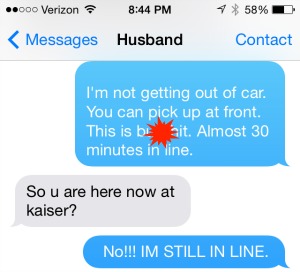 Finally, three customers later, it was my turn. MY TURN! I walked up and handed her my items rather than placing it on the conveyor belt because I noticed the counter was wet.
"I don't know why it's still wet!" She said in her terrifying voice. "I cleaned it but it's still wet! So sticky! So sticky!"
"That's alright," I said in what now sounded to me like a rumbling baritone. "I'm in a bit of a hurry and it's just as easy for me to hand you this."
"So sticky!" She said again. "I cleaned it once already!" She grabbed four squares from a roll of toilet paper and started wiping the counter.
"Perfectly fine!" I said. "But, really, I just need to get going."
She scanned my items while I stood ready with my ATM card. I ran my card through faster than I ever have in my life. My fingers flew across the keypad. It read "WAITING FOR CASHIER".
I was almost there, almost done. Almost out of the hellhole. And then. Dear God, and then.
"So sticky!" She said. "I don't know why it can't get clean!" I wanted to reach across the counter and tell Lady Macbeth to forget the damn spot and press that little button that would complete the transaction. Instead, I watched, slack-jawed, as she moved away from the counter and shuffled towards a bottle of cleanser 5 check stands away.
"No!" I yelled. "No! It's not that sticky! Please, come back!" She didn't hear me over the creaking of her bones. The luckiest part of my entire Walmart experience was that a manager happened to walk up to help the checker next to us. I begged her to check me out. "Just press the button," I said. "That's all you have to do."
As the manager pressed the button, back came Babuska, wildly spraying her cleanser all over the counter, the lamp on the belt, the customers, the world. "Watch out, my eyes!" cried out the woman with the lamp. Babushka and her toilet paper, rubbing everything down.
Status: FAILED.
Forty minutes later, I had my $7 sweat pants. I texted the Mister to let him know I was on my way, forgetting the most important rule of all when it comes to Walmart shopping.
Rule No. 7: It's Not Over Until Sam Walton Sings