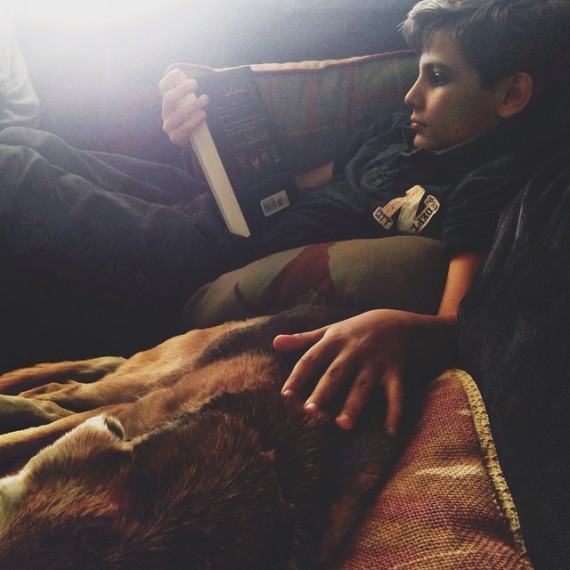 Life Lessons From the 5th Grade
by Mikey
Open book tests are hard. If you ever hear there is going to be an open book test, this is what you need to do: a) freak out b) calm down c) study hard d) wash, rinse, repeat
Don't multi-task. It is a really, really, really bad idea to read your Percy Jackson book (Battle of the Labyrinth) behind your social studies book in class.
Don't get cocky. If you take a math test and you think you aced it, and then tell everyone that you aced it–including your mom–don't be surprised when you get a D. It's called Karma.
Don't go super fast during tests because you will make careless mistakes. If you have extra time, check your answers to make sure you weren't being cocky. (see number 3)
4th graders will copy all the games you play at recess because they have no imagination.
If people laugh at you, just think in your mind that those people are overrated.
The Lightening Thief movie is nothing like the book. It is the most inaccurate thing I have ever seen in my life. I think that the movie directors got the story mixed up but when they realized it they had already spent a lot of money on the movie and couldn't redo it without going over budget. The movie is so wrong that if you do a book report in class on The Lightning Thief I will totally know that you only watched the movie.
Always practice for music class! It will backfire on you if you don't!
Having your mom work at the school is awesome because if you forget your clarinet and give her puppy dog eyes she will go pick it up on her lunch time.
Every October for a few years now, I've done 31-day posts on organizing and decluttering. For obvious reasons, this year I'm not going to do that. Last week, if you asked me what I was doing, I would have said that I'm taking the entire month of October away from blogging and social media. At the end of that time, I would have made my mind up about what to do, where to go.
I think last week's meltdown had a lot to do with hearing the Mister did not get a promotion that would keep him home instead of traveling all the time. Now, after a few days to process what this means, we're taking it in stride. He still has an excellent job, we have our health, and we have our boys. His time away from home we'll just have to figure out. Our number one goal is to create more intentional family time. I'm feeling much better about things.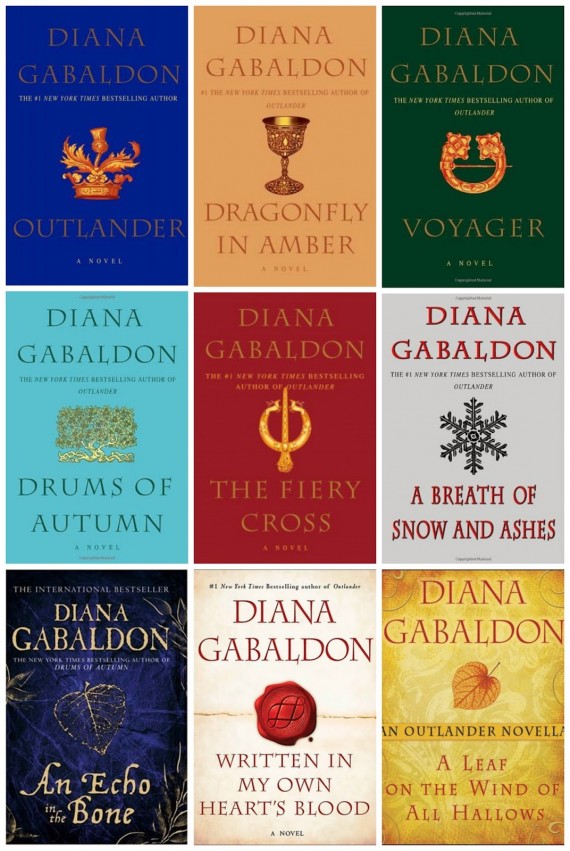 I've been toying with putting the boys in Boy Scouts (they both really want to do it) because of all the trips and family activities they offer. The only reason I haven't signed them up yet is that I hear it will be a lot of work for me. Meetings, dinners, weekly activities…I'm not sure I can put that on my plate. Does anyone have Boy Scout experience? Is it worth it, especially going all the way up to Eagle Scout? I know one guy who was an Eagle Scout, and he is doing very well for himself. The Mister knows two Eagle Scouts, both at executive levels in his company. It sounds like a ticket to success from our limited experience, so we need perspective. Perhaps a few of you know Eagle Scouts who are bottom rung cookers in a small-town meth ring?
In the meantime, I have a book club pick. Since it's such a long book, I'm going to give us at least two months to read it.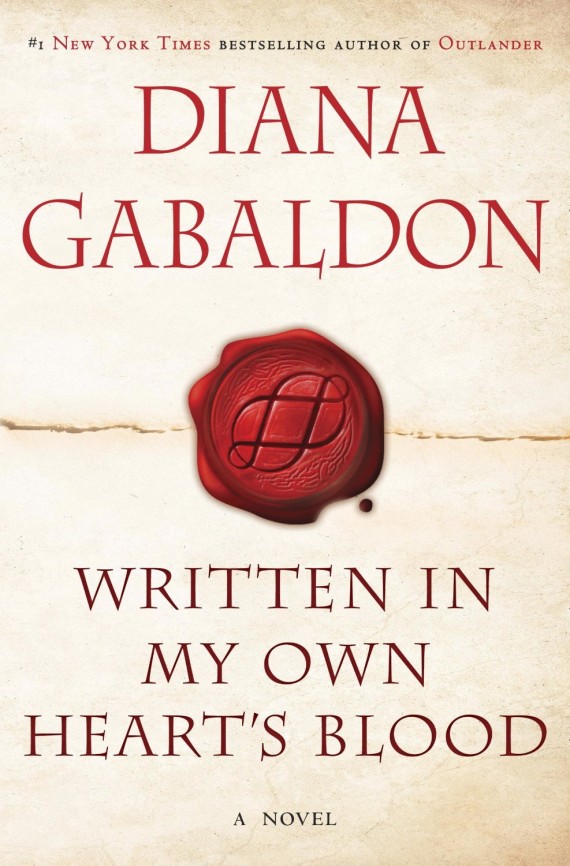 It's Diana Gabaldon's Written in My Own Heart's Blood. I've been reading the Outlander series for the last…10 years? It takes Gabaldon 2-3 years to complete a book, and I know when I started reading the series the first three were already out. My friend Kendra and I have been waiting for the series to become a movie/TV show for years, and I remember when they were talking about turning it into a movie, we were dubious. If you've read the books, you know they are impossible to make into a movie. You can't take a 900 page book and condense it to 90 minutes without losing some of the magic, to say nothing about major plot points.
I got cable for the first time in years so I can watch the show. It hasn't been too bad! I was really worried, but so far it's been great. Kendra, true to form, is one of the admins for an Outlander fanclub. She was invited to the premiere at ComicCon!
What say you? Have you read any of the books, and are you ready to give a 900 page book a try?
(I know from Facebook that some of you consider the books fluff, and some of you think they're way too dense and not fluffy enough. There are definitely differences in opinion!)
Yesterday the Mister had to take his mom to the emergency room. She's okay now, but at the time she was tired and miserable and hours away from going home. I was out running errands when the Mister texted me about getting comfortable clothes for his mom.
Of course, I said. Since I didn't have her house keys and she lives 30 minutes away, I offered to go buy something. He agreed. I went into one store, then another. Yesterday was the first day in recorded history that cheap sweat pants in a size Medium were not available in the United States. Except, of course, at one store. My last resort. The place I only go in case of extreme emergency. Not just regular emergency, extreme emergency.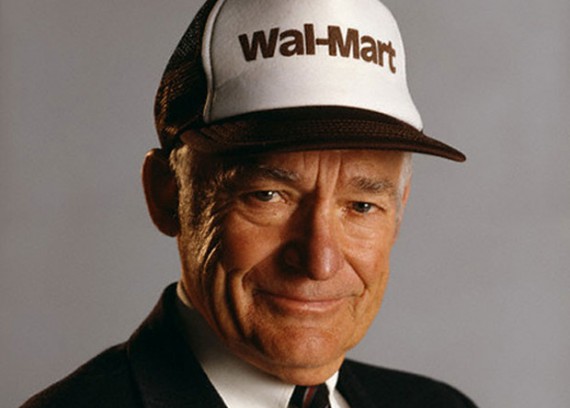 There are several topics one doesn't mention in polite society: (A) religion, (B) politics, (C) income, and (D) Walmart. Not-so-coincidentally, talking about D usually involves A, B, and C. I'm going to disregard my biological impulse for self preservation and devote an entire post to my personal rules for shopping at Walmart.
Rule No. 1: Never Shop at Walmart
I get a pass on this one since it was an extreme emergency.
Status: FAILED.
Rule No. 2: Arrive with an Empty Bladder
I didn't, so I had to venture into the Walmart bathrooms. Again, I get a pass on this one since it was an extreme emergency. I tried, unsuccessfully, meditation, mind-over-matter, and the pee-pee dance to prevent the inevitable.
Status: FAILED.
Rule No. 3: Maintain a Positive Attitude
Create a Wall of Happy. Say excuse me, please, and thank you. Show respect to fellow shoppers. Smile beatifically at the parents of children having tantrums. Be a good person.
Rattled from breaking two of my hard-and-fast Walmart rules, my Wall of Happy started to crumble.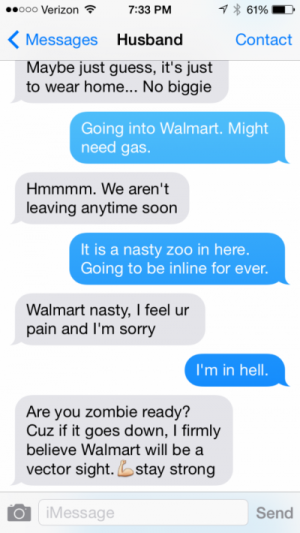 Status: FAILED.
Rule No. 4: Bring Entertainment
I usually have a book in my purse, and of course there is always my phone. But because it was an extreme emergency, I decided to forgo a cart or hand basket in favor of grabbing what I needed. Then I walked to the "Speedy Checkout" register, only to stand in line with my arms full of miscellanea, unable to access my entertainment.
Status: FAILED.
Rule No. 5: There is no "Speedy Checkout"
Management must instruct their employees to affix Walmart price tags with spit and wishes, because there is always at least one item in 75% of the shopping carts without a price. This produces all sorts of outrage as everyone else in line waits for the mythical Price Check Employee to appear in a swirl of smoke and intone, The Soft Touch Hanes Sweat Pants, classic fit, are $9.86."
There is also at least one shopper who will produce 400 unorganized coupons on a Sunday afternoon, ready to do battle over the price of a 32-pack of Gatorade.
I stood for 20 minutes in the "Speedy Checkout" line listening to a woman argue about the price of juice before remembering Rule No. 5.
Status: FAILED.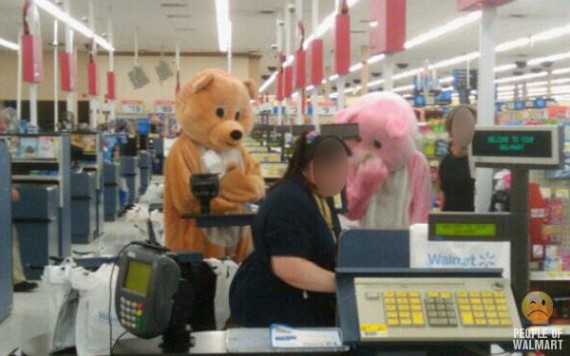 Rule No. 6: Expect the Unexpected
There will always be that one guy wearing something you can't believe, or that one employee you can't believe has a job. This is normal at Walmart, The New Colossus of shopping.
"Keep, ancient lands, your storied pomp!" cries she
With silent lips. "Give me your tired, your poor,
Your huddled masses yearning to wear spandex,
The street-rat-crazy of your teeming shore.
Send these, the butt-cracked, tempest-tost to me,
I lift my lamp beside the golden door!"
I call her Babushka, the 4'3″ fuse attached to my cannonball. Babushka, though I don't know if she's a Russion grandmother. Her age is indeterminable, maybe early 50s. I know she wears a headscarf tied under her chin and looks like she walked out of a Van Gogh painting. Actually, she bears a horrifying resemblance to the late Zelda Rubinstein, down to the stiff walk and raspy, child-like voice.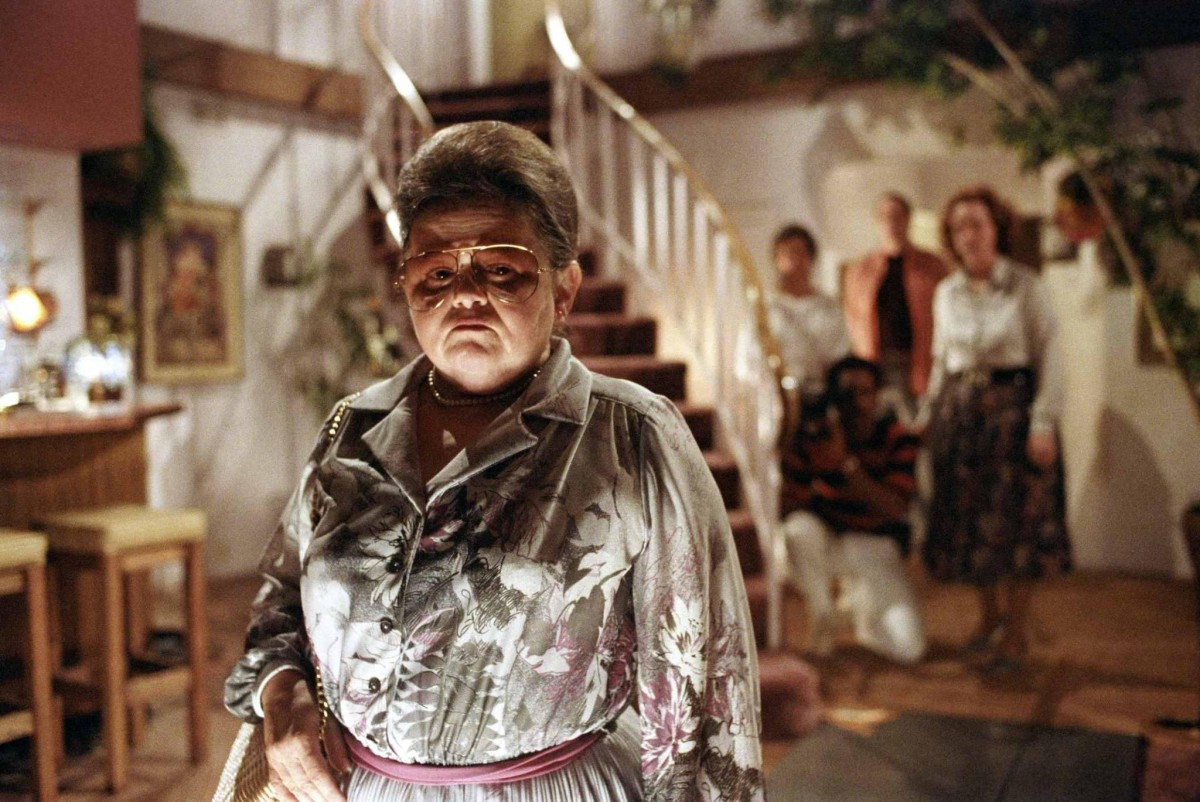 Babuska, my nemesis. It's not the first time I've stood in her line, which always takes forever. When I see her, I run. But this time, this time she got the best of me. I was in line, almost 20 minutes by this point, when they did a shift change. I watched with dismay as a black, simple headscarf made it's way through the aisle of bottled water like the dorsal fin of a hungry shark. I was doomed.
True to form, Babushka slowly and methodically scanned each item. If an item didn't scan, she did it again, even slower than before. Watching her scan items is like watching a sea anemone creep along the ocean floor. She scans an item three times before reaching for the handheld scanner. I commend her for working; it must be a grueling, exhausting job. I wish she didn't have to work at Walmart. I still want to strangle her with her headscarf.
She requested so many price checks that the mythical Price Check Employee stopped coming back. The crowd behind and in front of me started sharpening their pitchforks. "Why are we here," said a woman holding a lamp.
"We've been here too long," I said. "We're invested in this line, so now we can't leave."
Four college boys tried to buy everything plus one white serving dish without a price tag. Babushka turned the bowl over and over and over again, perhaps looking for the answers to life's most important questions. She began randomly scanning the bowl with her hand scanner in case the tag was invisible, I suppose.
I had enough. I, normally a patient person, came unglued. "Gentleman," I called out. "If there is no price, you are not getting the bowl. Let the dream go and move it along." Four pairs of entitled eyes turned and looked at me. I looked back.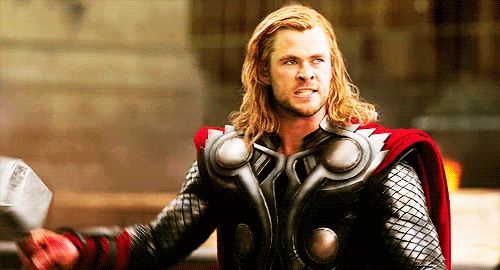 At this point, I had been standing for 30 minutes in line to buy $7 worth of clothing. I started imagining my 30 minute drive to the hospital, walking through the halls, searching for my husband and mother in-law. Babushka, Babushka, Babushka. I texted the Mister that he would have to meet me in the parking lot.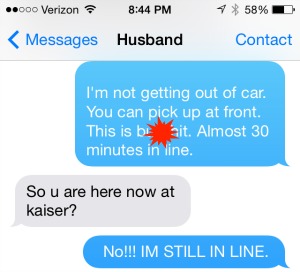 Finally, three customers later, it was my turn. MY TURN! I walked up and handed her my items rather than placing it on the conveyor belt because I noticed the counter was wet.
"I don't know why it's still wet!" She said in her terrifying voice. "I cleaned it but it's still wet! So sticky! So sticky!"
"That's alright," I said in what now sounded to me like a rumbling baritone. "I'm in a bit of a hurry and it's just as easy for me to hand you this."
"So sticky!" She said again. "I cleaned it once already!" She grabbed four squares from a roll of toilet paper and started wiping the counter.
"Perfectly fine!" I said. "But, really, I just need to get going."
She scanned my items while I stood ready with my ATM card. I ran my card through faster than I ever have in my life. My fingers flew across the keypad. It read "WAITING FOR CASHIER".
I was almost there, almost done. Almost out of the hellhole. And then. Dear God, and then.
"So sticky!" She said. "I don't know why it can't get clean!" I wanted to reach across the counter and tell Lady Macbeth to forget the damn spot and press that little button that would complete the transaction. Instead, I watched, slack-jawed, as she moved away from the counter and shuffled towards a bottle of cleanser 5 check stands away.
"No!" I yelled. "No! It's not that sticky! Please, come back!" She didn't hear me over the creaking of her bones. The luckiest part of my entire Walmart experience was that a manager happened to walk up to help the checker next to us. I begged her to check me out. "Just press the button," I said. "That's all you have to do."
As the manager pressed the button, back came Babuska, wildly spraying her cleanser all over the counter, the lamp on the belt, the customers, the world. "Watch out, my eyes!" cried out the woman with the lamp. Babushka and her toilet paper, rubbing everything down.
Status: FAILED.
Forty minutes later, I had my $7 sweat pants. I texted the Mister to let him know I was on my way, forgetting the most important rule of all when it comes to Walmart shopping.
Rule No. 7: It's Not Over Until Sam Walton Sings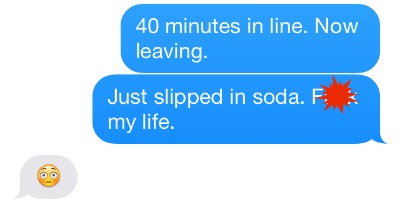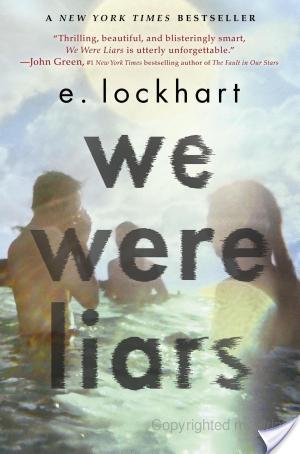 We Were Liars
by
E. Lockhart
Published by
Random House Children's Books
on 2014-05-13
Genres:
Death & Dying
,
Emotions & Feelings
,
Family
,
General
,
Social Issues
,
Young Adult
Pages:
240
Goodreads
A New York Times Bestseller"Haunting, sophisticated . . . a novel so twisty and well-told that it will appeal to older readers as well as to adolescents."--Wall Street Journal"A rich, stunning summer mystery with a sharp twist that will leave you dying to talk about the book with a pal or ten."--Parade.com"Thrilling, beautiful, and blisteringly smart, We Were Liars is utterly unforgettable." - John Green, #1 New York Times bestselling author of The Fault in Our Stars"You're going to want to remember the title. Liars details the summers of a girl who harbors a dark secret, and delivers a satisfying, but shocking twist ending." - Breia Brissey, Entertainment Weekly. A beautiful and distinguished family.A private island.A brilliant, damaged girl; a passionate, political boy.A group of four friends—the Liars—whose friendship turns destructive.A revolution. An accident. A secret.Lies upon lies.True love.The truth. We Were Liars is a modern, sophisticated suspense novel from New York Times bestselling author, National Book Award finalist, and Printz Award honoree E. Lockhart. Read it.And if anyone asks you how it ends, just LIE."An ambitious novel with an engaging voice, a clever plot and some terrific writing."--New York Times Book Review"No one should be talking about the shocking twist ending. What we can talk about is...[Lockhart's] razor-sharp portrayal of a family for whom keeping up appearances is paramount and, ultimately, tragic."--The Chicago TribuneFrom the Hardcover edition.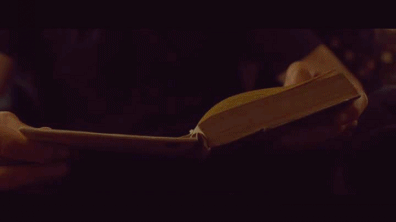 I knew how it would end after she woke up alone. I thought this was going to have a shocking ending, something completely unexpected. The reviews were glowing.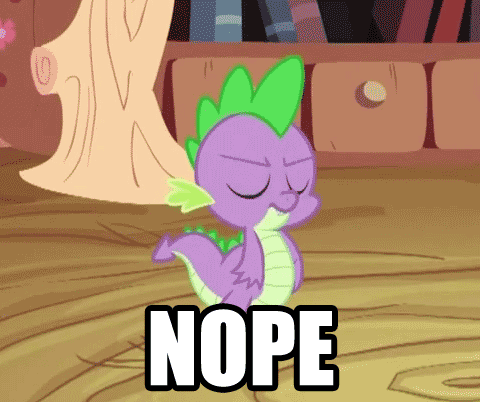 The book was predictable from beginning to end. There wasn't a shadow of doubt in my mind what would happen, which I would share but I've always promised spoiler-free reviews. How it happened was disappointing. Lockhart made a lazy plot decision. Too easy, to trite, too boring.
I could see
the ending
from a mile away
and could feel the feels because
there were so many feels
because teenagers feel the feels
nope
That's the kind of free form poetry that would drop onto the page out of nowhere, usually following the purplest of purple prose to ever purple a page.
Here is the main character telling us how it felt when her dad left her mom for another woman.
Then he pulled out a handgun and shot me in the chest. I was standing on the lawn and I fell. The bullet hole opened wide and my heart rolled out of my rib cage and down into a flower bed. Blood gushed rhythmically from my open wound,
then from my eyes,
my ears,
my mouth.
I think she's upset.
This overly dramatic steaming mound of purple littered the book. Also, not for nothing, but that's the most asinine piece of writing I've read in a long time. If your heart rolled into a flower bed, your open wound is not pumping, rhythmically or otherwise. It's gaping.
Here is the main character telling us about a migraine.
A witch has been standing there behind me for some time, waiting for a moment of weakness. She holds an ivory statue of a goose. It is intricately carved. I turn and admire it only for a moment before she swings it with shocking force. It connects, crushing a hole in my forehead. I can feel my bone come loose. The witch swings the statue again and hits above my right ear, smashing my skull. Blow after blow she lands, until tiny flakes of bone litter the bed and mingle with chipped bits of her once-beautiful goose.

Here is the main character telling us about another migraine.
In Europe, I vomited into small buckets and brushed my teeth repeatedly with chalky British toothpaste. I lay prone on the bathroom floors of several museums, feeling the cold tile underneath my cheek as my brain liquefied and seeped out my ear, bubbling. Migraines left my blood spreading across unfamiliar hotel sheets, dripping on the floors, oozing into carpets, soaking through leftover croissants and Italian lace cookies.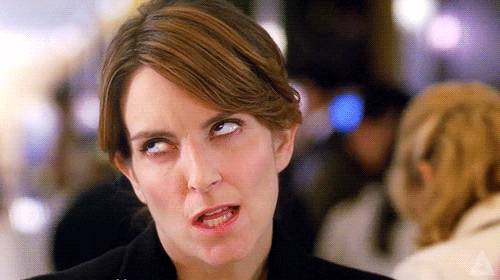 I had a migraine on Monday. Here's how I described it to the Mister when I talked to him that night.
I have a migraine.
Then came the fairytales. The fairytales that tried to give back-story and move the plot forward while attempting to hide from the reader that the main character really just did an obscene amount of telling and not a lot of doing. See above.
Once there was a king with three beautiful daughters.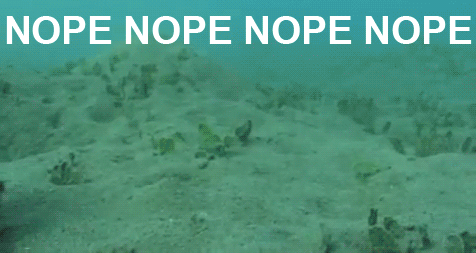 Every person who loved The Fault in Our Stars will enjoy this book.
Teenagers will adore this book,
but not me
nope
not at all
nope nope nope nope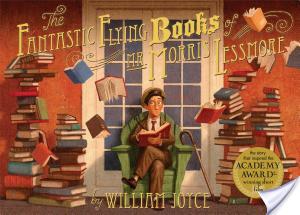 The Fantastic Flying Books of Mr. Morris Lessmore
Published by
Simon and Schuster
on 2012-06-19
Genres:
Books & Libraries
,
Fantasy & Magic
,
New Experience
,
Social Issues
,
Young Adult
Pages:
56
Goodreads
The book that inspired the Academy Award–winning short film, from New York Times bestselling author and beloved visionary William Joyce. Morris Lessmore loved words.He loved stories.He loved books.But every story has its upsets. Everything in Morris Lessmore's life, including his own story, is scattered to the winds. But the power of story will save the day. Stunningly brought to life by William Joyce, one of the preeminent creators in children's literature, The Fantastic Flying Books of Mr. Morris Lessmore is a modern masterpiece, showing that in today's world of traditional books, eBooks, and apps, it's story that we truly celebrate—and this story, no matter how you tell it, begs to be read again and again.
The Fantastic Flying Books of Mr. Morris Lessmore isn't new. I bought it a few years ago when it first came out and was all the rage. I tried to read it with Nico, but he was not interested–not even a little. I put it on the shelf and forgot about it.
Yesterday I read two books to the first graders. The first was The Fantastic Flying Books of Mr. Morris Lessmore. They loved it, hanging on the edge of their seat loved it. They were quiet as church mice as I read the last few pages, quietly absorbing every word, every picture. And boy, what pictures.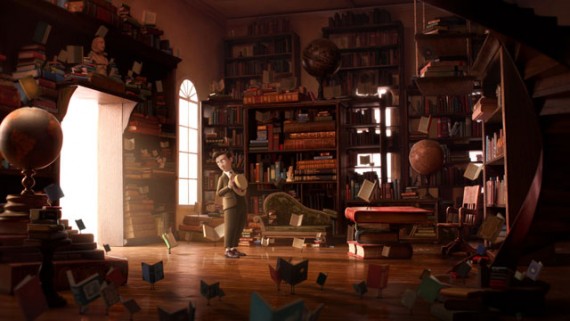 I know I'm not sharing anything new to many of you bookworms. Many of you either own the book, have read the book, or watched the award winning short film. I share this because when I got home, I took the book out of my purse and set it on the dining room table. Then I got caught up preparing dinner, feeding Buttercup, getting the mail…the usual stuff you do when you get home from work. After a while, I walked out of the kitchen to make sure the boys were on task with their homework. Nico wasn't doing his homework–no surprise there–but he was sitting at the table reading The Fantastic Flying Books of Mr. Morris Lessmore. Color me more than surprised! He read every word, but then spent an inordinate amount of time analyzing every picture. I could see him cataloging all the details, absorbing everything. The book is far below his reading level, but he read without my strong encouragement.
By the time Mikey was Nico's age, he was well into chapter books, though he still enjoyed picture books. He still reads them today "to remember my childhood," he says. (Good grief.) Nico is not Mikey, and that's more than okay. It was a good reminder to not compare my children and to refrain from pushing one beyond what they are ready to do. Nico can read more advanced books. He's actually a strong reader. But, for whatever reason, he lacks the interest and the confidence to do more. If I continue to force him to do what I believe is his level, the only thing I will accomplish is to make reading just another task he has to complete. It's time to rethink the kind of books I encourage Nico to read.
Why Mosquitoes Buzz in People's Ear: A West African Tale is the other book I read to the first grade, in case you were curious. It's a cumulative tale, which the kids always love. They think it's the true mark of an adult to be able to say "ULTRA SO MANY WORDS MRS. KENDALL" without having to take a breath.