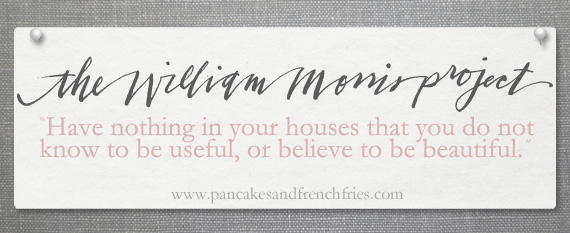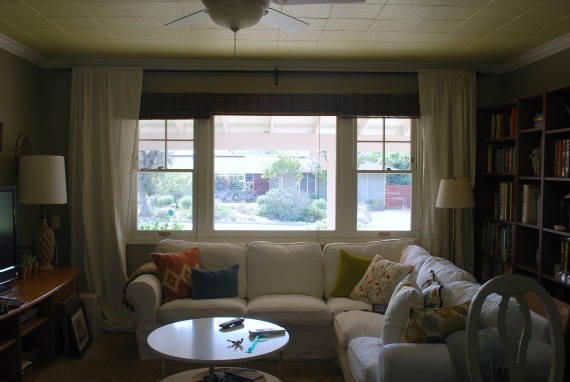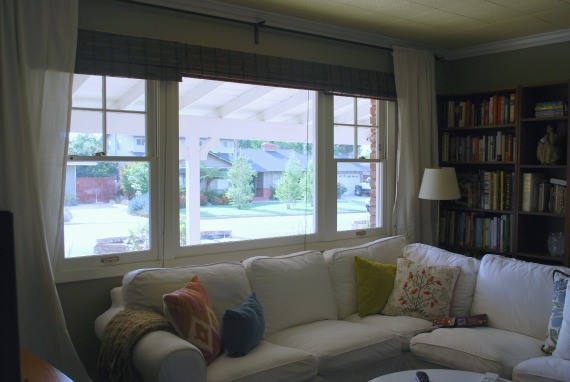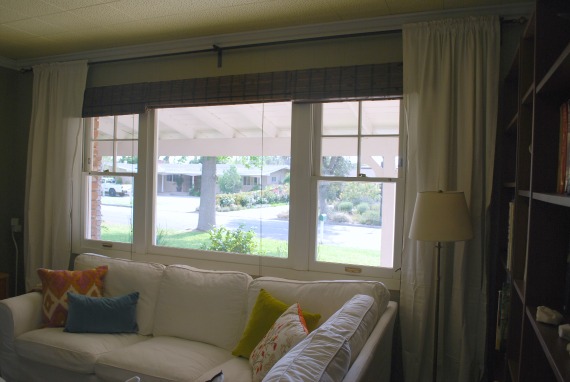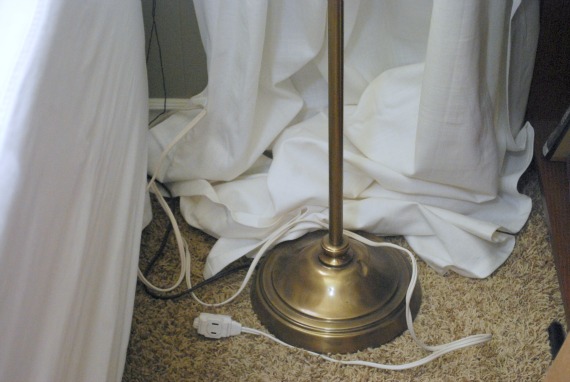 Quickly, because I want to touch upon what's really important. We hung the curtains that have been sitting in their packages for months. I didn't have time to wash them before everyone came over on Saturday, and I'm assuming that's why they are trailing the floor like wedding veils. That, or I bought the wrong size at IKEA. I'm washing them this week, so we'll see what happens after I wash, dry, and iron them.
Now, on to what really matters. I was fluffing the curtains on Wednesday, trying to make them look somewhat tidy before taking pictures, but they were way too long to do anything but create static. They were so long they reminded me of those red velvet vaudeville curtains that would drop to cover the stage floor in old movies. This got me thinking of the theater, which got me thinking of fame and celebrity, which got me thinking of Hollywood.
What is wrong with the young celebrities and musicians of today? They are seriously troubled. I spent the rest of my time taking pictures trying to remember the teeny bopper stars of my youth and if they circled the drain as vigorously as Miley Cyrus, Selena Gomez Demi Lovato, Justin Bieber, Amanda Bynes, Lindsay freaking-Lohan, and pretty much anyone in Hollywood under 30.
Taylor Swift seems like a serial monogamer one Steno-pad and a bitten pencil away from an opus of breakup songs. I'm sure she's a very nice girl in real life, not at all psycho-clingy, but she can't release an album without the world wondering which boyfriend(s) it's about. She should have followed Alanis Morisette's lead and kept her "woman scorned" to one album. Despite her dicey luck with men, she keeps dating all of them. Then she breaks up with them, puts on comfy pajamas, and lays on the floor of her bedroom and writes songs. And she's all: I write about what I know! And I'm all: Know something else! You're looking cray.
Meanwhile, Kim Kardashian has managed to sexualize/objectify her pregnancy with her questionable choices in maternity wear. I can't decide whether to tell the world to leave her alone or tell Kim to put on leggings and flats like the rest of us. That, or make like a Victorian and go into confinement until she lets go of her dreams of a sex-kitten pregnancy because after this, my eyes can take no more. Rule No. 1 of the Big Boob Fashion Handbook: Never, ever wear a turtleneck or tight high collar unless you want your breasts to appear like the filled bladders of an airplane life jacket.
If Justin Bieber was my son, I'd toss him into Time Out so fast his puffy little lips would deflate from the wind pressure. Then, I would ground him for one month from his used Honda Civic (please, with your cars!) and fire every single person on his payroll that sees him as a meal ticket.
Kid from One Direction: quit sleeping with married women in their 30s. Married 30 year old women: quit sleeping with the kid from One Direction. He's a kid. He looks like a kid. Sure, now that he's 18 it's legal [side eye to DJ Lucy Horobin], but still. He's an adolescent with a baby face. And that hair! Nicholas had the same hair when he would wake up from his naps. I just…no. I look at him and all I can imagine are Sponge Bob Square Pants sheets and a bed shaped like a car.
Contrast these people with the celebrities of our youth and tell me if I'm missing a group of people who can give them a run for their money. Ricky Schroeder–I think his worst crime was a penchant for horizontal stripes. Debbie Gibson–that hat. The Brat Pack brought a little heat with Robert Downey Jr., but today's crowd makes him look like a Catholic school boy caught kissing a girl under the school bleachers.
It's possible, as a friend mentioned to me last night, that the internet and social media just brings the crazy to light. In the 80s, celebrities hid it better because their every move wasn't so easy to monitor. Maybe. I think the internet and social media is the black ice on an already destructive path for these kids. I was reading an article the other day on Mikey and Nico's generation, Generation Z. They are the first generation to grow up with the internet and social media in full swing and part of everyday culture. Everyone is waiting to see how it affects this generation because no one feels comfortable predicting the outcomes of growing up in such a small, big world. God help us all.
//////////////////////////////////
This post was part of The William Morris Project, a weekly series that details the steps I am taking to create an intentional home. You can see more of my goals and completed projects here. To learn more about this project, start here.
//////////////////////////////////
Now it's your turn! Feel free to share how you have lived according to the William Morris quote, "Have nothing in your houses that you do not know to be useful or believe to be beautiful." Made a plan? Cleaned a drawer? Bought a sofa? Tell us about it with a link or comment. A few guidelines:
Please link to a specific post, not a general blog address.
Your post must relate to your efforts to create an intentional home. I have a delete button, and I'm not afraid to use it.
No links to giveaways, please.
Let's use this weekly link up as an opportunity to gather inspiration and motivation. Click links. Discover new people. Say hi and good job and all that stuff.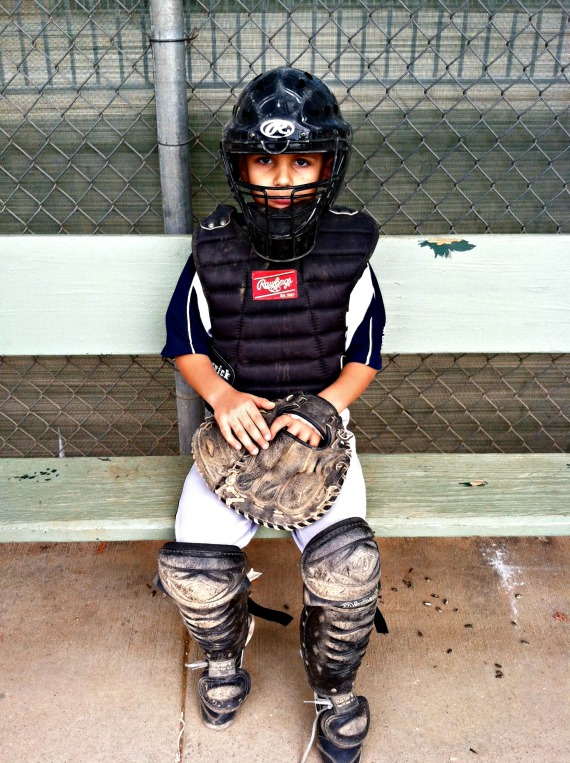 It's as simple as this: Mikey has a set of brass balls. Where Nicholas is sweet and shy and clumsy and lovable, Mikey is honest and confident and sure and memorable. When he sees something he wants, he doesn't stop until he has it in the palm of his hand. He assumes he will be good at everything and when he isn't, it comes as a shock. He is so used to overachieving that when he falls short of the mark he makes excuses. I don't say this to criticize him. I say this because he's my son and I love him, but I'm not one of those moms who believes her child is perfect. I also say this because the apple doesn't fall far from the tree.
Here is how Mikey is like me.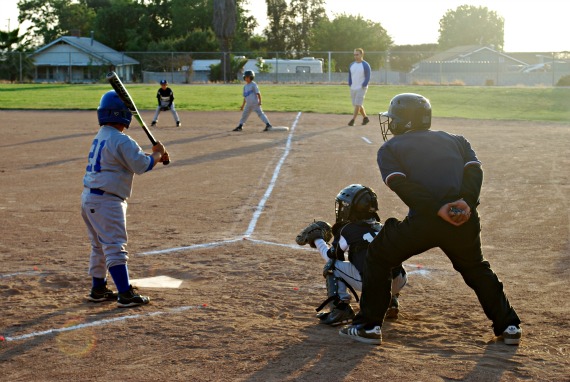 Mikey inherited my drive for perfection. Last week I hung in the laundry room some of my favorite drawings the boys have made over the years. Nico doesn't draw as well as Mikey did at his age, but if you ask him everything he does is brilliant. When he saw his pictures, he immediately pointed out everything that was awesome–and there was plenty of awesome. When Mikey saw my wall of pictures, he grimaced. This one, my favorite of the bunch, really annoyed him.
"It's not my best work."
Days later he saw it again as he was putting his baseball uniform to wash. He came storming back to my desk to complete his argument (I refused to take down the pictures days prior). "You know what really bugs me about that Allosaurus picture? It's attacking a Triceratops, which is impossible. They aren't even from the same period."
I reminded him that (1) we don't know any paleontologists so his gaffe is safe with us (2) he was barely 7 years old when he drew that picture and if anyone is allowed to take poetic license with dinosaur art, it's the under-10 crowd and (3) too bad, so sad, I love the picture and it stays.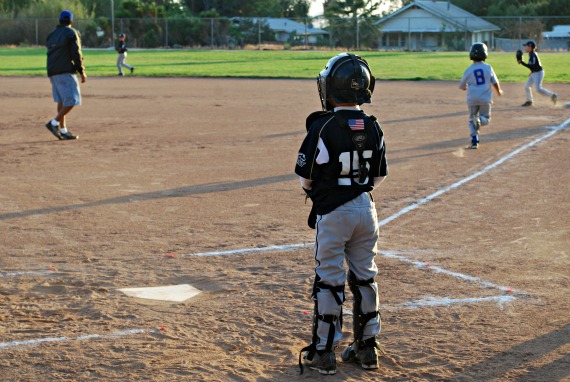 Baseball has been another lesson in perfectionism.
Mikey is now in the age group where the boys who play baseball are serious about the game. They play winter ball, participate in camps, and tour on tournament teams. Mikey has only played spring season baseball three times, and he doesn't practice outside team practices. That has always worked in the past, but it hasn't this year. This year, there was a great divide when it came to skill sets. All those camps and off season teams everyone else participated in caught up with Mikey and left him as one of the weaker players on the team. Weak was new for Mikey. New and unwelcome.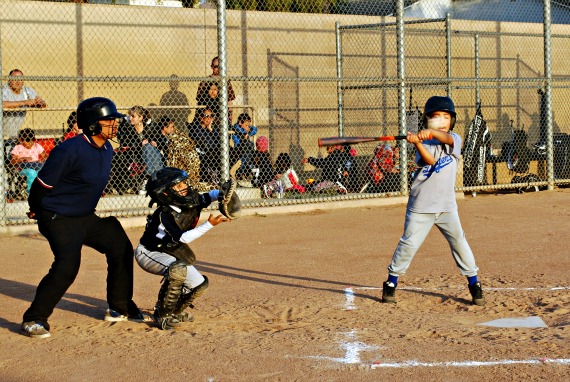 For the first few weeks of baseball, practice was a stressful affair. He came home quiet, sometimes angry. He didn't like getting his lunch handed to him. Even worse, he didn't like the ribbing he got from his teammates. A few of them let him know he wasn't the best player. Mikey let them know what he lacked in fielding he made up for in tackling. We had a family meeting that night.
There was one bad night where Mikey came home from practice, walked right past me, and went straight to his room. I found him laying on his bed, still in his dusty practice uniform. I sat on his bed and asked him if he was okay. He rolled over and looked at me with pretty blue-green eyes and said, "I suck at baseball."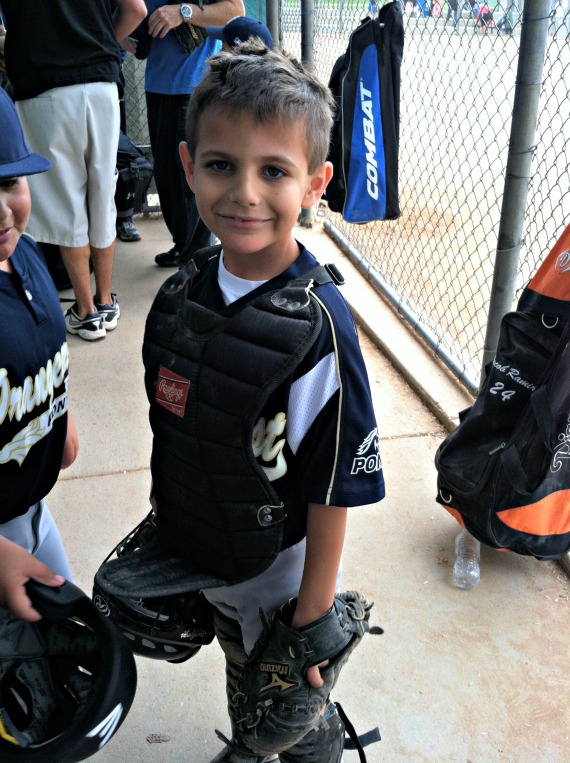 My first thought was that we should call the league and have baseball cancelled forever. After that, a quick call to the school principals of all the boys on the team to let them know they all deserved F's on every core subject on their report card. In the end, I decided to go less Mama-Bear and point out the obvious. If he wanted to be as good as the boys on his team, he was going to have to practice as hard as they do. He's at the level where good performance requires effort. Talent doesn't flutter down into your lap like leaves from a tree during autumn so…it was time to think about winter ball, baseball camp, and all the other stuff the boys on his team do if being good at baseball was what he really wants. If he didn't want to play baseball anymore, that was okay. This could be his last season. But if he wanted to keep playing, no more excuses or complaining without putting in the work.
He didn't like that idea. He liked the idea of natural greatness. Yeah, well, so do a lot of people. But if the boys on his team proved anything, it's that talent rarely comes naturally. We went round and round until he admitted that the idea of camp made him nervous ("You don't understand, mom. There's going to be 11 year-olds there.") and that he was afraid of the unknown. I tried to give him some parental advice on fear, but I missed his hints on backing off in my zeal to be super positive Mom of the Year because he stopped me mid-soapbox and said, "Mom, I'm tired, in a bad mood, and feeling like being a jerk. Can we talk tomorrow when I'm in a better mood?"
I said yes, sure, of course, and that I was proud of him for being honest and that when he was ready to talk I was available and he said, "MOM!!" and then I left his room quickly.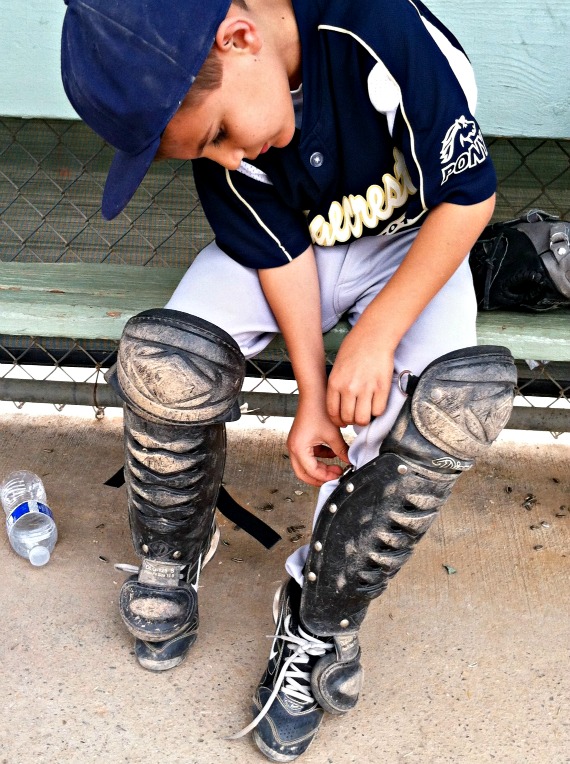 Here is how Mikey is not like me.
A few days later I decided to bring it up again but he waved me off. "Oh, I thought about it when I woke up the next morning and I told dad I'm going to do the baseball camp."
At his age, I wouldn't have done the baseball camp. I wouldn't have done baseball. Striking out, making errors, not being the best…the perfectionist in me couldn't have handled the fear of failure. I'm too safe. Mikey floundered briefly but then charged ahead because he wanted baseball in the palm of his hand.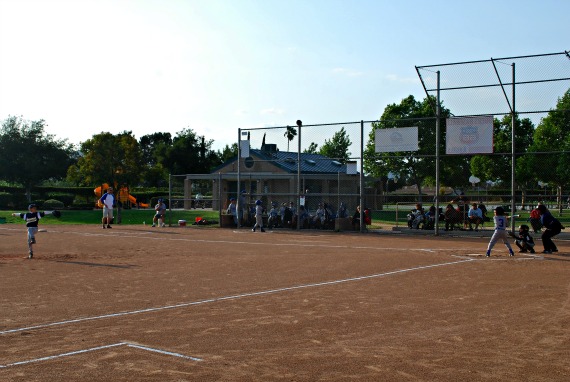 It's why he was excited and not nervous when during a recent game the coach put him in as catcher even though he is a horrible catcher. The team was so far past winning the coach tossed Mikey a bone, which he attacked like a terrier. He didn't catch a single ball, but he had the time of his life.
The next game, we played a team so bad we knew going in we would win. The coach tossed Mikey another bone and made him the starting pitcher. Mikey was thrilled; I was horrified, but played it off. At the beginning of the season, Mikey couldn't throw the ball over the plate. He pitched one inning and struck out one batter. Then, at the end of the game he played catcher. This time, his second time playing catcher this season, he caught balls and fielded well. He had the best game of his life and did better than some of the top line boys, probably because he believes failure isn't a threat. A possibility, maybe, but not a threat.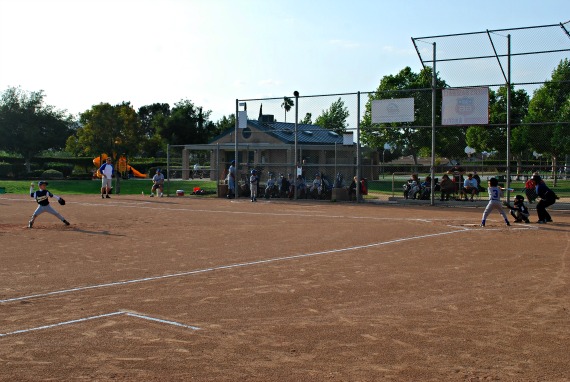 When we drove home from the game I asked him if he was nervous on the mound and he said not at all. "Not even when you were throwing balls? You didn't get nervous when you threw a ball and had to pitch again? I would have been nervous to throw another ball."
"No way, Mom. Even the best pitchers throw balls."
Parenthood is hit and miss, but recognizing your child has inherited some of your good while avoiding most of your bad is a hit. So is the realization that you learn from your child more than they learn from you.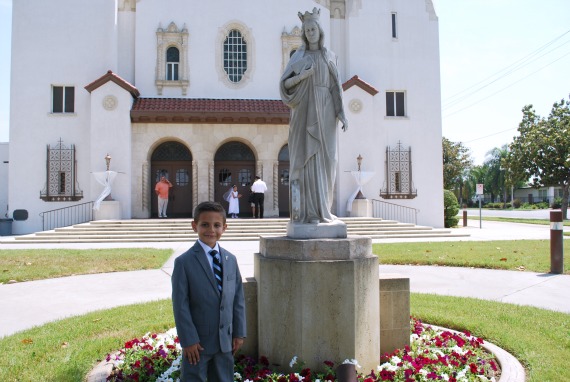 Part of me was dreading Mikey's First Holy Communion. Lots of people, expense, and work were guaranteed. Another part of me looked forward to this day because for Catholics, this is our walkabout. Our bar mitzvah, our rite of passage, our Prom with God. It's what separates the little kids from the big kids, especially since our parish waits until the 3rd grade before the kids have their first communion. I guess a part of me was dreading it because I wanted it to be special, and if it wasn't I was going to be sad. I decided to do something I never do to ensure the day went somewhat well. I made it as low-key as possible. I didn't try to do anything perfect, didn't try to have THE FIRST HOLY COMMUNION TO END ALL FIRST HOLY COMMUNIONS.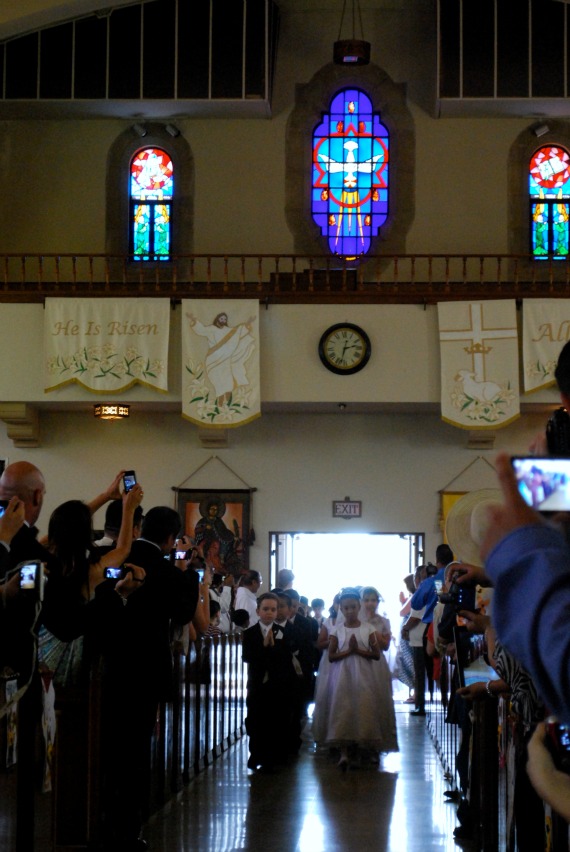 I didn't try to get perfect pictures. The lighting in the church is horrible and I was too nervous. I focused on taking pictures of everything I wanted to remember and left it at that.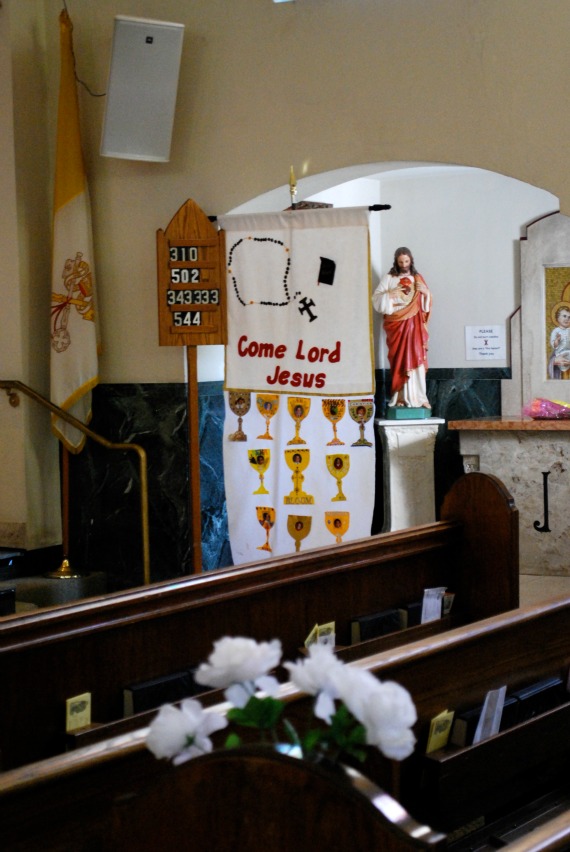 One of two class banners, this one holding Mikey's "Holy Grail."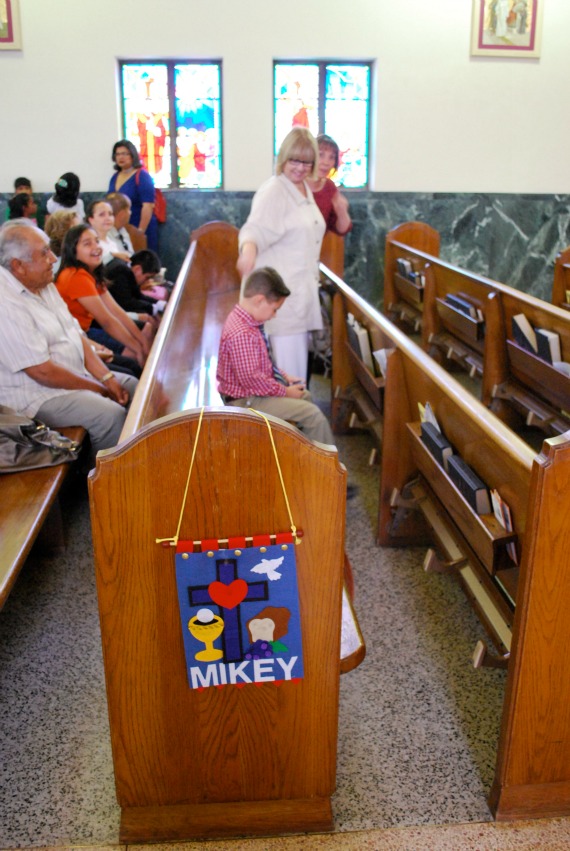 Here is the infamous banner marking our pew, which turned out to be in the 2nd row thankyouverymuch. I thought my mom was going to have an aneurysm when she realized we were so close. She called me every day the week prior to ask where we were sitting, as if she asked enough, that whole "lottery thing" would disappear and we could stake out the pews with sleeping bags and lawn chairs like normal Catholic families. She called me twice on Friday on my way home from the conference and I finally snapped at her and said, "Lottery! We are having a lottery! Why do you keep asking where we are sitting? I have no idea! Please stop asking me."
And she said, I swear on a stack of Bibles, "Well, I only ask because I thought you might have some inside connections because of the boys."
Inside connections because of the boys?! Mikey and Nico are in the Children's Choir, not the mob. Her excitement was palpable, endearing, and very much appreciated…but grandmas like her are absolutely the reason why the lottery system was put into place.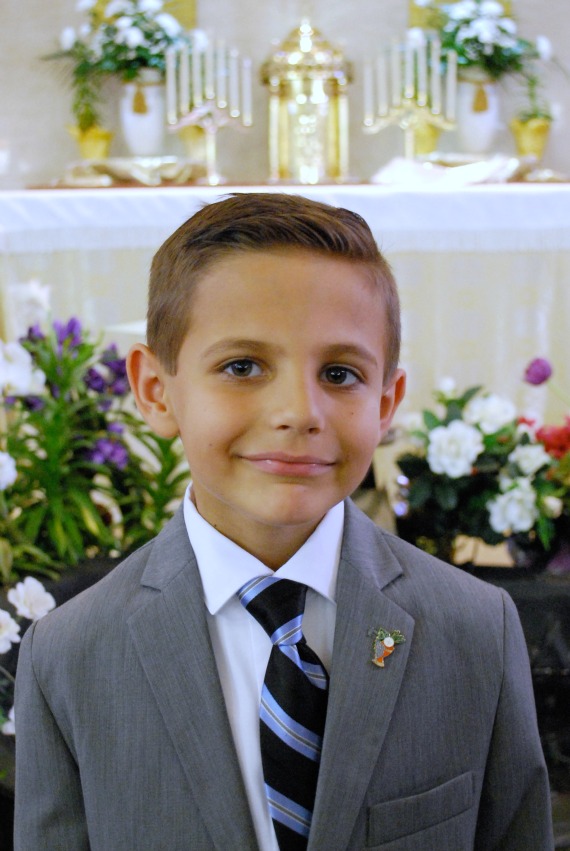 You know it kills me that his tie is crooked in this picture, but I got the tabernacle in the background so I'm happy. Also, his suit! We compromised and went with gray. I wanted something a little lighter that had a southern gentleman vibe that he unequivocally vetoed. Like, "over my dead body, mom" vetoed. I vetoed the "21 Jumpstreet" suit that had a vest and red tie. We bought his suit at Macy's, for those who are curious.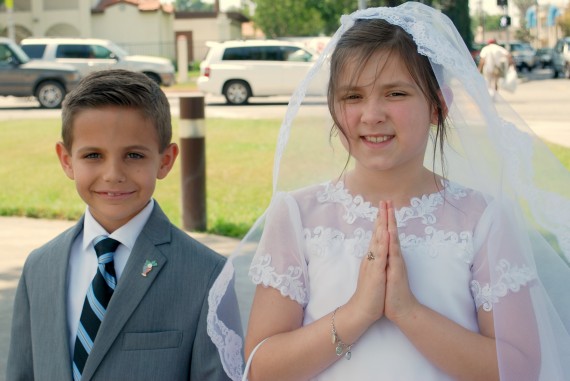 We didn't have much time to take pictures outside, but I did make sure to take one picture of Mikey and Emma, much to Mikey's horror. Mikey and Emma have history. He thinks she's too carefree with the rules and acts too much like a girl. She thinks he's an uptight know-it-all and immature. Other than that, they get along great! Her mother and I, actually, are great friends and for the most part they really do get along when they aren't around other kids from school or when Mikey isn't telling Emma that taking a picture with her is his worst nightmare.
Yes, that's right. I thought Emma looked beautiful. Her dress was one of my favorites and because her mom is one of my close friends, of course I wanted a picture of the kids together.
So I said, "Mikey, stand next to Emma so I can get a picture of the two of you."
And he said, "OH MY GOD THIS IS MY WORST NIGHTMARE."
Emma, to her credit, merely gave Mikey a withering stare that said she would like nothing more than for Mikey to have his first and last communion–while she watched.
In my head I planned to calmly say something like, "That was rude. Apologize to Emma."
Instead, in a shrill voice that probably echoed across the four corners of the church yard I said, "WHAT?! WHY? WHAT IS THE MATTER WITH YOU?!"
"Mom, I told you. No pictures standing next to girls! Look at us. People are going to think we are getting married!"
Now, to be fair, Mikey prepped me for weeks telling me he wanted no pictures with girls and, if possible, he didn't want to stand next to any girl at any time during the day, for any reason whatsoever, to avoid the millions of staring eyes sure to result. He prepped me, but I didn't think he believed I would listen. A mom, not taking pictures at First Communion? Lucky for you wishes are free, my son.
I told him to zip it, stand next to Emma, and smile. He did, but not before steeling himself like a soldier going into battle. He looked at her like at any moment she was going to leap at him with a marriage license and a catalog of china patterns. Emma looked at him like he was something found on the bottom of her white, patent leather Mary Janes. Then they went inside and shared the body and blood of Christ!
Days later we were still teasing him about his fear of pictures. He stands firm that his concerns were reasonable.
"You have to admit, mom, two kids getting married at my age is highly inappropriate. People probably thought we were crazy."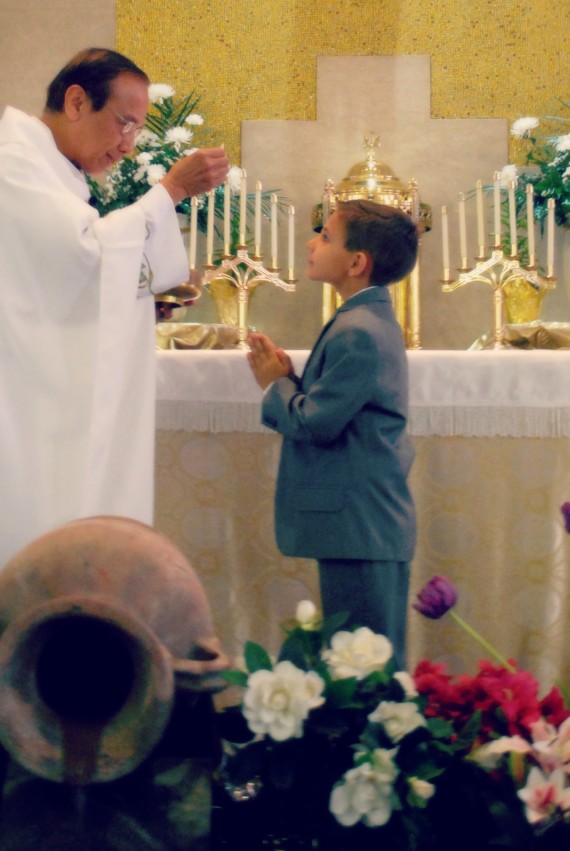 My big boy. This is actually a staged shot the priest was kind enough to recreate for all the parents. We weren't allowed to take pictures during the actual mass. I thought I was going to be a blubbery mess, but it was my stoic, silent, still waters run deep husband who burst into tears. He earned 200 bonus points.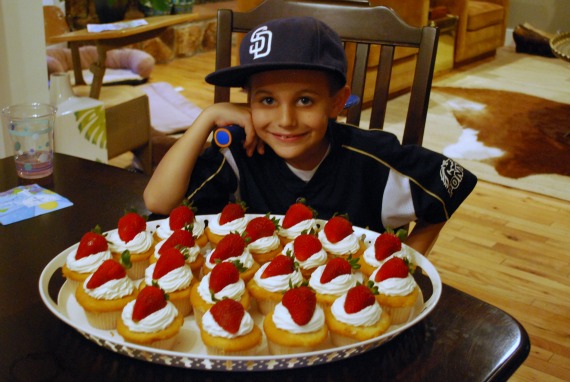 After the service, which was amazing, we stopped at the house for a few minutes so Mikey could change for his last baseball game of the season. His First Communion party was us ordering pizza and eating it at the game while he played baseball. After the game we went home (with extended family in tow) and had cupcakes. Mikey hates frosting, so the cupcakes were white cake with custard filling and whipped cream topping. Strawberries on top because he loves fruit of all kind, especially strawberries.
It was a great day. My favorite moment of the day had to be when we were leaving Mikey's baseball game. I was walking with him, teasing him and asking him if he felt any different. He said that yes, he did. The bruise on his knee from when he fell the other day, for example, totally didn't hurt anymore. I looked at him and smiled, noticing his gray eyes were the pretty blue-green with light brown centers they usually are when he's upset.
"Hey, your eyes are really blue right now," I said. "They're that pretty color they turn when you cry."
Mikey looked up at me and nodded, awed but not really surprised. "Do you think it's a side effect of having Jesus inside of me?"
I told him anything was possible.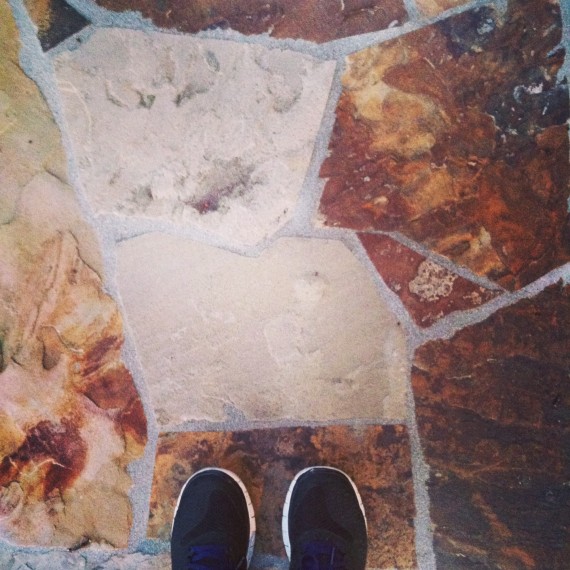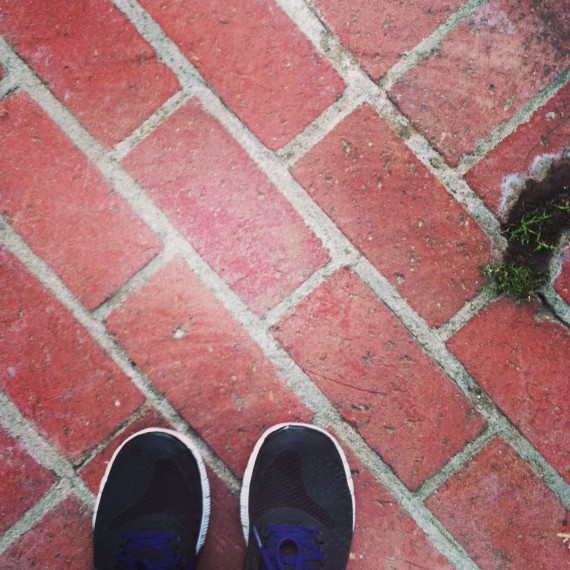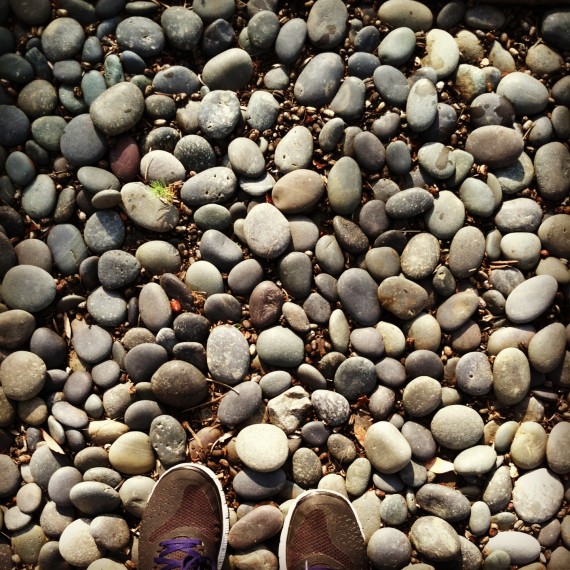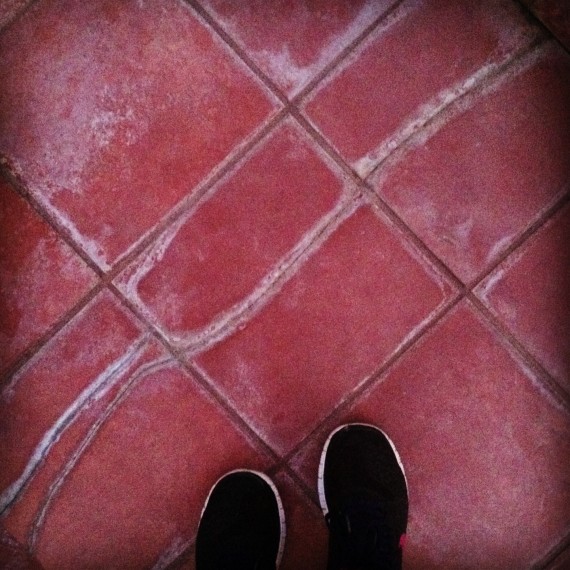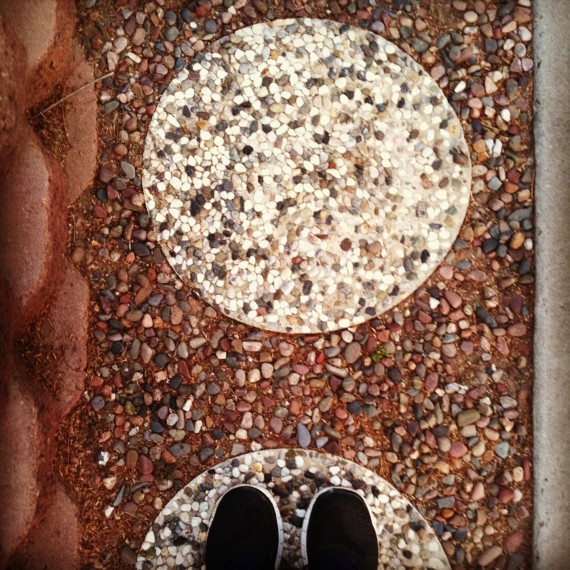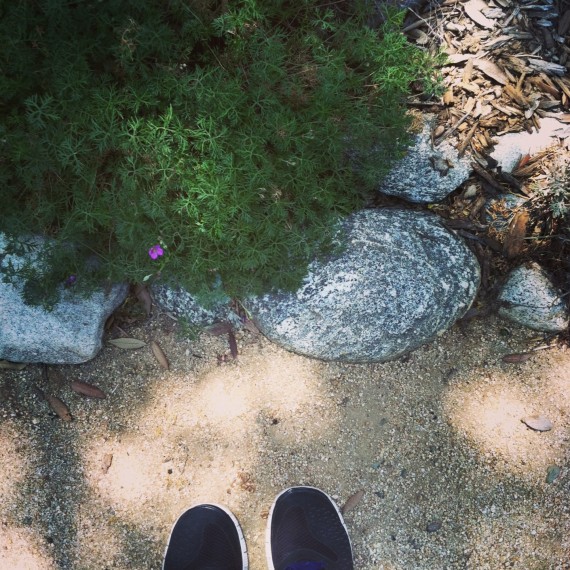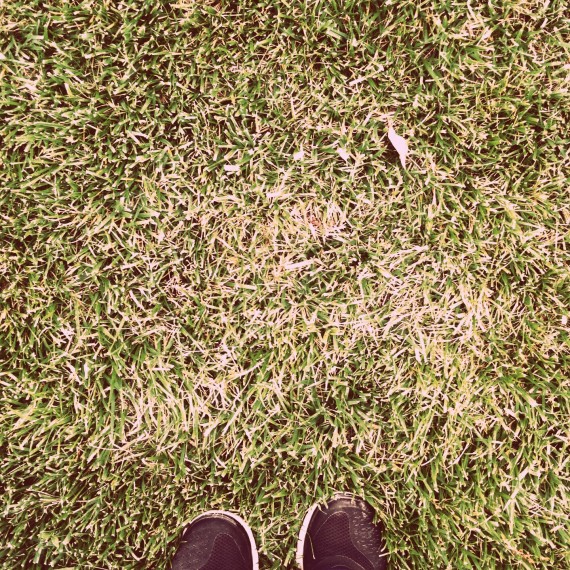 Body, Mind, Spirit
Surfaces week! I'm running out of things to take pictures of, but at least my enthusiasm for walking isn't waning. I swear, sometimes I think it's the only thing that keeps me sane. I get to go out, even if it's only for 12 minutes, and be completely by myself. This is so key for an introvert. I need at least an hour per day where I am by myself, completely alone. Normally I do this at night by reading, but walking is even better because I get both mental and physical benefits.
I also get to listen to the music I want to listen to without interruption while I walk whatever route suits me. Most of the time, I don't even know where I'm going. I'm convinced my iphone is a photographic divining rod leading me to something I can instagram with my feet. So far, the gut feeling technique hasn't lead me astray too far.
I chose surfaces this week because I thought I would be staying in Laguna for the conference. Since I didn't know where I would be walking while there, I figured a treadmill or sand would factor in somewhere. Ergo, surfaces. I stayed home so my planning ended up for naught, but the challenge of this photo assignment was good. I had no idea how many of the surfaces in my neighborhood were red. Also, photographing grass with black shoes is really hard. The colors went whacky and it was boring. The end.
The other surfaces: Arizona Flagstone, brick, river rock, Saltillo tile, pavers, and decomposed granite.
Song of the Week
Lost in My Mind – The Head and the Heart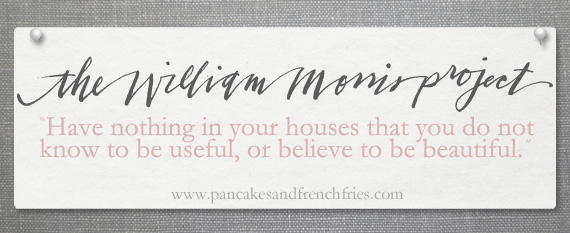 I attacked the toys and Legos the second I started feeling better last week. I worked a little bit every day, and by Wednesday I finished anchoring the bookcase to the wall and installing the doors. The right door was still falling open when it was time to take pictures, but I've fixed it since then and everything is flush and even.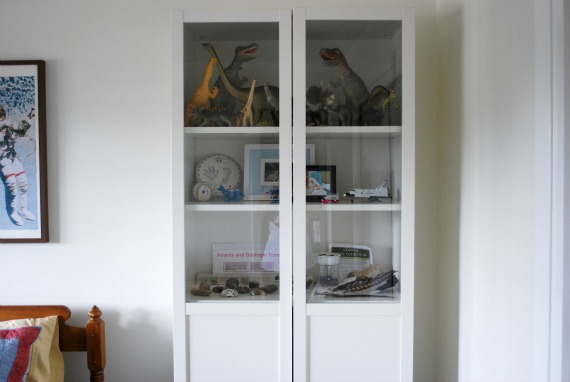 Ta-dah! Party on top, business on the bottom. It's a toy mullet. IKEA doors now come with magnetic closures that I elected to ignore. I'll install cute door knobs at a later date.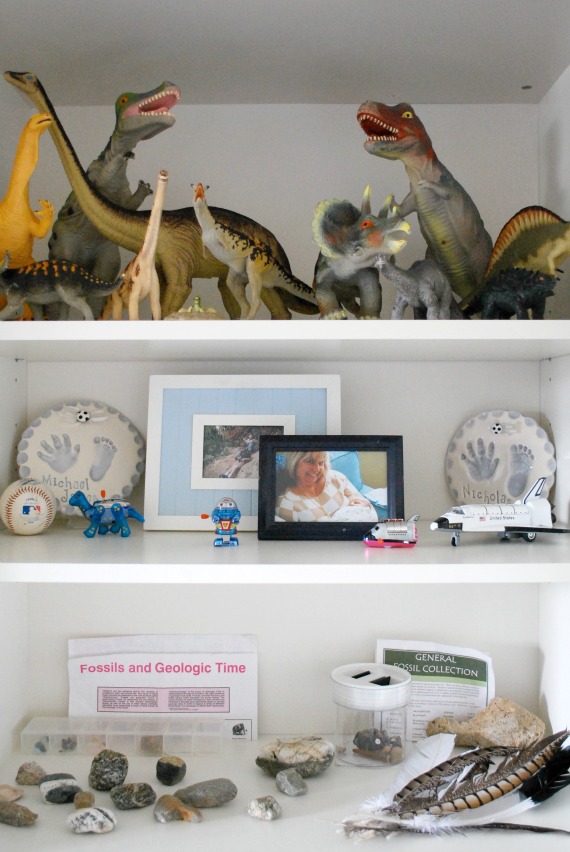 Here is the interior of the glass portion of the bookcase, which is an extra-deep Billy from IKEA. Dinosaurs on top, keepsakes in the middle, and the boys' prized rock and fossil collection on the bottom shelf.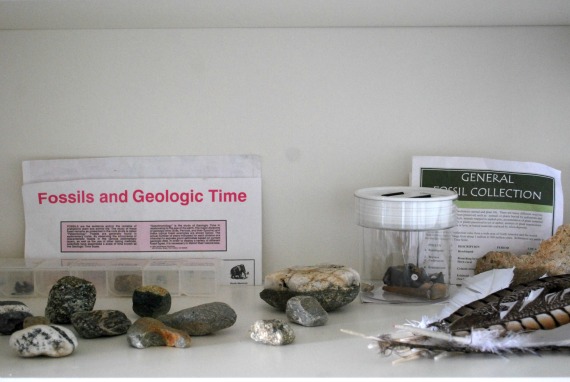 This is our favorite shelf. The rocks are all ones they collected on walks with my mom. The fossils are ones she bought for them at museums with the exception of three, which are from a student of hers who was studying paleontology. (A female student–huzzah!) When the student found out Mikey (then 5 years old) wanted to be a paleontologist and collected dinosaurs, she gave him some fossils from her collection. He was so excited he made her a card with pictures of dinosaurs. She wrote him again, and that letter has been in his room every since. It's folded up under the plastic jar, which is where he keeps the fossils. You can read the letter here. (Wouldn't it be something if years from now they meet and put two-and-two together?)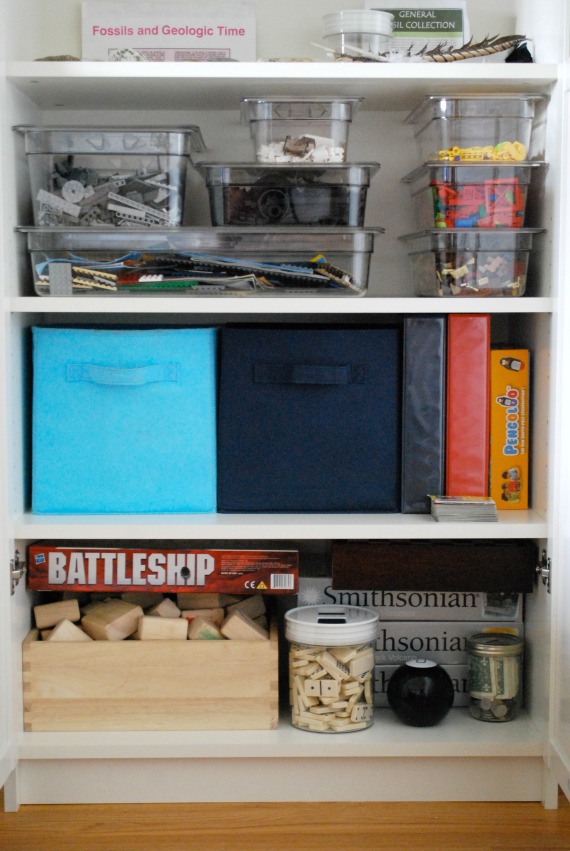 Lego storage! The bottom/hidden portion of the bookcase is where all the Legos, games, and miscellaneous toys go.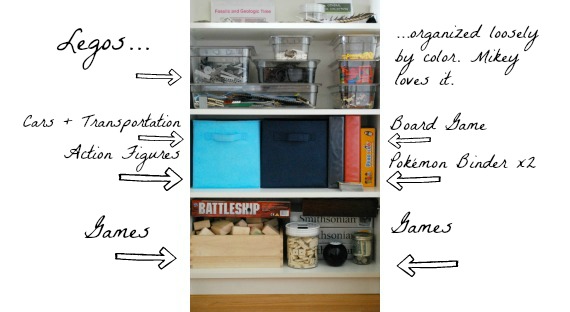 Here is a breakdown of the toys and how they are organized. It doesn't look like a lot of toys for two boys–at least I don't think so! First, I still have to go through the closet, so there is a lot more to add/purge/organize. Big stuff, like Hot Wheels tracks, that will have to stay in the closet. Second, we try to emphasize outdoor activities and creative play, and are lucky to have neighborhood kids–who go to school with the boys–with parents who share the same philosophy. Hey, it's good for them and it's cheap for the parents! The four of them run between the two houses and spend a lot of time riding bikes, playing wiffle ball, or acting out really complicated skits that involve handcuffs they make from paper. (Because it looks cool when the hero explodes! out of them.)
When that fails there are Legos and video games, although video games are a last result because they always end up fighting. Never fails.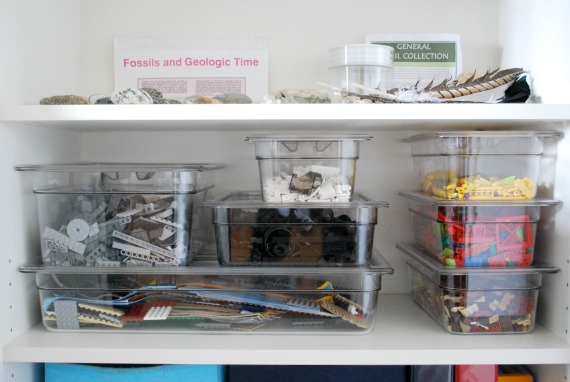 Here is a close up of what I used to store the Legos. Can you guess what I used? Those are catering containers from Smart & Final. You know, the kind you see at salad bars? I wanted something clear, easy to open/close, stackable, and bigger than the standard organization boxes and cubes I found in stores and online since the bookcase is extra-deep. I also wanted unique sizes since I knew we'd have more of some colors. These met all my requirements and the price couldn't be beat–I think they were between $6-$12 a piece, but don't quote me. I spent far less than $100 for all of them, and I still have a shoe box size and a jumbo size that I haven't used.
Note the absence of labels. That's why I wanted clear boxes. I wanted no excuses from the boys at clean-up time and, while I know some people fan themselves at the opportunity to use their label maker or Cricut, I'm not one of them. I will never cut letters out of coordinating scrapbook paper and mod-podge them to containers. More power to those who do! No judgment, just an admission that my strengths/interests lay elsewhere.
We'll see how this goes. We have never organized Legos by color before. Prior to this, we've always been of the "one big bucket" variety. Once the boys started getting more sets, that system failed. So far, Mikey loves this system. I mean loves it. He loves it so much he actually said to me, "Mom, I really like the Legos organized like this." Nico agreed, and then they spent two hours watching movies and organizing Legos.
You could have knocked me over with one of their feathers. In the two years I have been cleaning up our home–their rooms especially–never have they proactively complimented one of my systems. Fingers crossed.
//////////////////////////////////
This post was part of The William Morris Project, a weekly series that details the steps I am taking to create an intentional home. You can see more of my goals and completed projects here. To learn more about this project, start here.
//////////////////////////////////
Now it's your turn! Feel free to share how you have lived according to the William Morris quote, "Have nothing in your houses that you do not know to be useful or believe to be beautiful." Made a plan? Cleaned a drawer? Bought a sofa? Tell us about it with a link or comment. A few guidelines:
Please link to a specific post, not a general blog address.
Your post must relate to your efforts to create an intentional home. I have a delete button, and I'm not afraid to use it.
No links to giveaways, please.
Let's use this weekly link up as an opportunity to gather inspiration and motivation. Click links. Discover new people. Say hi and good job and all that stuff.