I received this book for free from Harlequin in exchange for an honest review. This does not affect my opinion of the book or the content of my review.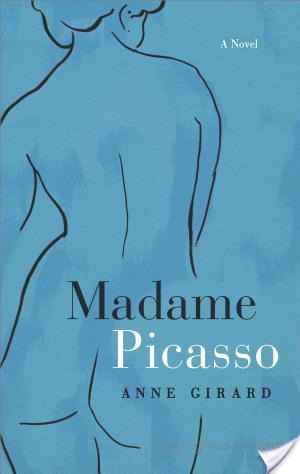 Madame Picasso
by
Anne Girard
Published by
Harlequin
on 2014-09-01
Genres:
20th Century
,
Fiction
,
Historical
,
Romance
Pages:
400
Goodreads
Novelist Anne Girard brings to life the mesmerizing and untold story of Eva Gouel, the unforgettable woman who stole the heart of the greatest artist of our time. When Eva Gouel moves to Paris from the countryside, she is full of ambition and dreams of stardom. Though young and inexperienced, she manages to find work as a costumer at the famous Moulin Rouge, and it is here that she first catches the attention of Pablo Picasso, a rising star in the art world. A brilliant but eccentric artist, Picasso sets his sights on Eva, and Eva can't help but be drawn into his web. But what starts as a torrid affair soon evolves into what will become the first great love of Picasso's life.  With sparkling insight and passion, Madame Picasso introduces us to a dazzling heroine, taking us from the salon of Gertrude Stein to the glamorous Moulin Rouge and inside the studio and heart of one of the most enigmatic and iconic artists of the twentieth century.
I go through phases when it comes to books, on to fall back on tried and true genres that I call comfort reads. These are the books I read when I don't want to think too much, and I am so familiar with the genre that I can predict the plot before I crack open the book. This post isn't about comfort reading. It's loosely about Madame Picasso, the book I read for review, and the biography phase I went through in my 20s. They're related because I wouldn't have done one without the other.
In my 20s I became obsessed with artist biographies. I read several, but the two I remember enjoying the most were Lust for Life, the biography of Vincent Van Gogh, and Frida Khalo: A Biography. This is the biography Selma Hayek became so obsessed with and ultimately produced into a movie. The publication date is actually from the 80s, not 2002. I have no idea why I feel compelled to point this out. Carry the knowledge to your grave; it's that important.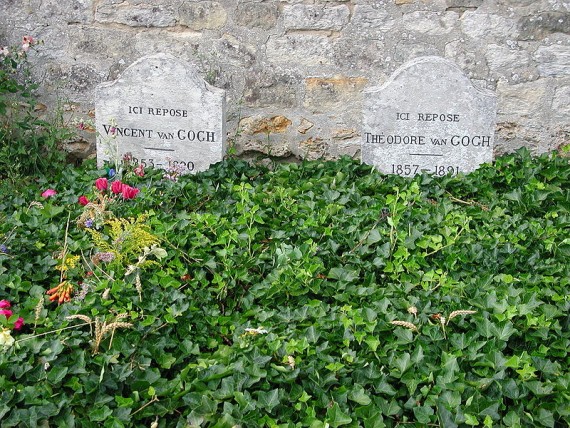 What I loved most about Lust for Life was the strong fraternal love between Theodore and Vincent. Theo was Vincent's brother to the end, his biggest supporter when absolutely no one appreciated Van Gogh as an artist. I was so touched by their bond (Theo died not six months after Vincent), that I petitioned for the name Theo when we were pregnant with Nico. Petition denied, as in not even maybe.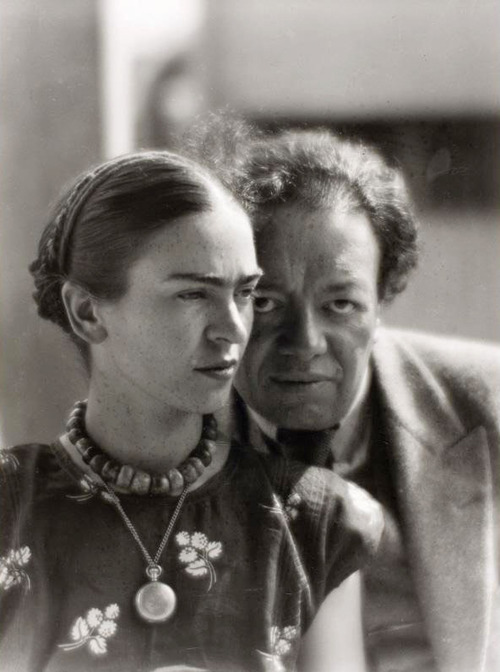 What I loved most about Frida Khalo: A Biography was the love story between Frida and Diego. Their bizarre, unfailing loyalty to each other through countless affairs, a divorce, and then a second marriage was beyond my frame of reference. I'm not that passionate…or tolerant, honestly. I really don't care how talented you are or what sort of impact you will have on art through the ages. Keep it in your pants, please.
That consuming love affair artists have with their partners is why I agreed to read Madame Picasso. Prior to this, Picasso never interested me. I knew nothing about him outside what you pick up over the years about someone so famous. I knew he had a daughter, Paloma. I knew he went through multiple phases in his art, most notably a rose period, a blue period and, of course, Cubism. (Confession: in high school I assumed cubism meant the artists were from Cuba. I sure did!) I knew he was politically active. I knew something about him and women, maybe that he had a great love. Something like that, at least, so I said accepted the opportunity to read the book.
The first thing you should know is that this book is a work of fiction, although events that occurred in real life were written as accurately as possible.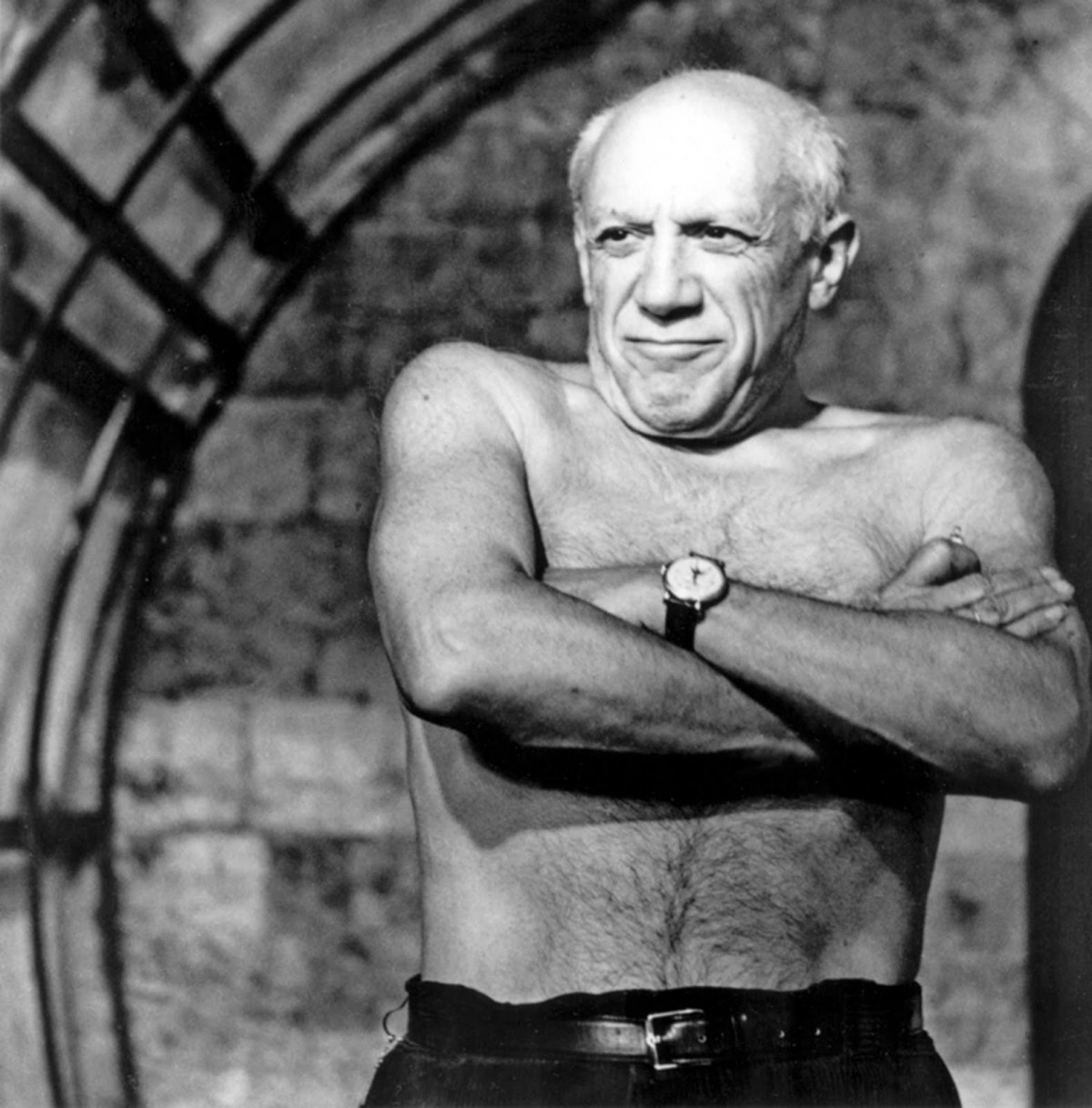 The second thing you should know is that Picasso was womanizing runt of a man. Also interesting to note: of his seven great loves, two committed suicide, one was left destitute, and Gouel, the subject of Madame Picasso, died in her 20s of cancer or tuberculosis–the facts aren't clear. Fitting for a man who once said, "For me there are only two kinds of women, goddesses and doormats."
Whatever, Pablo.
As for the book, I initially had trouble with the writing style, which you can read here in an excerpt, but either the lyricism slowed down or I became used to the heavy descriptions. I spent a lot of time between the book and the internet researching–it's one of the things I love about historical fiction–so I've read several accounts of the love story between Eva and Pablo. I believe Girard made an effort to show Picasso and his affair with Gouel in a more flattering light. I remain on the fence about how successful she was in that regard.
After reading about Le Petite Lothario, I was feeling a little disillusioned about artists and their muses, like they're all a bunch of drummers in an 80s hair band wielding brushes instead of sticks. I did some research (of course I did) and found a few more positive relationships to end this post on a happy note. Like life, these relationships are not without their problems.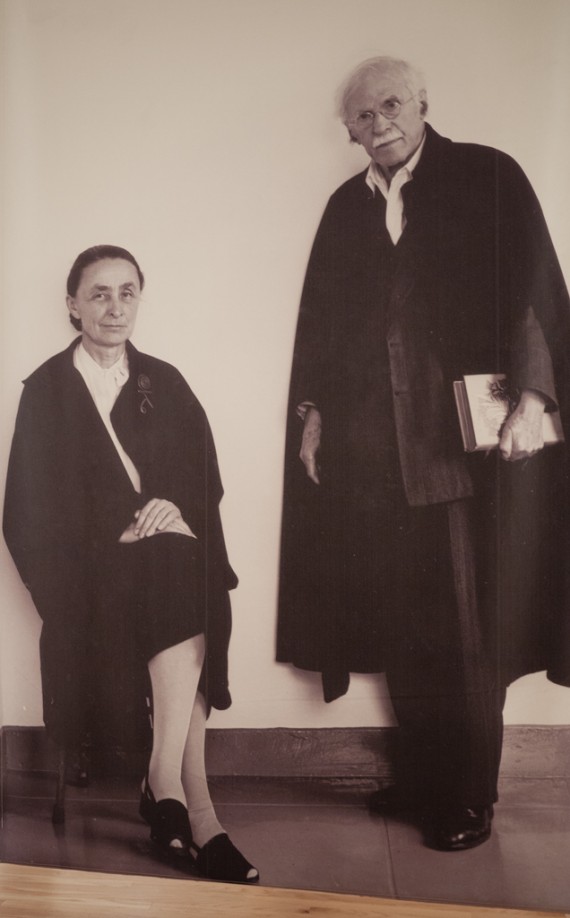 ALFRED STIEGLITZ & GEORGIA O'KEEFE
From 1914 until 1946, this couple exchanged over 25,000 letters. They wrote to each other every day, sometimes multiple times per day, and the letters are now a historical account of their relationship from platonic acquaintances to married partners.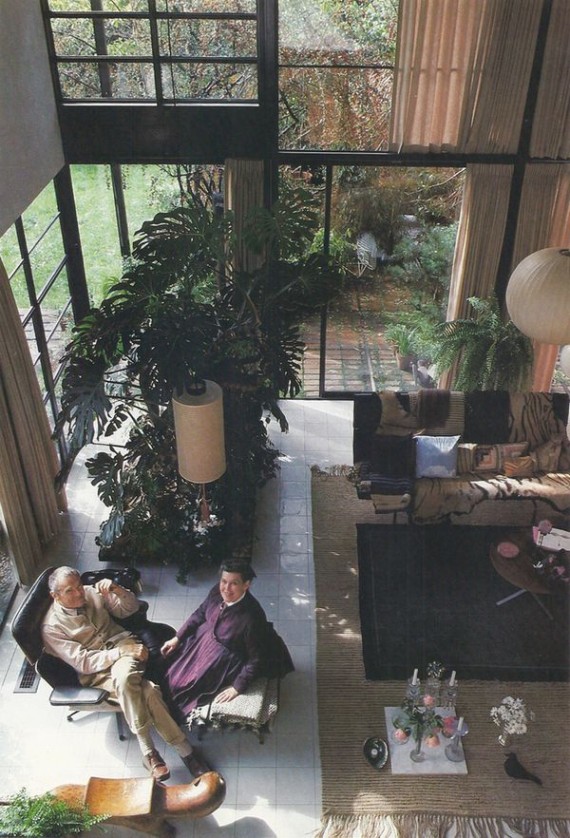 CHARLES & RAY EAMES
Ray met Charles at his architecture firm, where she also worked. They married in 1941 after he divorced his first wife and together created some of the most iconic furniture designs of the 20th century. They were together until Charles's death in 1978.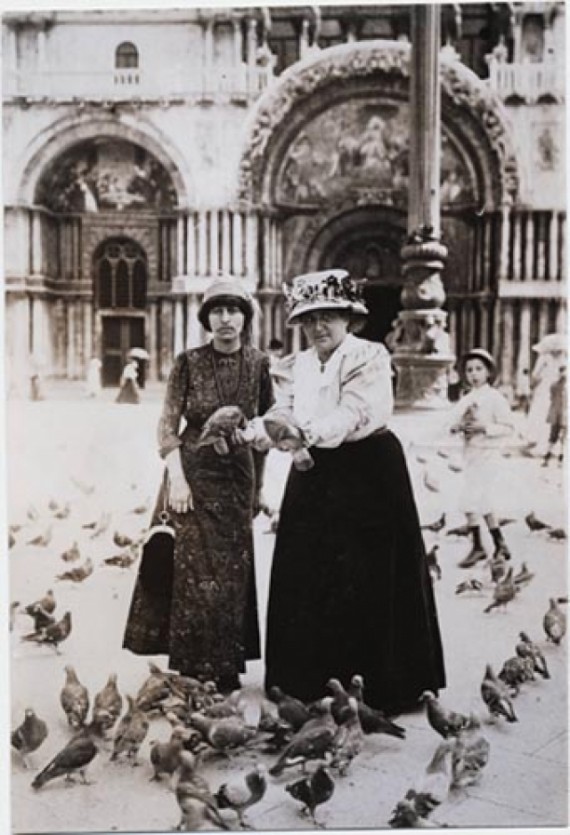 GERTRUDE STEIN & ALICE TOKLAS
These two are next on my list of biographies to read. While not technically artists, Stein in particular was a huge supporter of modern art, especially Picasso. They met on September 8, 1907, the day Toklas arrived in France. Stein ended the relationship she was in at the time and moved Alice into her Paris apartment. They lived together until Stein's death in 1946, of which Toklas said, "It was Gertrude Stein who held my complete attention, as she did for all the many years I knew her until her death, and all these empty ones since them."
Photograph of Frida Khalo and Diego Rivera by Martin Munkácsi
Photograph of Pablo Picasso by Andre Villers
Photograph of Alfred Stieglitz and Georgia O'Keefe: source not found, but on display at Crystal Bridges Museum
Photograph of Charles and Ray Eames: source not found
Photograph of Gertrude Stein and Alice B. Toklas in Piazza San Marco, Venice, circa 1908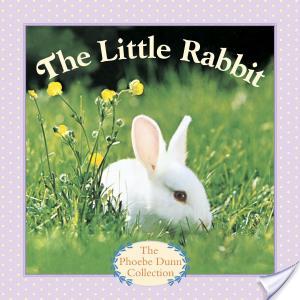 The Little Rabbit
by
Judy Dunn
Published by
Random House Children's Books
on 2014-02-26
Genres:
Animals
,
Childrens
,
Picture Books
,
Rabbits
Pages:
32
Goodreads
Amazon
•
Full-color photographs.
I mentioned when we got Buttercup that his namesake was a rabbit from a book I read as a child. A young girl named her rabbit Buttercup because of the field in which they played. Right then I knew Buttercup was the best name ever for a pet, and that one day I would have a Buttercup of my own.
I was in the library organizing books–more on that later–when I found the book about the rabbit named Buttercup! The title of the book is The Little Rabbit which, uh, I admit lacks a certain je ne sais quoi.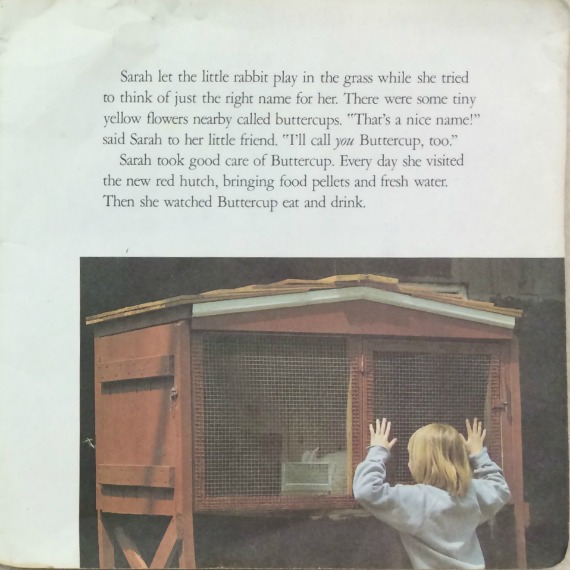 Books stay with you, even those that don't win the Caldecott or Newbery. I was 8 years old when I read The Little Rabbit. Thirty-three years later I named our cockatiel Buttercup because I remembered a 32 page book about Sarah and her pet bunny.
I have such fond memories of this book. I remember reading it over and over again. Jake from Goodreads thinks I should be ashamed of myself and gives the book 1 star.
The Little Rabbit is a story of irresponsible pet-keeping hidden behind heart-melting photos as adorable as any internet meme. Do not let the cuteness sucker you in! For one thing, pet rabbits should NOT be allowed to wander in meadows (however idyllic) without leash or pen, especially if the pet-keeper is prone to napping. More troubling is how the human girl, Sarah, handles the titular Little Rabbit's *spoiler!* litter of babies, handing them out willy-nilly to every kid in the neighborhood. Keeping a rabbit is a serious commitment of up to a dozen years; distributing baby rabbits as a way to endear yourself to your peers isn't just tacky — it's an act of cruelty. Shame on you, Sarah. And shame on your parents.
Jordan was slightly more generous. She gives the book 2 stars and recommends it to white people.
All two of my stars are for the photograph of Buttercup the rabbit sniffing a butterfly. Otherwise, the plot and characterization are deplorable.
Good thing I never claimed my taste in reading material was beyond reproach.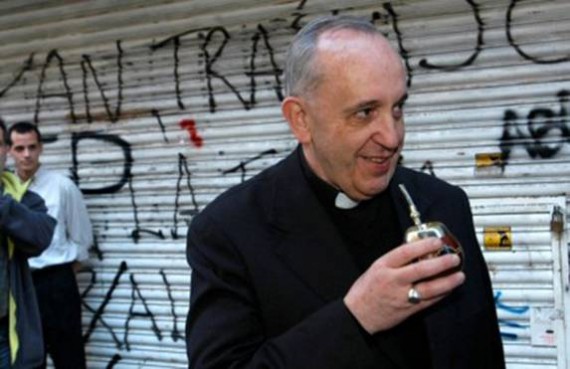 I have the most vivid dreams. I don't dream as much, that I can remember, when I stay up late or sleep less than 7 hours. Lately, though, I've been making an enormous effort to get to bed before 10:00pm so that I can be up by shortly before 6:00am. The result of which has been dreams. Crazy dreams, scary dreams, bizarre dreams. So many dreams, but none more memorable than one during the early hours of Thursday morning.
My mother and I, as well as teachers from school, were invited to a private audience with Pope Francis. After the audience, we lead him in a procession into mass. Obviously, all of us involved considered this a huge honor. In my dream, I spent quite a bit of time shopping for the best, most flattering outfit. I ended up wearing a dress from Target. That's not the punchline; I actually rather like the dress. The coral and yellow striped beach hat was another story. Not even dreams could make that hat acceptable.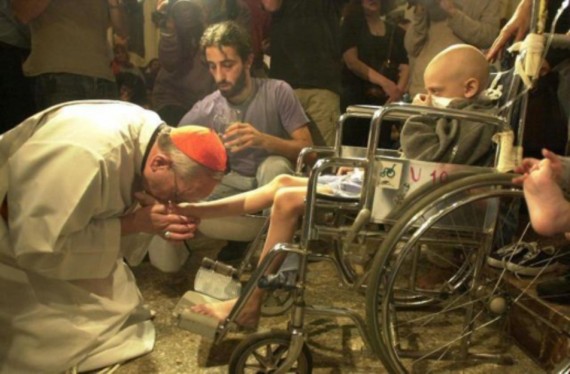 We were lined up with the Pope who, in my dream, was petite and friendly. Big church doors opened–I think my mind inserted Westminster Abbey–and Pope Francis turned to me and said, "Here we go! Are you ready?"
I said yes, even though I felt anything but ready.
Suddenly, as often happens in dreams, we were in the sanctuary. This sanctuary was different. It was circular, like the old 360° stages used in MTV Unplugged, only enormous. The stage held comfy leather sofas at least two deep. And chairs, also comfy, but more like something you'd see in a doctor's office. Needless to say, we were all excited about the sofas and chairs.
I approached the softest looking sofa but was surprised to find a man stretched out and fast asleep. How rude of him, I thought, to be at this important mass, in a place of honor, only to drool all over the furniture. To say nothing about wasting the best seat in the house! My mom and I shared a glance of annoyance.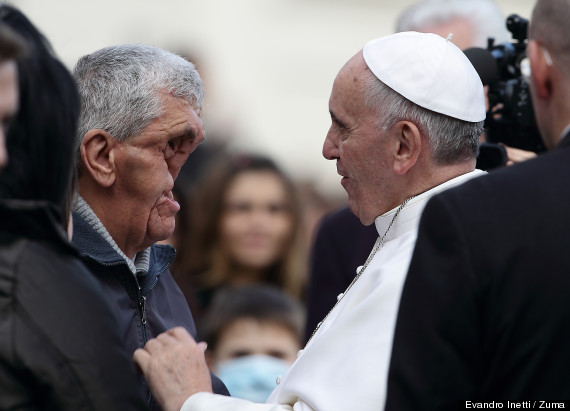 We kept moving. I saw two chairs that were empty, but on my way there I almost tripped on a pile of of dirty, stained blankets on the floor. I made a mental note to talk to whoever was in charge and tried to discreetly kick the blankets under the nearest chair. My foot hit something solid. I looked down and found the blankets covered a homeless man. A squatter! Now the people in charge were really going to hear it. All of us started mumbling opinions, none of them kind.
As I looked around the sanctuary, I noticed many of the chairs and sofas were occupied by the homeless, the addicted, and the ill. Even the floors were difficult to navigate. But it wasn't impossible to sit down. The two chairs next to the homeless man wrapped in blankets were empty, but to sit in them we would have to step over the man. His stench was overpowering. He made my eyes water.
There was a chair next to another man, but he was obviously intoxicated. I almost sat down there, but he looked like he was going to be sick. No thanks!
It seemed like every seat in the sanctuary had a problem.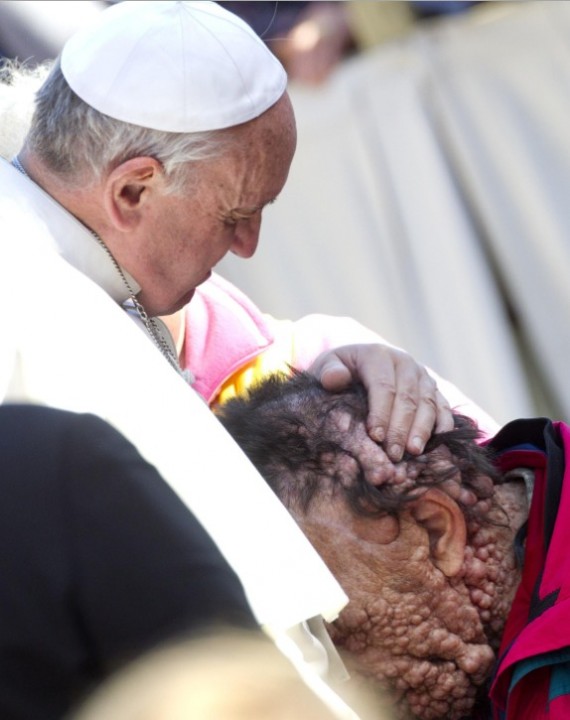 At this point, mass was about to begin. Those of us invited by Pope Francis made our way to the nave. Not nearly as prestigious, but it smelled better and we could sit next to each other rather than people we didn't know–or care to know, honestly.
During all this, I could feel Pope Francis watching us. I caught his eye; he smiled just like he does on TV and in pictures. I preened.
In a soft, gentle voice he said to all of us, "Your true faith is expressed not in your presence at a special mass, but in your treatment of the poor, the ill, the marginalized people of society."
I woke up.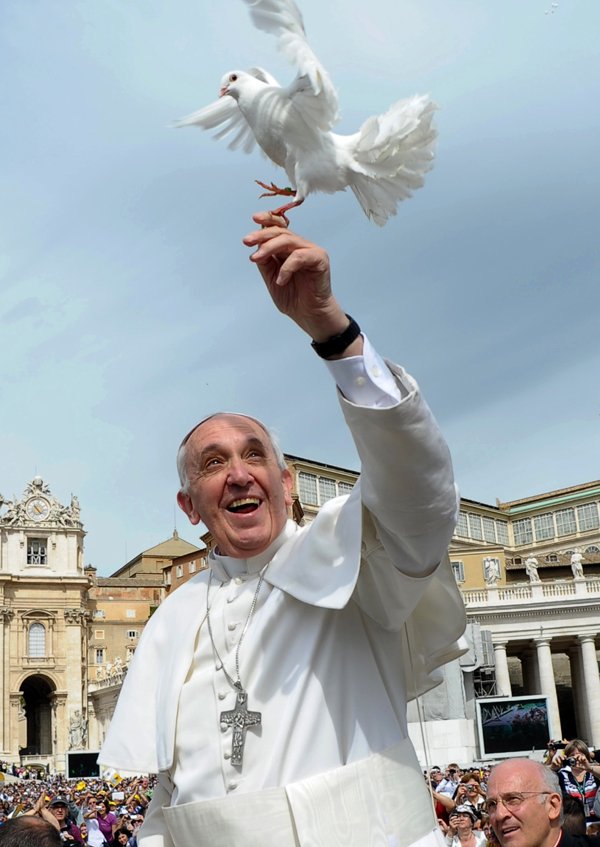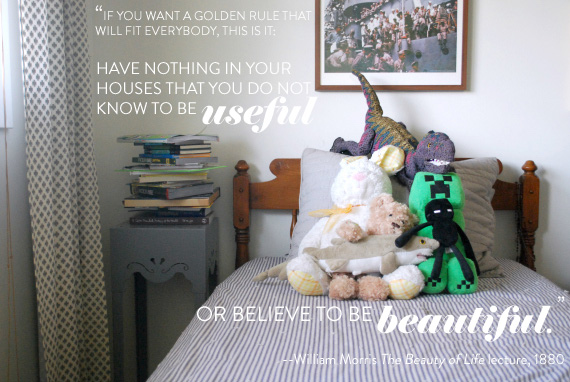 I survived my first day of school as a teachers aide! I came home exhausted but aware of the fact that I have to be more organized at home than I have ever been if I want to juggle everything successfully. To that end, I decided yesterday I was going to work on how I store homework and classwork throughout the year.
My proven method worked until last year. Having both boys in elementary school meant a dramatic increase in paper, and it was no longer easy to pull out what I needed when discrepancies arose. There was too much stuff, and I was getting bad about discarding the items that weren't graded. In Nico's case, it seemed like everything had a grade.
[I keep all graded assignments, classwork, and tests until the final report card for that trimester. This has been fabulous for those times where grades were entered incorrectly or assignments were marked missing. It doesn't happen often, but when it does, I'm glad to have the backup I need before I question the boys or the teacher.]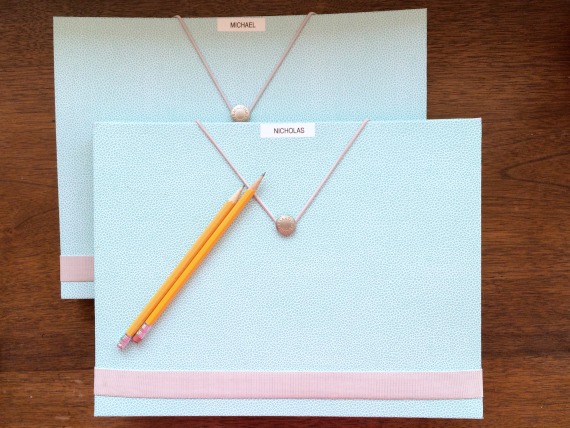 This year I am straight-up copying my friend Susan. She makes Martha Stewart look disorganized, so when she says a system works for her, I feel pretty confident in appropriating it as my own and doing no further research.
This is what she does.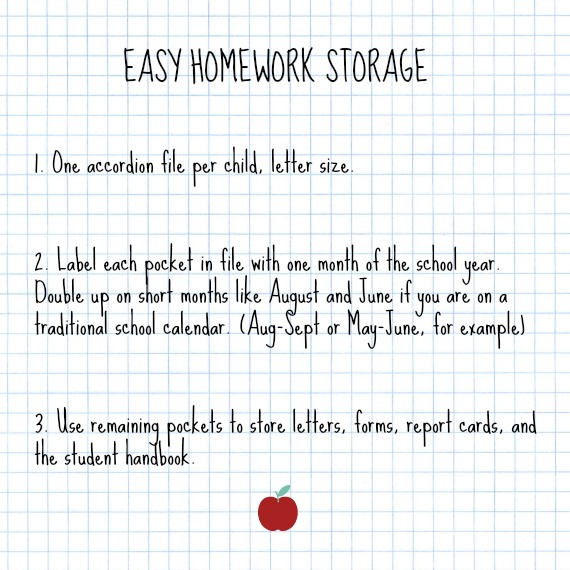 I couldn't find two accordion files–Susan uses the big ones with the handles–so I bought two Martha Stewart accordions on clearance. I figured if the smaller size doesn't work, paying rock bottom for the files wouldn't hurt as much. And I can always re-purpose them, too.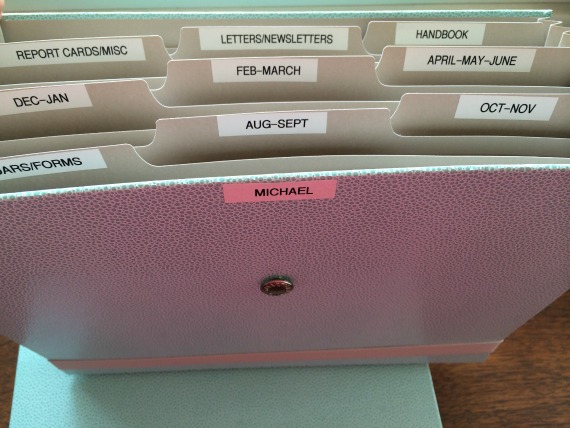 Here is how I set up Mikey's accordion. Because these accordions are smaller, I doubled up every month except for the beginning and the end of the school year. Nico's doesn't have the student handbook file since only one of those goes home, so I don't know how, or if, I'm going to use the last pocket.
I'll give an update in a few months on how they are working for us.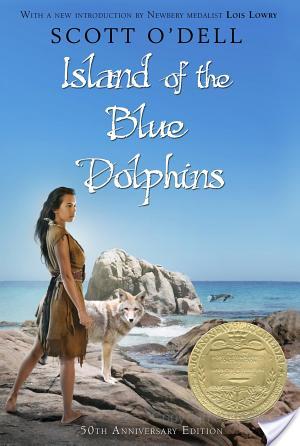 Island of the Blue Dolphins
by
Scott O'Dell
Published by
Houghton Mifflin Harcourt
on 2010-02-08
Genres:
Action & Adventure
,
General
,
Girls & Women
,
Historical
,
Native American
,
Newbery Gold Winner
,
People & Places
,
Survival Stories
,
United States
,
Young Adult
Pages:
192
Goodreads
Amazon
•
Barnes & Noble
•
Far off the coast of California looms a harsh rock known as the island of San Nicholas. Dolphins flash in the blue waters around it, sea otter play in the vast kelp beds, and sea elephants loll on the stony beaches. Here, in the early 1800s, according to history, an Indian girl spent eighteen years alone, and this beautifully written novel is her story. It is a romantic adventure filled with drama and heartache, for not only was mere subsistence on so desolate a spot a near miracle, but Karana had to contend with the ferocious pack of wild dogs that had killed her younger brother, constantly guard against the Aleutian sea otter hunters, and maintain a precarious food supply. More than this, it is an adventure of the spirit that will haunt the reader long after the book has been put down. Karana's quiet courage, her Indian self-reliance and acceptance of fate, transform what to many would have been a devastating ordeal into an uplifting experience. From loneliness and terror come strength and serenity in this Newbery Medal-winning classic. In celebration of the book's 50th anniversary, this edition has a stunning new look, and an introduction by Lois Lowry, Newbery Medal-winning author of The Giver and Number the Stars.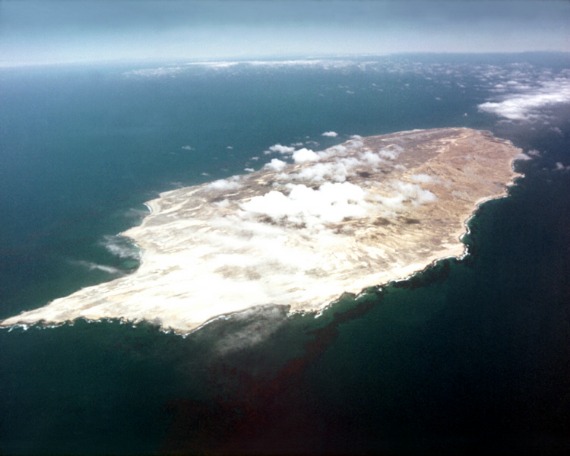 Aerial images of the ocean scary. Satellite images are just plain terrifying. I will never go on a cruise and scuba diving is out of the question. The ocean is vast, endless. You can look up, down, left, right and still not know where you are. More importantly, you can't see what monsters are sneaking up on you until they're feasting on your limbs. The ocean is a place of nightmares. I could go into more detail, but this Buzzfeed post sums it up. Bad words could make it NSFW.
This has nothing to do with Island of the Blue Dolphins. I like to place an image under the book description to rest the eyeballs, so I thought it would be nice to include a picture of San Nicholas island for a point of reference. I had no idea I would find images lifted from my darkest nightmares.
I'm not sure I can write this post while staring into the face of evil, but I'll try.
I really liked this book, which makes me suspect that the best books were written pre-1980 and all hope is lost for children's literature. I look off into the horizon and all I see are quips and sound bites. Relax, I'm mostly kidding. I read and loved The Graveyard Book, and that was the 2009 winner.
Island of the Blue Dolphins has many of the characteristics I love in a book. There was history, adventure/survival, strong female characters, and a happy, but not overly-so ending.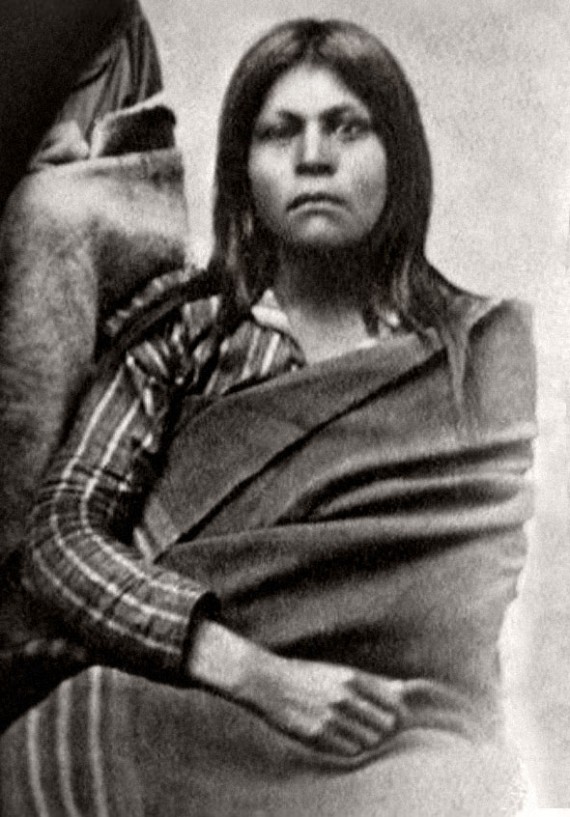 This is Juana Maria (name given to her by the missionaries who found her), the woman believed to be Karana, the 12 year old girl in O'dell's book who gets left behind by her tribe. In real life, Juana Maria was alone on the island for 18 years until she was found in 1853 at the age of approximately 50.
Captain Nidiver reported on the encounter in his memoirs The Life and Adventures of George Nidever. The party consisted of himself, another hunter named Charley Brown, "an Irishman we called Colorado from his florid complexion" and four Mission Indians. They landed on the island in July, planning several months hunting. Shortly after their arrival they found an "old woman" stripping blubber from a piece of seal skin. According to Nidiver's account, instead of running way "she smiled and bowed, chattering away to them in an unintelligible language." She was "of medium height… about 50 years old but …still strong and active. Her face was pleasing as she was continually smiling… Her clothing consisted of but a single garment of skins."
Nidever had been requested by the Fathers at the Mission Santa Barbara to "bring the lost woman off [the island] in case we found her" and that is what they did about a month later.
At this point, it was known that there was only one woman on the island, which explains the search. Over 20 years earlier, after an attack by poachers decimated the Nicoleño tribe (300 to 20), the mainland attempted to rescue those left and rebuild the tribe onshore (allegedly–who knows the real plan, honestly). Maria Juana, it is believed, begged to stay behind because she couldn't find her young son. It took them 18 years to find her again.
The book paints a vaguely happy picture of Karana's future, but Juana Maria's future was far less romantic. It is said she was excited when she reached California. She was amazed by the horses, the fruits and vegetables, the architecture and buildings. She danced and sang for the town, who all came to see her. She spoke in a language no one understood, so members of another tribe of Native Americans were to come to visit to see if they could translate her language.
Unfortunately, Juana Maria died 7 weeks after reaching California from dysentery. How she contracted it is unknown, but some speculate it was from her indulgence of fruits, vegetables, and grains after decades of a diet centered on fish and seal blubber.
[pauses to allow people to regroup after major bummer]
I liked the book, and I can see why it won the Newbery, but reading about the real "Karana" had a far bigger impact on me.