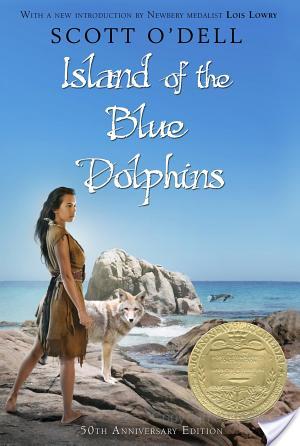 Island of the Blue Dolphins
by
Scott O'Dell
Published by
Houghton Mifflin Harcourt
on 2010-02-08
Genres:
Action & Adventure
,
General
,
Girls & Women
,
Historical
,
Native American
,
Newbery Gold Winner
,
People & Places
,
Survival Stories
,
United States
,
Young Adult
Pages:
192
Goodreads
Amazon
•
Barnes & Noble
•
Far off the coast of California looms a harsh rock known as the island of San Nicholas. Dolphins flash in the blue waters around it, sea otter play in the vast kelp beds, and sea elephants loll on the stony beaches. Here, in the early 1800s, according to history, an Indian girl spent eighteen years alone, and this beautifully written novel is her story. It is a romantic adventure filled with drama and heartache, for not only was mere subsistence on so desolate a spot a near miracle, but Karana had to contend with the ferocious pack of wild dogs that had killed her younger brother, constantly guard against the Aleutian sea otter hunters, and maintain a precarious food supply. More than this, it is an adventure of the spirit that will haunt the reader long after the book has been put down. Karana's quiet courage, her Indian self-reliance and acceptance of fate, transform what to many would have been a devastating ordeal into an uplifting experience. From loneliness and terror come strength and serenity in this Newbery Medal-winning classic. In celebration of the book's 50th anniversary, this edition has a stunning new look, and an introduction by Lois Lowry, Newbery Medal-winning author of The Giver and Number the Stars.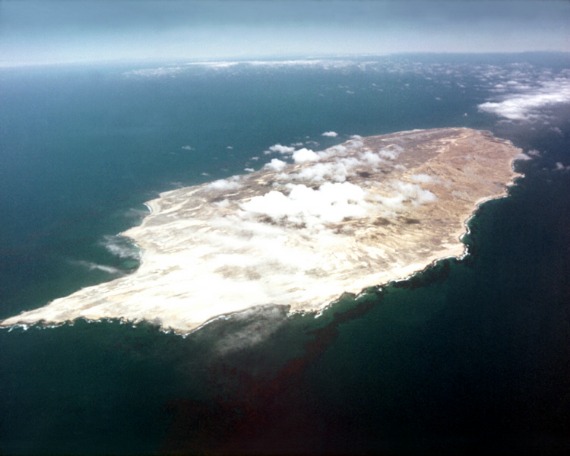 Aerial images of the ocean scary. Satellite images are just plain terrifying. I will never go on a cruise and scuba diving is out of the question. The ocean is vast, endless. You can look up, down, left, right and still not know where you are. More importantly, you can't see what monsters are sneaking up on you until they're feasting on your limbs. The ocean is a place of nightmares. I could go into more detail, but this Buzzfeed post sums it up. Bad words could make it NSFW.
This has nothing to do with Island of the Blue Dolphins. I like to place an image under the book description to rest the eyeballs, so I thought it would be nice to include a picture of San Nicholas island for a point of reference. I had no idea I would find images lifted from my darkest nightmares.
I'm not sure I can write this post while staring into the face of evil, but I'll try.
I really liked this book, which makes me suspect that the best books were written pre-1980 and all hope is lost for children's literature. I look off into the horizon and all I see are quips and sound bites. Relax, I'm mostly kidding. I read and loved The Graveyard Book, and that was the 2009 winner.
Island of the Blue Dolphins has many of the characteristics I love in a book. There was history, adventure/survival, strong female characters, and a happy, but not overly-so ending.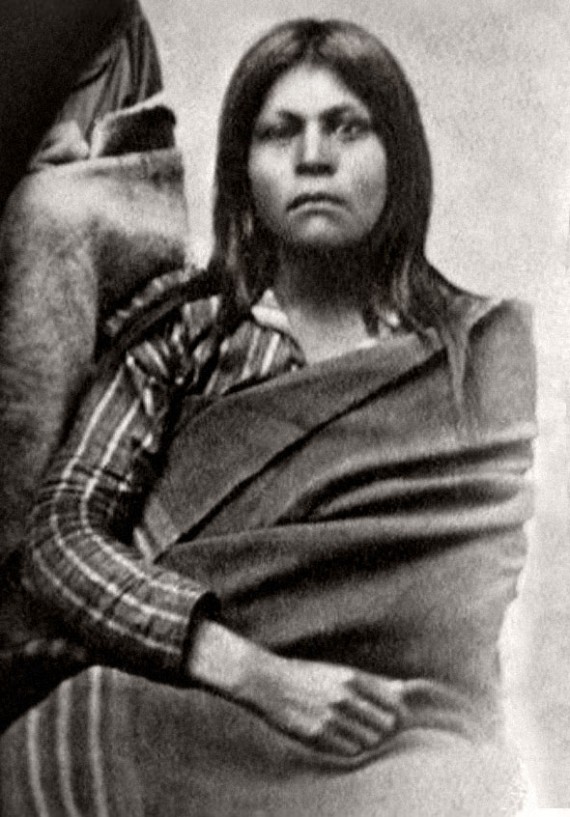 This is Juana Maria (name given to her by the missionaries who found her), the woman believed to be Karana, the 12 year old girl in O'dell's book who gets left behind by her tribe. In real life, Juana Maria was alone on the island for 18 years until she was found in 1853 at the age of approximately 50.
Captain Nidiver reported on the encounter in his memoirs The Life and Adventures of George Nidever. The party consisted of himself, another hunter named Charley Brown, "an Irishman we called Colorado from his florid complexion" and four Mission Indians. They landed on the island in July, planning several months hunting. Shortly after their arrival they found an "old woman" stripping blubber from a piece of seal skin. According to Nidiver's account, instead of running way "she smiled and bowed, chattering away to them in an unintelligible language." She was "of medium height… about 50 years old but …still strong and active. Her face was pleasing as she was continually smiling… Her clothing consisted of but a single garment of skins."
Nidever had been requested by the Fathers at the Mission Santa Barbara to "bring the lost woman off [the island] in case we found her" and that is what they did about a month later.
At this point, it was known that there was only one woman on the island, which explains the search. Over 20 years earlier, after an attack by poachers decimated the Nicoleño tribe (300 to 20), the mainland attempted to rescue those left and rebuild the tribe onshore (allegedly–who knows the real plan, honestly). Maria Juana, it is believed, begged to stay behind because she couldn't find her young son. It took them 18 years to find her again.
The book paints a vaguely happy picture of Karana's future, but Juana Maria's future was far less romantic. It is said she was excited when she reached California. She was amazed by the horses, the fruits and vegetables, the architecture and buildings. She danced and sang for the town, who all came to see her. She spoke in a language no one understood, so members of another tribe of Native Americans were to come to visit to see if they could translate her language.
Unfortunately, Juana Maria died 7 weeks after reaching California from dysentery. How she contracted it is unknown, but some speculate it was from her indulgence of fruits, vegetables, and grains after decades of a diet centered on fish and seal blubber.
[pauses to allow people to regroup after major bummer]
I liked the book, and I can see why it won the Newbery, but reading about the real "Karana" had a far bigger impact on me.