Yesterday the Mister had to take his mom to the emergency room. She's okay now, but at the time she was tired and miserable and hours away from going home. I was out running errands when the Mister texted me about getting comfortable clothes for his mom.
Of course, I said. Since I didn't have her house keys and she lives 30 minutes away, I offered to go buy something. He agreed. I went into one store, then another. Yesterday was the first day in recorded history that cheap sweat pants in a size Medium were not available in the United States. Except, of course, at one store. My last resort. The place I only go in case of extreme emergency. Not just regular emergency, extreme emergency.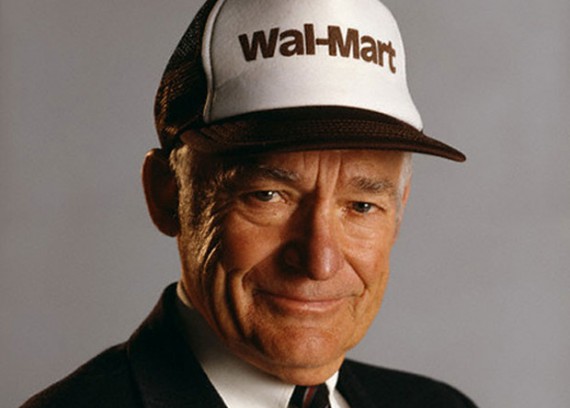 There are several topics one doesn't mention in polite society: (A) religion, (B) politics, (C) income, and (D) Walmart. Not-so-coincidentally, talking about D usually involves A, B, and C. I'm going to disregard my biological impulse for self preservation and devote an entire post to my personal rules for shopping at Walmart.
Rule No. 1: Never Shop at Walmart
I get a pass on this one since it was an extreme emergency.
Status: FAILED.
Rule No. 2: Arrive with an Empty Bladder
I didn't, so I had to venture into the Walmart bathrooms. Again, I get a pass on this one since it was an extreme emergency. I tried, unsuccessfully, meditation, mind-over-matter, and the pee-pee dance to prevent the inevitable.
Status: FAILED.
Rule No. 3: Maintain a Positive Attitude
Create a Wall of Happy. Say excuse me, please, and thank you. Show respect to fellow shoppers. Smile beatifically at the parents of children having tantrums. Be a good person.
Rattled from breaking two of my hard-and-fast Walmart rules, my Wall of Happy started to crumble.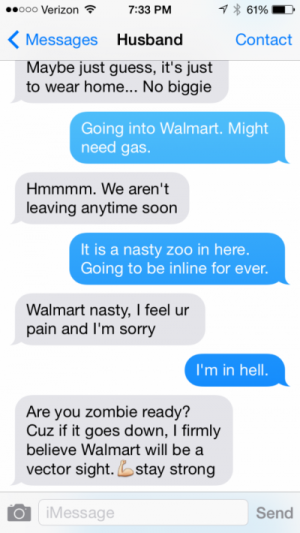 Status: FAILED.
Rule No. 4: Bring Entertainment
I usually have a book in my purse, and of course there is always my phone. But because it was an extreme emergency, I decided to forgo a cart or hand basket in favor of grabbing what I needed. Then I walked to the "Speedy Checkout" register, only to stand in line with my arms full of miscellanea, unable to access my entertainment.
Status: FAILED.
Rule No. 5: There is no "Speedy Checkout"
Management must instruct their employees to affix Walmart price tags with spit and wishes, because there is always at least one item in 75% of the shopping carts without a price. This produces all sorts of outrage as everyone else in line waits for the mythical Price Check Employee to appear in a swirl of smoke and intone, The Soft Touch Hanes Sweat Pants, classic fit, are $9.86."
There is also at least one shopper who will produce 400 unorganized coupons on a Sunday afternoon, ready to do battle over the price of a 32-pack of Gatorade.
I stood for 20 minutes in the "Speedy Checkout" line listening to a woman argue about the price of juice before remembering Rule No. 5.
Status: FAILED.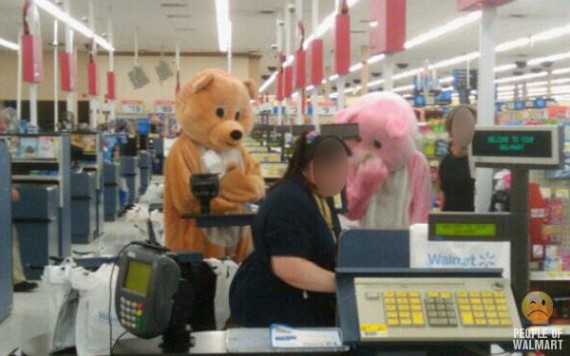 Rule No. 6: Expect the Unexpected
There will always be that one guy wearing something you can't believe, or that one employee you can't believe has a job. This is normal at Walmart, The New Colossus of shopping.
"Keep, ancient lands, your storied pomp!" cries she
With silent lips. "Give me your tired, your poor,
Your huddled masses yearning to wear spandex,
The street-rat-crazy of your teeming shore.
Send these, the butt-cracked, tempest-tost to me,
I lift my lamp beside the golden door!"
I call her Babushka, the 4'3″ fuse attached to my cannonball. Babushka, though I don't know if she's a Russion grandmother. Her age is indeterminable, maybe early 50s. I know she wears a headscarf tied under her chin and looks like she walked out of a Van Gogh painting. Actually, she bears a horrifying resemblance to the late Zelda Rubinstein, down to the stiff walk and raspy, child-like voice.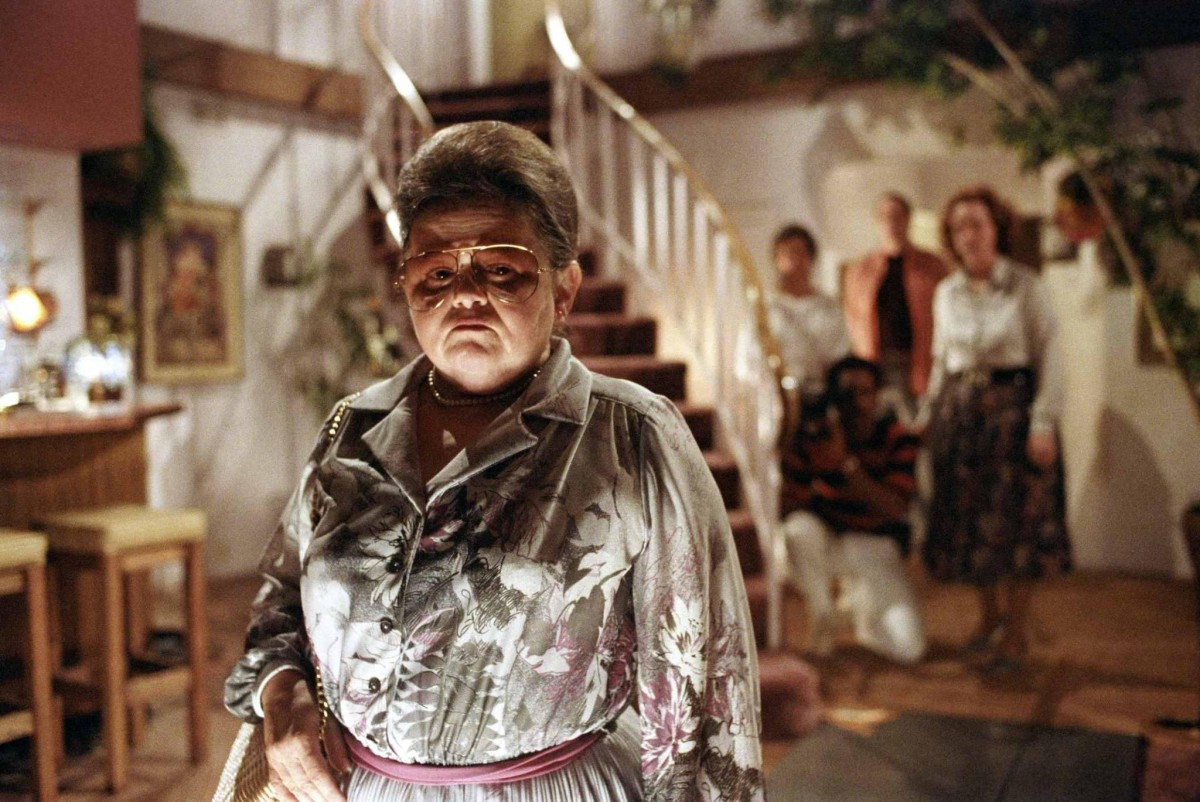 Babuska, my nemesis. It's not the first time I've stood in her line, which always takes forever. When I see her, I run. But this time, this time she got the best of me. I was in line, almost 20 minutes by this point, when they did a shift change. I watched with dismay as a black, simple headscarf made it's way through the aisle of bottled water like the dorsal fin of a hungry shark. I was doomed.
True to form, Babushka slowly and methodically scanned each item. If an item didn't scan, she did it again, even slower than before. Watching her scan items is like watching a sea anemone creep along the ocean floor. She scans an item three times before reaching for the handheld scanner. I commend her for working; it must be a grueling, exhausting job. I wish she didn't have to work at Walmart. I still want to strangle her with her headscarf.
She requested so many price checks that the mythical Price Check Employee stopped coming back. The crowd behind and in front of me started sharpening their pitchforks. "Why are we here," said a woman holding a lamp.
"We've been here too long," I said. "We're invested in this line, so now we can't leave."
Four college boys tried to buy everything plus one white serving dish without a price tag. Babushka turned the bowl over and over and over again, perhaps looking for the answers to life's most important questions. She began randomly scanning the bowl with her hand scanner in case the tag was invisible, I suppose.
I had enough. I, normally a patient person, came unglued. "Gentleman," I called out. "If there is no price, you are not getting the bowl. Let the dream go and move it along." Four pairs of entitled eyes turned and looked at me. I looked back.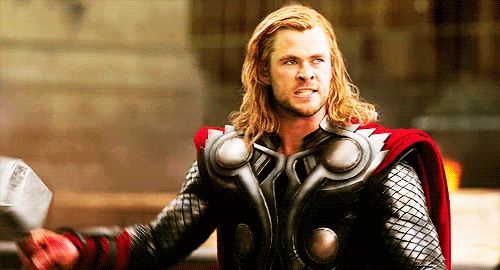 At this point, I had been standing for 30 minutes in line to buy $7 worth of clothing. I started imagining my 30 minute drive to the hospital, walking through the halls, searching for my husband and mother in-law. Babushka, Babushka, Babushka. I texted the Mister that he would have to meet me in the parking lot.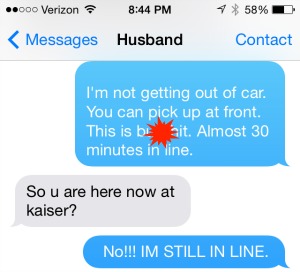 Finally, three customers later, it was my turn. MY TURN! I walked up and handed her my items rather than placing it on the conveyor belt because I noticed the counter was wet.
"I don't know why it's still wet!" She said in her terrifying voice. "I cleaned it but it's still wet! So sticky! So sticky!"
"That's alright," I said in what now sounded to me like a rumbling baritone. "I'm in a bit of a hurry and it's just as easy for me to hand you this."
"So sticky!" She said again. "I cleaned it once already!" She grabbed four squares from a roll of toilet paper and started wiping the counter.
"Perfectly fine!" I said. "But, really, I just need to get going."
She scanned my items while I stood ready with my ATM card. I ran my card through faster than I ever have in my life. My fingers flew across the keypad. It read "WAITING FOR CASHIER".
I was almost there, almost done. Almost out of the hellhole. And then. Dear God, and then.
"So sticky!" She said. "I don't know why it can't get clean!" I wanted to reach across the counter and tell Lady Macbeth to forget the damn spot and press that little button that would complete the transaction. Instead, I watched, slack-jawed, as she moved away from the counter and shuffled towards a bottle of cleanser 5 check stands away.
"No!" I yelled. "No! It's not that sticky! Please, come back!" She didn't hear me over the creaking of her bones. The luckiest part of my entire Walmart experience was that a manager happened to walk up to help the checker next to us. I begged her to check me out. "Just press the button," I said. "That's all you have to do."
As the manager pressed the button, back came Babuska, wildly spraying her cleanser all over the counter, the lamp on the belt, the customers, the world. "Watch out, my eyes!" cried out the woman with the lamp. Babushka and her toilet paper, rubbing everything down.
Status: FAILED.
Forty minutes later, I had my $7 sweat pants. I texted the Mister to let him know I was on my way, forgetting the most important rule of all when it comes to Walmart shopping.
Rule No. 7: It's Not Over Until Sam Walton Sings