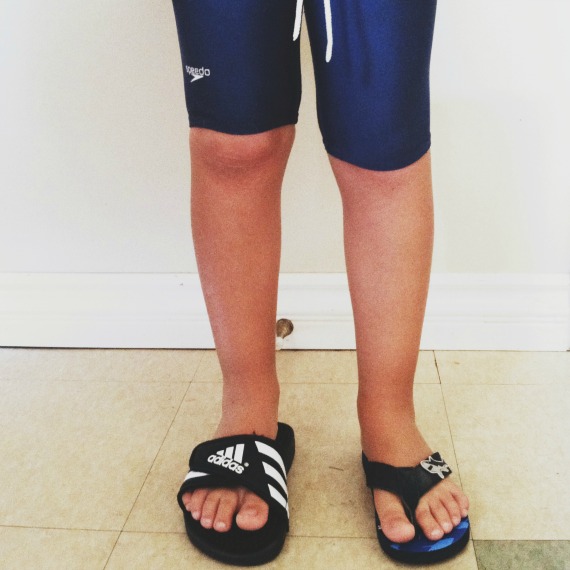 This is what you get when you ask Nico to get ready for swim team try outs and he can't find his other Adidas slide. What the heck, just slip on a shark flip-flop! This is after I asked him what on earth was wrong with his jammers. They were down around his calves, like he was pulling them on, got the waist past his hips and when it came to adjusting the legs so that they came to the knees he just said, "Eh. I'll swim in capris."
This conversation actually happened:
"Nico, you had better find that shoe. We are not leaving the house until you are wearing shoes."
"Mama, I am wearing shoes."
"I MEAN THE SAME SHOES!"
Monday
Mondays are my busiest days in the library and I learned you should never try to read poetry on the fly to little ones because a teacher made a request minutes beforehand. Not unless your library has modern poetry and nursery rhymes that don't involve children being spanked, whipped, cooked, or dying. Never was I so happy to be a good on my feet word thinker who can simultaneously read out loud while reading ahead. That farmer boy fell off the roof and died? Not on my watch. He tripped on a cow hoof and cried! That's why we pick up after ourselves, boys and girls.
Tuesday
I must not have traumatized them too much because on their way to a potty break a group of them waved and said, "Hello there, Mrs. Library Lady!"
Wednesday
I bumped into two moms at Starbucks before my classes started and before I knew it, they were with me in the library helping. They were sent from God! With them there, I could spend more time with each child finding books, figuring out what they like/don't like, and familiarizing myself with the collection. A 7th grade girl said my outfit was "smoking" and I was able to sneak in a lecture on Miley Cyrus and objectification. What? They crack the door, I'm going to kick it open.
Thursday
I bought a camera charger and started reading Beautiful Ruins in earnest. It's actually starting to pick up! I was getting worried.
Friday
More kids, more books, more reading. No bad luck.
The Weekend
I think I'm going to try to get some William Morris Projects done, and of course finish my reading. I also want to sneak in some episodes of Fringe and Hell on Wheels.
Happy, happy weekend, everyone.