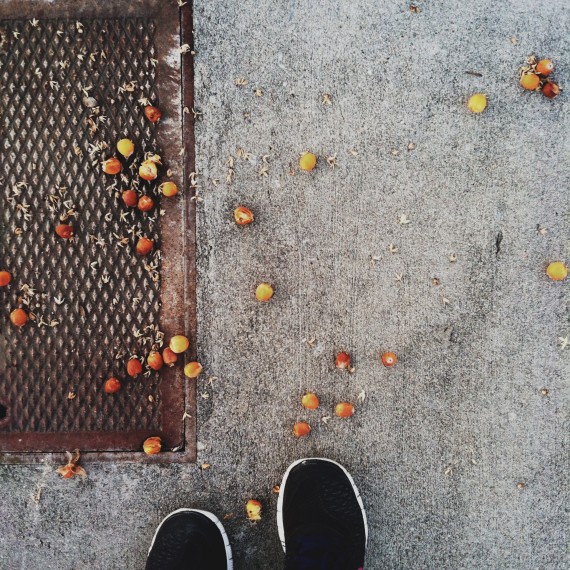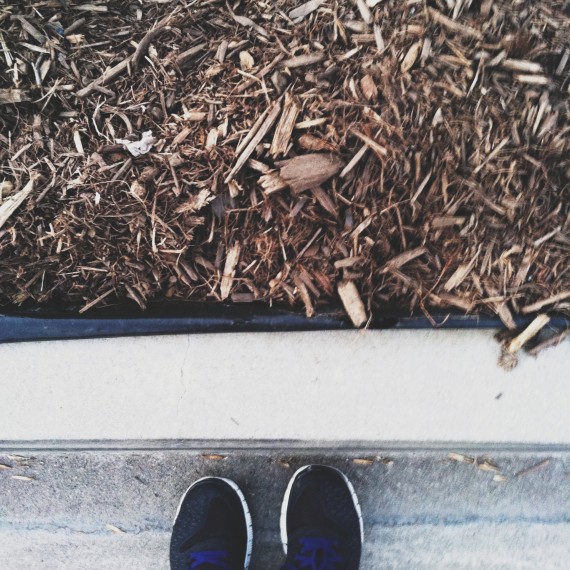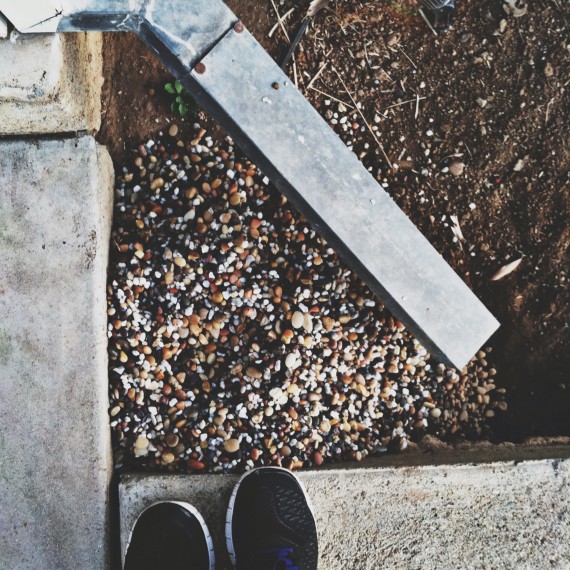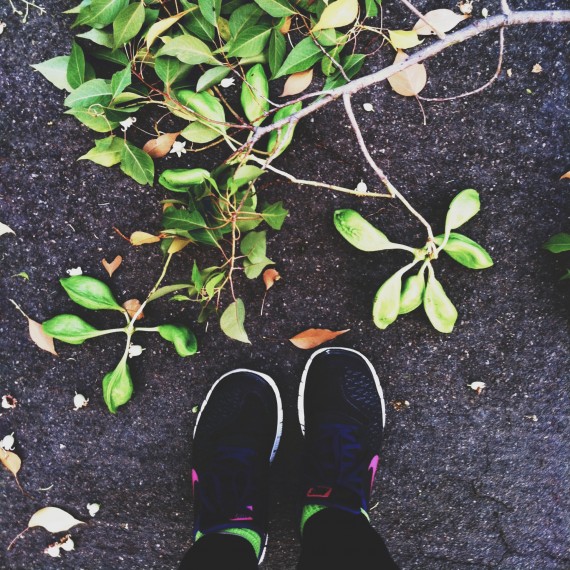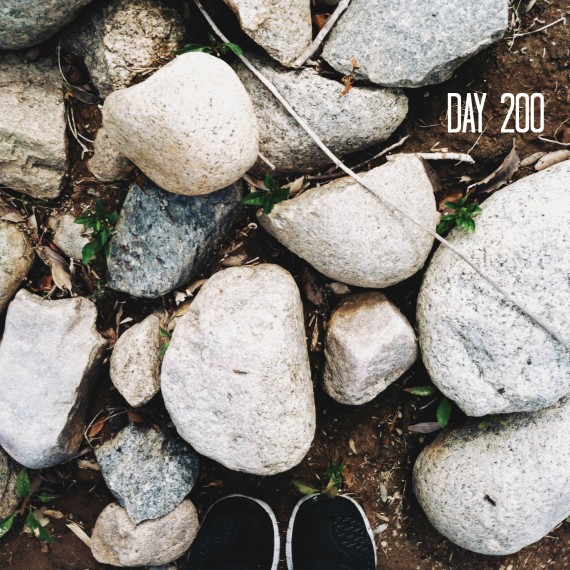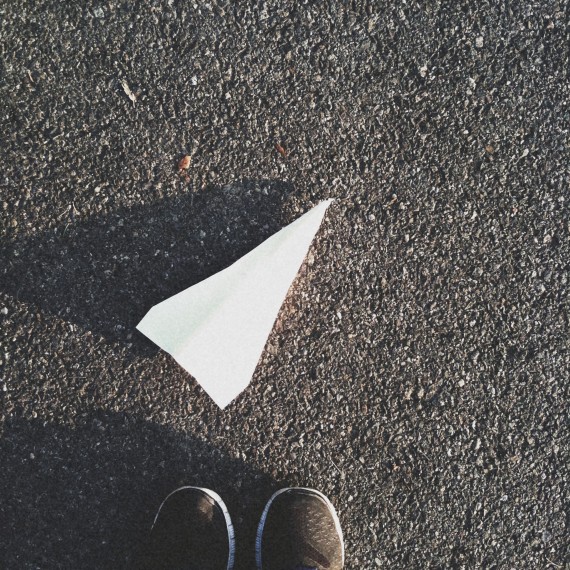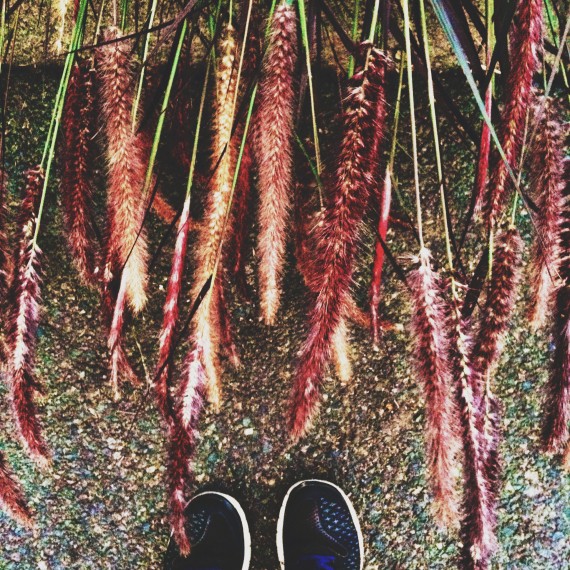 Do you remember last week's picture of the lawn that wouldn't die? This week the owners were like: Screw it. Let's just pile a bunch of mulch on top of the tarp on top of the grass and see what happens. No, wait. Let's add two large potted plants 12 feet apart, too.
It looks, as you can imagine, incredibly awesome.
My socks matched a fallen tree branch on Thursday, and for some reason this pleased me immensely. I am a simple person.
I walked my 200th walk on Friday in the late morning, which doesn't seem like much of a milestone after reaching the 6-month mark just last month, but I'm giving it a mention nonetheless. I've established a set walking route the last few weeks. I haven't walked the "Plant Doctor" route in a while now. The one I walk now is good because it's flat and can be .67, 1.25, 2.25, or almost 4 miles long, depending on the twists and turns I take. No matter which way I go, though, I keep seeing this woman and her dog. I'm seeing a lot of regulars now, but this woman, in particular, shares my schedule. We seem to leave the house at the same time, and lately we've taken to giving heartier waves and smiles when we pass each other. She's thin, about 10 years older than me, and in shape.
On Saturday I saw her again, but this time she had a friend. I waved as smiled as they walked by. Later, we crossed paths again and the woman crossed the street to talk to me. She wanted to know how much weight I had lost. "I was telling my friend how you're out here every day, and that you've lost 30-40 pounds. So I was curious what the real number was."
"Well, actually," I said, "the real number is a whopping zero pounds. But with all the walking I'm doing, it's possible things are moving around. I don't know…" I felt a little dumpy next to these fit, thin women and felt like I was disappointing them (these strangers) with my zero-pound weight loss.
The woman looked genuinely surprised that I hadn't lost any weight. Trust me, lady, I know the feeling. Then she shrugged her shoulders and said, "Don't worry, it will come off. I had the same thing happen to me when I first started. I walked every day and for four months nothing happened. Then, all of a sudden, everything started coming off at once. I lost over 50 pounds."
I was shocked this tall, thin, and obviously fit woman ever had 50 pounds to lose. Then her even taller friend piped up and said, "Yeah, same here. When I lost 40 pounds I did it by walking every day. Well, except the day my dog had a stroke."
"Um," my regular walker said, "you also skipped that one 4th of July. We both got pretty drunk at Bill's party."
"I still walked."
"You were in flip-flops. It was more of a shuffle."
They made me laugh and were obviously trying to make me feel better, but I was focused on the fact that between the two of them these two very fit women had lost over 90 pounds.
I see on my walks runners and bicyclers and usually all I can think about is how much time I've wasted these years not exercising, or how much more in shape they are than me, or how I have such a long way to go through no one's fault other than my own. Of course I wonder what they think of me.
Like most people, I forget the world doesn't rotate around me and that my preconceived notions aren't based on fact. I saw two fit older women and assumed they had been on the triathlon circuit since they were preschoolers and never once weighed an ounce over what the BMI charts commanded. I imagined they felt sorry for and/or amused by the fat mom in the black compression pants. I was wrong on both counts.
Assumptions are dangerous things to make, and like all dangerous things to make — bombs, for instance, or strawberry shortcake — if you make even the tiniest mistake you can find yourself in terrible trouble. Making assumptions simply means believing things are a certain way with little or no evidence that shows you are correct, and you can see at once how this can lead to terrible trouble. For instance, one morning you might wake up and make the assumption that your bed was in the same place that it always was, even though you would have no real evidence that this was so. But when you got out of your bed, you might discover that it had floated out to sea, and now you would be in terrible trouble all because of the incorrect assumption that you'd made. You can see that it is better not to make too many assumptions, particularly in the morning.

? Lemony Snicket, The Austere Academy