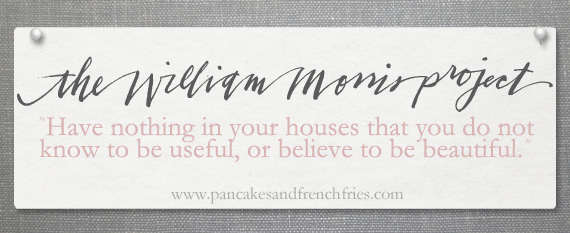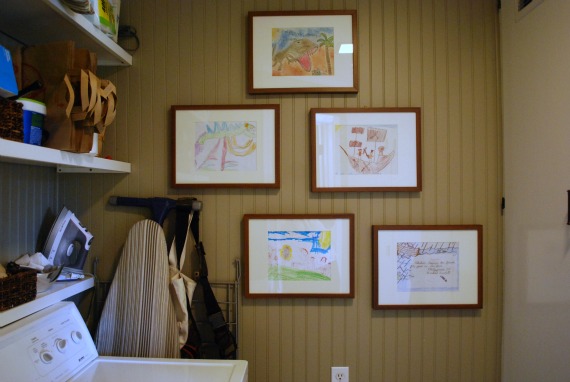 I framed the pictures this week while searching Netflix for romantic comedies. I didn't find any good movies, but the pictures look nice. There is something about scribble-scrabble little kid drawings that look so sweet when framed. I used IKEA frames, nothing fancy, and I put them up without measuring. I guesstimated the entire thing and only moved one nail, and I did that only because I wouldn't be able to access my laundry rack without hitting the frame if I didn't. I'm normally insanely particular about hanging pictures but, first, this is a laundry room and it shouldn't be too precious. The whole overly-decorated laundry room-turned-palace trend can sometimes be too much. Sometimes a laundry room is just a laundry room, especially when your washer and dryer are 14 years old, you know? Second, perfect is the enemy of done. (Volatire, paraphrasing, you know what I mean.)
[Unnecessary blogger clarification: the walls aren't olive green–it's just the lighting. They're dark gray/green like the rest of the house.]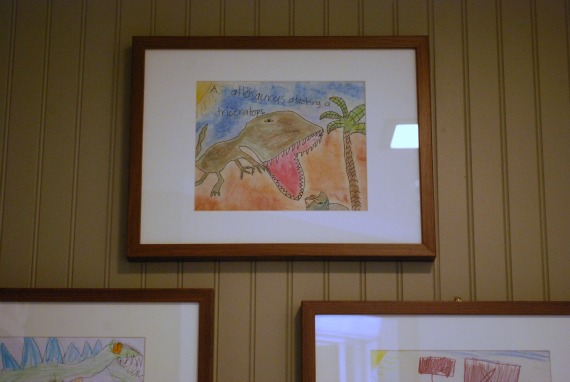 This is the picture Mikey drew in the 2nd grade that he found so displeasing not too long ago. I put it up high to lessen the affront to paleontologists everywhere but he still glared at it when he saw it today. Whatever. I love it and think it's great.
I also did some work in the boys room per their request. I bought Nico a Denver Broncos banner and hung it by his bed. Mikey, well. Mikey is a long-time Dallas Cowboys fan (he's wanted to be a Paleontologist since he was 3–he's nothing if not steadfast once he makes a commitment) and he had to have this piece of…awesome. It's going above the closet where everyone can see it. Yay! It's exactly the mood I was going for. Next week I'm going to buy them alarm clocks that play Robin Thicke's Blurred Lines.
//////////////////////////////////
This post was part of The William Morris Project, a weekly series that details the steps I am taking to create an intentional home. You can see more of my goals and completed projects here. To learn more about this project, start here.
//////////////////////////////////
Now itís your turn! Feel free to share how you have lived according to the William Morris quote, ďHave nothing in your houses that you do not know to be useful or believe to be beautiful.Ē Made a plan? Cleaned a drawer? Bought a sofa? Tell us about it with a link or comment. A few guidelines:
Please link to a specific post, not a general blog address.
Your post must relate to your efforts to create an intentional home. I have a delete button, and Iím not afraid to use it.
No links to giveaways, please.
Letís use this weekly link up as an opportunity to gather inspiration and motivation. Click links. Discover new people. Say hi and good job. I know I will.