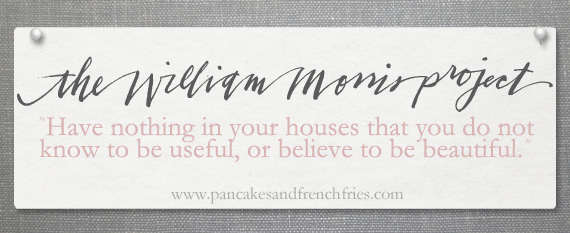 Not too many of my projects have been complete failures, thank goodness. I can't recall if I've had to scrap any of them, but with many of them almost 18 months old they need to be revisited. Possessions need to be reevaluated, items need to be culled and reorganized, and everything needs a general spring cleaning. It's one of the universal truths of The William Morris Project: Only the dead are done.
Real, living, breathing people make messes and collect clutter and keep pens that don't write well. They put things in drawers when they don't have the time or energy to think about where it belongs. They are human; they are not perfect. Sometimes, but not always, they make decisions in hopes of pleasing others and not themselves.
Case in point!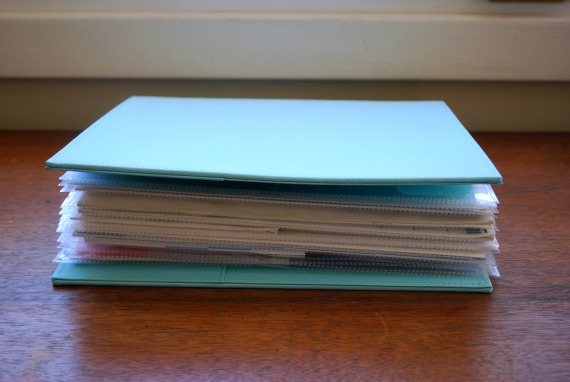 Let me tell you about organizing instruction manuals. I saw this idea on pinterest and thought it was brilliant. I've always had this idea of a shelf of home binders where everything home related would be there at the ready. Contracts, warranties, important documents, emergency plans, whatever. It's what most organizational-type people recommend you do, and I thought I would start with our manuals. Great. No problem. Perfect, in theory.
I went to Staples and grabbed a gigantic black binder because that's my personality. A gigantic black binder is a solid choice. The largest size would grow with me. Black doesn't get and dingy over the years and is a color that would always be available. I wouldn't have to worry about matching colors later down the road when I bought more binders. But nooooooo. Did I listen to my usual pragmatic self? I walked back to the end of the store because I needed something, maybe a label–can't remember–and I stumbled upon the Martha Stewart section of the store.
At the time I was reading a few other home organization blogs and fell into the trap of comparing projects. Everything they did was really pretty. Their bins were all from The Container Store and labeled with modge-podged scrapbook paper in happy colors they cut out with their Cricut. I'm normally great about admiring without second guessing myself but for some reason I felt vulnerable that week. I didn't want to be pragmatic and practical. I wanted to be pretty and twee! I put back the black binder and bought the (much smaller and more expensive) Martha Stewart binder in aqua, a color I don't even like. Since then, I've bought a few more items that came with instruction manuals but I haven't put them in the binder for two reasons. One: there isn't room in that very pretty and twee aqua binder for another piece of paper, let alone a manual. Two: every time I look at it I get ticked off thinking about my moment of vanity.
This is another universal truth of The William Morris Project: Projects built on vanity crumble.
I couldn't return the album (I plan to give it to my sister-in-law for my niece, Gabby), but I did stop reading the home organization blogs. There is nothing wrong with pretty and twee. There is nothing wrong with taking the time to make colorful labels or shopping at The Container Store. But, since I don't do those things, there is little value in me following blogs that focus on home organization products. Honestly, I'm not into home organization. I'm into that William Morris quote and, by consequence, raising happy, productive boys in a peaceful environment without a lot of extraneous nonsense.
Unrelated, but something to think about: even hoarders can be neat-freaks. People just don't see them as hoarders because everything is so well organized.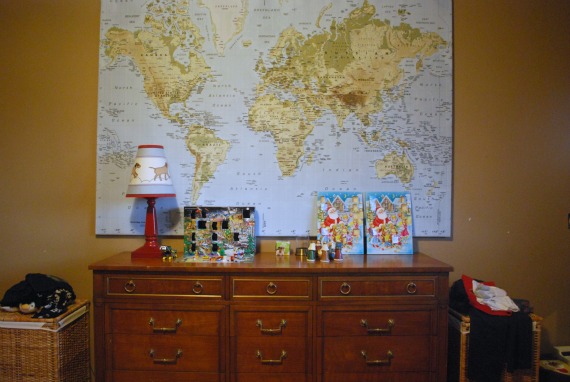 The second project that didn't work as intended is actually a series of projects I affectionately call anything Nico and the Mister might possibly touch.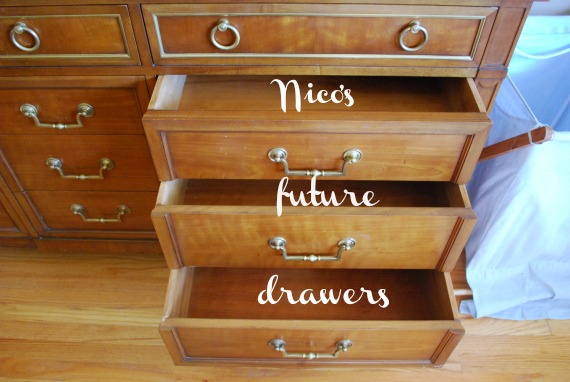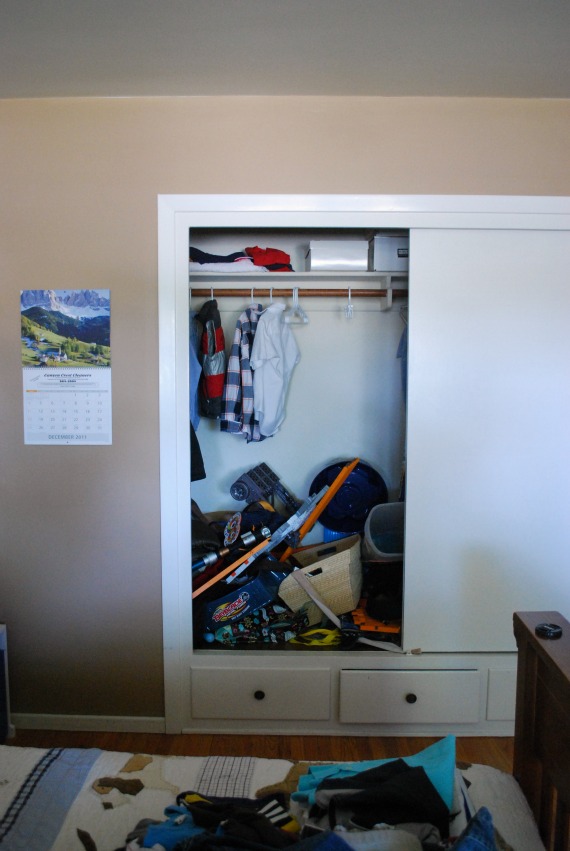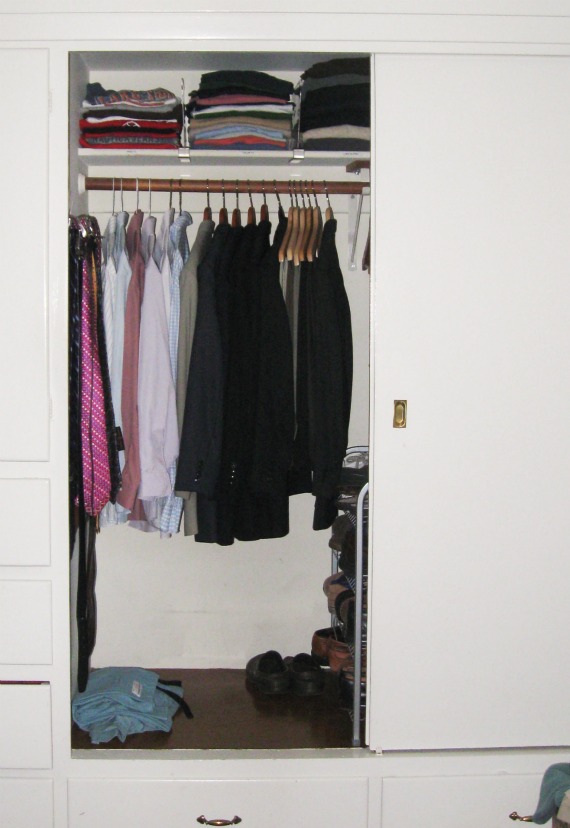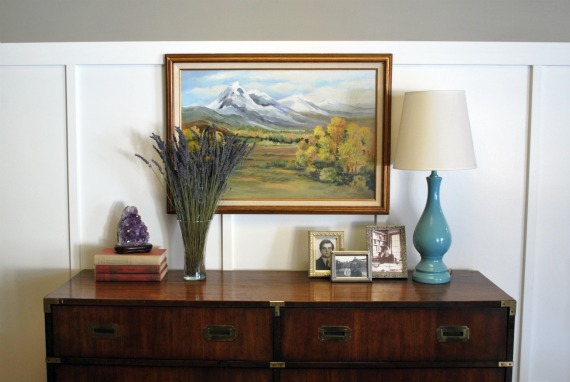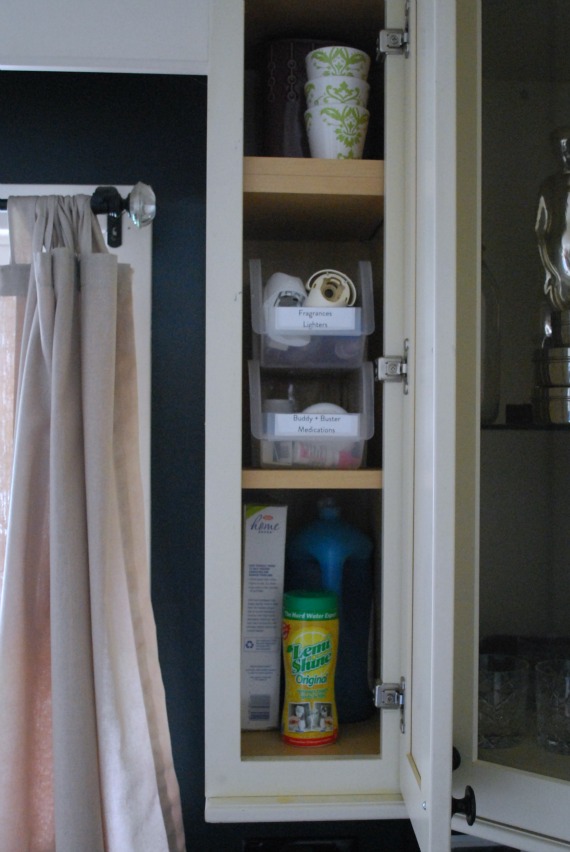 If Nico touches it, assume it will be in tatters by the time he's done. He knows where I keep my stamps and some craft supplies, so all hope is lost there. I've lost track how many times I've organized their closet. His side of the dresser looks like an explosion went off. You can't even close the drawers because when he looks for a shirt he half pulls out every single shirt in the drawer. If he's missing a shoe, he takes out shoes from the shoe drawer until he finds the shoe he wants and then leaves, usually in a hurry because he is always in a hurry.
Sometimes he pulls everything out of the bathroom cabinet just to see how high he can stack it. Math, puzzles, building–he excels at anything that requires spatial acuity or reasoning. I can only hope he uses the gifts God gave him to invent a machine that will put his dirty socks in the hamper.
The Mister, on the other hand, is fairly tidy but only when it comes to projects he feels are important. His closet is not important. The way I organized the dog medication is not important. The coat closet is not as important as the hook right next to it. The way I organized the master bathroom is important. The medicine boxes are important.
You can see where this is going. When you do projects for someone else, you have to expect that they won't always appreciate your efforts, especially since you really are trying to foist your methodology on them. The only way something or someone will truly stay organized is if they do it themselves, but in the case of children, that's not always likely. So, for Nicholas I know he needs ample space to make a mess. If I want his dresser to remain tidy I can't keep it stuffed with clothes. I have to be on top of purging so he has room to paw through his shirts like a dog digging for a bone. Same with the toys in his closet. I have to take those to Goodwill or it will forever be a giant game of Jenga in there.
Treating Nico and the Mister like me and Mikey hasn't worked.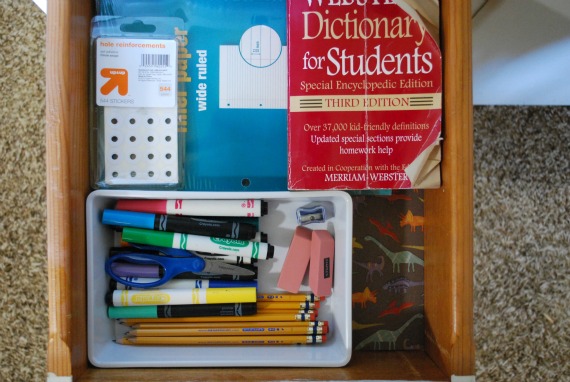 Last but not least, the homework drawers. This project I loved and continue to love. Every parent needs a homework drawer or two. But! I should have put it into my calendar (hahahahaha! I DON'T HAVE A CALENDAR!) to have them clean it out every month, just like they clean out their desks at school. They are a mess now, and once again it's a battle to find a single pencil. The school year is almost over, but next year we will put into place a clean out day for the drawers. [See universal truth #1]
//////////////////////////////////
Now itís your turn! Feel free to share how you have lived according to the William Morris quote, ďHave nothing in your houses that you do not know to be useful or believe to be beautiful.Ē Made a plan? Cleaned a drawer? Bought a sofa? Tell us about it with a link or comment. A few guidelines:
Please link to a specific post, not a general blog address.
Your post must relate to your efforts to create an intentional home. I have a delete button, and Iím not afraid to use it.
No links to giveaways, please.
Letís use this weekly link up as an opportunity to gather inspiration and motivation. Click links. Discover new people. Say hi and good job and all that stuff.