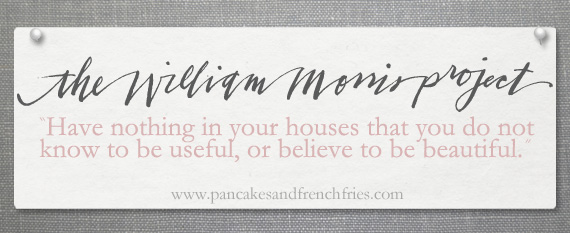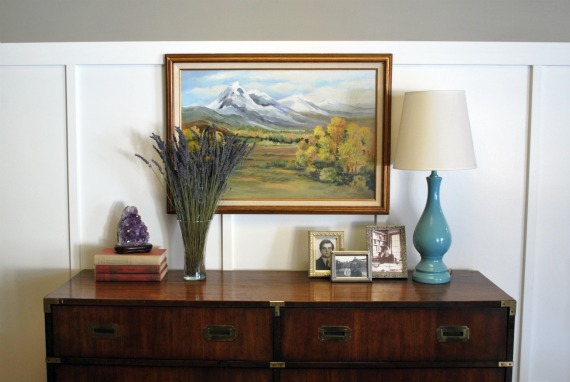 I'll start today by admitting I have no idea how that vase of lavender ended up in front of the painting, practically dead center. I vaguely remember something about a football crashing into it, lavender buds flying like confetti, and Mikey saying, "Well, at least now we can smell the lavender." File this one under Life with Boys.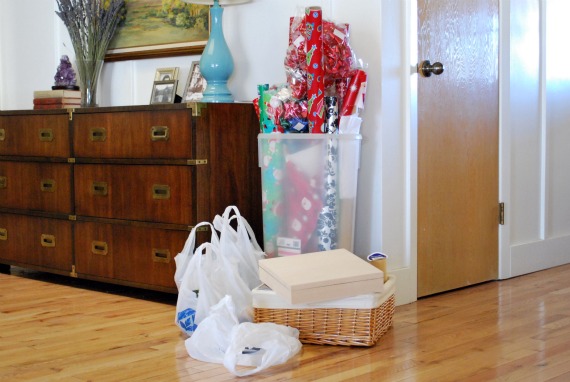 Let's focus, instead, on wrapping paper. Specifically, the wrapping paper I left in limbo back in October. As planned, I used as much of it as I could during Christmas and did not buy anything to supplement my already embarrassing supply of cheap paper. I barely made a dent in the cheapness, and after today I have a new rule: No cheap wrapping paper, ever. I have a couple of reasons, outlined below.
Cheap wrapping paper comes in rolls that are either too meager or too plentiful. It's the hotdog buns of stationery. I either don't have enough, or I'm left with too much.
Cheap wrapping paper doesn't store well. The color fades or bleeds (both, in my case) and wrinkles or tears easily.
Cheap wrapping paper is often impossibly trendy. What I loved in 2009 left me scratching my head in 2011–and wishing I could buy something else.
Cheap paper is easy to buy in quantity. If I am shopping intentionally and thoughtfully (and not just buying junk in bulk), I don't need that much paper. This allows me the room in my budget to buy the beautiful, more expensive wrapping paper I've always looked at wistfully.
Allow me to be your wrapping paper cautionary tale. Stay away from the cheap paper.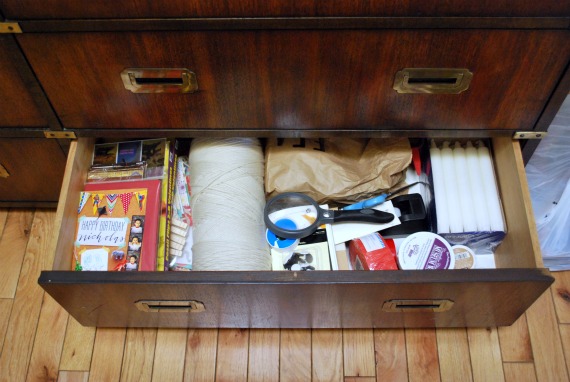 I decided to store the wrapping paper in our campaign dresser. I love this thing. It has a fairly small footprint, and yet it is capable of storing 99% of the contents of our home, as the above picture details. I could have tossed the paper in one of the three empty drawers, but I am committed to having an intentional home from top to bottom, inside and out.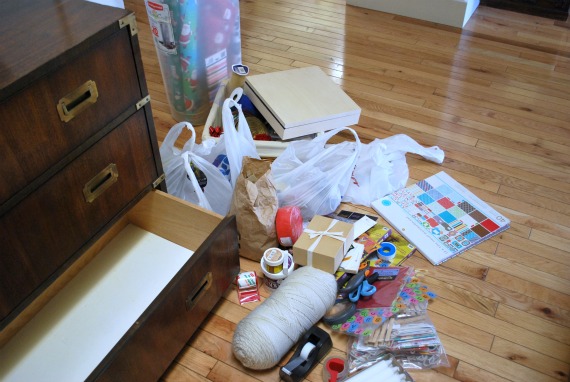 First thing first: take everything out and start sorting.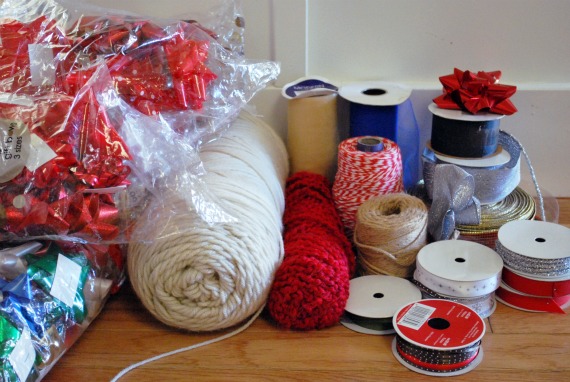 Bows, ribbons, ties.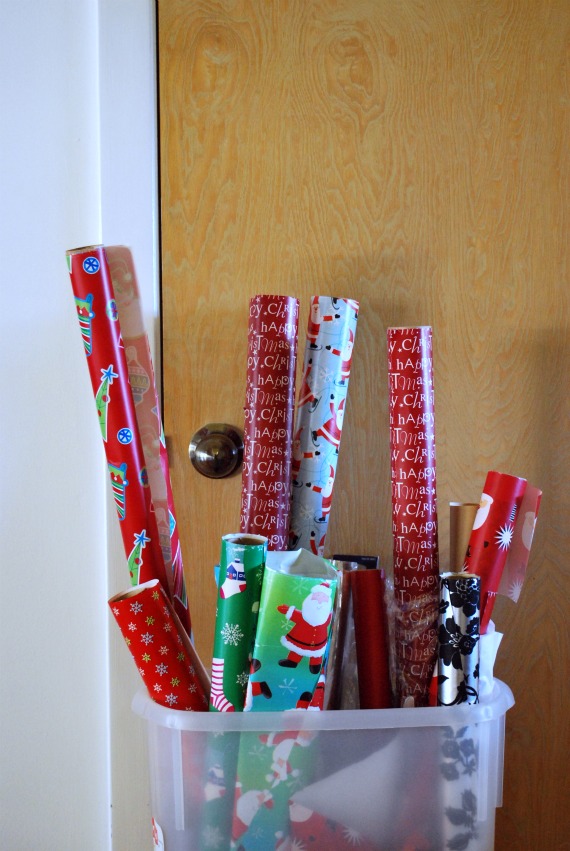 Cheap wrapping paper.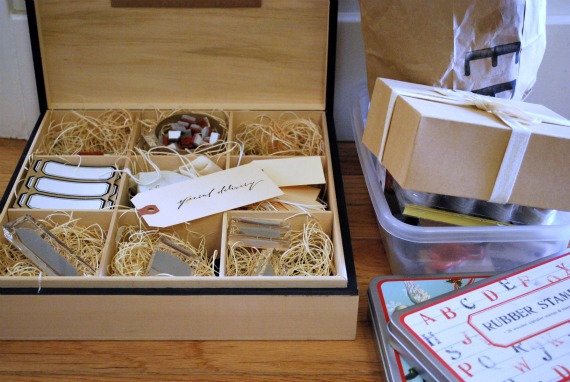 Stamps.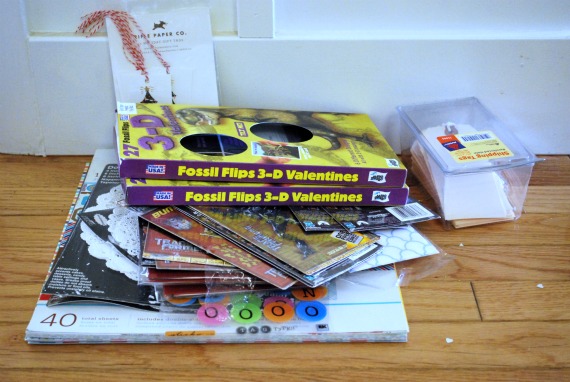 Stickers, paper.
I also have scissors, slicers, hole punches, and other supplies that I didn't photograph because the only thing less exciting than a picture of a pile of stickers is a picture of a pile of scissors.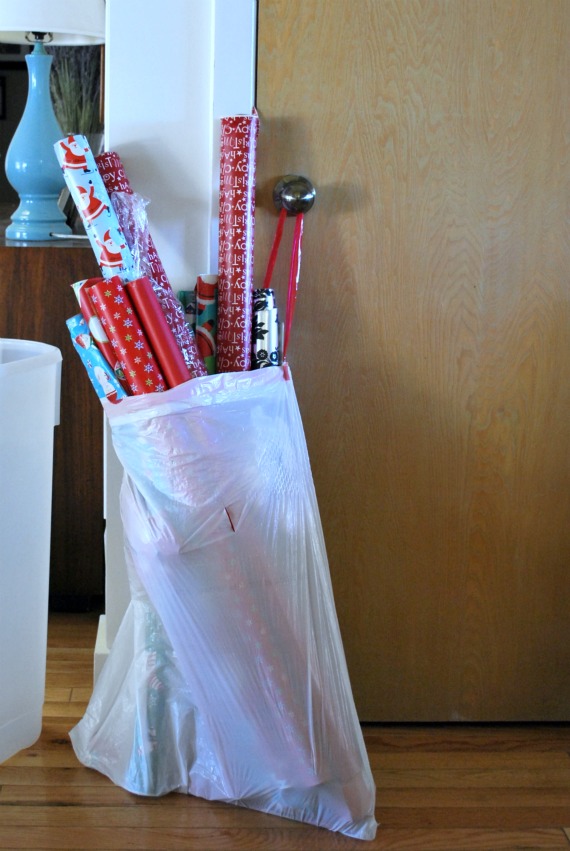 I started with the wrapping paper, since I needed room to maneuver in tight quarters. I was ruthless, but ecstatic. I gave myself permission to ignore the fact I wasted money and instead rejoice in what I was gaining by recycling paper that was cheap, torn, or faded. Then I tossed rolls that were almost depleted or didn't have enough paper to wrap a standard box. I'm notorious for keeping random sized strips of paper in case I might one day need to wrap, I don't know, a wand.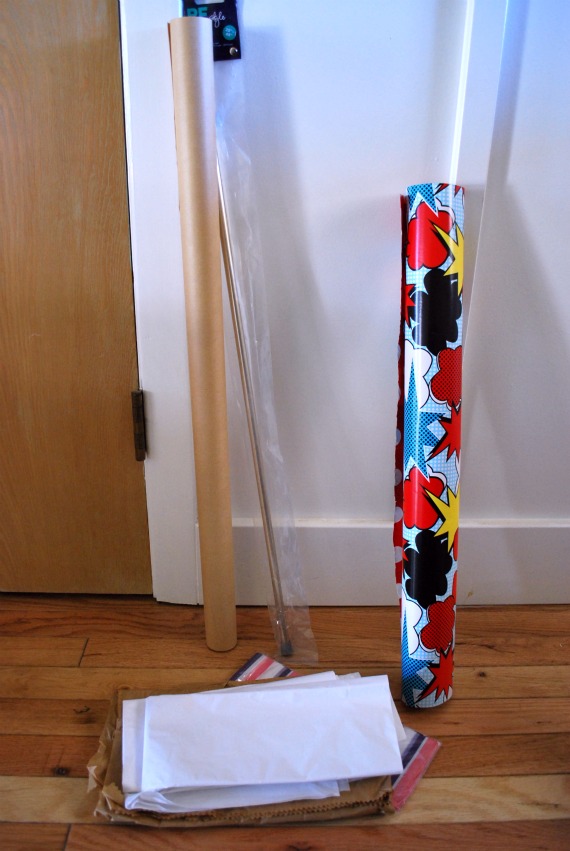 That left me with a roll of parcel paper and one roll of good quality birthday paper. I can't even. Shame face! (Let's not talk about the tension rod I found among the rolls of paper.) (Although I could have totally wrapped that sucker with one of my many random strips of paper.)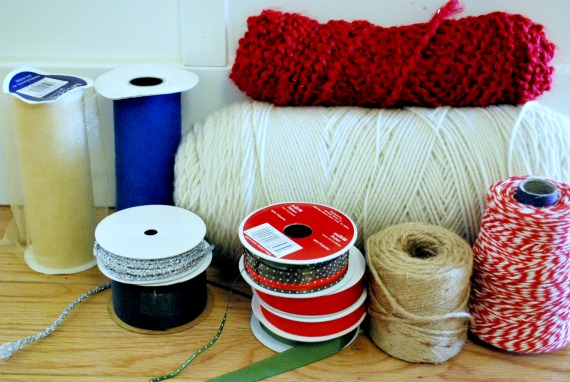 I thinned out the bows (gave them to my mom), ribbons, and ties, too.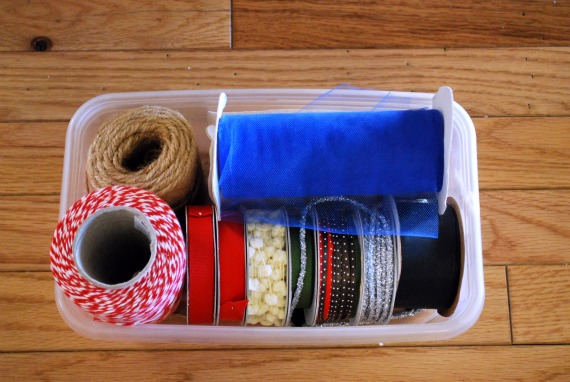 I placed them, for now, in an empty Tupperware container I had laying around. Eventually I will put them in a clear, lidded container or photo box.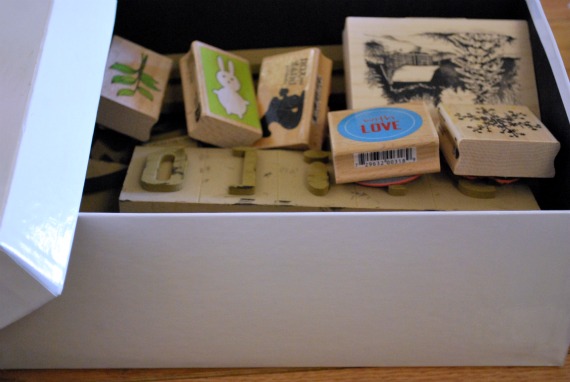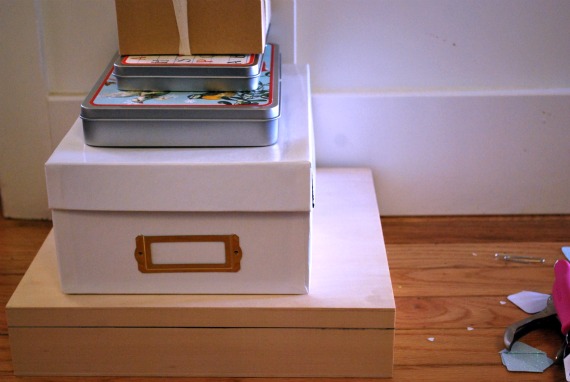 I used an extra photo-box to contain my stamps.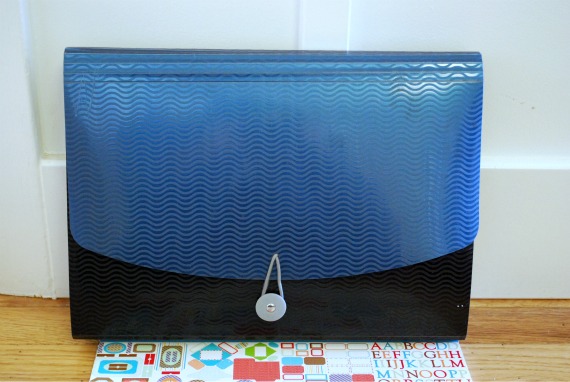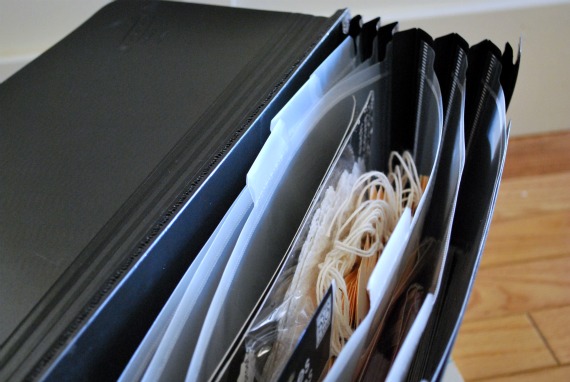 The paper, stickers, and random holiday cards I stored in an accordion file I found in the Mister's office. It won't win a beauty pageant, but the solution works well for now. One day years from now, when I'm walking around the house looking for something to do, I'll replace the accordion with one that is prettier.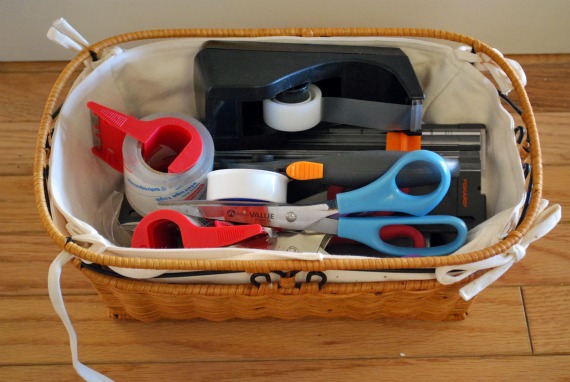 The scissors, tape, et al went into a basket I found in the kitchen last October. Again, one day I will replace this set up with a lidded container.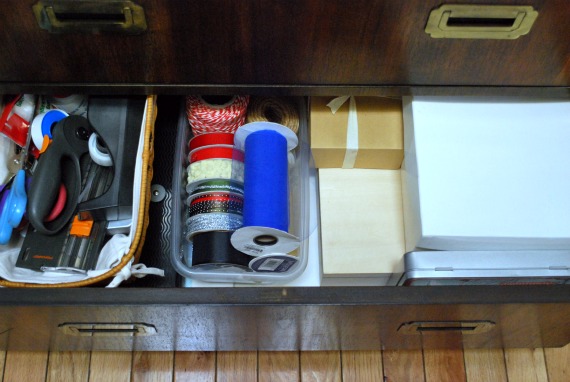 But for now, everything fits together like the most perfect game of Tetris. I have everything in one location, easy to pull out and access. I love it.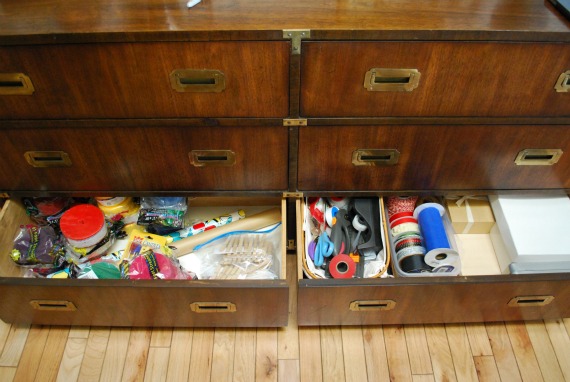 The two rolls of wrapping paper are in the drawer to the left, along with 2394834 rolls of crepe paper. Don't worry, today is Nicholas's 5th birthday (!!!) and I am probably tied up in 50% of it as you read this. The supply should be thinned out by the end of the day, and what's left I will put in a box. The parcel paper roll is too long. I'm glad I don't have much left–the next roll I buy will fit the drawer dimensions.
Whew. 19 images, y'all. Mama is cross-eyed.
::::::
This post was part of The William Morris Project, a weekly series that details the steps I am taking to create an intentional home. You can see more of my goals and completed projects here. To learn more about this project, start here.
::::::
Now itís your turn! Feel free to share how you have lived according to the William Morris quote, ďHave nothing in your houses that you do not know to be useful or believe to be beautiful.Ē Made a plan? Cleaned a drawer? Bought a sofa? Tell us about it with a link or comment.
A few guidelines:
Please link to a specific post, not a general blog address.
Your post must relate to your efforts to create an intentional home.
No links to giveaways, please.
A link back to this site is always appreciated. There are buttons to add to your post or sidebar, too, thanks to the lovely Alex, of Type A Calligraphy. Just copy the code and insert into your blog post or sidebar while in html mode.
Letís use this weekly link up as an opportunity to gather inspiration and motivation. Click links. Discover new people. Say hi and good job. I know I will.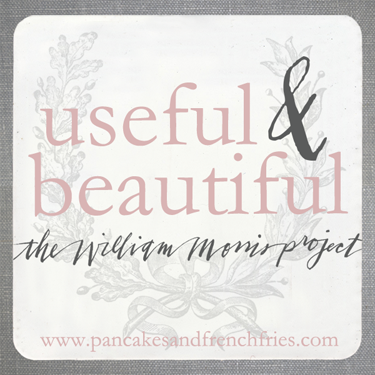 <div align="center"><a href="https://pancakesandfrenchfries.com" title="Pancakes and French Fries"><img src="http://www.pancakesandfrenchfries.com/banners/useful_beautiful_wreath_375sq.jpg" alt="Pancakes and French Fries" style="border:none;" /></a></div>




<div align="center"><a href="https://pancakesandfrenchfries.com" title="Pancakes and French Fries"><img src="http://www.pancakesandfrenchfries.com/banners/useful_beautiful_wreath_125sq.jpg" alt="Pancakes and French Fries" style="border:none;" /></a></div>