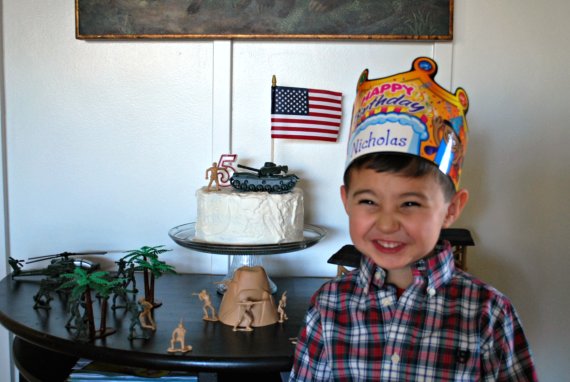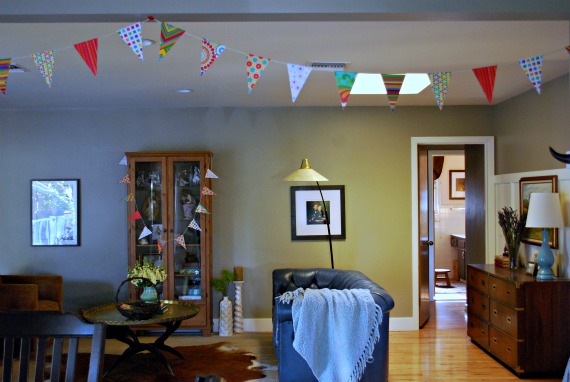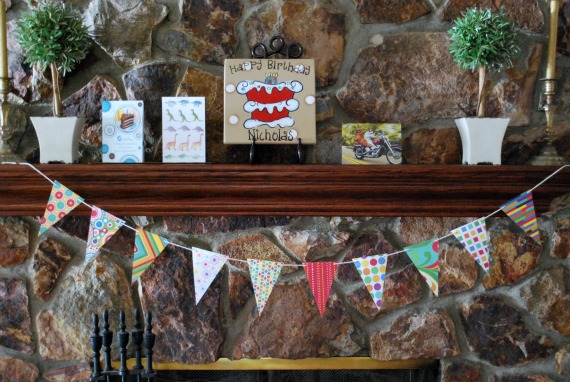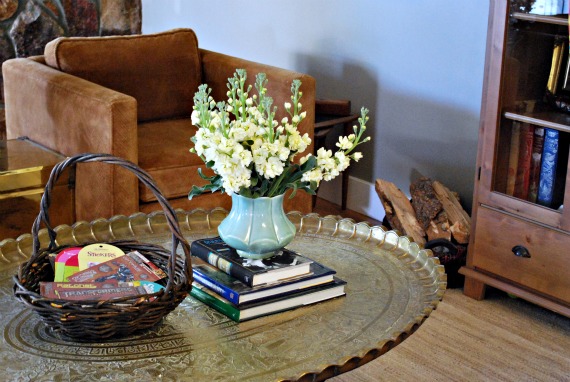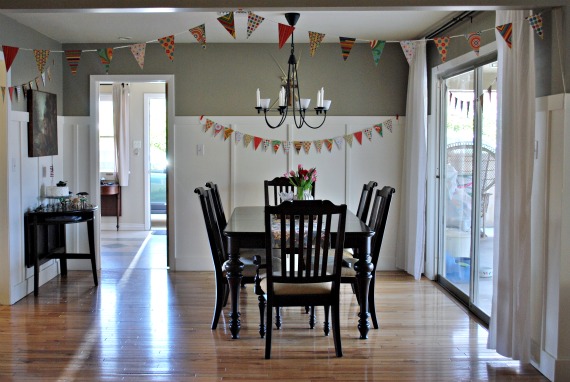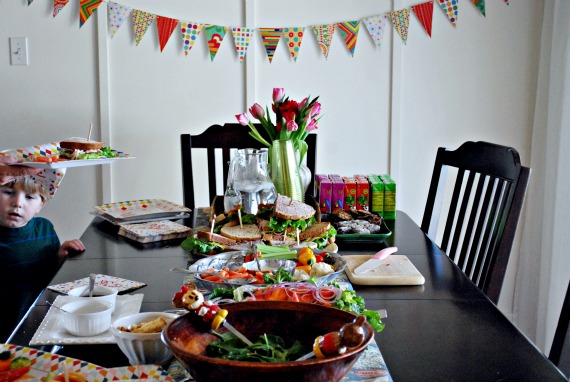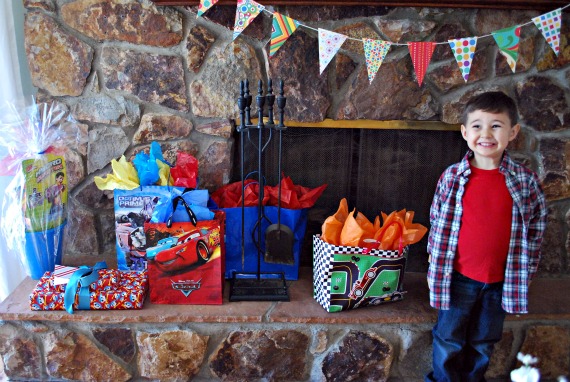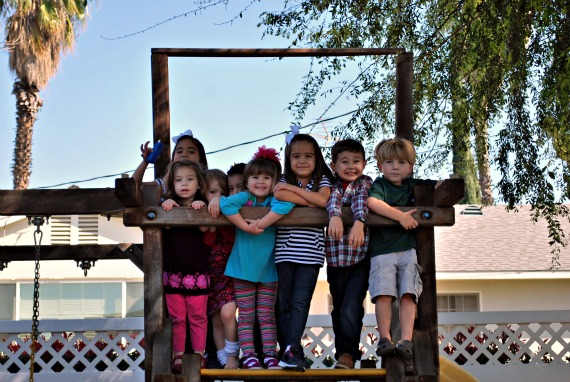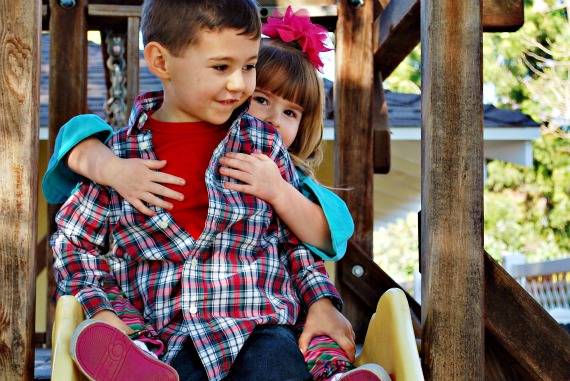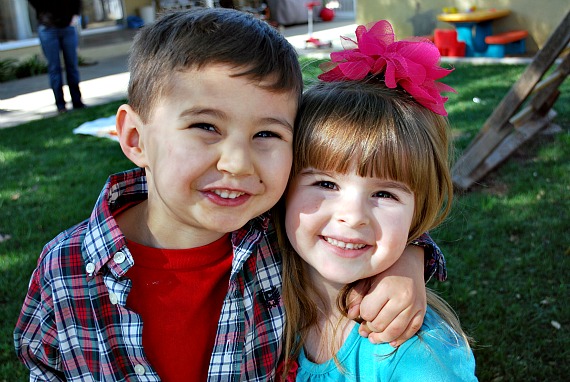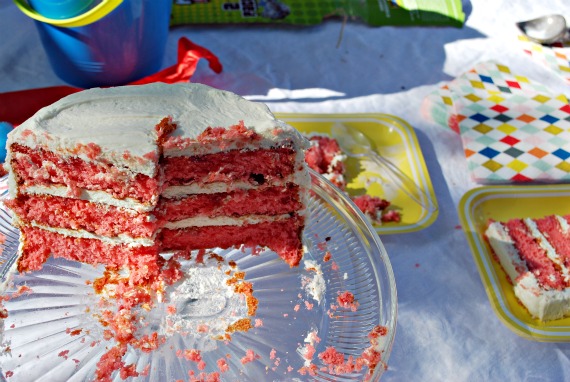 Nicholas turned 5 on Thursday. My baby, 5 years old. The mind boggles.
This is the first year he really understood and anticipated his birthday. He talked about having a party for months, and how he wanted to invite all twenty kids from his class for an Angry Birds/Transformers/Mario Brothers/Star Wars party with a two jumpers, a piñata, and a strawberry army cake with a green tank and one army guy on top.
We settled on four kids from class (plus a little sister), no theme, and the army cake. It made sense.
For a brief moment in January, I considered not doing a party at all. Parties make me nervous. I worry about everyone having fun. I worry about the limited budget I have to work with, and what the parents and kids will think. Mostly, though, I dread the work involved. The planning, the cleaning, the cooking, the baking, the accommodating of many different tastes and diets and allergies. I worry, because I am a procrastinator and a pleaser who can drown in a glass of water.
I love to make my boys happy, but if I learned anything last year, it's that you don't need everything you want. I decided to give Nicholas a party, but not the one he thought he needed. I kept it small and personal, something I could manage. I'm so glad I did, both for him and for me.
We kept the guest list small. I don't know all the kids from preschool, and I certainly don't know the parents, so we limited it to the kids and parents I knew–the ones Nicholas talks about incessantly. Also invited, of course, was his cousin Addison (she's the beauty on the slide and is later hugging Nico) and our neighbor's daughter, Daphne. Play date material, in other words.
We didn't have a theme. No Angry Birds/Transformers/Mario Brothers/Star Wars. I used the same party flags I made for his birthday party last year, and I'll use them again for the next party, too.
We held the party on a Friday, right after preschool. We did a little caravan to the house and the kids ran in and out of the house and up and down the play gym for two hours. No piñata, no jumper. The kids played football and dinosaurs and Star Wars and tag and Hot Wheels and doctor. It was wonderful to watch and I was glad I trusted my instincts to let kids be kids and entertain themselves.
I didn't make the food. This was big for me, the one who wants to do everything. I had to take a deep breath and allow myself to let people help me. I ordered sandwiches, bought pre-cut vegetables, and placed chocolate lace cookies I did not bake on pretty platters. And, most important of all, I didn't worry (too much) that someone might not like what was available to eat. I offered an assortment of sandwiches, fresh fruit, and two green salads.
I did bake the cake! Nicholas had a clear vision for his cake. I asked him for weeks what he wanted and it was always a strawberry army cake with a tank and army guy on top. I happen to think strawberry cakes are vulgar wastes of flour, but he was adamant. Since this was the one area he seemed committed to (unlike the Angry Birds/Transformers/Mario Brothers/Star Wars themes), I figured it was important to him. Disgusting or no, I made Joy the Baker's Southern Strawberry Cake. He was so happy when he saw that silly, somewhat lopsided cake with the frosting I didn't get quite right. He and Mikey worked very hard on the army table display the night before. The placement of each army guy, helicopter, and mountain was carefully considered, and I didn't touch a thing after they were done. (Bonus: the cake was actually tasty.)
Never have I seen Nicholas so joyous. With only his very close friends at his party and Mikey gone at school, he was–for the first time in his life–the center of attention. It was all about him, and he reveled in it. I thought his face was going to crack from the grin he had stretched ear to ear. At least once I felt like crying, just because I was so happy to see him so happy.
I realized at that moment that I hate parties when I'm planning for them, cleaning for them, cooking for them, baking for them, and trying to get rsvps for them. But I love them when I am in the middle of it watching everyone have fun. And afterwards, when the house is empty and we are eating leftovers, listening to Nicholas tell Mikey all about his special day–that's when I think parties are the best thing since sliced bread, and that I should have them more often.
Until the next one comes around and I have to start planning…