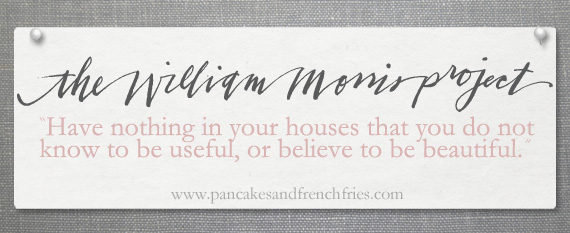 Today is the one year anniversary of the death of Helena's mom. In a couple of weeks, it will be the anniversary of her dad's death.† If you are new here, you may not know that this project began in tragedy, and that specters hang above everything I do. Or, maybe you are not new here but have just forgotten. Every now and then I forget, too. That's how it goes. Everything moves forward. Our motivations slip. We forget what we started and why.
I've been worrying about the William Morris Project. It seems like my projects are more boring than not, so I often feel silly sharing that I, say, bought a dish mat. The big and glamorous projects cost money, which we used to pay for next year's tuition. It's a huge relief to have that monthly bill off our plate, but it leaves me with little money to buy all the frames I need. Get new floors in the kitchen. Buy rugs. Why are the rugs I like so expensive?
Then I calm down and remember the project isn't about new and better and prettier. It's not about showboating. And besides, it's not like we haven't done anything. We finally finished painting the walls in the family room.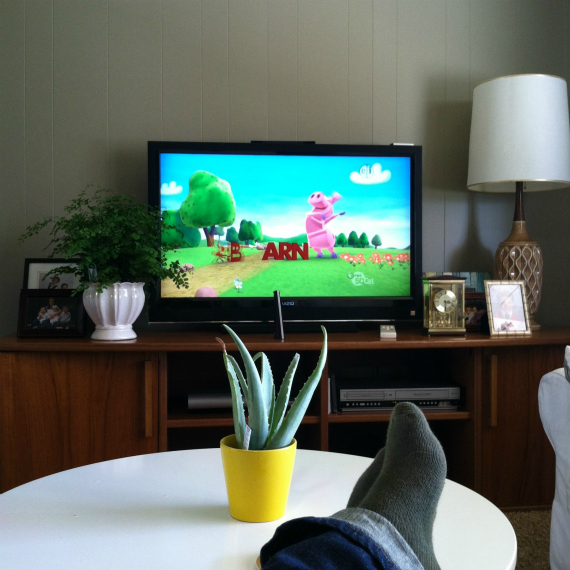 All I need to do now is take off all the clutter on the credenza and hang some pictures.
Progress, not perfection. I reminded myself of this when the one item I did budget for this week failed to arrive on time. Maybe next week.
As I thought about what else I could do this week, I worried about something else that has been on my mind. I'm running out of things to do. I don't have any small projects left. I'm almost done. So I decided to tackle something that has been on the back burner since February. It's something many of you have asked me to do. I sat down Wednesday and went through all my William Morris Project posts and crossed off all my completed projects from the initial Intentional Home post. Then I sat back and laughed.
I have plenty left to do.
I have small projects coming out my ears.
I will be done just in time to sell the house and retire in a motor home.
ďHumans see what they want to see.Ē
? Rick Riordan, The Lightning Thief
Going over my list of goals is so important, yet it's something I never do. I don't think I've looked at it since February. I walk around with a vague idea of what needs to be done, and inspiration usually strikes a few days before my deadline. I've done myself a disservice by not regularly reviewing my list. Not only because there are plenty of small projects I missed, but also because I denied myself the opportunity to pat myself on the back. I've worked hard. I've accomplished many goals I didn't think would happen this first year. I can't encourage you all enough to go over your own list if you haven't recently, especially if you've been plowing ahead and working every week these past few months. You don't realize how much you have done!
I've linked to all my completed projects, but I'm looking to gather all the posts and projects on one page for easy access. It's something else I have wanted to do for months, but I put it off thinking it would be boring work. I wasn't far off in my assessment. It wasn't exactly thrilling to copy, paste, and then repeat several dozen times, but it felt good to finally have it organized. I'll contact Anna at some point this week to talk about organizing a William Morris page. Is there anything else organization-wise you would like on the blog? I know a few of you asked me to install a comment notification system. Anna did that a couple of weeks ago. Is it working? Do you like it?
Okay, that's all for now…at least on the blog. Is anyone else eyebrow deep in end-of-school projects? Summer vacation is almost here!
::::::
This post was part of The William Morris Project, a weekly series that details the steps I am taking to create an intentional home. You can see more of my goals and completed projects here. To learn more about this project, start here.
::::::
Now itís your turn! Feel free to share how you have lived according to the William Morris quote, ďHave nothing in your houses that you do not know to be useful or believe to be beautiful.Ē Made a plan? Cleaned a drawer? Bought a sofa? Tell us about it with a link or comment. A few guidelines:
Please link to a specific post, not a general blog address.
Your post must relate to your efforts to create an intentional home. I have a delete button, and Iím not afraid to use it.
No links to giveaways, please.
Letís use this weekly link up as an opportunity to gather inspiration and motivation. Click links. Discover new people. Say hi and good job. I know I will.