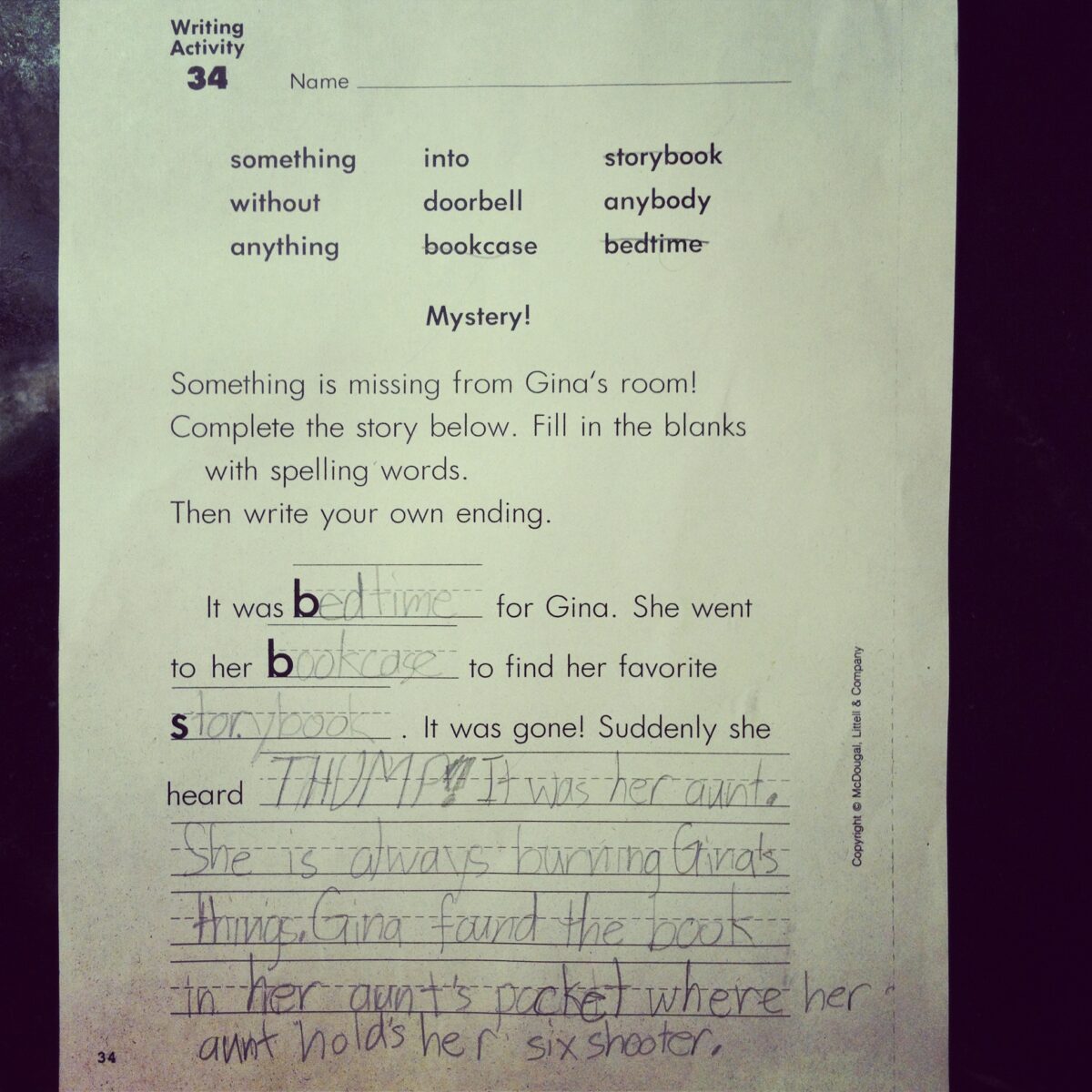 This is a picture of Mikey's reading and writing skills homework. I posted it a couple of weeks ago on my facebook fan page. We all agreed the aunt sounds like trouble.
He was so sweet about showing it to me. Actually, he seemed nervous and eager for my approval. He walked up to me and said, "Mom, I want you to read my short story and tell me if you think I did an awesome job."
Done and done.
I post a lot of stuff like this on my fan page. I rarely talk about being on facebook, mainly because I absolutely abhor the phrase fan page. Every time I type it, speak it, or reference it, a Humility Fairy dies of suffocation under a pile of letterpressed business cards with neon accents. (Hand-painted, watercolor.)
Can we call it something else? Something catchy like, That Place Jules Uses to Post Really Random Thoughts. T.P.J.U.P.R.R.T. for short. And we won't call you Fans or Followers (Gah.) because I can't possibly describe anyone as either and still look at myself in the mirror. The people who like T.P.J.U.P.R.R.T. are just Really Good Listeners.
Because you have to be. A good listener, that is. Every week I get almost as many unlikes as I do likes on Facebook. With the exception of today's post (have mercy) I tend to be more serious on the blog. I'm not sure why, and people who meet me in real life are often taken aback by my supreme dorktitude. It's true, and maybe one day you'll experience it yourself. In all honesty, my great hair is all that saves me from a lifetime of quizzical sidelong glances.
Sadly, I can't post pictures of my hair with every post I publish on Facebook, so I get unlikes. On Facebook I'm more opinionated, more crude, more loud, and more willing to make fun of people in a public forum. That comes as a shock to people who like my facebook page expecting to read tips on how I organize sock drawers. (Roll them and separate them by color. Follow through for a week. Then lose hope.)
And so, I get unliked. A couple of weeks ago I might have kind of maybe a little bit made fun of the Fifty Shades of Grey trilogy. That cost me a small percentage of my Really Good Listeners. In my defense, I couldn't resist. I read an excerpt online and the female character cries out, "Argh!" during an intimate moment. Argh? Of all the onomatopoeias in the world, E. L. James picks Argh. I have never ecstatically cried 'argh' in my life. Not even on Talk Like a Pirate Day.
Thus concludes my disclaimer. If you are at all easily offended, bored by proud mama moments, or wear an eye-patch and carry a parrot on your shoulder, maybe being a Really Good Listener isn't for you. If not, please feel free to like T.P.J.U.P.R.R.T. today. I promise to give you absolutely nothing in return for your kindness, other than ammunition to use against me in a heated Twitter exchange.
Speaking of Twitter, you can follow me here and read the broad proclamations I present as truths.
I also take a lot of pictures of pets, food, plants, and shoes and then publish them on Instagram. I'm @pancakesfries. I'd link to something, but it's doesn't work that way. Instagram wants you to work your sausage fingers in a miniscule search field and then cry out in frustration.
And finally, when I'm in need of another s'more recipe, I troll Pinterest. I'm pancakesfries over there, too. Make sure to check out the book club board because new books are added every day.
Facebook, Twitter, Instagram, and Pinterest. I think that's it. What can I say? I get around. Argh.