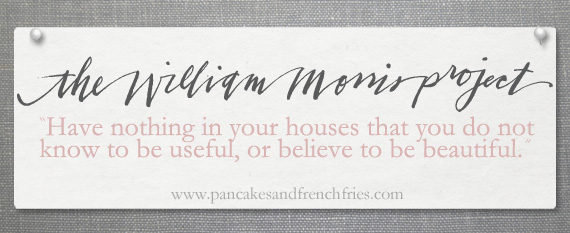 I had big plans for this week. Big! I bought a rug and then accessories. I drove to IKEA and deliberated between finishes. Then I sat down on Tuesday to put together my Swedish find from China only to realize 15 minutes later that I had two right panels instead of a right and left. I quadruple checked my work and called the store to confirm that, yes, I bought a world-wide manufacturing error that wouldn't get resolved before Friday. Oh well. Maybe next week.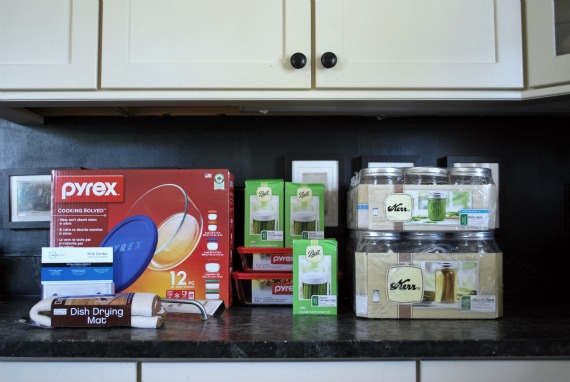 On Wednesday I created a Plan B and worked towards wrapping up some odds and ends in the kitchen. I replaced the plastic containers I talked about last week with glass, stocked up on the canning jars I use to store almost everything, bought storage lids for the jars, and made two other small purchases I'll talk about in a bit.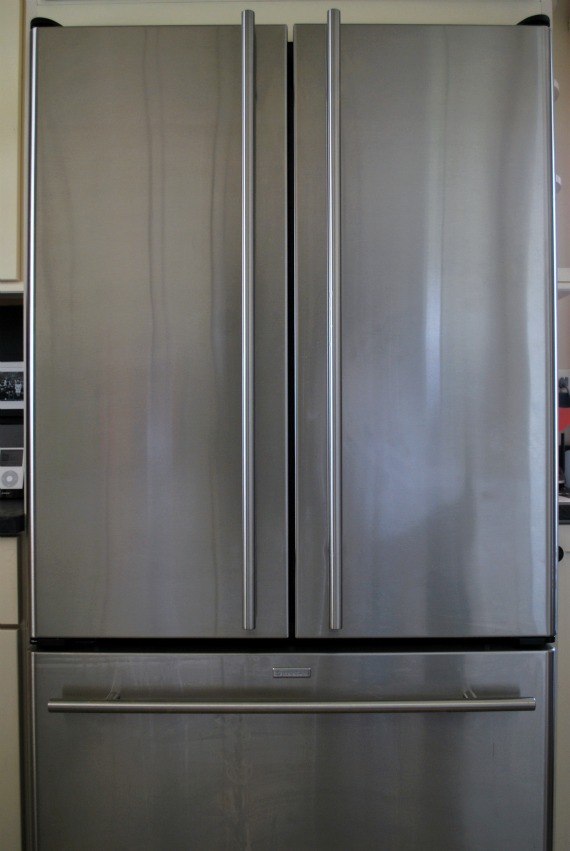 One project always leads to another, so I cleaned out the refrigerator, too.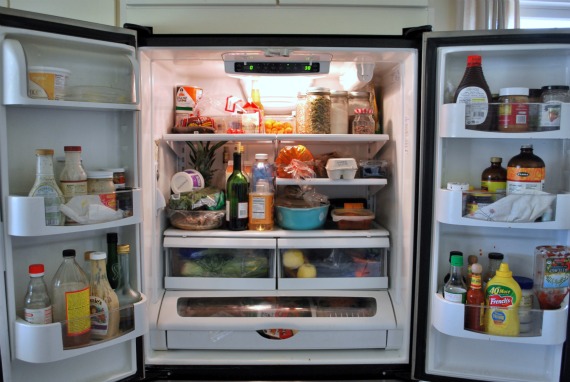 It looks good from afar, but it's far from good on the inside. The woman who used to clean our house said that before she did her weekly shopping, she deep cleaned her refrigerator top to bottom. Everything came out and she washed and disinfected the interior. While the refrigerator dried, she went through all the food (now on the counter) and tossed anything old or near expiration. Then she put everything back and made her grocery list. She made Martha Stewart look lackadaisical.
"Well," I said, "that's why you do what you do for a living, and why I pay you to do it."
I miss her.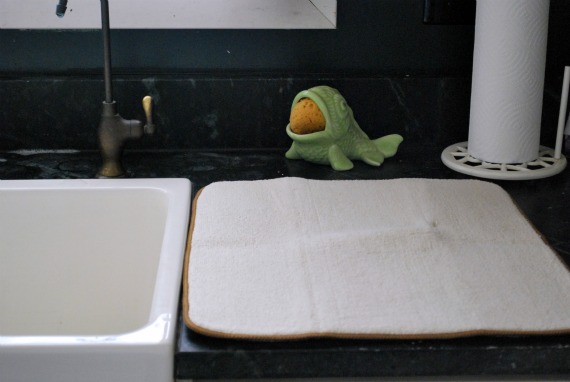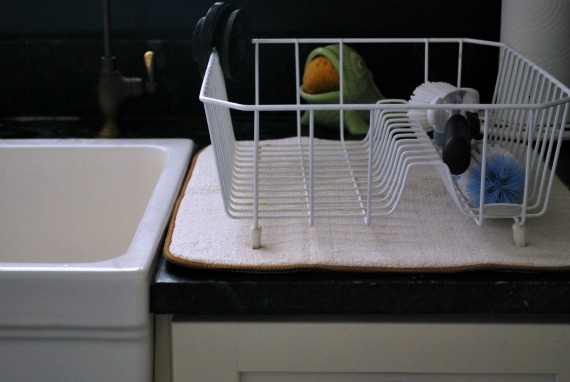 Cleaning out the refrigerator seemed like it would take a while, so I decided to first tackle the small projects to gain a sense of achievement. The first thing I did was lay out our new Dish Drying Mat. We've always used towels before, and aside from the inconvenience of having one less towel, we ran the risk of damaging our cabinets if the towel failed to hold all the water from drying dishes. Because of the way our sink sits, drainboards don't work. We've never had a problem using just towels, but I wanted a proper dish mat. Done and done. I think it looks nice and simple, and it's very absorbent. What a difference from using a towel! I love it. As far as dish mats go, of course.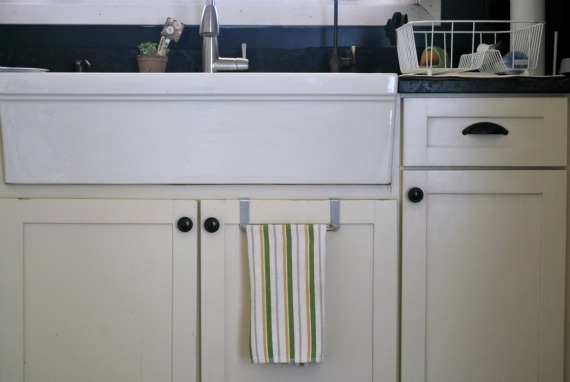 Next, I hung a little towel bar on one of the cabinet doors (the cabinet doors I need to replace with news ones sitting in the garage). I've wanted one since August 28, 2008. I know the date because that's when Nicole revealed her kitchen remodel, and I asked her about the towel bar. She said, "I got it at Bed Bath and Beyond!" I said, "Cool, I'll go pick one up!"
Exactly three years and 8 months later, I did.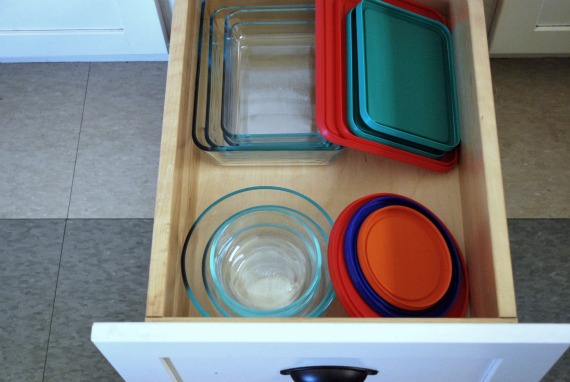 Tackling the storage drawer was a breeze. I decided to buy the Pyrex brand glass containers. The price worked better with my budget, and the BPA-free plastic lids don't bother me as much as it would to store glass lids in a small drawer. It looks like I went from thousands of containers to just a few, but I only lost four pieces. Everything fits so nicely that the drawer seems cavernous. I'm going to buy a few ultra-small containers, and so that everything fits I'll store the lids underneath the containers. Right now there is enough room for them to hang out on their sides.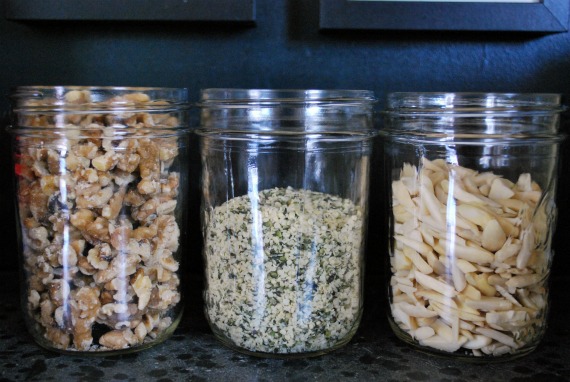 The last task I used to procrastinate involved transferring nuts into canning jars. Fascinating! I ran out of canning jars months ago, but kept forgetting to buy more. I use them to store nuts and seeds in the refrigerator and pasta sauces in the freezer. I noticed Tamar Adler used them in the videos I shared yesterday to store her food for the week, so I figured now was as good a time as any to buy more. They are so inexpensive. I love canning jars.
And then, the refrigerator. It didn't take as long as I feared. It never does.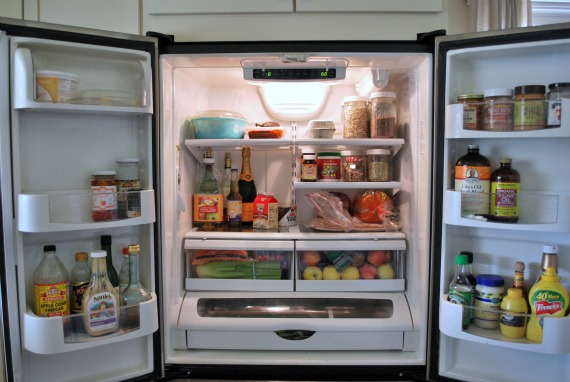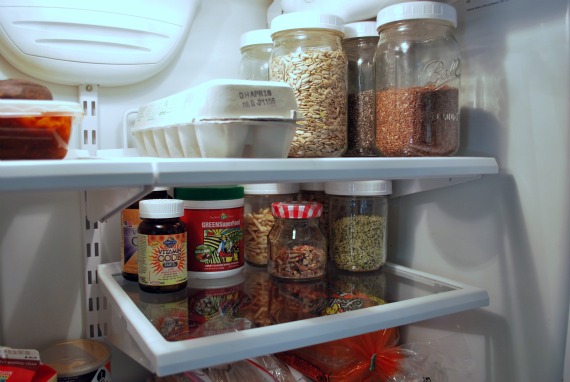 Much better. The second picture is a close up of my canning jars so you can see how I store my nuts and seeds (I use them in salads). You can also see the BPA-free storage lids I finally remembered to buy. I drove ten miles out of my way to buy those things, but they're worth the $200 extra I had to spend in gas. The standard silver ring and lid that comes with canning jars rusts easily. These plastic lids will last much, much longer and they are infinitely easier to use.
Now all I have left to do is the freezer. Dear God, the freezer.
::::::
This post was part of The William Morris Project, a weekly series that details the steps I am taking to create an intentional home. You can see more of my goals and completed projects
here
. To learn more about this project, start
here
.
::::::
Now it's your turn! Feel free to share how you have lived according to the William Morris quote, "Have nothing in your houses that you do not know to be useful or believe to be beautiful." Made a plan? Cleaned a drawer? Bought a sofa? Tell us about it with a link or comment. A few guidelines:
Please link to a specific post, not a general blog address.
Your post must relate to your efforts to create an intentional home. I have a delete button, and I'm not afraid to use it.
No links to giveaways, please.
There are buttons to add to your post or sidebar, too, thanks to the lovely Alex, of Type A Calligraphy. Please link the buttons back to this site.
Let's use this weekly link up as an opportunity to gather inspiration and motivation. Click links. Discover new people. Say hi and good job. I know I will.