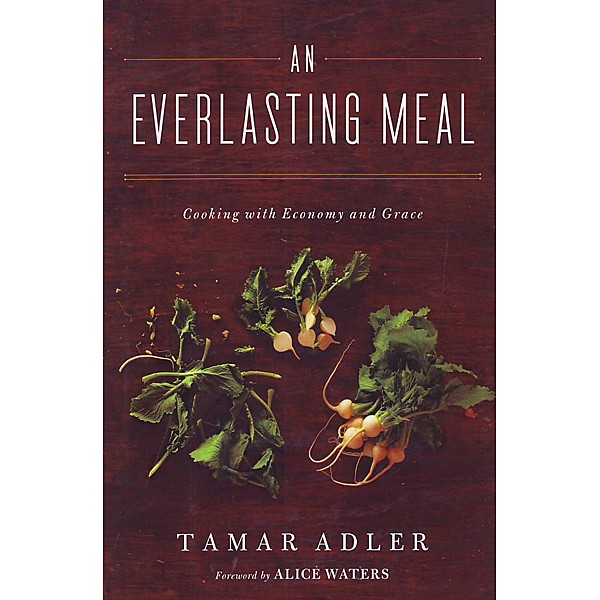 Our first month we read general fiction. Then, young adult. Next month, I want to dip a toe into nonfiction. An Everlasting Meal by Tamar Adler is not a food memoir. It's a collection of essays and instructions on instinctive cooking: cooking without recipes, making do with the odds and ends in the cupboards, and eating well. Or at least that's what I've heard.
So far, everything I've heard is great, despite this book being a modern revival of the culinary favorite, How to Cook a Wolf by M. F. K. Fisher, a book published in 1942 to help home cooks make due with wartime food shortages. It's a bold and risky move to base your book on a classic, and it says something that so far it has been well received.
I took this blurb from the dust jacket:
Through the insightful essays in An Everlasting Meal, Tamar Adler issues a rallying cry to home cooks.

In chapters about boiling water, cooking eggs and beans, and summoning respectable meals from empty cupboards, Tamar weaves philosophy and instruction into approachable lessons on instinctive cooking. Tamar shows how to make the most of everything you buy, demonstrating what the world's great chefs know: that great meals rely on the bones and peels and ends of meals before them.

She explains how to smarten up simple food and gives advice for fixing dishes gone awry. She recommends turning to neglected onions, celery, and potatoes for inexpensive meals that taste full of fresh vegetables, and cooking meat and fish resourcefully.

By wresting cooking from doctrine and doldrums, Tamar encourages readers to begin from wherever they are, with whatever they have. An Everlasting Meal is elegant testimony to the value of cooking and an empowering, indispensable tool for eaters today.
I'm a good home cook, a fair utilizer of resources, and a poor planner. My hope is that An Everlasting Meal inspires and teaches me to cook with economy and grace. It's in the title, so I don't think it's an unreasonable expectation.
I bought my copy of the book on Sunday, but I also contacted the publicist at Scribner/Simon Schuster and asked for copies to share with those who are unable to purchase a hardcover new release at this time. I haven't heard anything, yet. Fingers crossed they take interest! If you know someone who works there and can put in a good word for our book club, I'd be forever grateful. Of course, it goes without saying that you should try your library. I couldn't find it at mine, but maybe yours is better stocked with new releases.
Tamar Adler, the author, is young, hip, has a gorgeous website, and uses modern media to her advantage. She's produced several videos to summarize a few of the chapters in An Everlasting Meal. These videos are for Chapter 3, How to Stride Ahead. I hope you like them, and I hope you join me in reading the book.