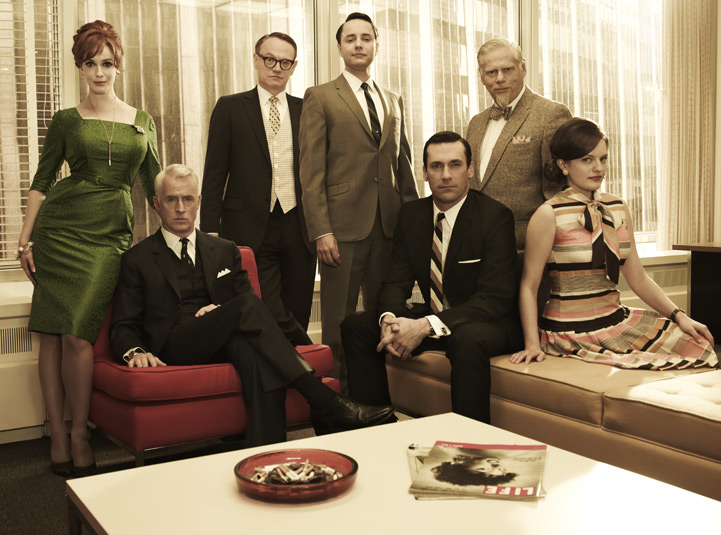 I'm not opposed to television, but I don't watch it unless a show truly captures my interest. This is because we don't have a DVR. To watch a show we have to remember the channel, time, and day of the week. Impossible! It's been a bit easier for us to watch TV now that we can stream episodes online, but even then we have a short list.
Mad Men
Modern Family
The Vampire Diaries
No Downton Abbey (I thought it was Downtown Abbey until a couple of weeks ago). No political news channels (I prefer my despair on paper). No reality TV (NO reality TV. Ever. HATE.)
Three shows. Three itty-bitty shows I like to describe as the past, the present, and the ridonkulous.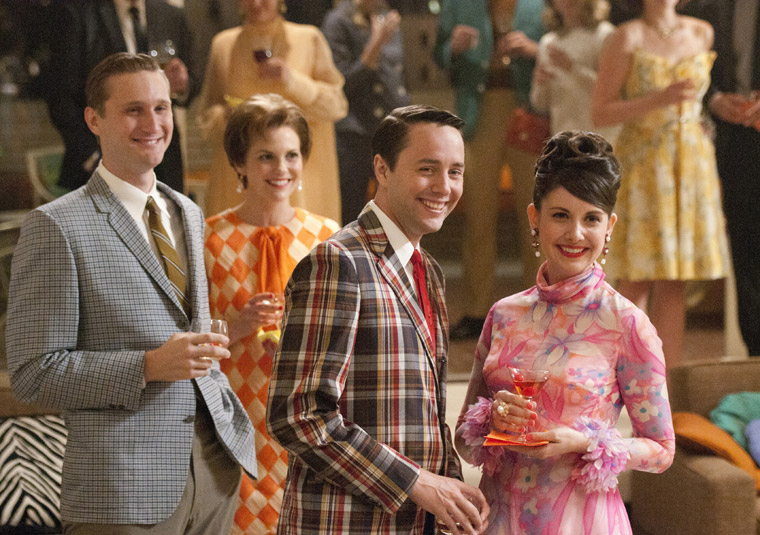 It's not outlandish for me to describe the mood on Sunday night as downright chipper. After 18 months of waiting, our beloved Mad Men was returning to TV with a two hour premiere. Two hours! Two hours of Don Draper, a man I would put on a shelf at Christmas.
I'd like to share my thoughts on the season 5 premiere episode of one of the most critically lauded shows on television, if you don't mind.
Here goes.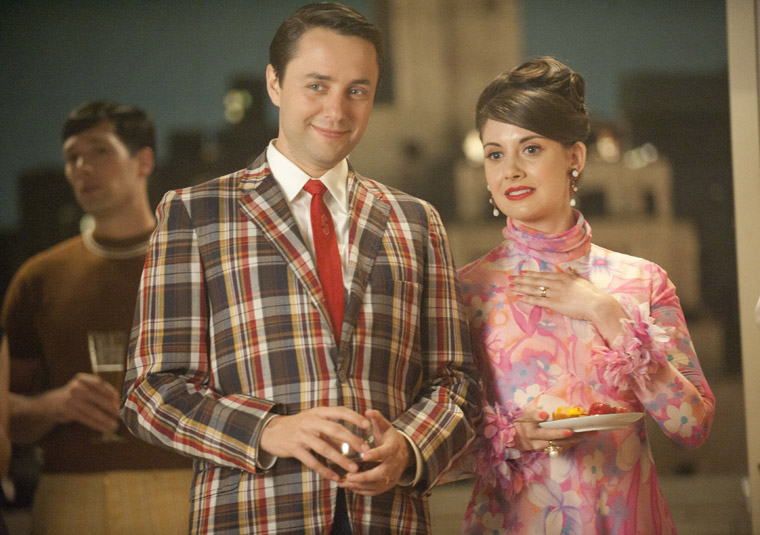 What.
The Hell.
Trudy Campbell took the expression right off my face. Wane, plastic smile, hand to chest, and a soft "Oh my," expelled on a nervous breath. Here, let me add to my review.
I can't even.
No.
There was inane dialog. There was thinly veiled, overused tropes. There was camp. A whole lotta camp. When did Mad Men become a farcical romp? I asked that on Twitter and E. Annie Hall suggested it happened in season two when the British ad exec lost his leg in a freak, in-office lawnmower accident.
Huh. I must have missed that episode.
I watch The Vampire Diaries; I can handle The Cheese. And I sat there for two hours, so it's not like the show was akin to bamboo shoots under fingernails. It was good(ish). I just didn't expect a soap opera from a period drama. Of more concern, I don't believe they were trying to be campy.
Spoilers ahead, folks.
What The? No. 1. (Sigh)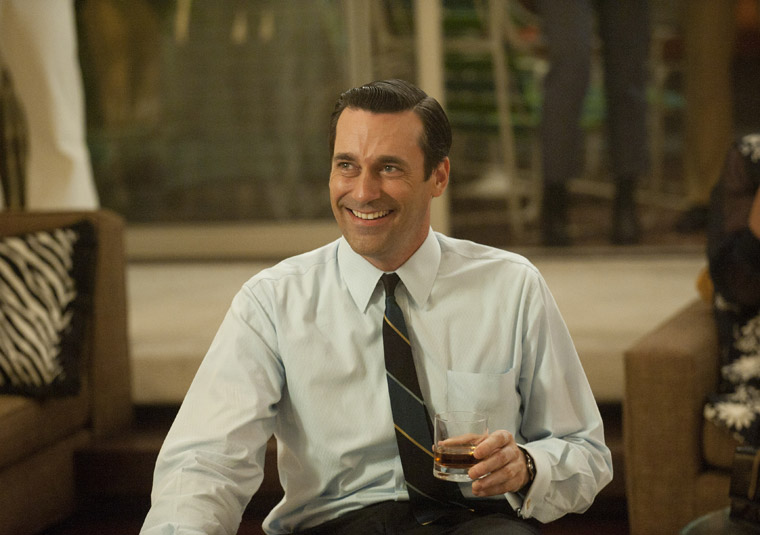 Let's take the opening scene. Little Sally wakes up with perfect hair and full makeup to wind chimes/bells/harps/I have no idea. We hear angel soundtrack music as she walks down the hall of her father and stepmother's glamorous NYC apartment and ends up, by mistake, at their bedroom door. Don Draper meets her there, disheveled from sleep. Sally peeks inside and catches a glimpse of her sleeping, French, odalisque of a stepmother, nude but for an artfully placed sheet.
I get it. Don Draper is virile. Very virile! So virile he can't be bothered to cover the moon on his paramour before he opens the door to one or more of his minor children. And his new, much younger wife can't get enough. Thank goodness for that, because all that virility coursing through his veins (heh) has to go somewhere, am I right? They are passionate, happy newlyweds with a relationship based on sex that may furl like cheap panty hose mid-season and expose a social and intellectual disconnect. Thank you, AMC. Subtlety appreciated. When it happens, I'll pretend I didn't see it coming.
What The? No. 2. (Slightly Annoying)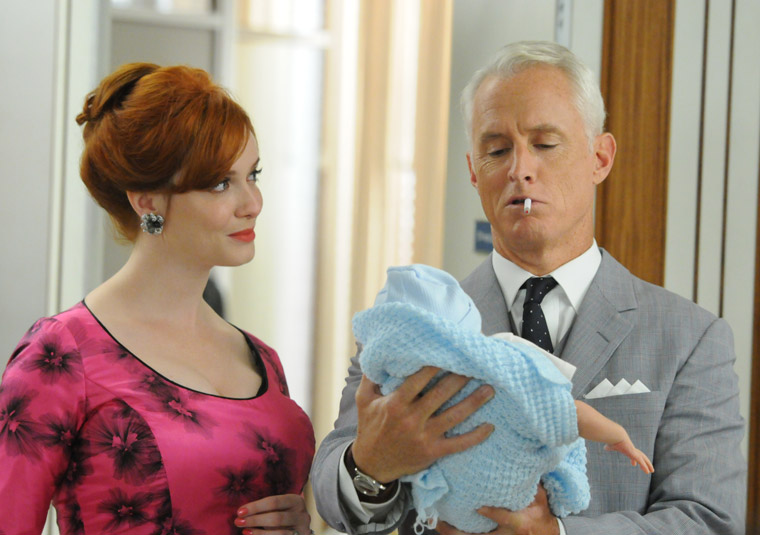 Joan Harris (office manager/assistant to the CFO) has a baby with Roger Sterling (partner), only Roger doesn't know it's his. Fine. It is a drama, after all. While on maternity leave, Joan worries about her role at Sterling Cooper Draper Pryce and returns, infant and carriage in tow, to urinate around her desk and mark her territory. Seems reasonable. Joan arrives and bumbles in the lobby trying to maneuver the carriage and the heavy glass doors. A clueless secretary sits while Joan flounders. After Joan struggles through the glass doors (symbolism!) the secretary fails to recognize her and prattles on about the two people who have assumed her position. Feathers ruffle. Joan meets with the CFO, cries. Misconceptions are cleared up and everyone is (mostly) happy.
I don't know why this entire scene annoyed me, but it did. Perhaps it's because, once again, the strong, independent career woman is almost brought to her knees by a 7 pound infant. Just once I would like to see a career woman-turned-new mother portrayed as harried, not hapless. If she can manage the books for a Madison Avenue ad agency, she can probably manage a stroller and a set of glass doors.
What The? No. 3. (The Big One)
Don Draper turns 40 and new wife, Megan, decides to throw him a surprise party even though everyone tells her it's a bad idea given Don's distaste for birthday celebrations of any kind. She decides that's because he hasn't attended one of her parties, the kind where everyone leaves and "wants to have sex." Already, this sounds like an idea destined for success.
She dresses for the party wearing a short, sexy shift à la Mrs. Robinson. There is loud music and requisite carousing. Near the end, Megan gives Don his birthday present, a risque song and dance in French. Part of her dance routine includes one very brief movement suggesting self gratification. Her character performed a masturbatory motion at an office party in 1965. Brilliant! Because that worked so well for Madonna in 1990. (You can see the clip here.) So, of course, everyone is all: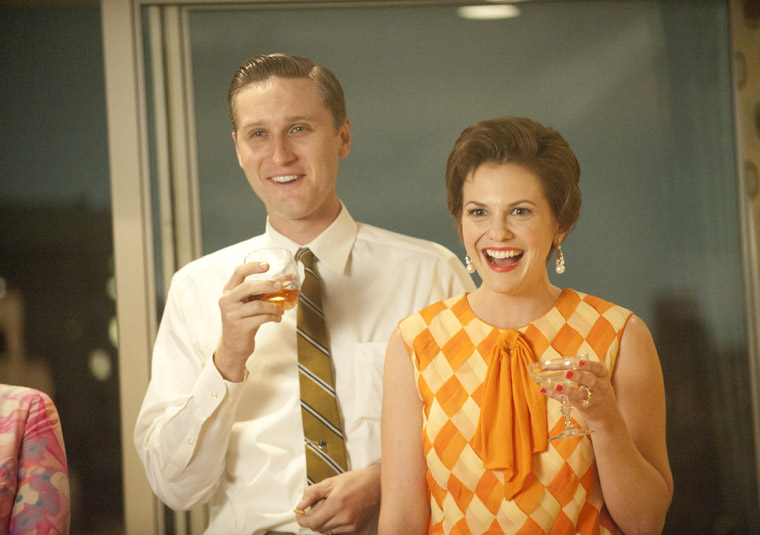 I share this to set up the What The? that happens next.
The party ends and Don grouses about how he didn't want it, he doesn't care about birthdays, she wasted money, etc. Megan is hurt. The next day at work she claims illness and leaves early without telling Don. He finds out and immediately goes home to find her in a robe cleaning the apartment.
He's all: What the?
She's all: I don't feel well! I came home to clean because the apartment is a mess!
He's all: What happened to the maid?
She's all: I sent her home.
Then she strips down to her black lace bra and underwear and starts to pick up the apartment.
?
He's all: What the?
She's all: I'm cleaning in my bra and underwear because I don't want to get sweaty!
??
Then she drops to her knees, points her rear in the air in his direction, and starts scooping up party detritus.
???
So he comes at her like a rutting boar and she's all: No, you don't deserve this! You can only look at it!
????
He's all: Yeah, right, Frenchie.
She's all: No! (For, like, 0.25 seconds)
Then they have angry floor sex.
????????????????????????????
WHAT.
THE.
Sacré bleu, people. I had no choice but to hang my head in embarrassment. That entire scene was straight out of a Harlequin Blaze novel–and I should know.
Shortly after that, the show ended. To be honest, I was so stunned by the scent of cheese that the rest of the episode is a bit fuzzy. I do remember her mentioning the need to replace the carpet. Then Don replied that white carpet is unrealistic because nothing can remain so pristine. Oh good, more symbolism.
Great television can be dramatic and edgy, and it can be campy. Rarely can you straddle the fence and be both. I can't wait for next Sunday to see which side of the fence Mad Men chooses.
[photo credit, first image: Frank Ockenfels 3/AMC.]
[photo credit, remaining images: Michael Yarish/AMC]