My high school crush once identified me years after graduation–from behind and across a gym parking lot, no less–by the sight of my legs.  He said to the person who later informed me of the near miss, "I would recognize those ghost-white legs anywhere."
Not a compliment.
I'm pale.  Really, really pale.  My arms, hands, neck, and face aren't ghostly, of course, because they are regularly exposed to sun just by driving around and living in an area of almost constant sunshine.  Still, as a rule, I always buy the second lightest foundation color available.  I don't care for my legs (at all) so I rarely wear shorts.  Consequently, my legs reflect, almost literally, how pale I actually am.  If my legs ever appear tan, it's the self tanner.
My hair, on the other hand, is a very dark brown.  My eyebrows are the color of pitch.  Between the pale skin and dark hair, I can look a bit anemic, especially in the winter.  A couple of months ago someone I didn't know approached me only to tell me that I reminded them of Snow White.  "Don't get me wrong, it's not that you look ill or anything," they said.  "It's just, well, you're really pale and your hair…isn't."
Oh, good!  As long I don't look ill.
Fast forward to today.  In the pictures I took for The BSP guest post, my hair looked much lighter than it is in real life.  I thought it looked cute, that maybe I could pull off light hair after all.  I suggested to my hair stylist that I might like to try going a bit lighter.  She went bananas at the thought of me not looking like Morticia Adams and before I could say slow down with the foils, you're scaring me, I had hair the color of a caramel apple.  How do I put this delicately?
I DON'T LOVE IT!!
My skin is neutral, maybe a touch olive, with a lot of red in the cheeks.  All this gold in my hair makes me look like tarnished silver.  Hey, maybe I should dip my head in a plastic bowl filled with warm water, tin foil, and salt and make it all better!
Sigh.
What's worse, my stylist doesn't love it, either.  In fact, she immediately suggested we go back and darken them up.  (There's a sign you look like crap!)  I didn't have time for that, so I told her I would come back next week with a lump of coal for a color match.
In the meantime, my friends and family were in a furor today trying to catch a glimpse of Snow White with her hair did.  I obliged them by taking a picture, but when I saw myself with this hair and without makeup…I almost cried–except I'm not a crier so mainly I fumed.  Then I ran into the bathroom and took a quick five minutes to put on some makeup.  That exercise in subterfuge reminded me that I promised Melissa in the comments of this post that I would share my 5 minute makeup routine.
A 502 word preface to a 5 minute makeup routine?  How else was I going to explain why my skin looks like salmon and my eyelids have been replaced with tangerine wedges?  (No, I'm not wearing eyeshadow.  That's just what happens when your hair color is patently wrong for your complexion.)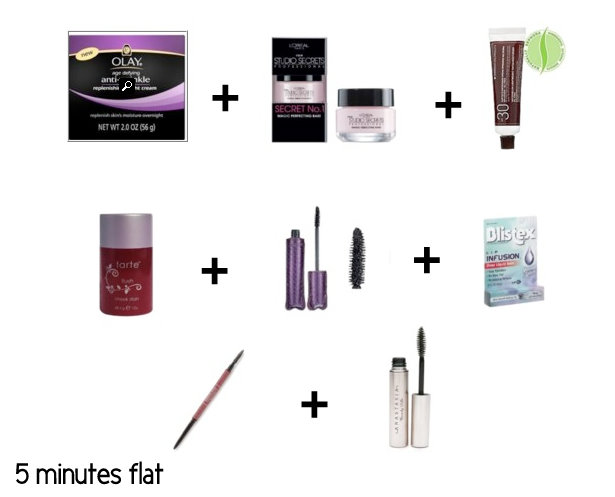 Since I am 37, my goal is to look like I have younger, dewy skin.  You can't do this wearing powdered anything.  Stay away from the powders if you have dry skin, older skin, or large pores.  Trust.  Here is my over-35, dry skin, 5 minute beauty routine.  It gets slightly more complicated when I am going out or planning on taking pictures of myself. 
(I linked everything to my Amazon store because it was easier for me to stay on one site.  Please don't think I linked to the lowest priced retailer if you are willing to shop online.  Ease was my motivation here!)
ANYWAY.  That's it, Melissa.  Five minutes.  You don't even need to do steps 7 and 8 if your eyebrows have a nice shape…or you just don't care which, as a female attorney, could very well be the case. ;-) [Kidding!  Sort of!]
As for my friends and family and what they think of my hair?  I think my friend Steve's reply email to my request for an opinion sums up the consensus nicely.  He wrote, "I cannot say I do or do not based on the picture."  I imagine he typed this insightful proclamation after having lost his lunch in the wastebasket beneath his desk.