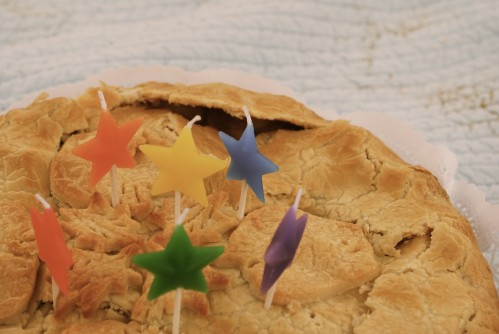 A certain someone turned 6 this weekend.  SIX.  I have no idea how that happened, but do have a few things to say on the subject.  Today, however, I am in charge of birthday snacks at school, and since social reputations are on the line, I've been instructed to make it very cool and not babyish.  Duly noted. This means I don't have time to recount the weekend just yet, other than my usual weekend reading.  Does this bore you, me coming here every weekend to tell you what I read?  I hope not, because I'm not stopping anytime soon.  I think it will be something ten plus years from now to see what I was reading.
This weekend I read Crazy Love by Francis Chan.  I loved it, especially when Chan took to task modern day Christians and their love of good appearances over good deeds.  I walked away with much to think about.
I also bought the latest Twilight book.  I haven't cracked it open yet, but I fully expect to inhale something so fluffy and short in a few hours.  I am itching to buy a few more books, too, namely some Flannery O'Connor, whom I have never read.  Alas, I promised myself I would not buy another book until I finished some of the ones that have been languishing.  That means I need to finish The Story of Edgar Sawtelle (I only made it 1/3 of the way through last year) and Bloodroot (didn't even make it to 1/4).
Six years old.  I still don't know when that happened.  Maybe while I was reading?