Sometimes kids get sick.  And as a mother, it sucks.  You fret and pace and bite the inside of your lip, the fleeting pain a reminder to stay in the present instead of the hyperbolic recesses of your mind.  This is not a big deal, you nibble.  It's just a little stomach bug, and it will be over before you know it.
Until it is your stomach that feels heavy, your throat that can't push down the ball,  your neck and shoulders and arms that bead clammy with effort.  Suddenly you are looking down the barrel of a very long day taking care of yourself and a three year old and you think, this?  This is a very big deal and it will never end.  The day will never end.
So you lay on the couch and watch without watching your preschooler's cartoons and laugh when instructed.  Yes, it is very funny.  Yes, Dinosaur Train is the very best show.  Yes, they may kill you now.
Oh, was that not the question?  No matter.  You lure them to your room with the promise of unlimited marker use.  For what seems like hours they color and you could care less about the duvet getting stained.  The markers are washable but even if the stains don't come out it bears repeating: you could care less.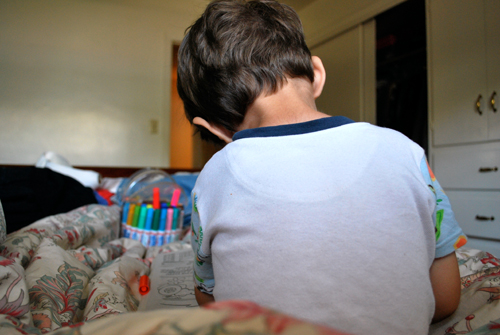 You pick up the remaining children from school.  You make it home and manage to wave to a neighbor walking by.  You wait for your relief to get home, and he does.  You sleep, finally, for an hour until they come into the room and say, I am so sorry, but I am sick.
But, wait, you say.  I'm sick.  Me, not you.  And they just shake their heads in apology into the pillow.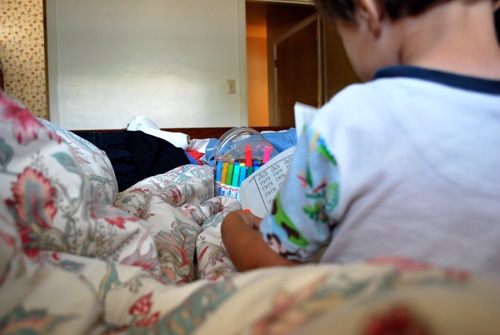 You get up, your short respite over.  You put kids to bed.  You make lunches for the next day.  You call your mother and feel sorry for yourself.  And, at midnight, when the last one to fall victim to the stomach bug does so with great aplomb all over the bed, floor, and walls, you take care of that and feel very, very sorry for yourself.
Master bedrooms that aren't decorated.  Messy closets.  Marked up duvets, stomach bugs, and the breaks that never seem to come your way.  This is real life as a mom, and sometimes it sucks.
The day after that, you wake up with a pounding headache.  Dehydrated?  Tired?  Just plain lucky?  It's a new day, and everyone is trying to be quiet for you but failing miserably.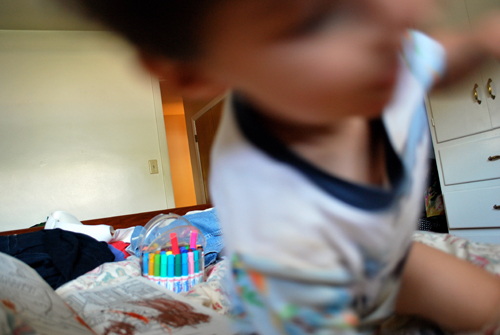 CLOMP.  CLOMP.  CLOMP.  Business shoes down the hall.
WHACK. SPRITZ. CRACK.  Someone brushed their son's hair.
SWOOSH.  And brushed their teeth.
Spoons clatter in the sink and you think surely they are launching them like grenades just to piss you off.
You crawl out of your cave to deal with the infernal racket.
Hi, Mom!
Good morning, Honey.
Mama!
I feel so much better!  Thank you for taking care of me, Mom!  I'll see you at school, okay?
Thanks for taking care of us, Honey.  I'll make it up to you, I promise.
Mama, look!  Dinosaur Train!
Bye, Mom!  I LOVE YOU!
Bye, Honey.  I love you and I'll see you later–try to take it easy.
Mama!  This is my favorite show! I want a banana!
You say goodbye to everyone, eyes closed as you pop two Excedrin.  You make yourself toast.  You marvel at how happy and healthy everyone looks after a virus runs its course.  You sit down to watch that insufferable Dinosaur Train.  This is real life as a mom, too, and it doesn't suck at all.