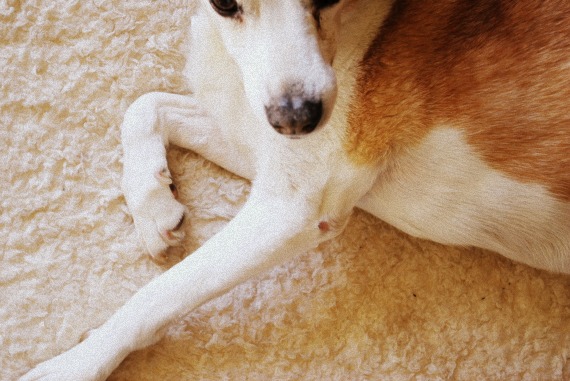 Buster is doing well. He's still dying, but he's comfortable. His appetite is greatly improved since starting the steroids, and he seems to have more energy. His bladder infection is still there, but we're making do with more antibiotics. It's a little tiring getting up with him to go to the bathroom, especially since it takes him about 20 minutes to urinate. Lots of stops and starts. I end up going to bed late to let him out one last time and the Mister gets up with him around 5:00am. He's worth the interrupted sleep.
The boys are now both obsessed with Doctor Who. Nico has a collection of daleks, and they both have sonic screwdrivers. Last week it was "dress as your favorite book character" at school, and Mikey argued that since we have a Doctor Who character encyclopedia, technically Doctor Who is a book character. Flimsy logic, but I wasn't going to pass up the opportunity to put Nico in a tweed sport coat and bow tie. Mikey is the 10th doctor. We tried squeezing him into his Communion suit, but it was way too small. We were able to cobble together an outfit from what he had in the closet. That's his Communion shirt and school tie!
Doctor Who has now become our family show. Before it was just me and the boys while the Mister found something else to do (work), but eventually he got sucked in like the rest of us. He was dutifully watching an episode with us, The Silence*, when all of a sudden he said, "You know, this show isn't bad."
Of course it isn't! How can you not like a show with quotes like these?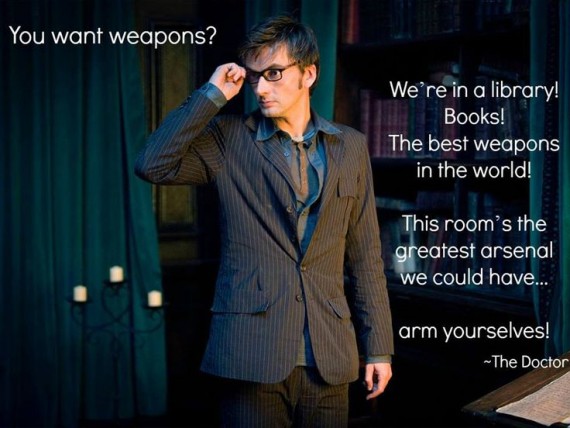 *Blink remains my favorite episode of all time. So freaky, so creative, so good.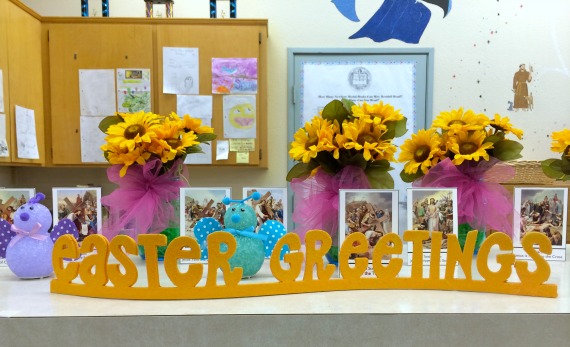 I didn't realize until after I was almost done decorating the library for Easter that it isn't until the 3rd week of April this year. That's okay! This gives me more time before I have to think about decorating summer, which I swear won't be much since we'll only have 6 weeks left of school. I stuck to the 99¢ Only Store except for a few items. The flowers are recycled from the fall, this time with tulle ribbon. I tried to get ribbon I could use for Valentines, Easter, and summer. I don't love the color, but it's hardly worth throwing my hands up in the air over a funky looking fuscia. The Stations of the Cross cards are from The Bookworm. I printed them on photo paper and glued them to clothespins so they would stand upright. If you decide to do the same craft and use photo paper, go easy on the glue because it soaked through to the image and caused some color bleeding. The "He Is Risen" print is a free download from Heidi Stock. I put it in a frame I bought for the Valentine print I made. The frame is a $6 clearance item from Michael's. I think the original print inside was of a bowl of fruit or an innocuous bouquet of flowers. Each season I try to find or create a print I can fit in the frame. Super easy, super cheap, and the kids look forward to seeing what I put in next.
I also have hanging from the ceiling paper lanterns, signs, and honeycomb balls of various sizes. It's…ridiculous. Garish. Phenomenally twee. The kids loves it.
I'm surprised by how much the kids like the decorations. Not all of them–some really don't care and some are horrified. I had one 7th grade boy almost recoil in terror when he saw the library decorated for Valentine's.
"Oh, God," he said, wincing and shaking his head. "This looks so…so…foo-foo romantic." The girls defended me.
"Whatever. It looks awesome. You're just a guy and have no appreciation for pretty things."
"Well, yeah. That's what I just said."
"Okay, what you just said makes no sense."
"None of this makes sense!"
Others like to ask me where I bought this or that. The assumption, oddly enough, is that I make everything. I'm flattered, but I have no idea how they can think I know how to mold plastic into bees and butterflies that glow technicolor at the flip of a small switch.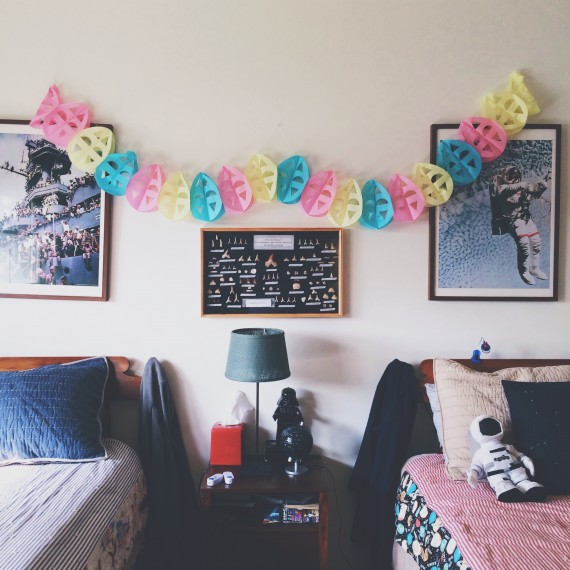 Mikey and Nico noticed how differently I decorate the library and our home. They wanted to know why I didn't put up holiday decorations at home. Sigh. I went back to the 99 Cent Store and bought some garlands. They love it; they think the eggs look like Minecraft swords or axes, but cut out.?.to be honest, I have no idea what else they said. I heard "Minecraft" and it's like the hand of God reached inside my brain and pressed Ctrl-Alt-delete.
Ash Wednesday is this week, and I still haven't decided what I'm going to sacrifice for Lent. I thought of doing an internet fast, but I'm blogging so little as it is that I'm afraid I'll have trouble coming back if I stop. It's a similar problem I'm having right now resuming my daily walking. I seem to have fallen into an every other day habit. I don't like it. I asked the boys what they planned on giving up for Lent, and Nico said, "Definitely not chocolate or video games. I'd like to give up showers."
"Try again," I said.
"I'm giving up farting," Mikey said.
Nico snapped his head in Mikey's direction, his eyes wide with shock and the Legos in his hands forgotten. "Dude," he said. "You'll never make it."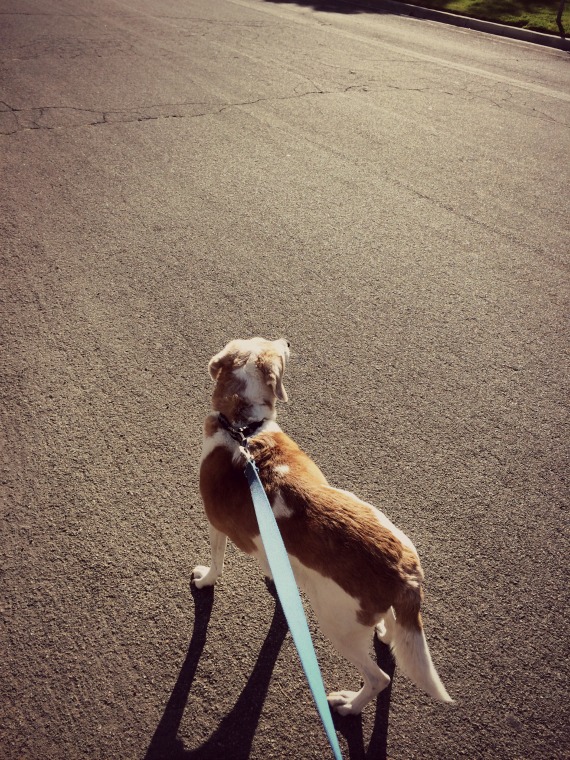 Buster has aggressive lymphoma. Today he goes in for a urine culture to see if his trouble urinating is due to a mass or an infection. They did see a mass at one point, but we're hoping it is an infection we can treat with antibiotics, as a mass in the bladder or urethra will make his end of life more uncomfortable. We can not afford chemotherapy and, at 13 years of age, the benefits may not outweigh the risks associated with the treatment. (Though of course we want to be selfish and grasp at every possible day we can have with him at our side.) The veterinarian estimates that he has a month, maybe 3 months if he responds well to steroids. Three months is very optimistic.
Thank you all for keeping him (and us!) in your thoughts. I believe this goes without saying, but, this really sucks hard.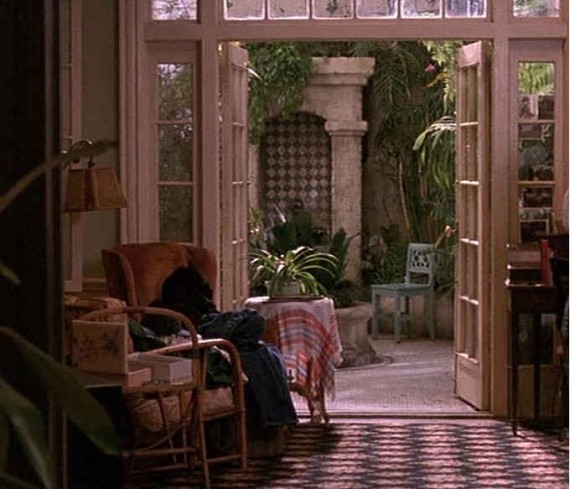 I can tell you exactly when my love of plants took hold. I was 17 years old, and it happened while sitting in the theater watching the movie Green Card with my best friend. In the movie, Brontë Parrish, played by Andie MacDowell, agrees to an arranged marriage with Georges Fauré, played by Gérard Depardieu. He is French and in need of American citizenship; Andie is a horticulturalist who wants an apartment with a rooftop garden and greenhouse. If I remember the movie correctly, Andie needed to be married to appease the conservative board members of the building who didn't approve of a woman living alone. (!!) Chauvinism notwithstanding, the second Andie walked into her dream apartment I thought me, too, please.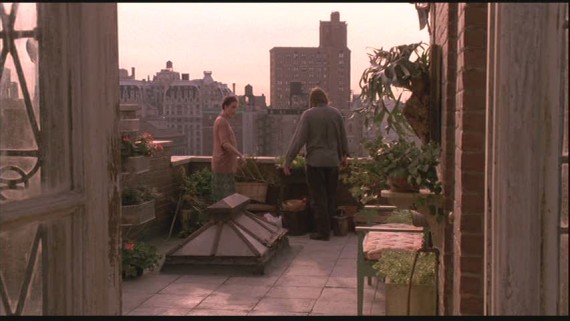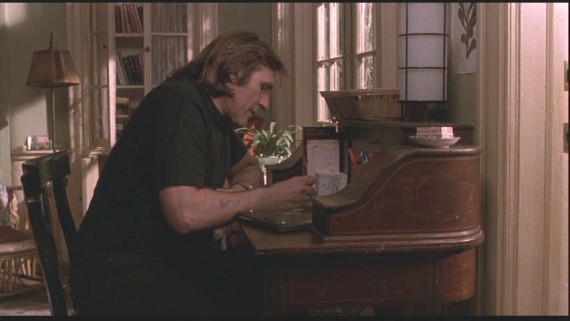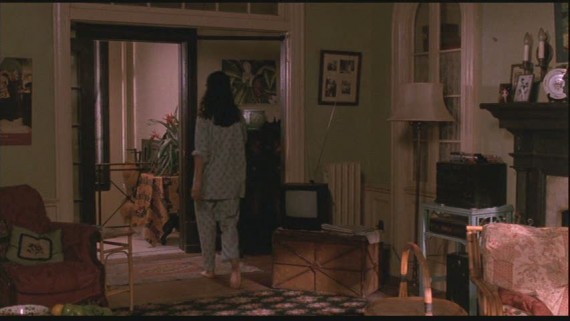 True fact: If we had a girl, her name would have been Brontë.
What I noticed about the apartment, aside from the historic greenhouse, antique fountain, and dozens of seed glass windows, was that every room had at least two or three plants.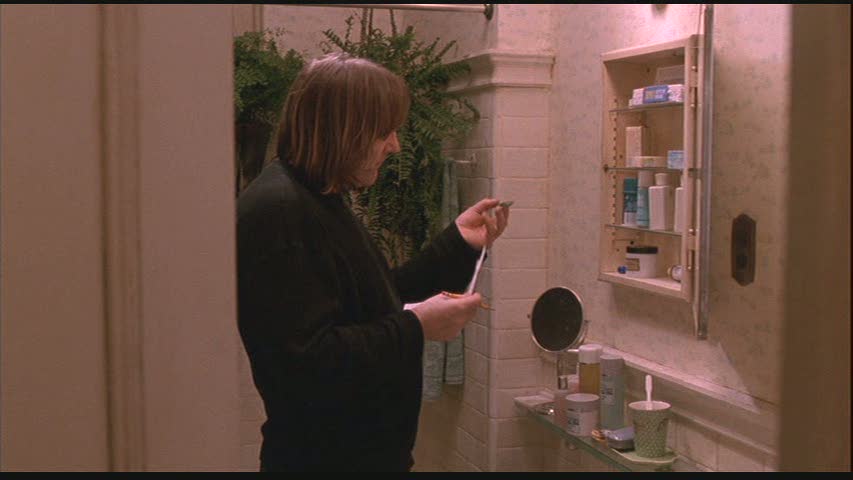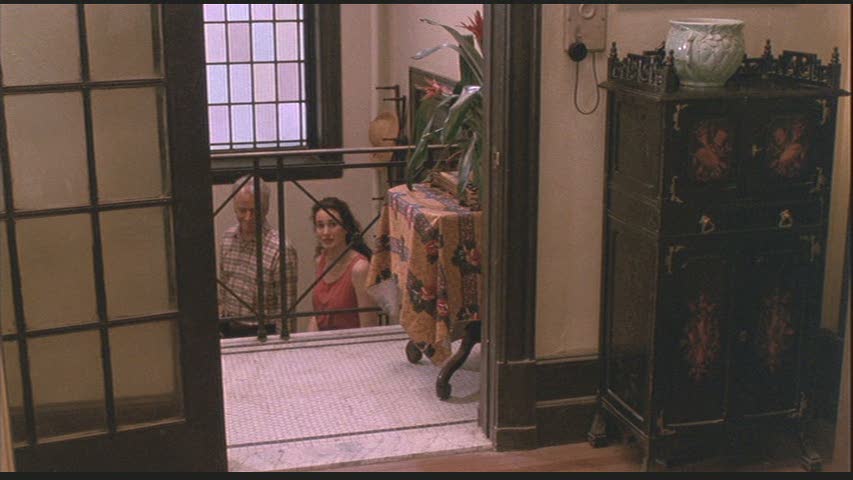 There were even plants in unexpected areas, like in the shower of windowless bathrooms. Andie Parrish: horticulturalist extraordinaire! That's the only way I can explain what appears to be an enormous, thriving, blooming bromeliad in her entryway. Not jealous. Nope, not I.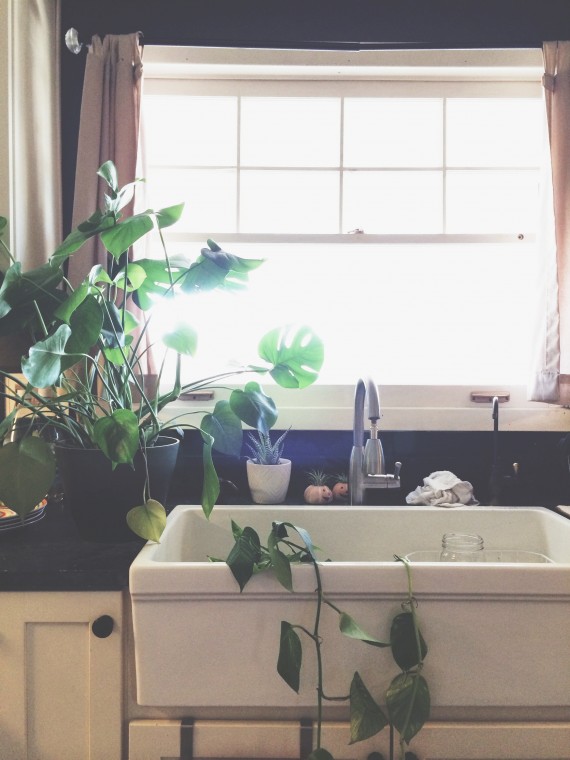 I'm having a plant situation around here. The weather has been unseasonably cold and rainy for weeks and it wreaked havoc on my warm weather plants. My spider plant is dead. So is an Italian topiary, a ficus, and a jade. You guys, I almost killed my philodendron. No one kills a philodendron (lie–I've killed at least three).
I like to kill my succulents slowly, like a sadistic madwoman. The spindly creature third from the left has been gasping for weeks.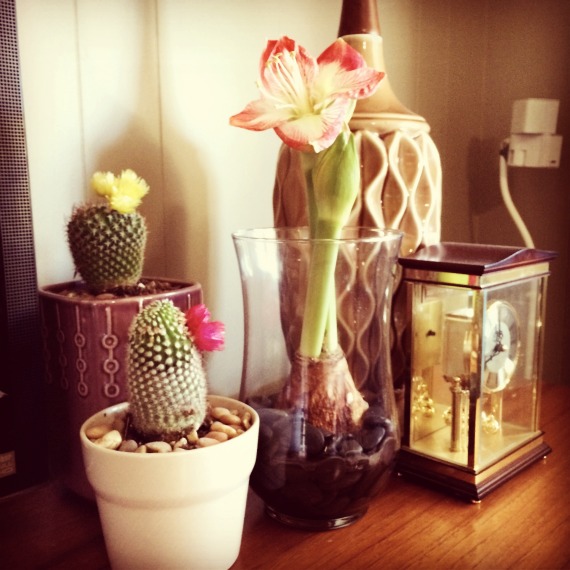 I have had some successes. My cacti are thriving. No plant does heat and cold like a cactus. I was able to resuscitate my goldfish plant , kept a yellow mushroom situation with my Sansevieria at bay, and forced my first bulbs (amaryllis, and now I'm forcing paperwhites).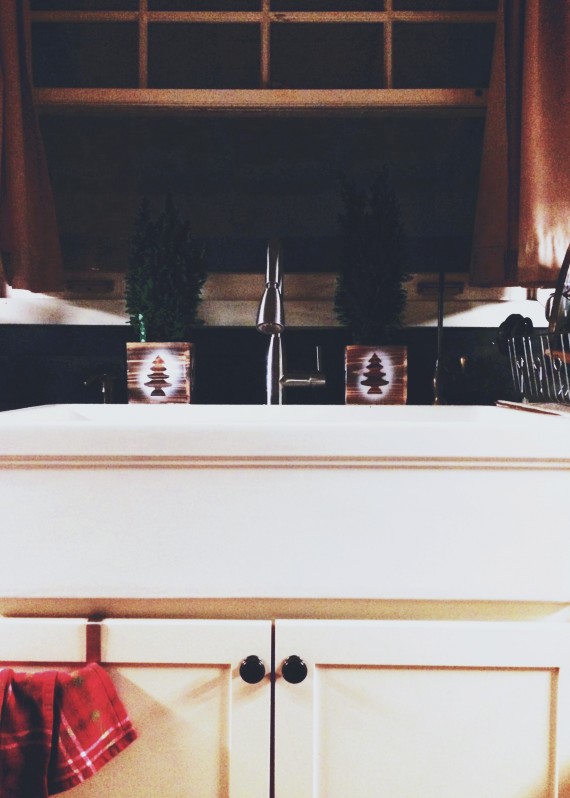 We'll see how these little cypress trees do. I'd like to say they were a well thought out purchase, but Trader Joe's is a temptress with her plants in pretty pine boxes.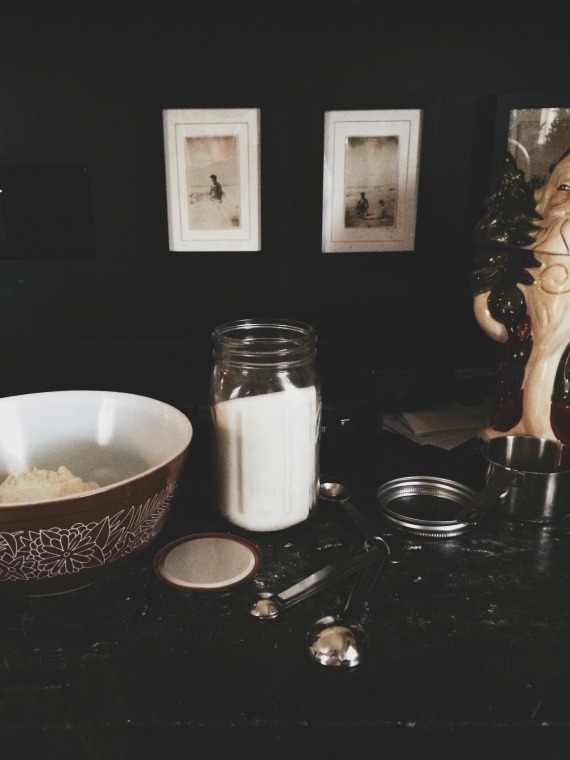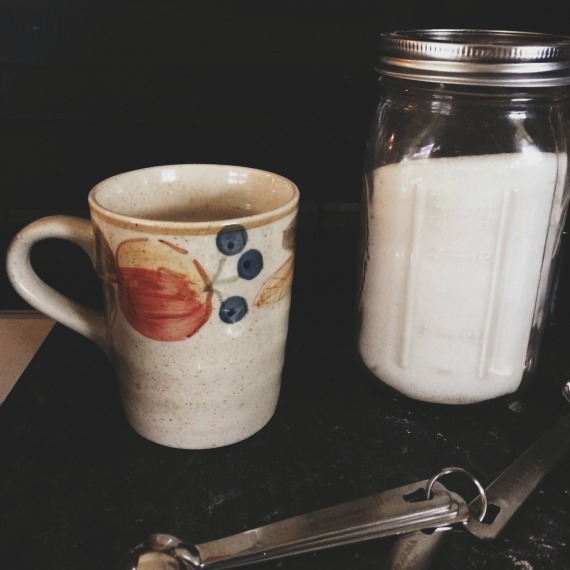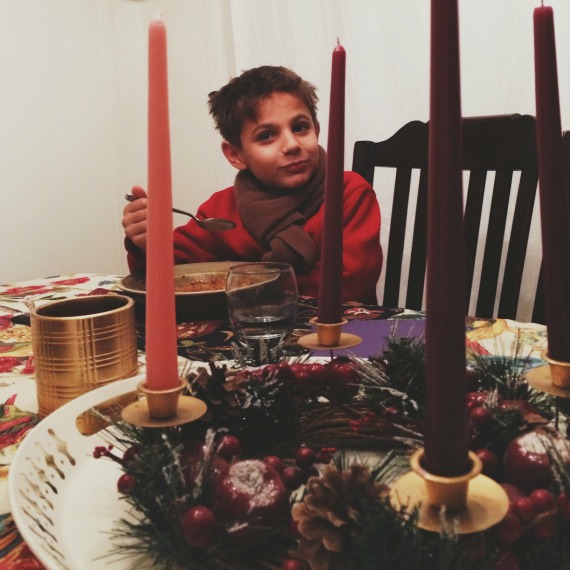 Saturday morning pancakes has become a tradition around here. I use a Martha Stewart Buttermilk Pancake recipe I found a few months back. It's my keeper recipe. I've tried several since then, and so far this one is almost everyone's favorite. Mikey favors one that produces thick, chewy pancakes no one else likes, so his vote doesn't count.
I make the pancakes in the same thrifted, brown pyrex bowl every time. It's one of my very few thrifting successes (the color could be better) and I use it for all of my baking. I have other bowls, but this one is the perfect size for mixing baked goods. If it's dirty and I have other bowls I can use in the cupboard, I'll wash this bowl.
The speckled mug with the peach and the blueberries and the inexplicable autumn leaf is for melting butter. Always and only. One day I heard a knock on the door, and on my porch were a three members of a new Seventh Day Adventist church going up in the neighborhood. We chatted for a while (Catholic, not going anywhere) and they gave me the peach/blueberry/autumn leaf mug with some literature. I didn't want them to waste money when surely there was someone on the fence who could use a good mug, so I tried to give it back. They insisted I keep it as a gift. That was 8 years ago, and every time I pull down that mug to melt butter I think of them. I shared this story with the Mister once when I asked him to bring me the "butter mug" and he looked at me like I asked him to mend a rift in time. When I explained to him the origins of the mug he didn't know we had, he called it marketing well done. I call it a darn fine butter mug. Seriously, perfection. I can melt an entire stick of butter in the microwave without the butter spilling over or the mug overheating. It's, like, the best butter mug ever.
I have the best bowl for baking and the best butter mug. I'm sure something else would work–maybe even something that wasn't thrifted or given to me for free–but I'm not willing to try because I've convinced myself that if I make pancakes in a different bowl or melt butter in a different mug the world will immediately splinter into sharp, irreparable pieces. And the pancakes are sure to taste terrible. Thick, chewy things only Mikey would like.
I've been eyeballing a Dutch oven for, oh, 13 years. I'm thinking it could become another one of my superstitious kitchen items. I would use it for soups, stews, and braised meats. Le Creuset has been out of my price range, but there are lower priced cast iron ovens on the market now. I don't know how they compare. I bought one two weeks ago (the one from Kohl's) and it's still in my trunk. I'm undecided.
It doesn't help that I made a beef and barely soup last night, only to discover no one really likes barley. Mikey called it "chewy, like tofu." Nico asked for more bread "because that's the only way I can eat this soup, mama." The Mister and I just chewed, and now I have heartburn. I knew I would get heartburn–barley has a similar texture to oatmeal, and I can't eat that in any form without my esophagus exploding into a fiery rage.