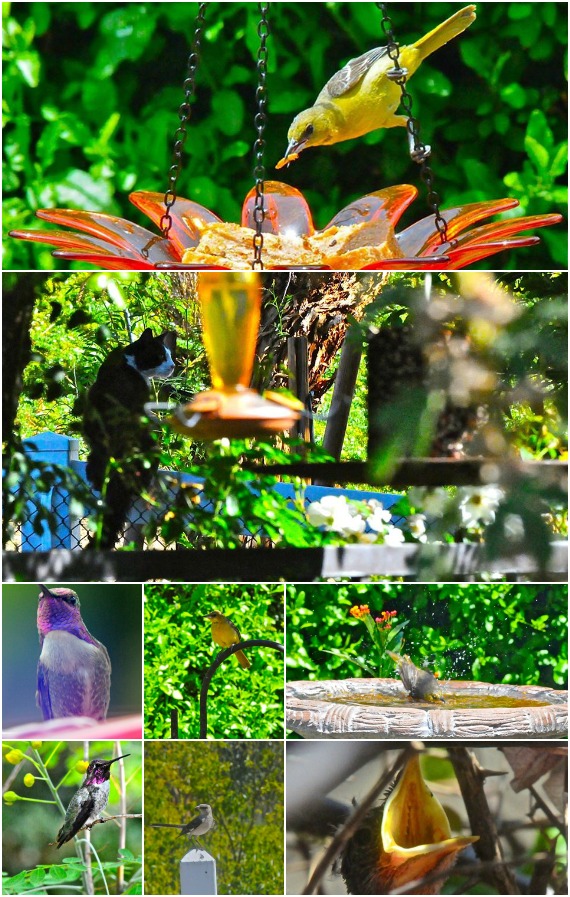 photo credit: Jill Stevens
This is not my backyard, though I wish it was.
As much as I love plants, you would think my backyard looked, oh, attractive. Nope. I'm overwhelmed by the size, like too many different styles to commit to one thing, and am unsure how to handle all the shade we have when combined with our dry, blistering heat. It's a field of grass surrounded by an empty bed.
Enter, Jill.
Jill is the grandmother of one of my students, which is weird to contemplate because my grandma is 4'8 and has hair the color of a strawberry Good Humor bar. Jill, on the other hand, has long dark hair and is overwhelmingly beautiful. This must be because she spends all her time in the fresh air creating an animal sanctuary in her backyard. Those are her pictures, above. One day on Facebook I had to ask her if the pictures she was posting were hers and of her property. "Yes!" she said, as if having 25 different species of birds was no big deal. Every few weeks a sparrow the color of abandoned hope will visit my yard, but that's only because they're tired or injured.
She hasn't posted too many bird pictures lately because she is, obviously, certifying her garden to be a Monarch Butterfly way station. This is how I imagine Jill spends her days.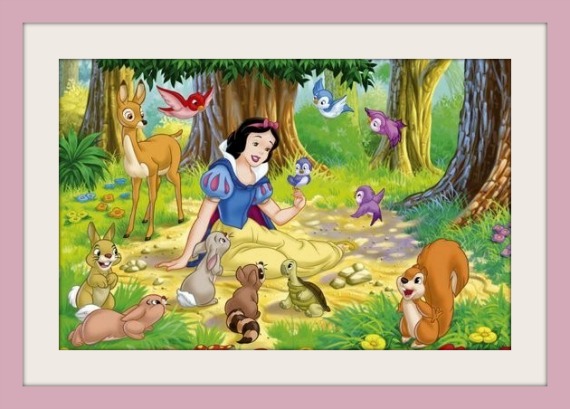 Before we get to the butterflies (I can't wait to show you those pictures), we'll talk birds. This may sound naive, but I thought you hung up some feeders full of seed and waited for all the birds and their animal friends to stampede toward the house like last boarding call for Noah's Ark. I was incorrect. Apparently it takes a good deal more thought to attract birds that aren't despondent.
I took Jill's advice and went to a local bird store. I knew I was in the right place when we pulled up and there were a dozen different birds eating from various feeders. They had a bunch of books and helpful employees that explained to me how to attract the birds local to our area. Aside from the depressed sparrows, I didn't know we had "birds local to our area."
If you are interested in what I learned you can read it in this post at Wayfair, which I organized in nerdy bird watching fashion. It may not be the most riveting post in the world, but I like it because it's organized and will help me set up the backyard once I get the nerve to get started.
Have a great weekend, and thanks for your support!
Hello! Welcome to the latest episode of Hi/Low Blogger: Your place for jeers and tears. Two days of funny means now I'm going to depress you thoroughly. Let's get started!
Yesterday I was out in the backyard taking pictures of Buddy and Buttercup after a not-so-great visit with the vet on Monday. (Because Monday was a pissed off llama.) I took Buddy in because his hind legs were becoming increasingly weak, to the point he would fall or toe under (his toes curled under when he stood, almost like he was standing on the top of his hind left paw). We have hardwood floors, so I was hoping it was "slippery floor for old dog" syndrome. Holy Incorrect Assumptions!
We did Buddy a huge disservice when we allowed him to become a tri-color mound of sad after Buster died. He didn't want to move, and we didn't push the issue. Thanks to our over-indulgence, the muscles in his hind legs, especially the left, have atrophied. He can't take steroids because of his history of infection, so right now he is on an anti-inflammatory. I did some research and decided to rebuild his muscles using three gentle, short walks every day. Mikey does two of them, and already I've seen an improvement in his walking.
Buddy and Buttercup looked so pleased as they sunned themselves that I decided to come inside and write about their bro-mance. I did, without thinking or editing, and posted it to tumblr. I'm adding it here for safe keeping more than anything else since most of you read it already.
::::::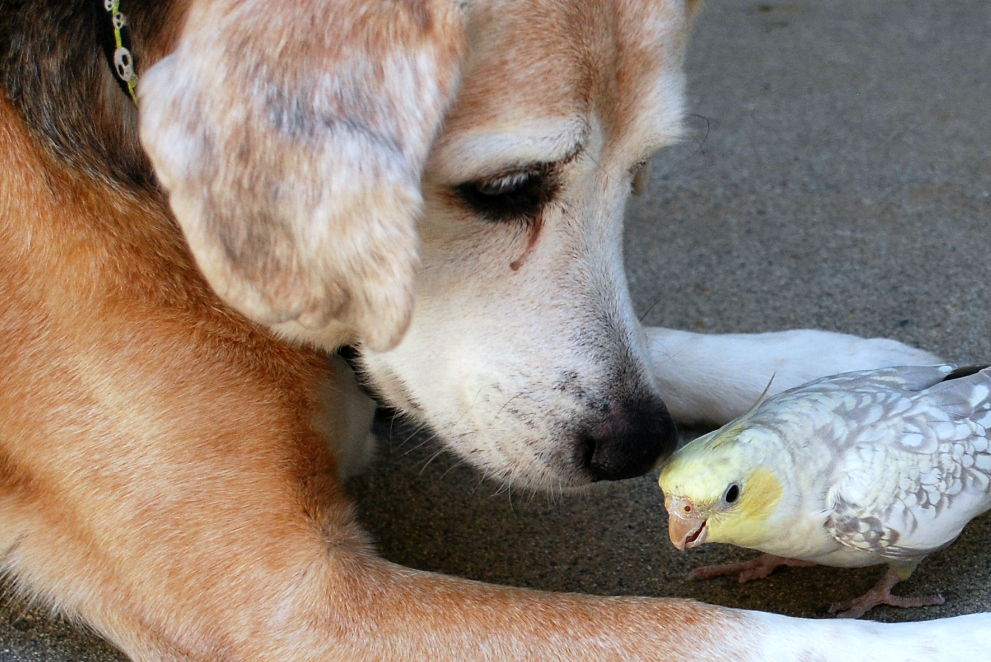 I never understood why someone would want a bird as a pet. I had two canaries as a child and don't remember anything about them except the day a cat got to one and the other flew away. I lumped bird people with horse people. Both groups were zealous pet lovers more comfortable with their oddly-footed animals than people.
Says the woman with a tumblr and instagram account devoted to the family cockatiel.
On March 8, 2014, our 13-year-old beagle, Buster, died of an aggressive bladder cancer. We didn't see it coming, and neither did Buddy, his friend for life.
We brought Buster home when Buddy was 6 months old, so it's likely neither one remembered life without the other. We worried that Buster's passing would be difficult for Buddy.
We were terribly, horribly right.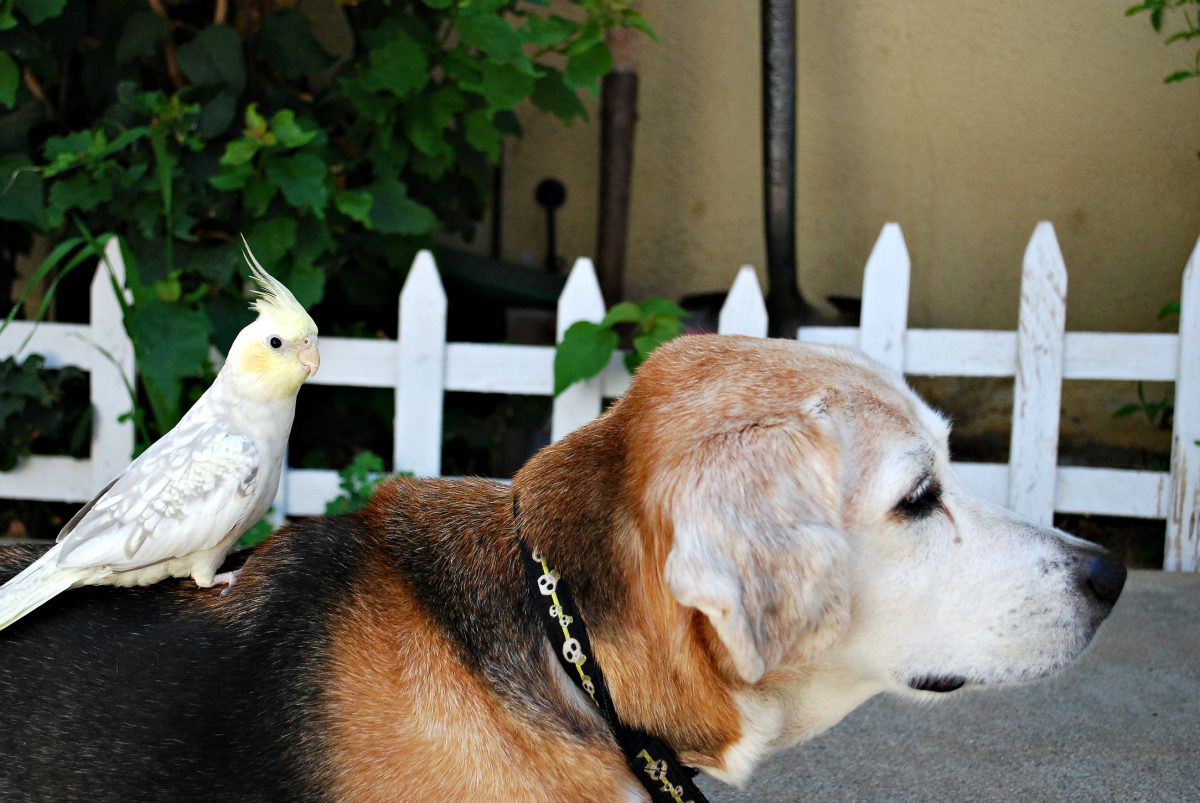 For weeks Buddy stayed by the door waiting for Buster to come home. He wouldn't eat, wouldn't bark, and wouldn't move except to go to the bathroom. Almost immediately he developed pneumonia. With his already compromised "old man" lungs, it took him weeks of antibiotics and a series of breathing treatments recover. On March 7, 2014, he was an exceptionally healthy and happy nearly 14 year old beagle. By May, he could barely walk and was coughing incessantly.
We brought home Buttercup in the middle of May.
For the first time in months, Buddy's ears pricked up. He was curious about something, finally. He started sleeping again in the bed he shared with Buster, though he stuck to his side of the bed. (Old habits die hard.) He moved, usually to wherever Buttercup was. He sniffed. He ate. He wagged his tail.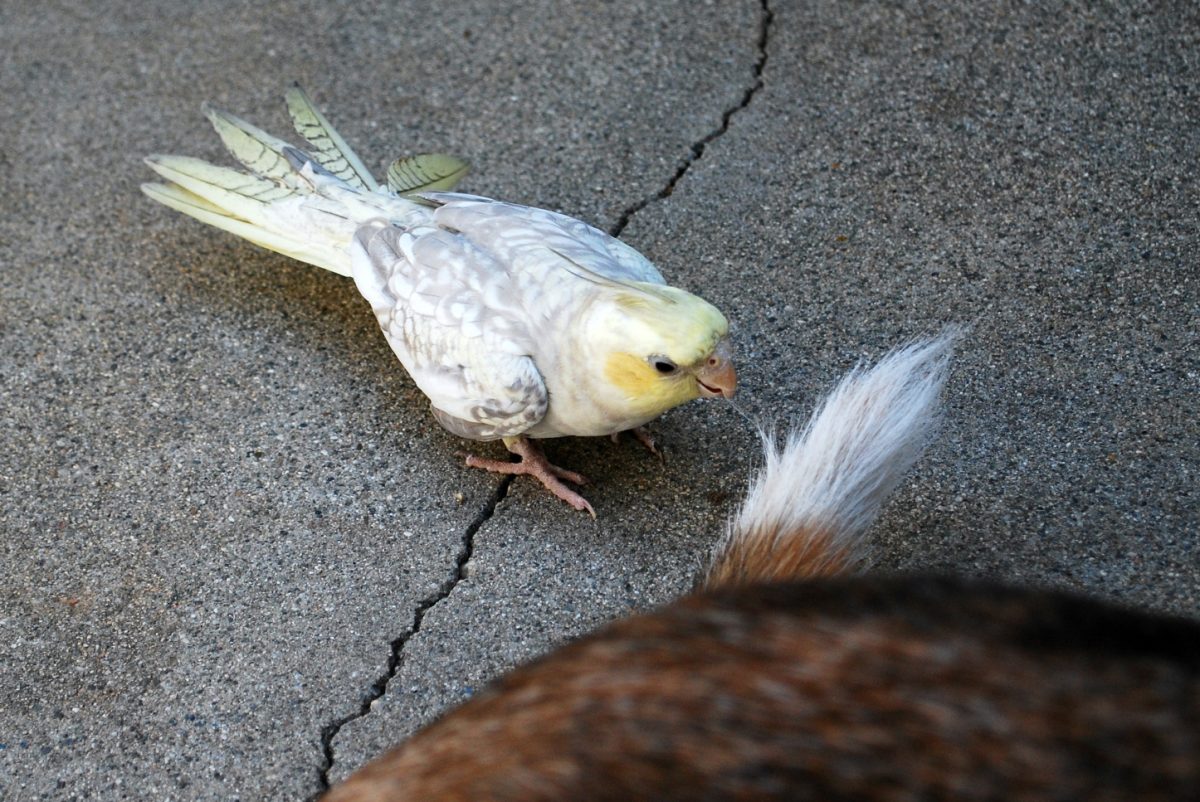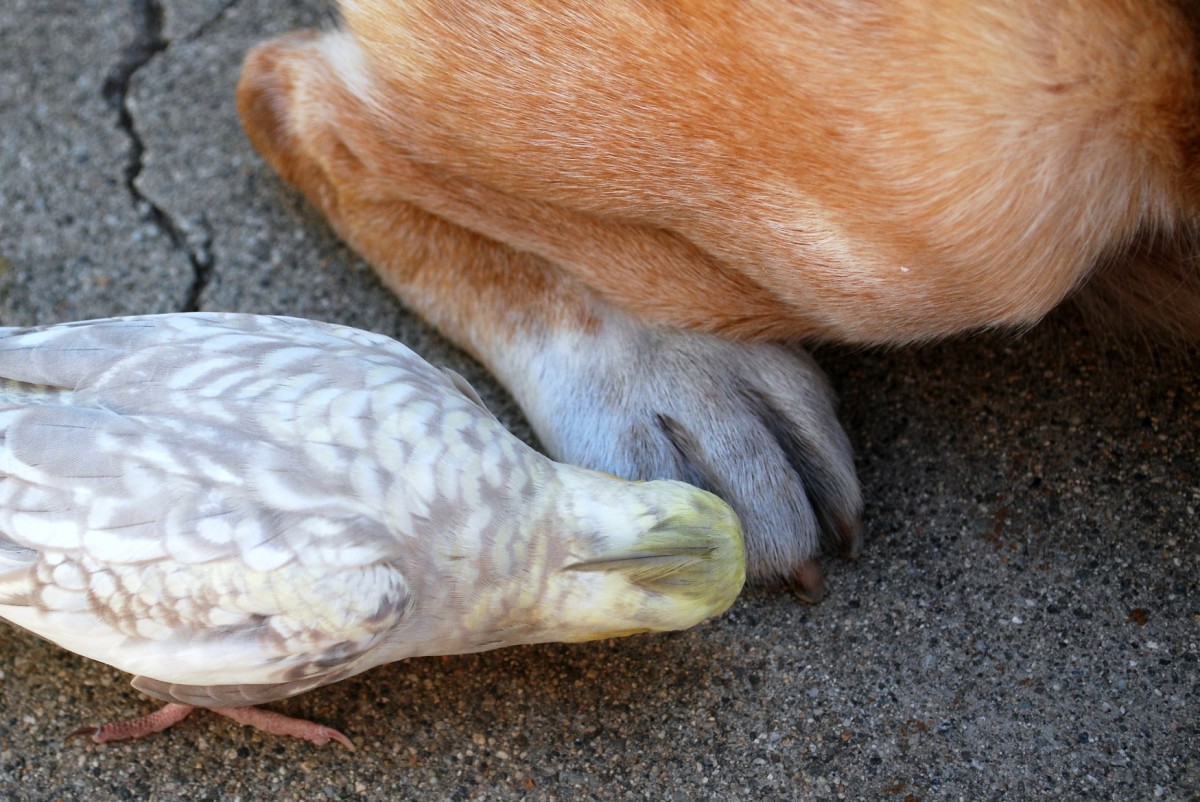 Buttercup, we think, knows what Buddy needs in that innate way animals just know. He meticulously grooms Buddy. He perches on him and lets Buddy walk him around the yard. He lets Buddy sniff him and doesn't get offended when Buddy gets spooked and moves to sit close to Buttercup, but not that close.
And just like that, I understood bird people. I became bird people. I learned about their complex social hierarchy, how intelligent they are, and how loving they can be with their non-bird family. I learned all this not by reading books, but by watching Buttercup slowly bring Buddy back to life.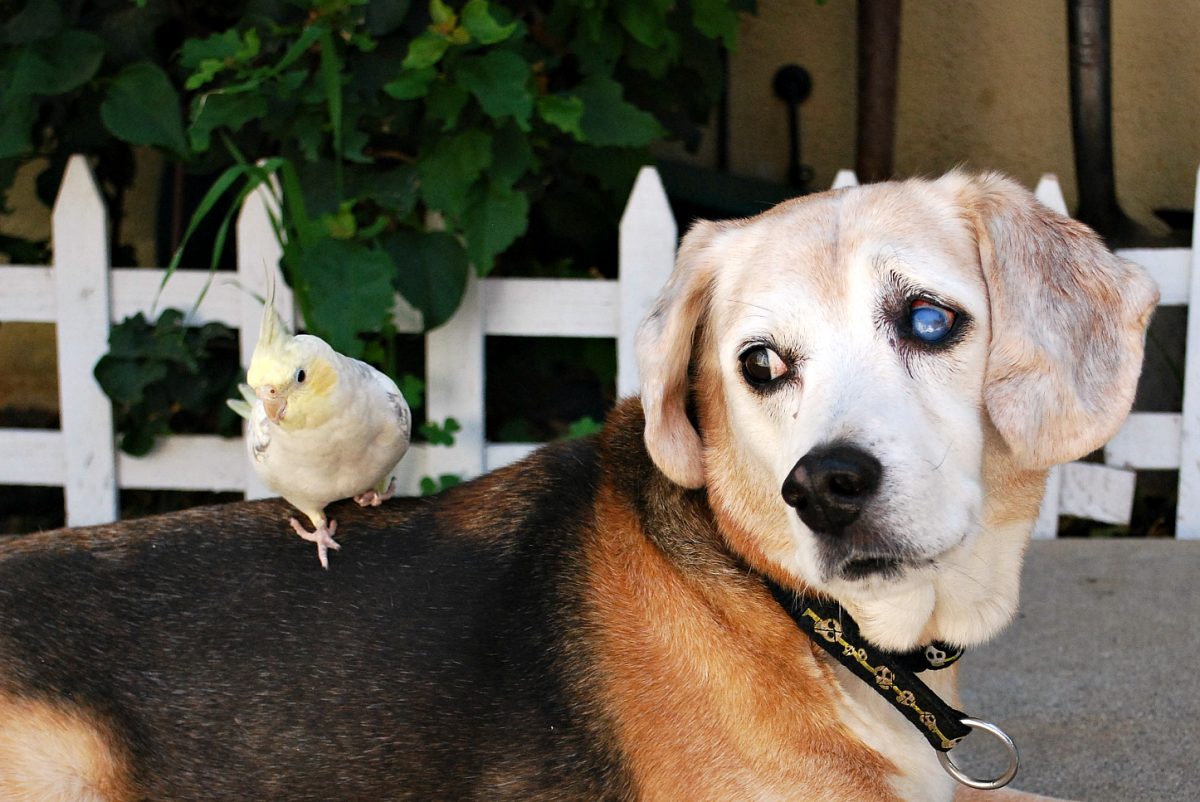 Buddy still has problems. He's blind in one eye and nearly deaf. His hind leg muscles have atrophied because of his refusal to move more than necessary after Buster died. He still coughs and he gets up in the middle of the night to use the bathroom. He's 14 years old, after all.
Still, it's amazing to us that 83 grams of feathers did for Buddy what two vets and an adoring family couldn't. A pastel-faced, cinnamon pearl cockatiel gave a 14 year old beagle the companionship he missed and the will to keep going just a little bit longer. Buttercup is worth his puny weight in gold, 100 times over.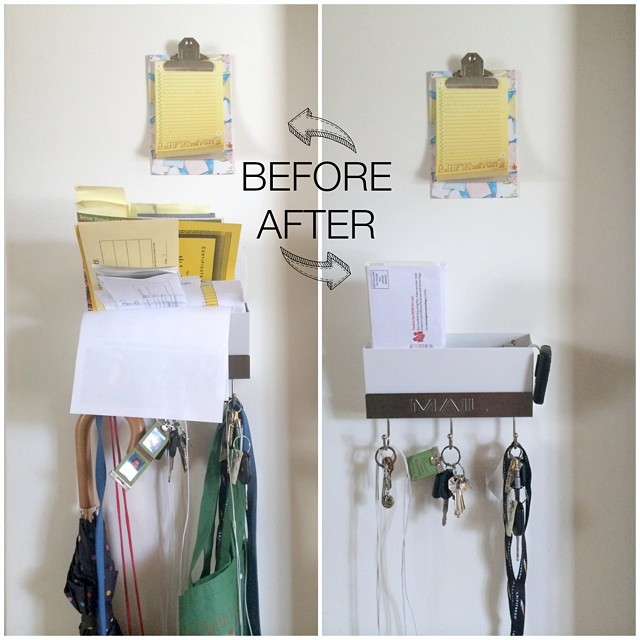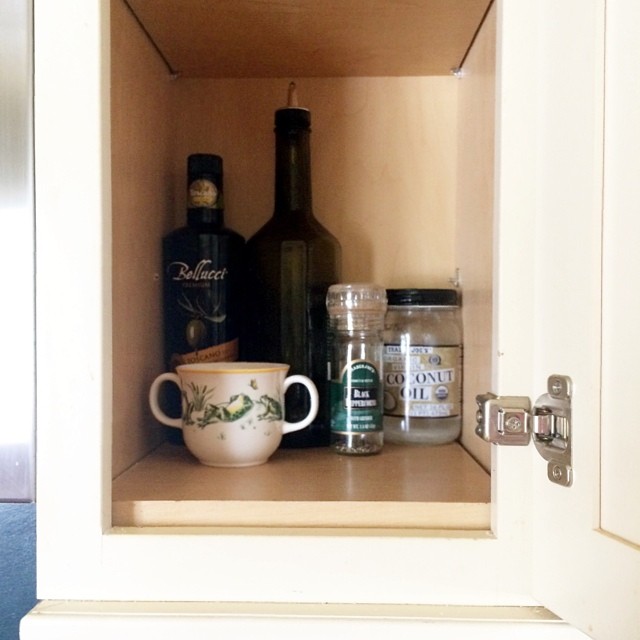 You know I've been having a really hard time keeping it together, especially if you follow my Facebook page. Monday was a nightmare of epic proportions. Tuesday was slightly better. We'll see what the rest of the week brings, though I predict kittens rolling down hills of clover into porcelain bowls filled with heavy cream because Monday was a pissed off llama.
I'm the dude who nearly loses his life but never drops his beer. Nico is the guy filming and laughing the entire time. Mikey is off screen calling animal control and worrying about rabies.
I should have gone home and watched funny animal videos, but instead I did three quick William Morris projects that have been bugging me. I organized the mail center, cleaned out my salt cabinet next to the stove, and cleaned out the fridge in the house and in the garage.
I found a kilo of wilted celery and remembered an old tip about putting it in water to crisp it back up. It worked like a charm, and since the celery still had the pretty leaves attached, I made homemade celery salt. It's not like I made the celery salt because I had some time to kill in between dehydrating some kale and churning butter made from the milk of our free-range chickens. I have an incredible ability to remember mostly useless things, like the fact Heidi Swanson posted a homemade celery salt recipe in 2011.
So that's what I did on Monday, and I've changed my mind. I'm the hamster.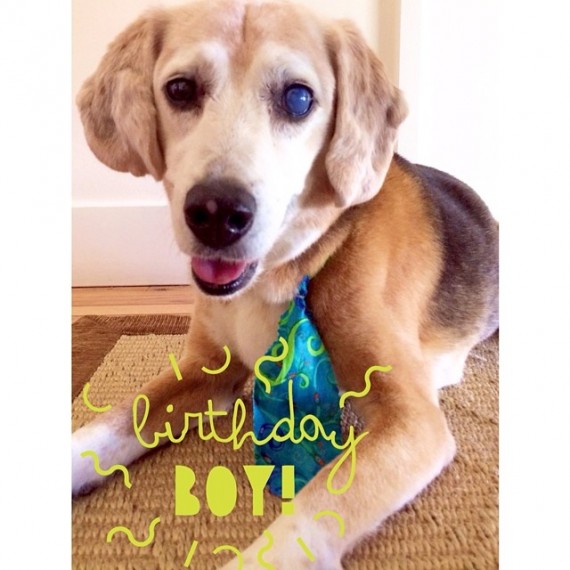 Our Buddy turned 14 years old on July 17th! He's blind in one eye, can't really hear, and his back legs are giving him trouble, but he wags his tail when he sees us and he loves his walks. Looooooves his walks. Sure, we only walk 4 houses down the street but he is in his glory walking those 4 houses.
Mikey isn't dumb. He saw what happened to Buster and he knows 14 years is a long life for a dog. For about a month now he's been planning a birthday lunch for Buddy at Lazy Dog Cafe. We all thought it was a great idea.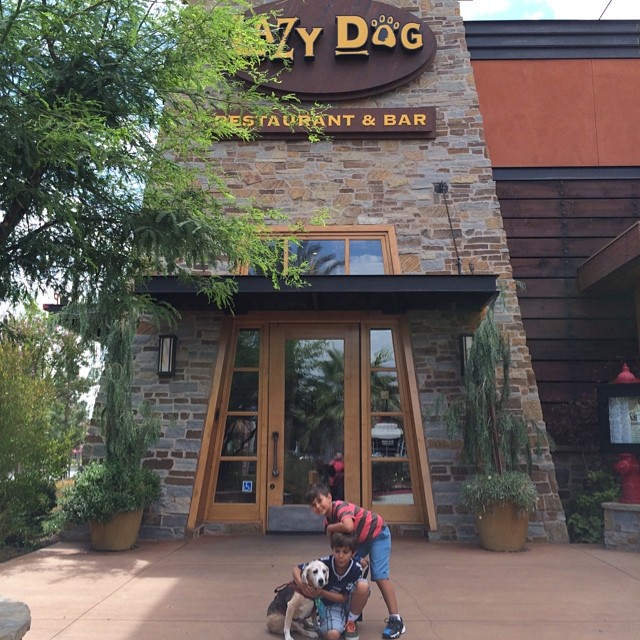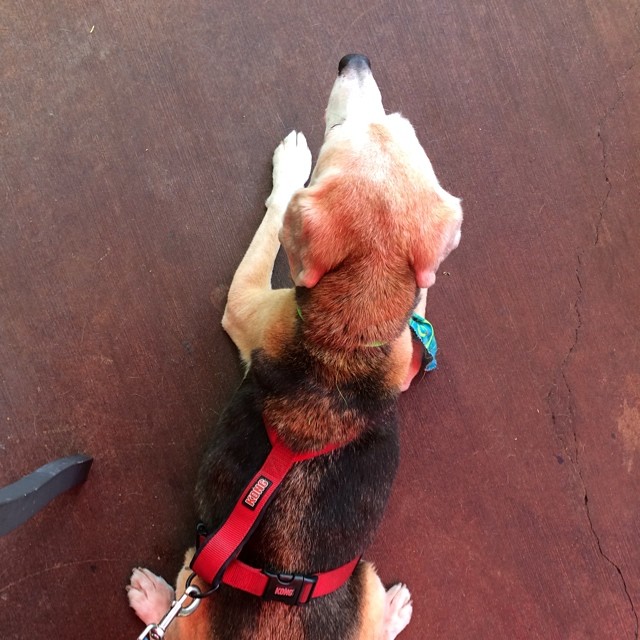 We sat outside on the patio. There were dogs at every table, which was awesome. Buddy was content to people/puppy watch while we waited for lunch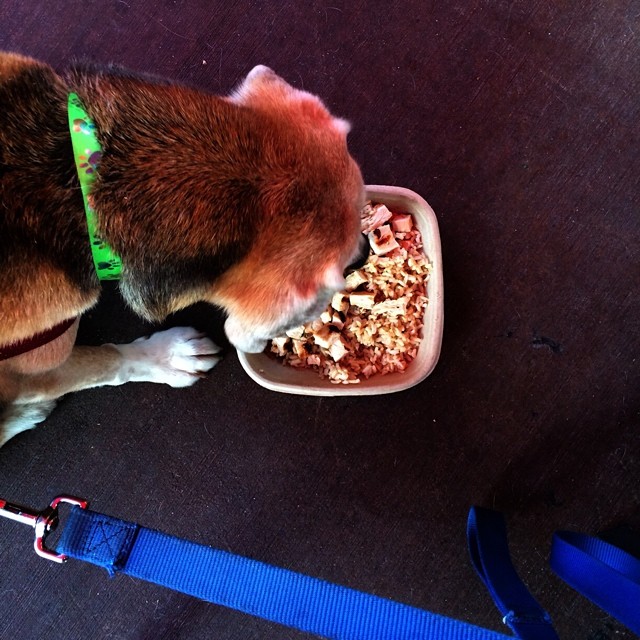 Steamed brown rice and grilled chicken! He loved it.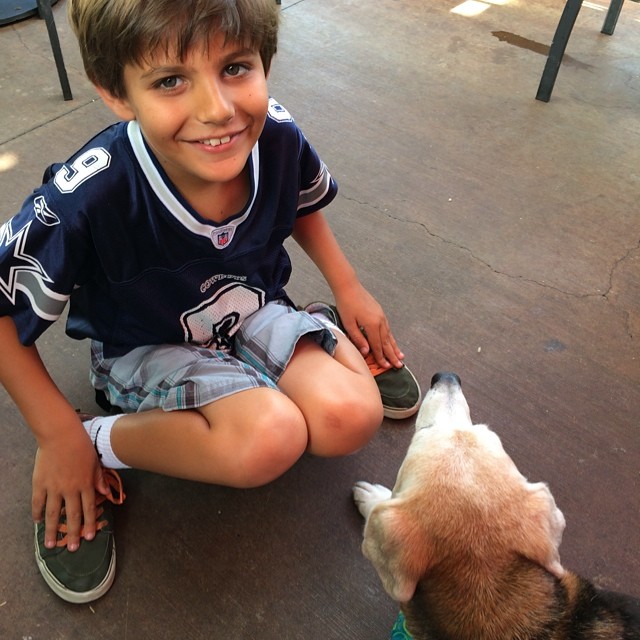 The birthday boy and his event coordinator.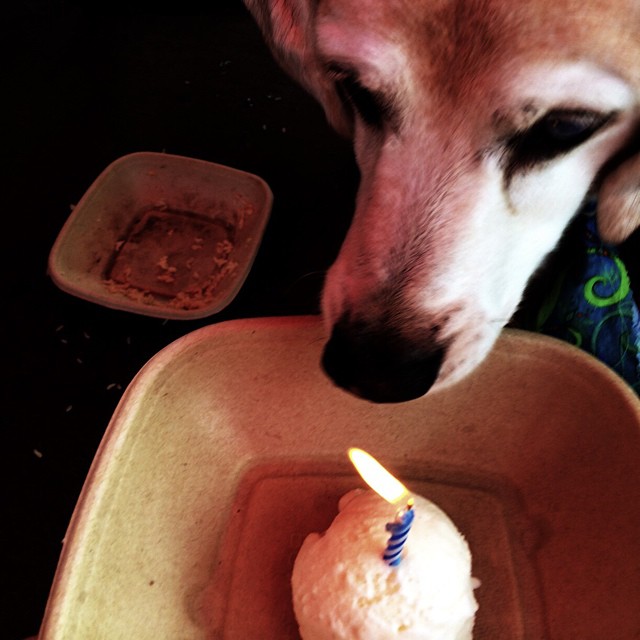 The staff at Lazy Dog Cafe was so, so nice. Buddy was showered with compliments (they aren't allowed to touch the dogs) and after lunch, they broke the rules a bit and gave him a scoop of ice cream with a candle. I mean, honestly. Buddy was over the moon. When we got home, he walked over to his favorite spot in the family room and slipped into a food coma.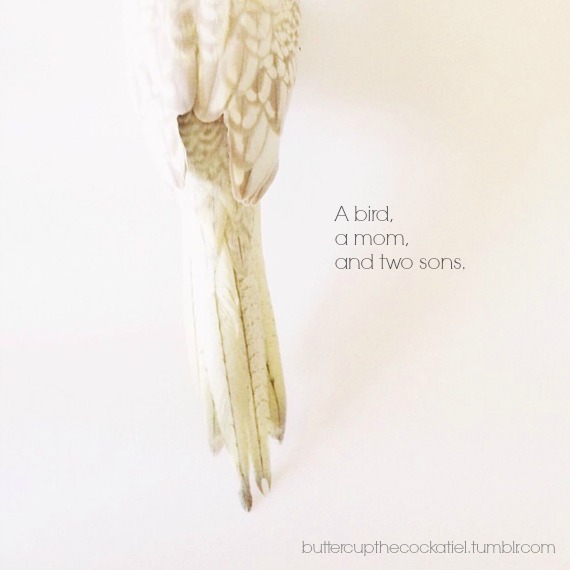 In a move that will surprise absolutely no one, Mikey, Nico, and I started a blog (really a tumblr account) to collect all our Buttercup pictures. It has been so much fun doing this with the boys. Nico is now fully part of the project. I thought he was too little, but then he took one of my ideas and made it far easier and more elegant. Basically, in this picture I wanted to attach streamers to a large bamboo stick. This required scissors, glue, and patience. Nico gentle told me that it made more sense if we threaded the unrolled streamers on the bamboo stick. This also meant we wouldn't have to cut–and waste–any of the streamers. That boy is a future engineer.
The additional bonus to taking pictures of Buttercup, aside from super-fun quality time with the boys, is that it will force me to finally work on my photography skills. All the pictures are iphone pictures, but there is still a lot of room for me to improve my white balance and lighting. I'm sure there are books or websites that focus on iphoneography. I just need to do a little research and find one that educates rather than tries to sell you the latest gizmo via affiliate links.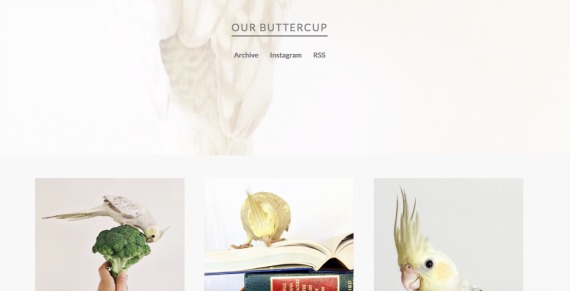 You can subscribe to a tumblr the same way you would a blog. I had to research this since I knew nothing about tumblrs until yesterday afternoon. It should be pretty straightforward after you press the RSS link, but if there are any problems, please let me know. I did set up the entire blog by myself, so problems would not be a surprise.