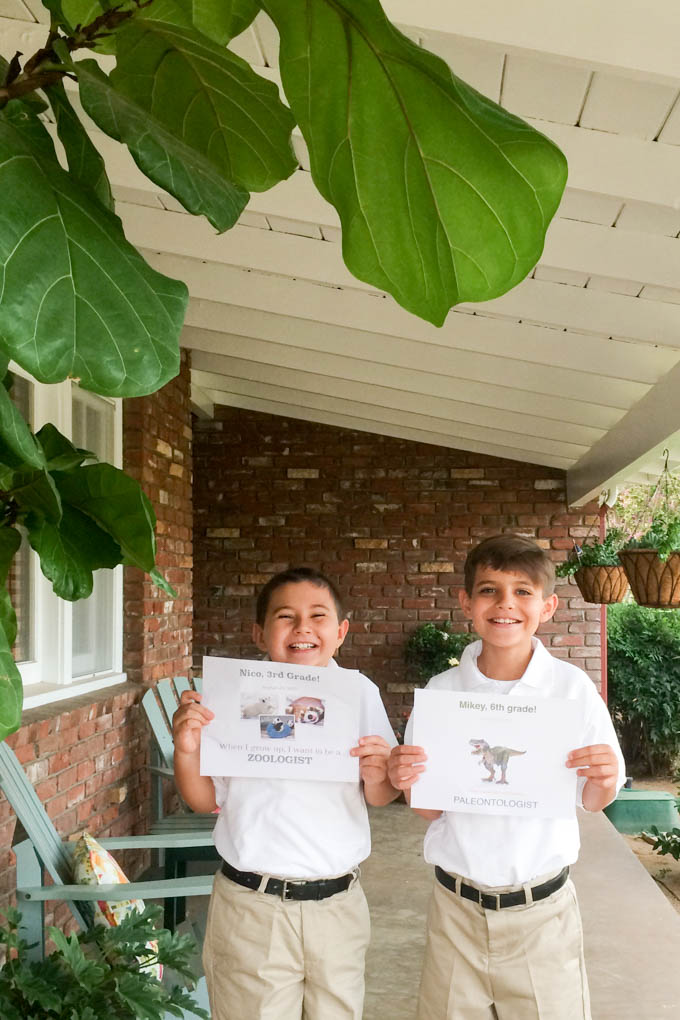 Horrible, blurry cell phone pictures taken by a farsighted + nearsighted woman at 6:30am. I'm happy they even exist. One of these days I'm going to buy a simple point and shoot.
These signs. I don't know where I came up with the idea because I did this on Mikey's first day of pre-school. We're talking pre-blogging, pre-pinterest, and pre-social media if you can remember that far back! I had this great idea to document on the first day of each school year what Mikey and his future siblings wanted to be when they grew up. It was going to be great, decades later, to see what they wanted to be in 1st grade versus 3rd grade versus 6th grade.
Fireman! Police officer! Doctor! Teacher! Paleontologist.
Paleontologist.
Paleontologist.
Paleontologist.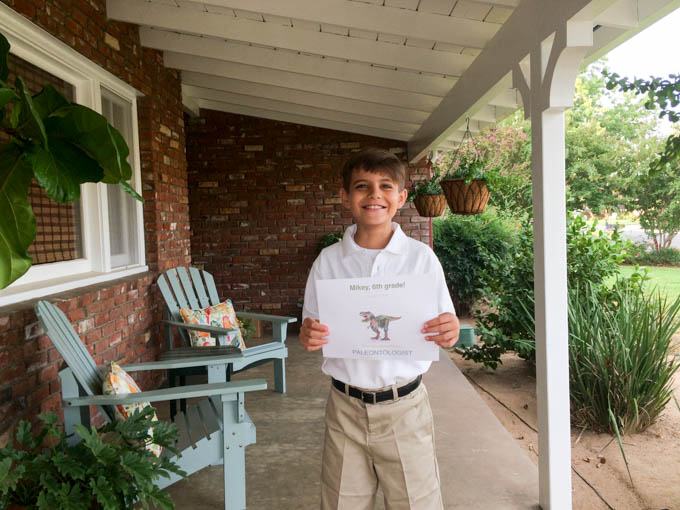 Every darn year since pre-kindergarten. I can't get Mikey to change his mind! I try to switch up my questions, like a detective trying to trap a suspect.
"Hey, Mikey, don't you want to do something with music?"
"No."
"Ok, what do you want to be when you grow up this year? You know, it's okay to change your mind."
"I know."
I joked on my personal face book page that after all this, he'll end up a high school PE teacher.
"With a buzz cut," my friend Kendra replied.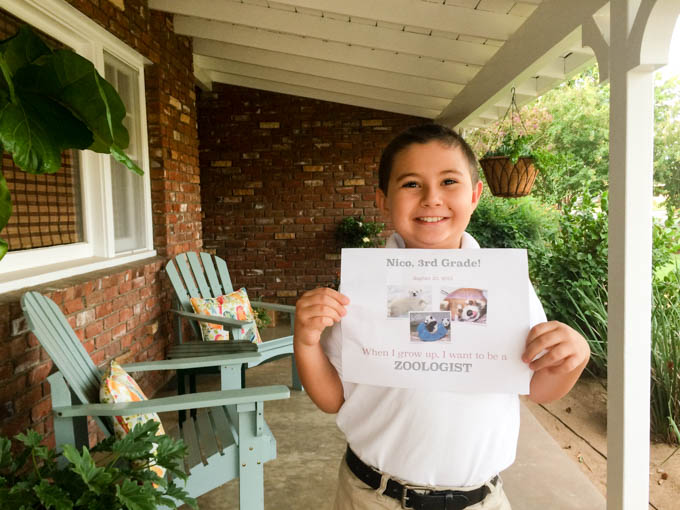 Because Nico has a buzz cut and it's awful. He went to the barber shop without me, clearly. He came home like a freshly shorn sheep and it was all I could do to keep from recoiling in horror. All he needs is a banjo, shifty eyes, and a wayward gene or two to complete the backwoods picture. Horrible. I hate it. No one likes it except Nico, and he doesn't like it. He loves it.
Every morning he wakes up and says, "Do I still have my awesome buzz cut?"
Yes, dammit.
"Mom, this buzz cut! I don't have to brush my hair, or dry my hair, or do anything except feel my awesome buzz cut!"
Oh, don't I know it!
Nico's hair is a tragedy, but at least he takes career waffling seriously like a true American should. He's wanted to be an astronaut, a paleontologist, and now a zoologist. My favorite, though, had to be last year. He had me write "undecided."
College will be interesting.