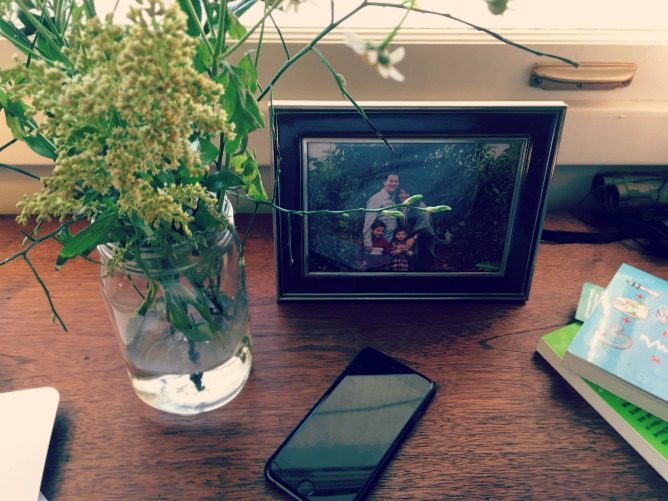 "Well, it's official," Mikey said as he slammed the car door. "In June I will be the only boy without a cellphone in my class. Oh, correction. I will be the ONLY STUDENT in my class without a cellphone. This is how awful my life is."
"Well," I said, turning right out of the parking lot. "Look at the bright side. When you're in the 7th and 8th grade and still the only student in your class without a cellphone, you'll already be used to how awful your life is."

::::::::::
I listen to advice. Always have, always will. I don't know it all, don't want to know it all, and welcome all salient tips from those willing to share. In November 2015, I made a comment on instagram about kids and cellphones.
Beth Lehman
 shared a comment (and follow up email) that has stayed with me ever since. Paraphrasing:
wait as long as you can to give your kid their own gadgets because it is easier to refuse now than it is to limit later
.
I thought this was great advice, and I've stuck to it, even when Mikey comes home telling me stories about his classmates and everything he is missing. "You have to be on group text," a classmate told him. "Otherwise, you don't know what people are saying about you."
That sweet, naive classmate thinks that if it isn't said in group text, it isn't said anywhere. If only wishing could make it so, buddy.
We keep my old phones. Nico has my old iphone 4, and Mikey has my old iphone 5. They use them to play games (Plants v. Zombies and my brother's game) on long car drives and when they catch us in a rare, generous mood. Nico will ask if he can play more often than Mikey because he is an optimist. Both know to bring a book with them before we leave the house.
Mikey doesn't need to text his friends about homework or school–the answer to any question he may have is available through one of the school's countless online channels. He doesn't walk home from school. He doesn't travel between homes. He isn't in aftercare. He doesn't need a phone like another kid might. He wants a phone because, as we all know, phones are awesome. They are also convenient, efficient, useful, practical, and horribly addictive. I hate how tethered I am to my phone, how it's always there, and I don't want that for my boys.
The other day, as I was walking into Faith Formation (I teach 6th – 8th grade), I dropped my phone in the parking lot. I had no idea until I walked into the building and couldn't find my phone. I rushed back outside, but I was too late. Someone drove over my phone. It was a shattered, powdery mess. Adults and children hovered around me and my phone as if it were an injured animal. There were actual outcries of anger and despair. People "couldn't believe someone would do that to me" and gave me conciliatory pats on my back. I would have rolled my eyes at all the dramatics but I was too busy thinking how could someone do this to me?
You better believe I paid my deductible and had a new phone in less than 48 hours. If I can't manage controlled use, how can I expect it of two kids with still-developing brains subject to addiction? I can't. Instead, I pretend I'm confident in my convictions, keep asking advice, and try to give them the best "awful" life possible while I scramble for the answers.