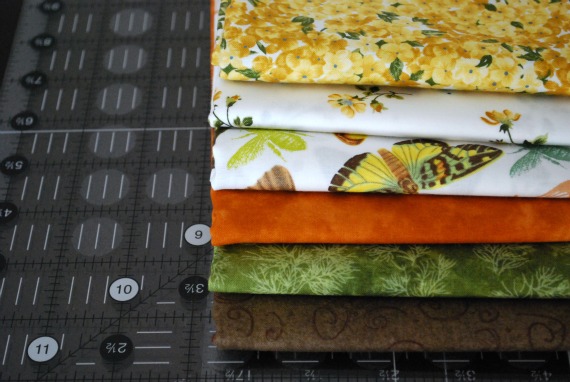 A few weeks ago I realized there was still much to do on my life list. The only item I could cross off was "Attend a book signing." What?! That's a poor showing for someone who counts making a batch of salad dressing as a life goal.
As we get closer to moving the boys into one room (maybe next month?), I've been thinking more and more about making them quilts. I've been obsessed with quilts since I was Mikey's age which, if you recall, was the height of the Little House on the Prairie years. Quilts and country and small calico prints became the rage a few years later, which suited me fine. We would visit Lake Tahoe in the summer and winter, and many of the stores would hang quilts from their balconies for decor and enticement. I wanted one desperately, but they were so expensive I didn't bother asking my parents. I did say out loud once, "Boy, I sure would like a quilt one day!" while I pointedly stared at a pretty blue and white Star quilt, but my parents were impervious to my super-sly manipulation. Years later my mom bought me a Laura Ashley quilt-like comforter as a compromise. I still have it.
Making quilts is on my life-list, so I signed up for a quilting class in September. I ended up missing the first of two classes thanks to a last minute practice for Mikey's Filipino choir performance. I called ahead of time and was able to move to the October class instead, so it's not a big deal except that two days before the class was to start I went to the quilting store to buy fabric. Even that isn't a big deal, except I liked only two fabrics in the entire store. I was there for over an hour waiting for pretty fabric to magically appear. It didn't happen.
There was country fabric, traditional fabric, children's fabric, batik fabric, contemporary fabric, and Harley Davidson fabric. Some of the children's fabric was cute, but it was way too baby. Two women helped me put together the pile above, and at the end one of them turned to me and said, "You sure are needy!"
And I said, "If by needy you mean needing fabric that doesn't suck, sure. " Actually, I said that in my head. In reality I just smiled and felt stupid.
Had I known I would miss the first class and have more time to find fabric, I would have gone to a different store or shopped online. Instead, I ended up settling for yellow roses and butterflies. The pattern I am going to make is called Yellow Brick Road, and the women in the shop swore to me the final product will not scream BUTTERFLIES! or BROWN SWIRLS! or IS THAT SUPPOSED TO BE WATERCOLOR (ORANGE)!
We'll see.
After a few days, I realized it was probably for the best that I didn't find what I liked. I won't feel bad about cutting it up the fabric or screwing up, and it will make for a good practice quilt. I'm not sure what pattern (or fabric!) I will eventually use for the boys, but I'm sure it will be simple. I have my eye on this book and I own this book and this book.
I have a few quilting resources pinned on Pinterest, but I would love to add more (or hear advice!) if you have any good links.
p.s. Three more days until my library deadline, and 31 Days of William Morris starts on Monday. Where did the month go?!