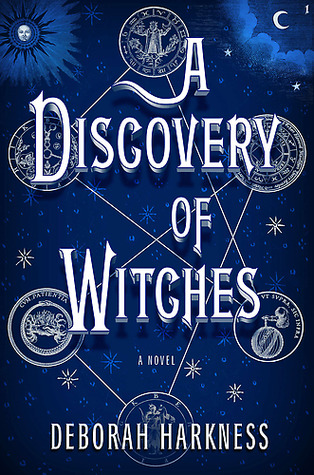 Kendra, she of the giveaway, has been trying to get me to read A Discovery of Witches since it debuted in early 2011. I put it on my list of books to read, knowing I would get to it once I moved past the description.
"A reluctant witch. A 1500-year old vampire."
Forgive me for raising a skeptical eyebrow. I read "witch" and "vampire" and automatically tuned out, imagining A Discovery of Witches would be of the 2? 3? 4,839,847? books out there on paranormal love triangles. I also snorted at the word "reluctant," because I couldn't imagine anyone reluctantly in possession of great mythological and folkloric power. I certainly wouldn't be crying myself to sleep. I'd be too busy turning all copies of the Fifty Shades of Grey Series into bunnies and binding E.L. James's hands with magical anti-writing rope.
Because I hear regular rope is hard to find in hardware stores these days.
Sigh.
I had my concerns, is what I'm saying.
Then I heard Deborah Harkness is a historian and professor at USC. Comforting. A few book reviews called it intellectual vampirism, and that sounded good, too. I finally decided to read it when I heard book two was coming out and the movie rights had been optioned. Besides, this is the Phenomenally Indecisive Book Club, and we are committed to reading a little bit of everything. Paranormal was a genre we hadn't yet read, and this book seemed weighty enough to please most of the readers here. (Check out the pinterest board for the club. We've got some serious literature fans.)
I'm so glad I read it. I didn't love it all throughout. There were some parts that were slow for me, and some parts made me gnash my teeth. For example, I would be perfectly fine if I never again read about a vampire watching another person sleep. Overall, though, I enjoyed the book and walked away realizing what I should look for in a book.
First person narration. I like this deeper connection with at least one character. In looking back at the many books I have enjoyed over the years, many of them have this in common.
Informed historical fiction. Again, this is something I wasn't aware of until now and something my favorite books share in common. The more unfamiliar I am with the time period and the more informed the author is, the better. Deborah Harkness is a historian with an specialty in 15th and 16th centuries, and it shows–especially in book two. I love, love, love having to take a break in the middle of a book to research more about something I don't know. In contrast, nothing bothers me more than historical fiction with a cardboard backdrop. Looking at you, historical romances.
There's more I look for in a book, of course, but these are two points A Discovery of Witches had in its favor.
One last note before we jump into the discussion. I liked the book when I read it, but I loved it after meeting Deborah Harkness and listening to her discuss the inspiration behind the book and how she weaved her life and career into the story. We talked about personal connection briefly when we read Jenny Lawson's book, and it's true. It really does make a difference to hear an author's voice, listen to their motivations, and learn more about their methodology. If you ever have a chance to attend a book signing and reading–for any author–I highly recommend it. It's something I only recently started doing, and I'm hooked. It changed the reading experience entirely for me.
Fun fact: Ashmole 782 is a real alchemical document misplaced by Oxford's Bodleian Library.
So, what did you think of the book, and did Harkness succeed in writing something new in what many believe is a saturated genre? My friend and I have already had this debate on twitter a few weeks ago; I'm eager to hear your take.
Did intellectualizing vampires, witches, and daemons benefit the paranormal genre, or should we stick to the campy dime store novels we've seen over the last few years? Do you have a favorite paranormal book or series?
Finally, I hate to bring up a book by another author, but I would like to know how this book compared with The Historian by Elizabeth Kostova. That book has sat in my unread library stack for years for the same reasons I put off reading A Discovery of Witches. I hear they are similar in style, with camps on either side claiming one is better than the other.