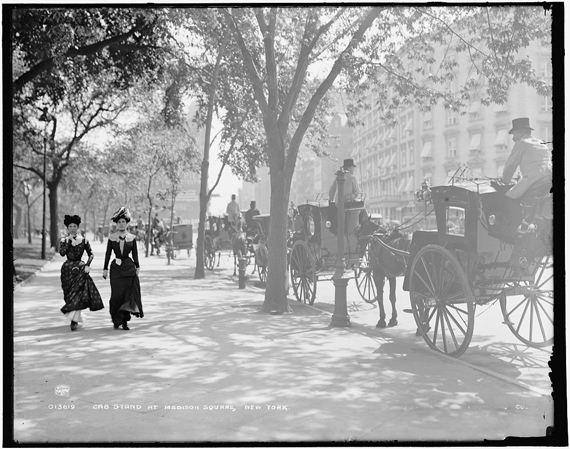 In Chapter 7 of The Chronicles of Narnia: The Magician's Nephew, Jadis, the Queen of Queens and the Terror of Charn, stood "swaying, but with superb balance," atop a hansom pulled by a galloping horse named Strawberry. There is plenty about this scene I found interesting, not the least of which is Jadis's ability, at seven feet tall, to maintain her balance on a quickly moving box on wheels. The shorter the person, the lower the center of gravity. The lower the center of gravity, the easier it is to keep balance. It's why professional gymnasts, jockeys, and bull riders are often smaller in stature.
I paused in my reading and looked over at Mikey on my left and Nicholas on the floor, half listening and playing with cars, and decided to keep it simple.
"Do you know what a hansom is?"
"No."
"It's like a carriage."
"Okay."
"Jadis was standing on a carriage going really fast."
"Got it."
A few paragraphs later, we were introduced to Strawberry's owner, a cabby described as a "red-faced man in a bowler hat" intent on warning Jadis of the horse's military lineage. (Fool. As if Jadis cares.)
"Do you know what a bowler hat is?"
"No."
"It's a hat with a round top."
"Okay."
I read on, shaking my head at the cabby, and then stopped. "We'll research hansoms and bowler hats when we're done with this chapter."
Google images is the most important tool to the avid reader aside from the dictionary. Wikipedia is something altogether other. That site brings me great, great joy at least twice a week. One day I will share with the boys how, when I was their age, I spent minutes thumbing through encyclopedias and dictionaries looking for information they can access in seconds. I'm sure it will be as difficult to understand as minions ("like someone's slave"), twopences ("what they used to call pennies"), and sal volatile ("a drink for nervous grown ups").
We sat down after chapter 7 and did our research. It took seconds, naturally. An image search for hansoms produced pages of pictures, some that included cabbies wearing bowler hats. Convenient! Mikey went to his room satisfied and I read Nicholas three picture books. He doesn't get much out of The Magician's Nephew. Tickle Monster, on the other hand, is a tour de force.
I read to escape and I read to learn. When I can do both, I'm in heaven. A friend once admitted she skips anything she doesn't understand. I can't even imagine. Last year, when I read the Mark of the Lion series, I was swept down a rabbit hole of A.D. 100 Roman fashion. If I don't know something, or if something doesn't make sense, I can't let it go.
Sometimes I wonder whom I am benefiting when I read books like The Chronicles of Narnia to the boys. Do I do it for them, or do I do it for me? Thoughts like this plague me, especially when I sit down at the computer after the boys are in bed and research the history of bowler hats.
Maybe it's all for me.
Twenty minutes later I walked into Mikey's room and found him reading a Paleo Joe book. I sat next to him in bed.
"Mikey, guess what?"
"What?"
"I did a little more reading on bowler hats."
"Yeah?"
"Yeah, and listen to this. They were made because back then, guys wore top hats. You know, top hats? They're tall and flat…"
"I know those hats."
"Okay, good. So the guys wore top hats, even when riding horses. But when they were riding horses where there were lots of trees, the low branches would knock the hats off their heads. So the boss of the guys riding horses when to a hat maker and asked him to invent a hat his employees could wear that wouldn't get caught on branches. The round hat stays on better. The branches go right over top. "
I said all this quickly and with exaggerated hand motions, excited about my latest piece of trivia. When I got to the part about branches, I swooshed my hand over my head in an arc, like a branch skimming the top of a round hat. At that moment, I could see Mikey following my train of thought, and seconds later an enormous grin split his face. He shook his head in complete understanding.
"Very cool, mom. I like that."
Maybe it isn't all for me.
//image source//