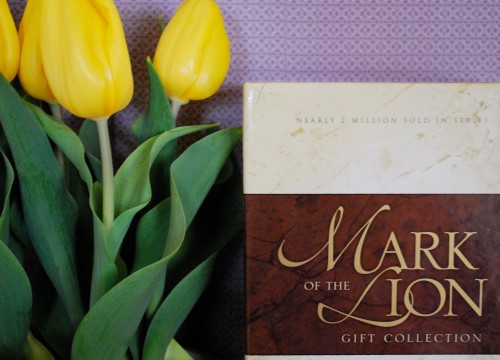 Given the response to my last post, I think we can all agree I was the last person to know the Christian fiction genre existed.  The other three books I read (and loved) in February was the Mark of the Lion series, also by Francine Rivers. And, since almost every person who commented or emailed me after Friday's post recommended the series, a post on the books would be a bit like preaching to the choir, wouldn't you agree?
Well, for those of you who have been living under the rock next door to mine, I'll give you a brief synopsis of the series everyone else (but you and I) read and loved. 
Mark of the Lion is a historical fiction series set in the Roman Empire, roughly 79 AD, during and after the fall of Jerusalem.  Hadassah, a young Christian, and her family are trapped within the crumbling walls of Jerusalem as Titus and the legionnaires gain control and ultimately annihilate the city.  She is sold into slavery.  Books 1 and 2 of the series (A Voice in the Wind and An Echo in the Darkness) center around the relationships Hadassah forms with her owners, the Valerian family, and how she clings to her faith (albeit secretly) while immersed in the decadence of ancient Rome.
There are many reasons I loved the first two books in the series (more on the third book in a bit).
The characters are unforgettable.  I was especially drawn to Hadassah, who berated herself for her weak faith and ultimately became Christ-like in her purity and obedience.  The character is, simply, kind.  I can't think of another way to better describe my attraction to her, except to say that she is everything I am not but wish I was.  I am bossy and opinionated and impatient and judgmental and skeptical and selfish and arrogant and faithless beyond measure.  I found in Hadassah a character I could emulate.
Rarely do I allow myself to become so engrossed in a character that I forget I am reading a work of fiction (I'm far too adept at controlling my emotions like a dial on a radio) but to this day I will think back on scenes from the book and pull from it lessons on how I can improve in my role as a wife/mother/daughter/sister/friend.
Like on Easter, when I watched the girl in the turquoise tank top with the GINORMOUS breasts walking up the church steps.  She had to hitch her pants around her slim hips, which made her RIDONKULOUS breasts jut forward even more.  Melons.  They were just melons and in between internal eye rolls and less than charitable thoughts I was trying to decide whether or not she paid for those behemoths when she turned to me and said, "You have the most beautiful boys."
So of course I felt like a steaming piece of turd in a field of daisies.  I swear the first thing I thought (after the guilt and mortification wore off) was, Well, I'll bet Hadassah never walked up CHURCH STEPS on her way to EASTER MASS and took the time to think ill thoughts of a woman with insanely huge breasts.
Of course, there was no plastic surgery in AD 79 so you never know.  Maybe would have at least done a double take.
See what I mean?
I'm a work in progress.
Back to the issue at hand.
The use of Ancient Rome as an allegory for today's societal dysfunction was obvious, but still thought provoking. In fact, I'm pretty sure the only things that separate the 21st century from the violence and hedonism of Ancient Rome is a plate of hummingbird tongues and an iPad.
The most important relationship in this novel is the one between Hadassah and Marcus Valerian, the son of her owner.  The story of Marcus, who is Rome incarnate, and Hadassah is tragic and heart wrenching.  Book 1 concludes how I expected (somewhat) but book 2 evolved in a way I did not anticipate.  I was expecting a pat "romance novel" approach and was pleased, in retrospect, to see things take a different turn.  This isn't to say I wasn't gnashing my teeth and reading at the speed of light to see how things ended, of course.
On to book 3, As Sure as the Dawn.  The third book in the series wraps up a dangling plot line surrounding a secondary character from the first book.  I liked it; it was good.  Really!  This book just has a completely different tone, and the difference can be jarring if you are reading them all furiously over a long weekend.  (Hypothetically.)
The first two books were filled to overflowing with drama, intensity, history, and a thought provoking commentary on society as a whole.   The third one…not as much.  It read more like a romance novel than the first two and some elements to the story were predictable.  Other elements were convenient.  I don't want to say it's lighter or frothier than the first two books, but the love story between the main characters, and the story overall, wasn't as compelling for me.  Put it this way: A Voice in the Wind and An Echo in the Darkness are tough acts to follow.  If you look at this series as a three course meal, As Sure as the Dawn is rightfully positioned as the third course dessert.
Oh, dear.  I've gone off at the mouth again.  I imagine those of you at work have either signed off or will have to read this post over the course of three days worth of coffee breaks.  Oops.
Let's continue this conversation in the comments section, shall we?
p.s.  For those who asked: right now I am reading A Girl Named Zippy, recommended to me by Jenny.  Next on my list is Love Walked In and Belong to Me, which Meredith recommended.