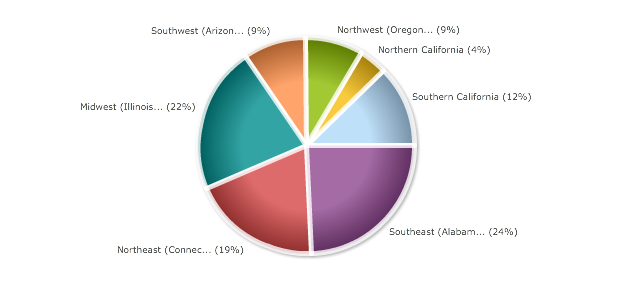 I had roughly 10% participation for my impromptu location survey, so while the results aren't going to be entirely accurate, it was still fun to get an idea of where everyone is from. I know from the comments that a few of you thought it was interesting, too, so I decided to share the results. My apologies those who find this monumentally boring.
As I suspected, most of the readers here are from the East Coast. I suspected as much simply because of the rate comments come in on my blog. Most of my comments come in the early morning, late afternoon, or early evening–around the time the East Coast is settling into work, waiting to leave work, or killing time after dinner. Most of my comments come in the morning.
Here is a breakdown of the pie chart above.
East Coast:  43%
West Coast: 34%
Midwest:      22%
That adds up to 99%; I think there is a policy joke in there somewhere.
I felt horrible about excluding, oh, the rest of the world, so I hunted around online and used a combination of Alexa, Statcounter, and Google Analytics to cobble together these (most likely) inaccurate location demographics.
Country/Territory by Popularity
1.
United States
80.23%

2.
Canada
6.75%
3.
United Kingdom
2.71%
4.
Australia
2.36%
5.
Germany
0.88%
6.
New Zealand
0.54%
7.
France
0.42%
8.
Switzerland
0.25%
9.
Belgium
0.25%
10.
South Africa
0.25%
Alexa is a great site to check out if you haven't already. I find them fairly accurate, though nothing is ever perfect. I haven't edited my Alexa page, though I know many bloggers have updated theirs to include brief bios. The brief bio Alexa writes about your blog or site changes frequently based on your numbers. It's interesting to check back every now and then to see what they say about you. Two years ago Alexa said I was popular in Los Angeles. Today it calls attention to my page views and bounce rate. You never know what you are going to find out. For example, according to Alexa this month, my blog is more popular in Canada than it is in the United States.
Does it say something about you when a blog is more popular in regions and countries outside of where the blog author lives? I don't know, but it's interesting trivia nonetheless.
Thanks to all who took the time to answer the survey, leave comments, and put up with my countless geographical mistakes!