And just like that, the first week of this 31 day series has come to a close. I had the furniture and carpet cleaned, enlarged and hung a family photo, cleaned out my desk, and organized not one, but two kitchen cabinets. Make that three, because today I'm still in the kitchen. I could have devoted 31 days to the kitchen alone! A better project would have been 365 Days of William Morris because the useful, the beautiful, and the lack thereof is never ending.
I can't overstate how much of a stretch this series has been for me. I'm a thinker and a writer, which means I'm not much of a doer. That makes me sound lazy, but those of you with similar personalities know we are not lazy. We are just as active as the person painting their kitchen in a houndstooth pattern with homemade chalk paint. The difference is that most of our activity happens in our head. I'm always thinking, always reading, always trying to learn and be better. In my home, I'm the one with the plans. I create the budget, I research the options, I layout the plan of attack. Then, the Mister comes in and does it. For me, the fun is in the research and planning. Once that's done, I lose interest and move on to the next project. To force myself to stay present and involved from beginning to end has pushed me out of my comfort zone, and I love it.
I also love how supportive so many of you have been while I temporarily revolutionize my blog. Every time I hit publish on a post, I worry just a little bit. I don't have scads of money to devote to elaborate befores and afters. My pragmatic, simple side forces me to eschew things like bunting on pantry shelves, an overload of seasonal decor, and, yes, houndstooth patterns. I'm practical, quirky, and prone to over thinking.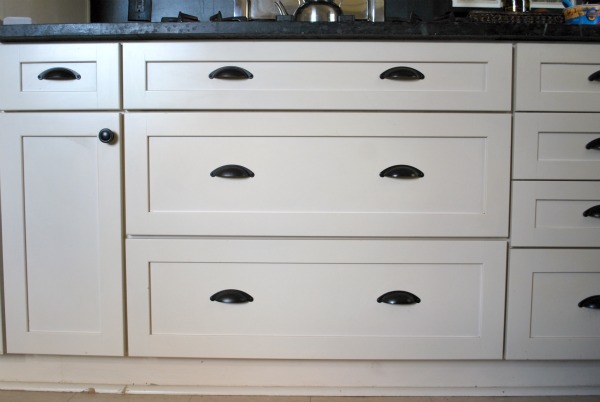 I was over thinking today when I debated doing another kitchen project. It bothers me that I am still here in the kitchen. I'm going through it one drawer and cabinet at a time, and each project leans like a domino into the next one. Once I clean that one, I need to clean this one. I can't finish this one until I finish that one. I'm trying to be patient, reminding myself Rome wasn't built in a day and the way to eat an elephant is one bite at a time.
Screw that, I want chicken.
But I have an elephant, and her name is Kitchen. Her middle name is The Two Bottom Drawers Under My Range.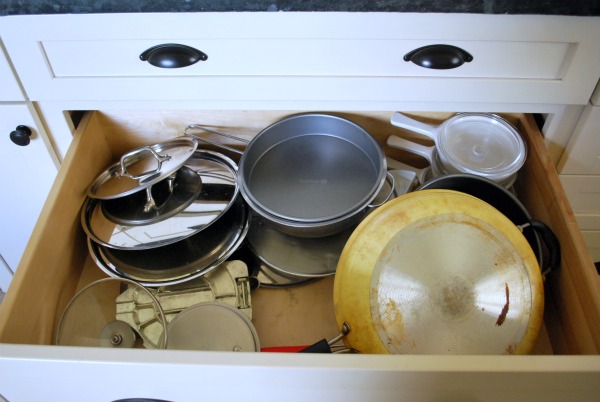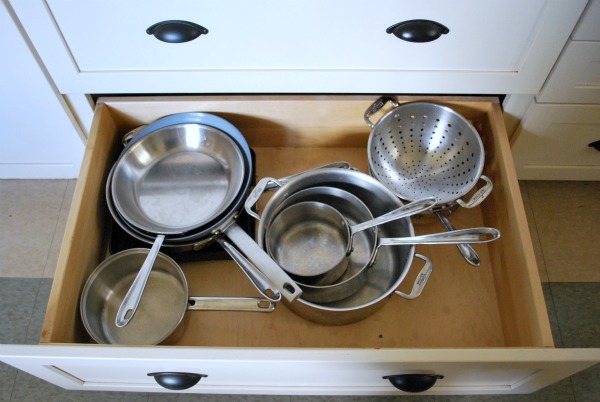 The first image is of the middle drawer, the one that sits underneath the drawer I cleaned out yesterday. It's a mix of cake pans, one nonstick pan, and all of our lids. The lids were the ones causing all the ruckus. As you can see from the second image, which is of the bottom drawer, the pots and pans behave themselves.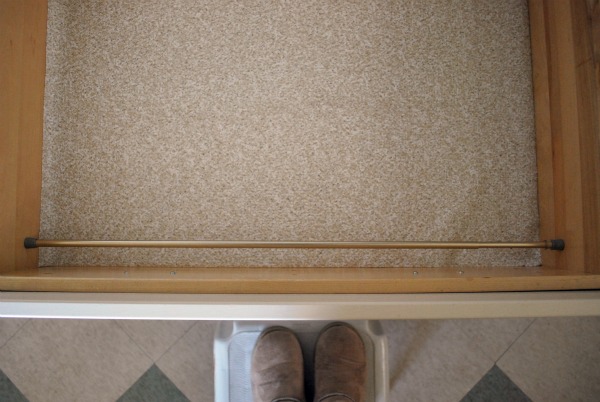 Emptying the drawers and adding simple shelf liner from Target helped tremendously. I know I mentioned buying cork lining yesterday, but I changed my mind. The paper I bought today was a siren song to my practical side. It's nonadhesive, discretely patterned, washable, and reasonably priced. Perfect.
My favorite addition, though, is the $4 tension curtain rod. I can thank a fellow 31 Day participant for this trick to containing lids in a messy drawer.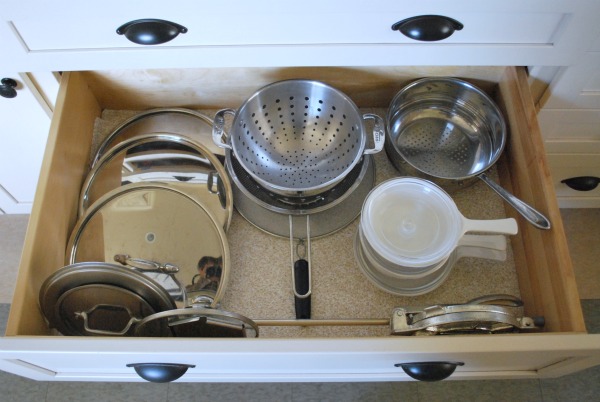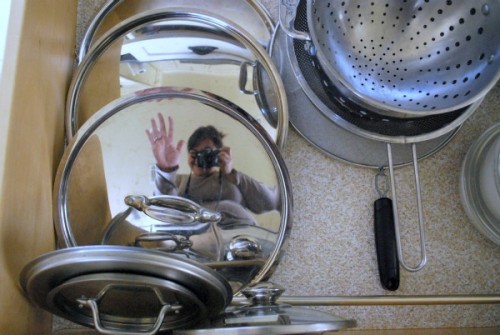 Hello! What's that? You want a side view of awesome?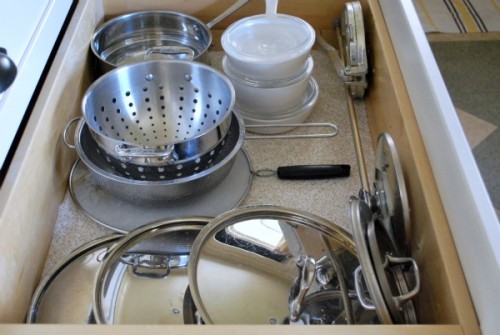 No problem.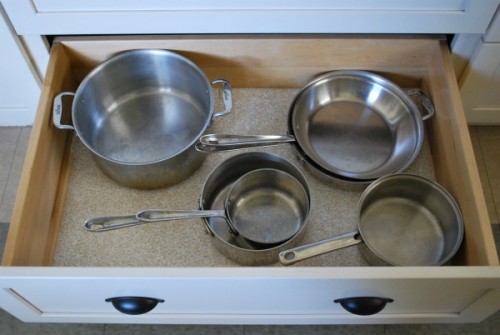 The bottom drawer was easy. I just emptied, cleaned, and papered it before putting back the pots and pans–minus a grill and griddle pan that made their way back in when the Mister came home. Apparently he finds them useful.
I was on such a roll that I revisited yesterday's drawer and gave it the paper treatment, too.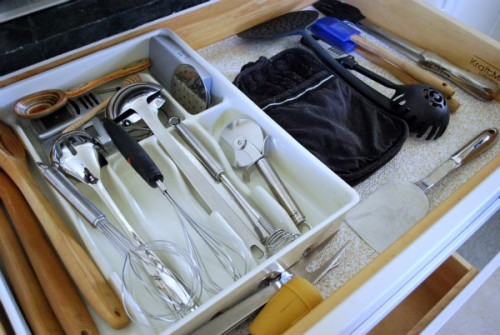 While I was there I put some spatulas in the donate pile to make room for my hot mitts, which I used to pull dinner out of the oven. We had chicken.
New here? For the next 31 days I'm living according to the famous William Morris quote. You can learn more about the project here.