A hasty moving and shifting of stuff has to happen in order to clean the carpets and most of the upholstered furniture in one room. Since my desk is in that room, my normally cluttered desktop leaped over "Don't touch, I know where everything is!" and landed with a rustle of paper smack down in the middle of "Someone needs a psych eval."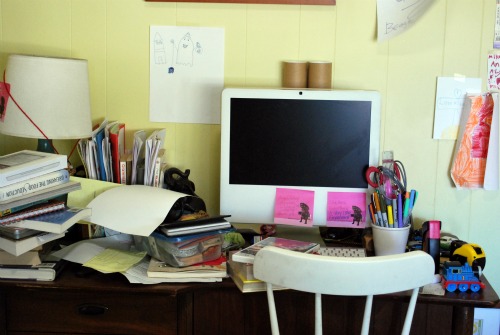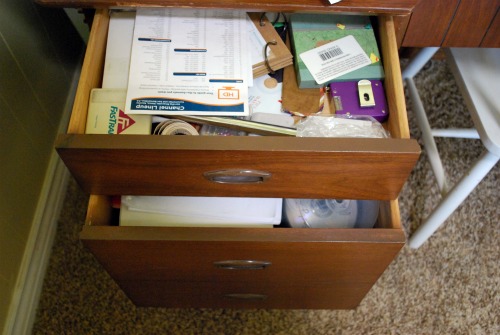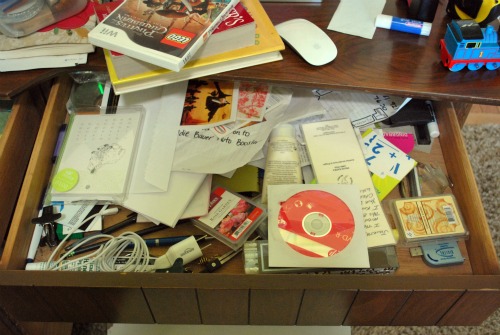 I moved this small, vintage desk into the house about a year ago. Because I did it spur of the moment, I tossed everything from my big lawyer's desk into these much smaller drawers and vowed to tidy it up the following week. One week, fifty seven weeks…isn't the adage better late than never? At least this way the desktop finally matched the drawer interiors. Symmetry!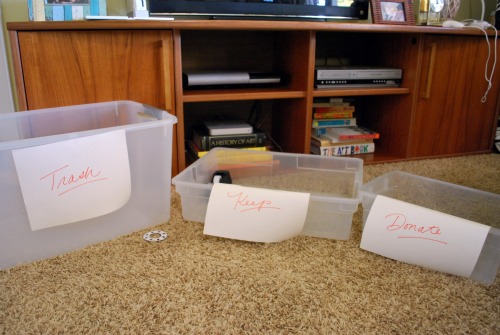 I followed classic decluttering procedure and labelled three sorting bins. As you can see from the sizes, I had an idea of how things would go. Spoiler: I was wrong.
After only ten minutes on the floor I knew my problem wasn't keeping things I don't need. My problem is organizing the items I need to keep. I put it off until I had to rummage through two drawers to look for a pen. A while back I started looking at desks, thinking maybe I needed a bigger one. A bigger one! In my tiny house! Unreal, since all I really needed to do was a little space planning.
My main challenge was finding organizers to fit the shallow desk drawers. I vaguely remember this as a reason why I put off organizing this desk last year, but it turned out to be a weak excuse. This time around, I skipped the office supply stores (I knew from experience everything would be too big) and went straight to the dollar store with the desk drawers in hand. Oh yes, I did. I wanted to make sure I bought the right items in the right quantity. And you know what? Smartest move I've made in a while. I ended up buying a utensil organizer in the kitchen section and two of the ugliest appetizer plates in the party section.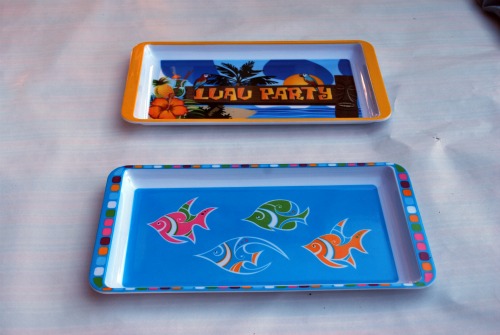 I didn't take a picture of the utensil caddy because I'm only a temporary DIY blogger so I keep forgetting procedure. Also, it's a utensil caddy. You have one.
This next series of pictures will prove how impossibly shallow I am. Since these platters were going inside the desk, there was no reason for me to dig out old cans of primer, paint, stamps, and high gloss sealer, but I did.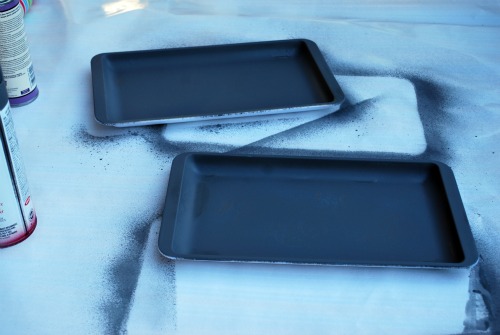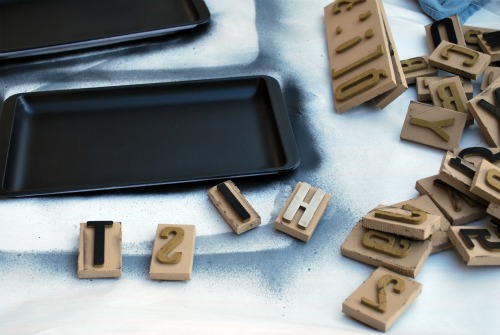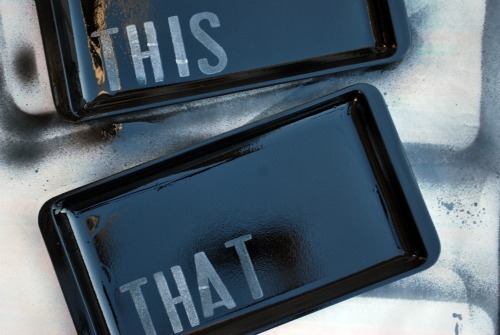 I don't understand the hows or whys of it, but once the gloss dried all those lumps and smears disappeared. Thank goodness, too, because someone with x-ray vision might open my new desk drawers and see through the pads of paper, hand lotion, and calculator. I would be mortified if they saw lumpy trays.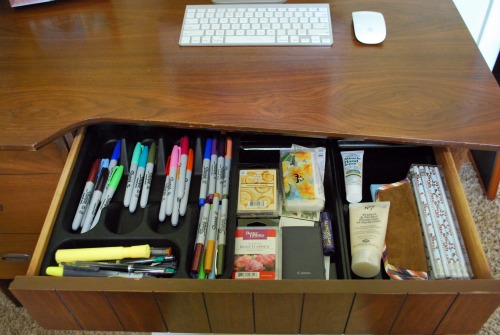 Sharpie much? (Not a word if you follow me on Twitter and were reading last night.)
Here are the other two drawers. I used flocked wrapping paper to line the drawer and hoped the texture would keep my plastic trays (also from the dollar store) and favorite books on grammar from sliding around. It worked perfectly! If it hadn't worked, my back up options were rug grips or heavy felt from the craft store.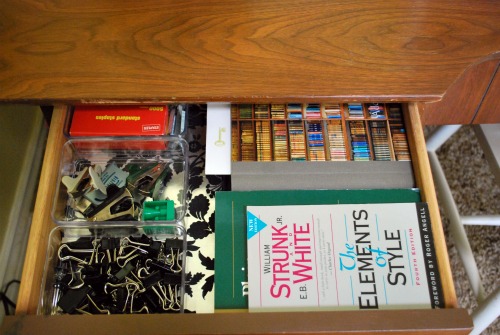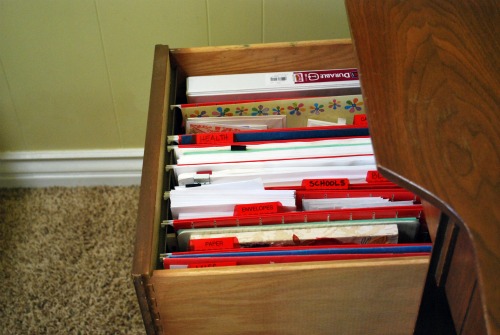 My goal was to have an empty desktop. I've never had one before, but I noticed on pinterest that I loved the look of a clean, flat desk.† I've become so accustomed to having a set of grammar and reference books on my desk that I didn't think it would be possible with such a small desk to store my books out of sight.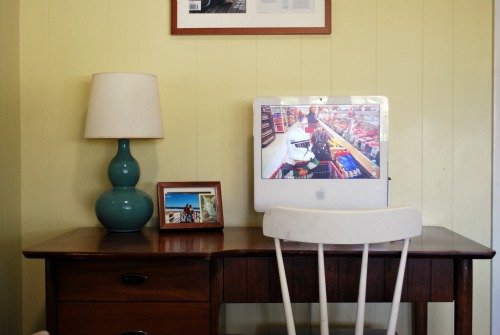 Turns out I was wrong again. I love my empty desktop so much. Unexpected bonus: dusting has never been easier.
New here? For the next 31 days Iím living according to the famous William Morris quote. You can learn more about the project here.