There are projects you can complete with solid satisfaction. You set aside time, work hard, and run a strike through an item on your to-do list. Done.
Day 5 wasn't like that.
Day 5 fell on what would have been my the birthday of my friend's dad. (I don't know if I mentioned this in the past, but he was also a close family friend, my husband's mentor, and the man who saved us from financial ruin by giving my husband a job when he was laid off a couple of years ago.) It's a day we've all been facing with varying degrees of dread for weeks. I and another friend decided to take Helena out to keep her mind occupied, so I wanted to keep Day 5's workload light.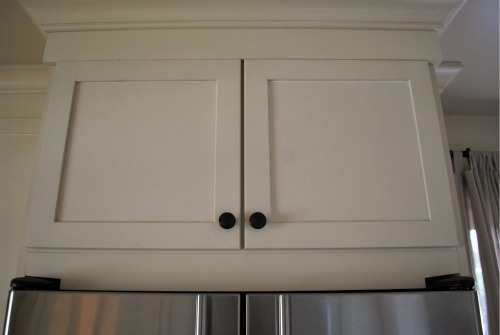 I tackled the cabinet above the refrigerator which, after today, I believe is the bane of organized homes the world over. I wanted a Smeg when we did our kitchen remodel years ago. They were unheard of at the time and ridiculously expensive, even more so than they are now. We ended up with a plain vanilla Jenn-Air and now, seven years later, 32% of pinterest is devoted to pictures of kitchens with Smegs. (The other 68% is evenly divided between pictures of baby animals and s'more recipes.)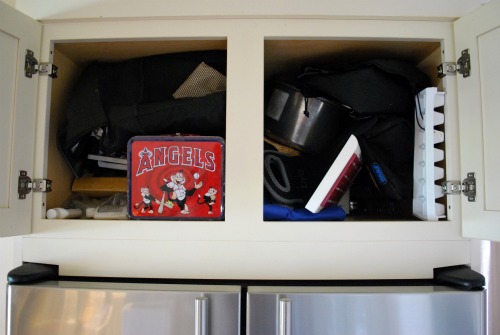 I used to think the love affair with Smeg could be attributed to the winsome color selection or its soft, almost maternal lines. Not anymore. Now I know it's because they are too pretty to put in cabinets and too curvilinear to store more than a plant on top. The Smeg marketing plan centers on the fact they make it nearly impossible for people under 5'4″ to stand on their tip-toes, swing open cabinet doors with the tips of their fingers, and shuck crap they rarely use into the recesses of a deep cabinet.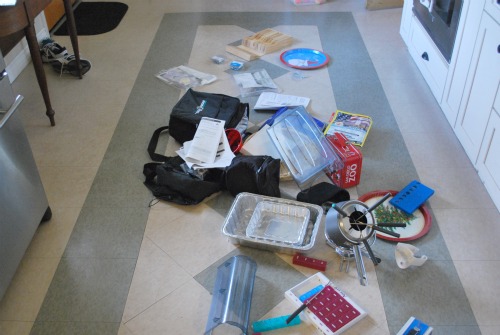 Like a fondue pot. Pill cases. Christmas cookie plates. Disposable platters from a party. Extras you don't use for your clutter enabling refrigerator such as wine hammocks, extra shelves, and egg cradles. I laid it all out and turned my back on it for a few minutes because I knew the best I could do on Day 5 was to put some items in the donation pile. The rest would have to go back into the gollum's cave above my refrigerator until I could empty out all my cabinets and take a proper inventory.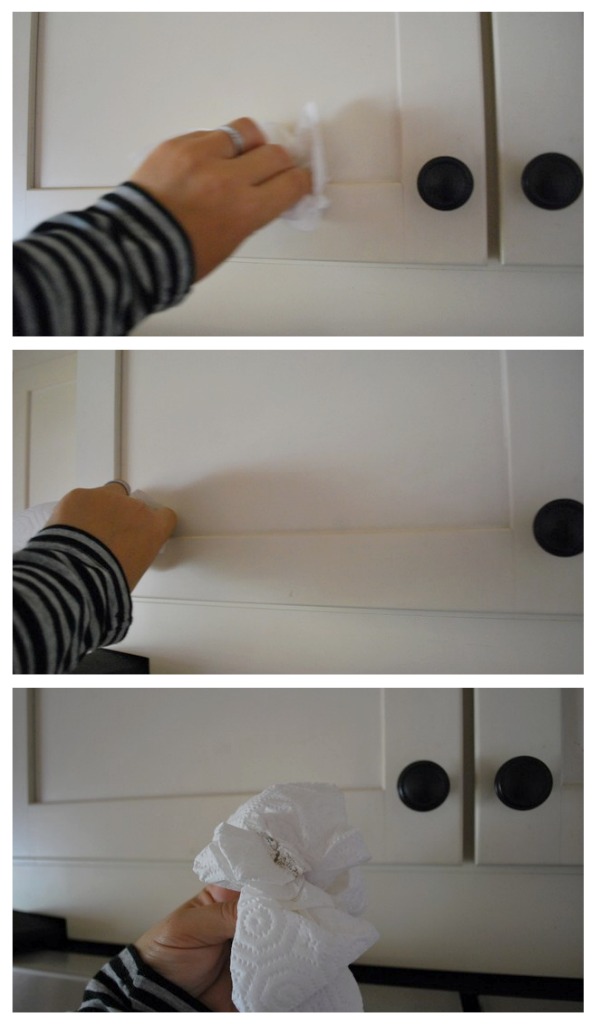 I cleaned the cabinet instead, which I highly recommend you try in your kitchen if you don't do this already. It's oddly satisfying. Kitchen cabinets get disgustingly greasy, especially if your cabinets have shaker rails and stiles like mine do. This is something I normally do every six months, but for some reason I've fallen behind schedule. I did the one cabinet today, but the rest are on my list of things to do this month and that, my friends, will be a happy day for me. You won't believe the difference! In person! It will probably look the same in pictures, so don't sit on the edge of your seats.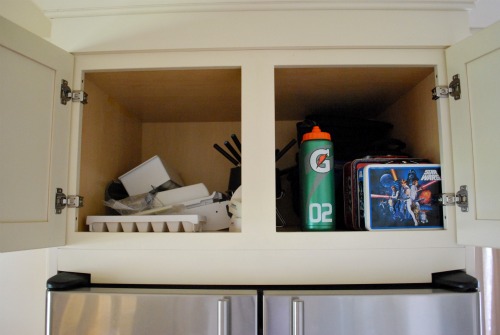 Eventually, I could avoid the inevitable no longer. I tossed and donated what I could. The rest went back into the cabinet. The bags and lunch pails went in neatly, but the refrigerator extras just sort of collapsed into a pile of dejection and lost hope.
I brainstormed what I could store in that cabinet once the kitchen is completely purged and organized. I read about storing alcohol up there, but you have to drink it often and regularly or it will spoil from the heat of the refrigerator. We just aren't big drinkers. I could put a couple of small appliances up there, but they would have to be ones I use infrequently since I will need a step ladder to reach them. I have a spot for cookie sheets and platters already, but maybe that will change once I reorganize the kitchen.
A small part of me harbors a secret hope that once the kitchen is organized, this cabinet will remain empty and proud. Whenever I'm feeling blue about something around the house I'll step up on my ladder, open the doors, call out a hello into the deep and wait for my echo to call back, "Job well done, William's Girl."
New here? For the next 31 days Iím living according to a famous William Morris quote. You can learn more about the project here.