True story: I wasn't allowed to wear makeup until my senior year in high school. That doesn't mean I didn't wear makeup. That just means I showed up barefaced in the 7th grade and then rimmed my eyes in black eyeliner during recess. The insides of my eyes, of course. 70s/80s women, you know what I'm talking about. Then there was one day my sophomore year when I snuck my mom's blush into my Esprit tote and proceeded to put it on compulsively during 3rd period English until my friend leaned over and said, "If you put on any more blush, you're going to look like a street walker."
You would think I went nuts my senior year once I was finally allowed to wear makeup. I didn't. I kept it very simple and stuck with a natural look. I still prefer a natural look. Sometimes I put on eyeshadow, and if I go out I wear mascara even though after two hours my eyes burn like fire, but for the most part, there is no reason for my makeup drawer to look like this.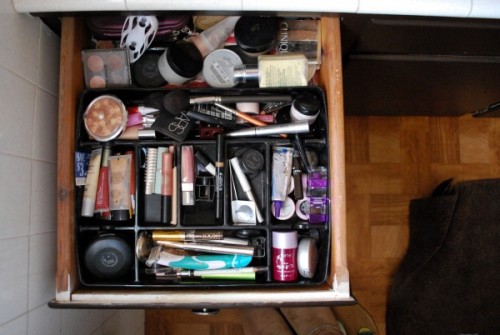 Wait. Let me explain! My makeup drawer is messy and full, but it's not my fault. Eh. The full part is my fault. The messy, not so much. I have a spot for everything and try to maintain order, but I use the boys' bathroom to get ready. There is more room and I like the lighting in there better. With the room and lighting, however, comes Nicholas.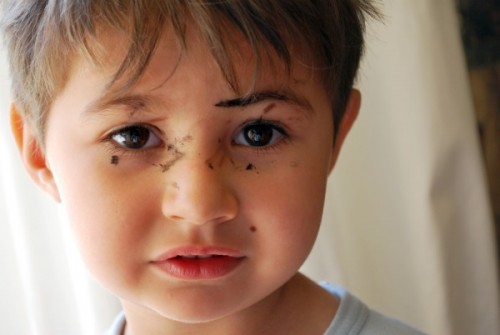 He likes to open and close my makeup, use the eyeliners as weapons for his action figures, and take everything out and then put it back in. One time he decided to try his hand at filling in his brows while I was in the shower. I thought it was funny when I found him, but when I had him look at his face in the mirror, he was scared.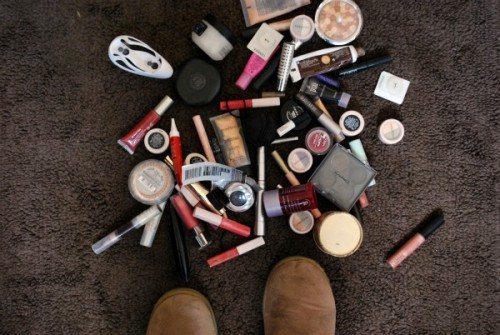 Knowing this, I'm approaching my makeup drawer with some perspective. I purged everything old, everything infrequently used, everything I couldn't live without. I also purged bottles of lotion with two little drops left and many, many, many lip glosses. I can't seem to resist a good plum gloss. Then I cleaned out my makeup organizer and put everything back in the drawer, knowing Nicholas will probably play with the contents for another year or so. Mikey did.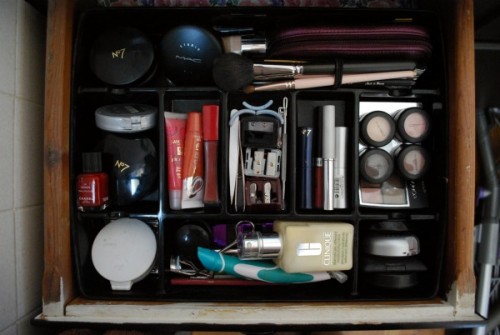 One day I'm going to open my makeup drawer and realize months have gone by without a little boy messing up my system. I will be a little sad. I will also be super stoked.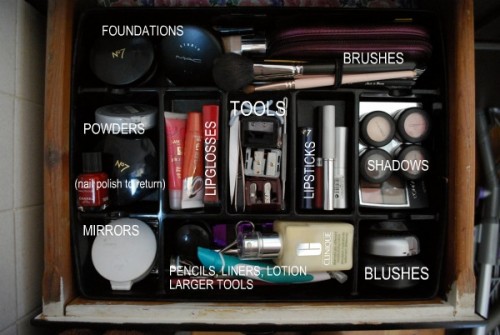 You can click on this picture to enlarge it and see how everything is organized!
New here? For the next 31 days Iím living according to the famous William Morris quote. You can learn more about the project here.