That wasn't an entry closet, it was a damn Pandora's Box. Seeing those rolls of wrapping paper and bags of cheap bows at the bottom of my closet forced me to assess the wrapping paper situation. So I went to the garage and pulled out all those rolls of wrapping paper I talked about in August. The ones that reflect my pre-paper buying technique.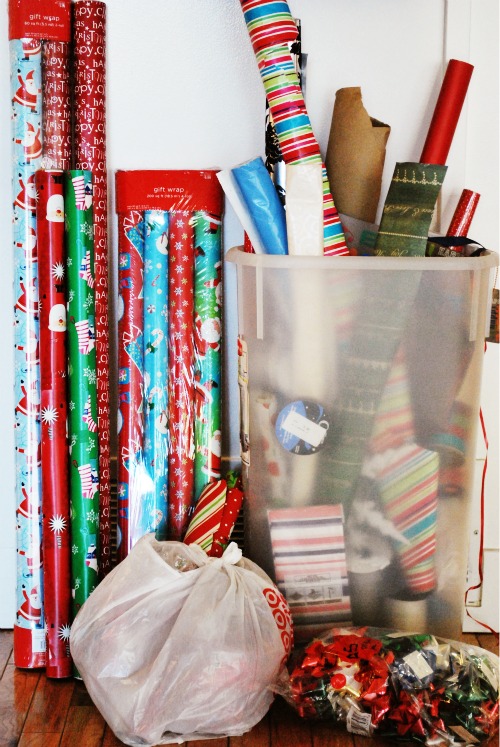 What a mess.
I took everything out and laid it out to take inventory and start purging. Then it hit me.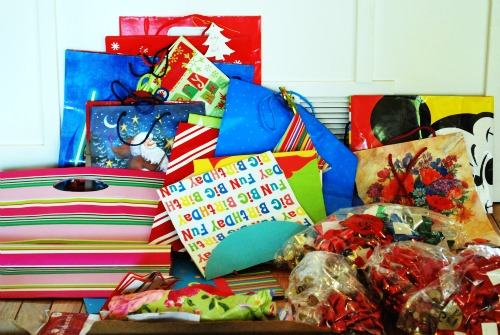 I forgot all the bags in the laundry room.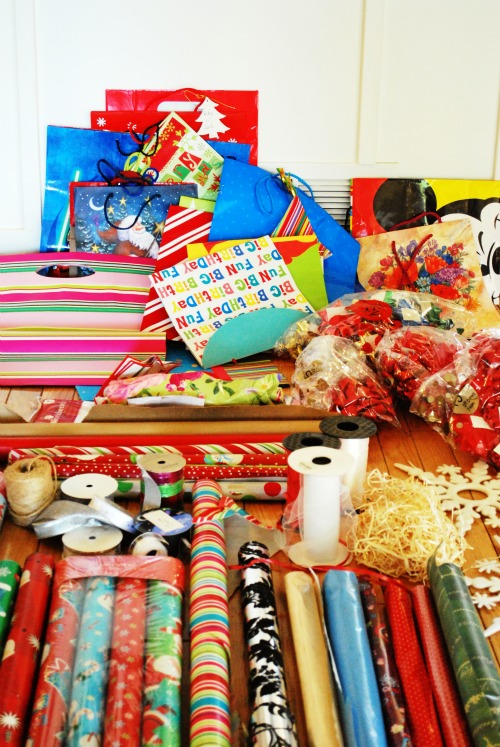 Here is my problem with gift bags. My mom thinks wrapping presents is a waste of time. She likes to use bags. I think gift bags are a waste of money. I can't toss out the bags. The combination of her bag-buying and my bag-keeping has resulted in a perfect storm of clutter where the only winner is Hallmark.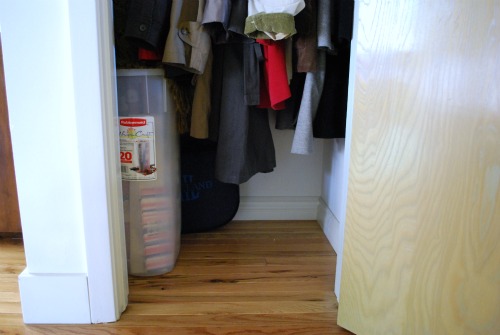 I have great plans for the closet in Nicholas's room. It huge, and Mikey's is twice as large. We've tossed about the idea of putting the boys in the same room. They would love it, and it would free up Nicholas's room for guests. His closet would be perfect to store suitcases, wrapping paper, the sewing machine, and who knows what else. Really, their closets are enormous. Enormous and cluttered. Once I clear those out, I can create a wrapping station. Until then, everything goes into the entry closet.
I purged 50% of the paper and ribbons. Most were crushed or damaged beyond repair. Then I washed out the wrapping paper bin, put the paper inside, and tucked it into the corner of the closet. I haven't decided how I will store the paper long term, but I know it won't be in this bin. I find it to be a cumbersome dust collector that commandeers far too much floorspace. Its days are numbered.
The ribbons, bows, tape, stamps, scissors, tags, and everything else I use to wrap presents went into a basket and at the top of the closet.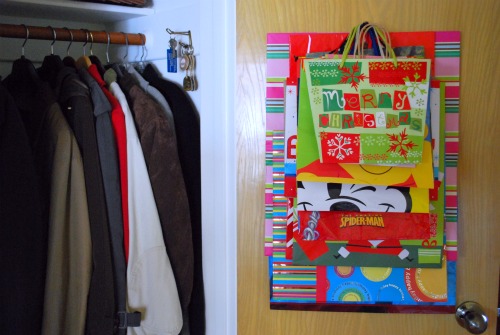 The bags I hung on the closet door interior, but you can bet most of them are going back to my mom. She won't mind. Years ago, maybe in the late 80s, she bought a large gift bag that looked like a man's tuxedo coat and shirt. She never tossed out the bag, it being so fantastic and all. Instead, she reuses it every birthday for our "big" present. It has become a tradition. Small presents come wrapped or in bags. The grand finale gift: tuxedo bag. If you ask my mom why, she'll look at you like you're an idiot, hand you your tattered, faded tuxedo bag and say, "It's a bag that looks like a tuxedo. It's fancy."
New here? For the next 31 days I'm living according to the famous William Morris quote. You can learn more about the project here.