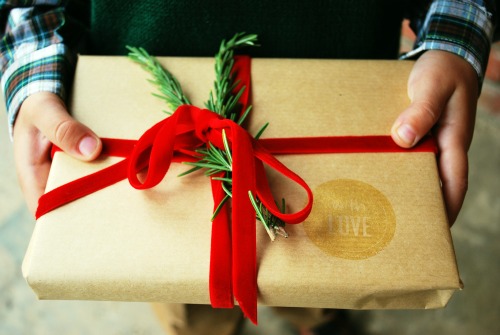 I think it's funny that of all the things in the world I have to decide upon, it's wrapping paper that comes easiest. An idea will come to me and and that is that. No flip-flopping, no weighing pros and cons, just this is what I want and now I need to go find it.
This year couldn't have been any easier. I wanted simple kraft paper I could stamp, a thin velvet ribbon, and sprigs from the organic rosemary bush we brought back with us from our  last trip to the Tuscan countryside. Not really. Forgive me for poking fun; I get a chuckle from some of the things I read online. The rosemary has been here since we moved in and is completely overgrown. Lucky for me, it thrives under steady neglect.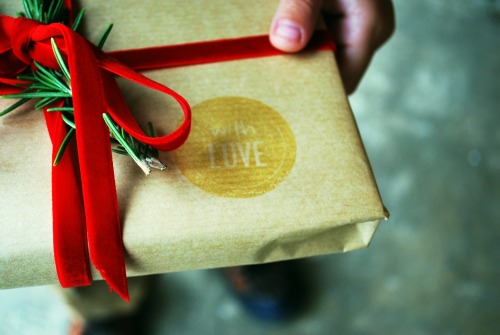 I wanted a thin white velvet ribbon but everything was picked over and gone. I found this red one on clearance at Michael's, and I actually like it better. The stamp was also on clearance at Michael's, but I swear I had a different one  picked out. This is what I found in my bag, and I think it looks great. The ink is a really pretty Galaxy Gold by Tsukineko, which you also find at Michael's. Are you sensing a theme? Clearance rack. Michael's. Get yee there. The ink is discreet and shimmery, not at all the egg yolk you see here. I just fiddled with the color a bit so you could see the lettering.
I once read on a design blog that to keep your wrapping organized, you should create for yourself a "signature wrapping," like a signature perfume or lipstick. Doesn't that sound neat? I always wanted a "signature" something. The idea is to have one wrapping paper pattern or style and ribbon for all occasions. This allows you to buy in bulk and save money, but even what you buy takes very little storage as it is only one roll and a spool or two. I always thought that was a pretty slick idea. I think my signature wrapping will be kraft paper, simple ribbon, and a stamp. The stamp will allow me to mix things up a bit, as will the ribbon. Kraft paper you can buy for pennies in bulk, so it's cost effective, but really I just love the look.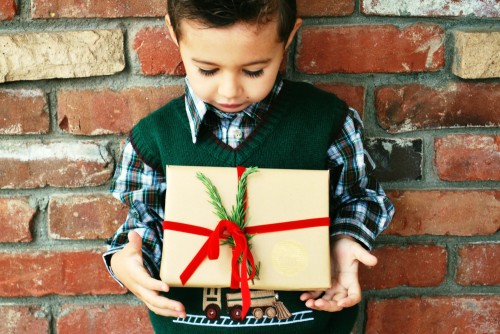 Nicholas's teacher has a son, so I gave her a childhood classic in a snazzy cover. I hope she likes it as much as Nicholas loved giving it to her. You've never seen such excitement! He really got a kick out of it, even though in the picture above he was more focused balancing the book on his belly without dropping it.