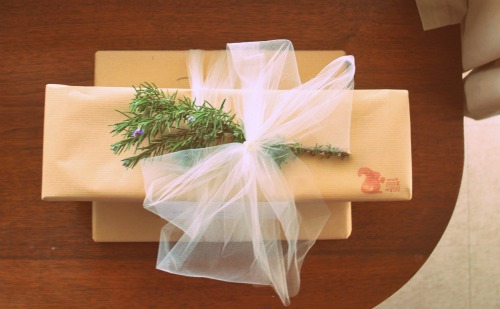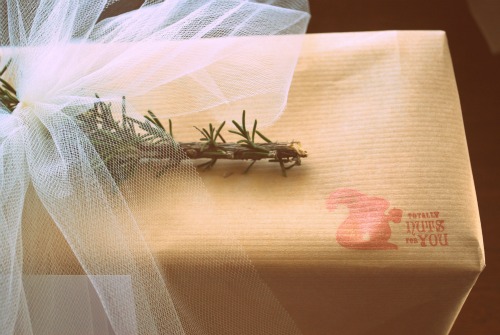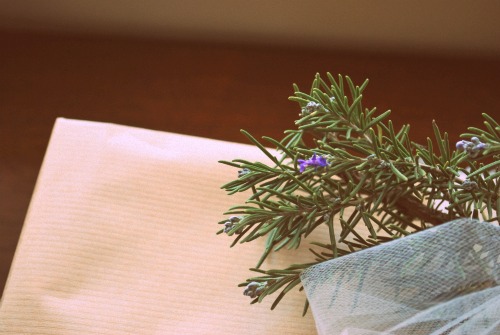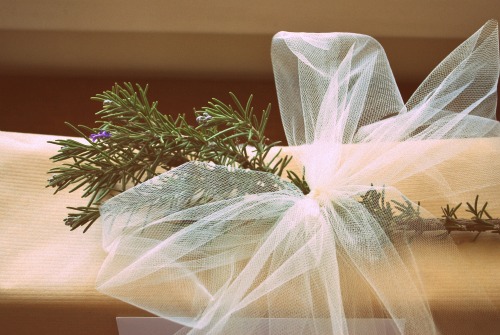 I'm still enamored with the idea of signature wrapping. My ribbon, tape, and do-dad supply, however, is woefully inadequate. I had nasty a cold the week of my niece's 3rd birthday party, so I didn't have time to replenish my stock before then (the party was on a Wednesday). I had enough cream tulle to make what I call butterfly bows and, of course, plenty rosemary in the front yard to tuck in the bow and supply all of the Greek restaurants in Astoria, New York for the next two decades.
To be honest, I suspect I'm the only one who likes my signature wrapping. I think it's a bit too "of the earth" for most of my family. The reception at my niece's birthday party didn't go any better, meaning the other moms remained silent upon beholding its splendor. The rest of the presents my niece unwrapped had bright colors, curly bows, and kiddie paper. Nicholas and I were the only family members in the bunch, and I think I may have come off looking like the austere aunt who spends her time reading literature while her sourdough bread rises.
Wait a minute.
Oh well, I still like it, and it came in handy knowing I didn't have to make a last minute shopping trip while sick. I'm going to stick with it, though I do plan on buying more stamps, pretty ribbons, cute treats to tuck among the bows, and some fun fabric or washi tape. I'm going to blow my savings at Tinted Mint, is what I'm saying.