There are improvements that need to be seen in person in order to be appreciated. This is one of those improvements. It falls into the beautiful side of the William Morris quote and touches again on the fact that you have to take care of your possessions, even though it isn't fun or exciting or even all that noticeable in the short term. In the long run, chores pay off.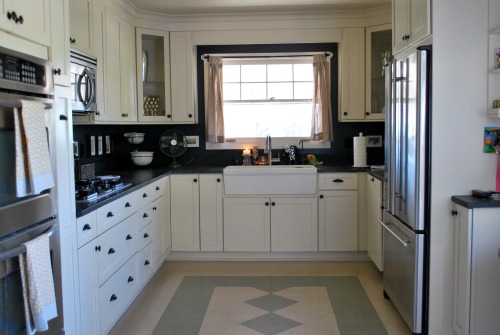 Kitchen cabinets are one of those things you walk by every day, several times a day, and pay scant attention to unless one has chipped paint, a loose door, or maybe a tarantula. Cabinets are easy to benignly neglect. Over time, they look good from afar but are far from good.
You can open the door beneath your sink and grab the dish soap without even looking. That's a problem.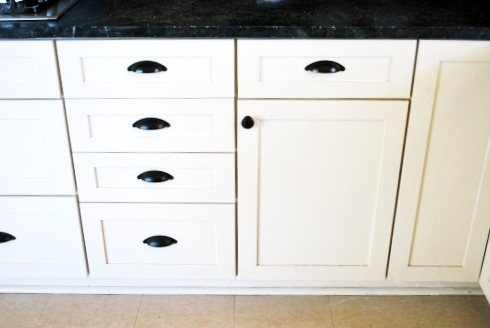 Because doing things with your eyes closed, metaphorically or not, allows you to overlook items that need to be repaired or refreshed. This is why cleaning schedules are important, at least for me. I deep clean my cabinet exteriors every Christmas and then once during the summer. I don't keep a calendar so I go by holidays. And even then I suck. I read online that you should clean your cabinets at least 1-2 per week or every time you cook.
Sure. I'll get right on that.
This past Christmas I didn't clean the cabinets. I was alone for most of it while the Mister was away on business and I was dealing with floods and broken sewer lines. I didn't have it in me. This summer† I didn't clean the cabinets. I was dealing with other things.
I skipped two cleanings and didn't think much of it until I recently dropped a carton of yogurt at 6:00am. I was on my hands and knees scrubbing when I looked up and almost lost consciousness.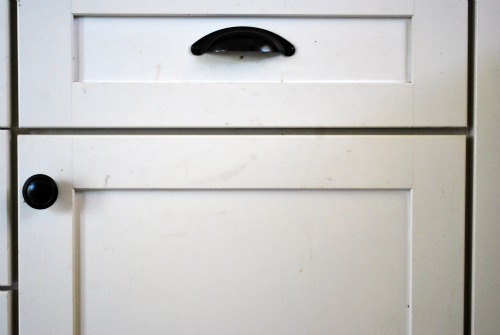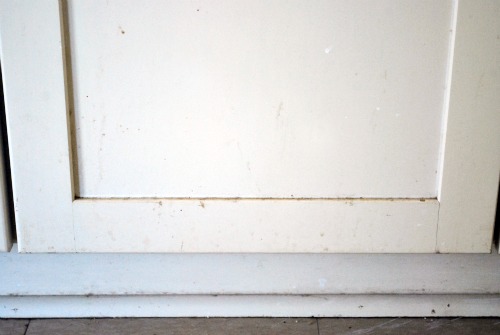 I'm sorry, what? When did that happen? I looked at all the other cabinets in horror. The others were nowhere near as bad–this set of cabinets sit where all the cooking and prep work happens but…still. They all needed a wipe down.
Later that night, in the kitchen after dinner, I mentioned it to the Mister. I think I was still traumatized.
"Our cabinets. So gross. They really need to be deep cleaned. Like, immediately." I acted like I was imparting upon him a great, unknown fact. He just looked at me and said, "Oh, I know. I noticed that a while ago. They're filthy."
For a split second, no, a nanosecond, I was embarrassed. He noticed the cabinets were dirty! And didn't say anything! He must think I am so lazy! or dirty! or negligent! or…wait a minute. He noticed the cabinets were dirty! And didn't say anything! Why the hell not?
So I said, "Why didn't you say anything?"
And he said, "I don't know. I figured you knew or would see it eventually."
Translation: I knew once you saw the cabinets you would not be able to keep yourself from deep cleaning them, most likely while I am at work. Problem solved.
Or, if you are a visual person:
He thinks he knows me so well. Sure, I may have spent the better part of the afternoon cleaning the cabinets today while has was at work.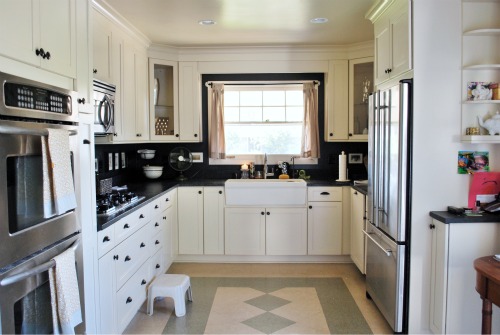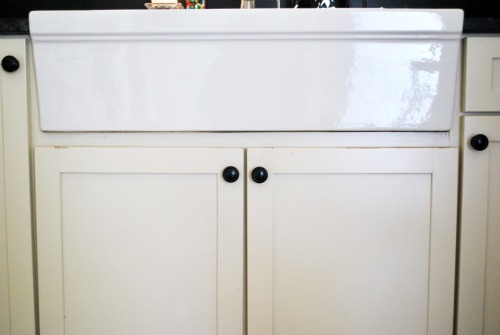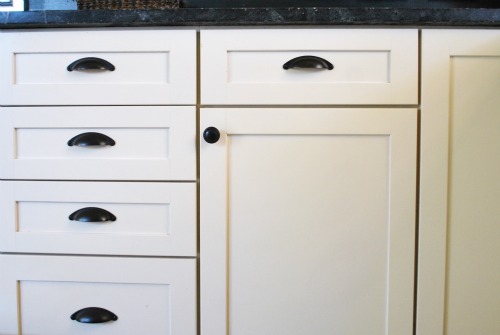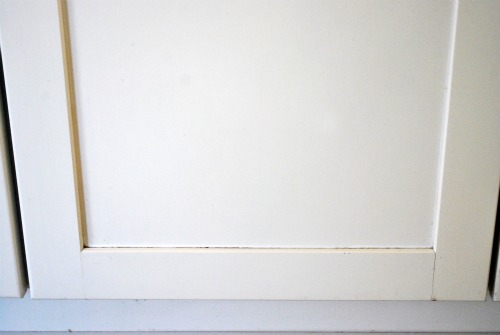 I have news for him. I won't be the one cleaning the cabinets come spring time.* Well, I'll probably be overseeing the cleaning, but that's neither here nor there.
*I'm trying to forget that deep clean 1-2 times per week bit I read. Do you think that's accurate?
UPDATE: He just walked by me on his way to bed and said, "Cabinets look great, honey!" Oh, Cam. I am so on to you.
New here? For the next 31 days Iím living according to the famous William Morris quote. You can learn more about the project here.