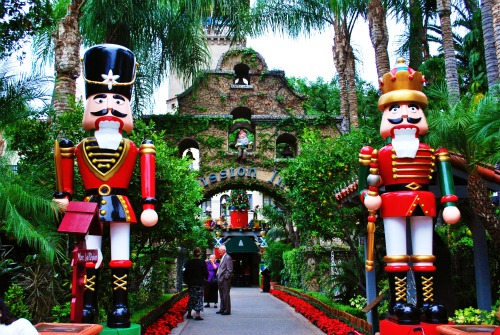 We concluded National Birthday Week with my family at The Mission Inn for brunch. The Mission Inn is a historic hotel in Riverside that dates back to 1876, when Riverside was the wealthiest city per capita in United States. (Like I said, citrus. Lots and lots of citrus.) Tourists flocked from all around in search of warmer weather during those brutal winters I've only heard about, and to make their stay brighter, literally, the hotel developed a reputation for their annual Festival of Lights.
Each year, on the Friday evening following Thanksgiving, the 3.5 million lights that decorate the hotel for the holidays turn on at the conclusion of a Times Square count down. I've never been, but I hope to one day. Somewhere in the neighborhood of 50,000 people show up to see the lights turn on, so I would have an easier time convincing The Mister to cut his pinkie off with a butter knife than to brave a large crowd with two small children. The thought that we could lose them in such a large crowd puts him on edge. Maybe when they are older, who knows.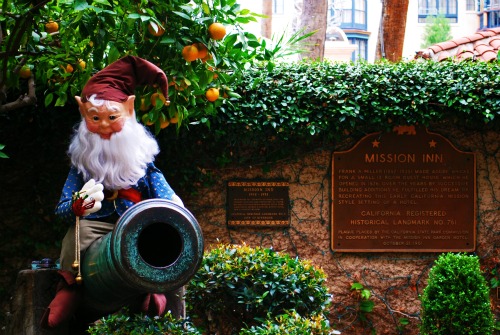 But brunch! That's safe! So we went, and while I was there I remembered what I liked so much about one of the many historic landmarks you'll find in the Inland Empire. Between the avocados an hour earlier and dining al fresco surrounded by mission revival style architecture, it was a swift and effective reminder that I take where I live for granted.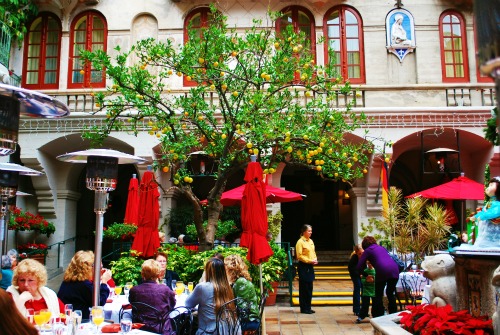 A word about the Inland Empire. Southern California is often mocked for its dearth of culture and refinement. We lack seasons. Our residents are shallow and flighty. We are often the butt of jokes and, hell, even northern California wants nothing to do with us. Well, if southern California is the crazy aunt everyone expects to liven up Thanksgiving, the Inland Empire is the cousin known for his mullet and ample supply of weed. We get no love from our own people. There is a perception that we are wretchedly uncool hicks trapped in a collection of one horse towns. It's a perception held by some of our own residents, past and current, and it's one I hope to change this January by blogging regularly, in a new section of the blog I have yet to develop, about life in southern Califonia in general and the Inland Empire specifically.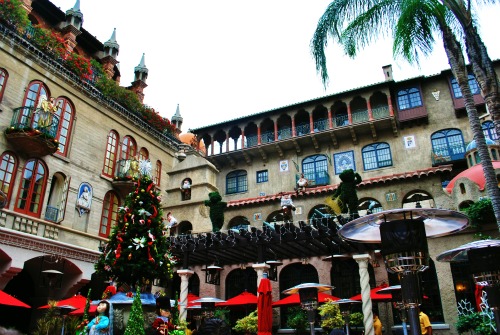 I'm doing this for two reasons. One, I love where I live. I don't know of anywhere else in the country where can you visit the mountains, the desert, the beach, and the opera in an hour. Two, no matter where you live, you should always hold it dear and appreciate the unique opportunities it presents you. I can't imagine a better way to do that than by visiting every nook and cranny of my side of California. I did a quick search on things to do in my area, and I  haven't visited 99.9% of the locales mentioned. Shameful, don't you think?
How about you? Do you live somewhere cultured and refined, or does your town get no respect? (Funny enough, the one horse town in which I live is larger in population than most cities across the United States.)
p.s.  You know what else I did to conclude National Birthday Week? I picked a winner for the look book giveaway using Random.org. You can see if you are the winner by visiting the original post.