This weekend was so full of activity, I am breaking it down into installments. It was a good weekend, the kind I want to remember.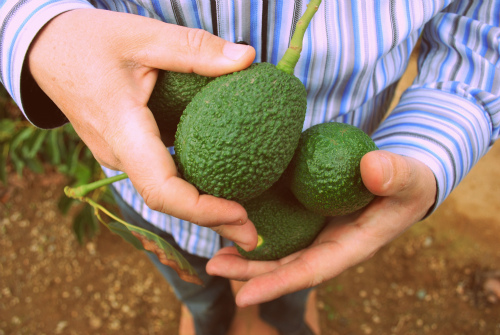 My parents house is one of the very best things about living in the Inland Empire. Thirty years ago, before planned communities and McMansions, you could buy a home with land that goes on for days. That's exactly what my parents did. When we first moved in, the house had well over 200 orange trees, which is typical for this region of southern California. Citrus is what the Inland Empire was known for back in the 1800s. My parents removed the trees after a few short years. As intoxicating as the smell of orange blossoms was during the summer, the cost to water that many trees was prohibitive, to say nothing of the waste come picking season. You can't give away oranges in the Inland Empire. I always chuckle when I hear of people who get oranges in their stockings during Christmas and consider it a treat. Call me; I'll send you a crate.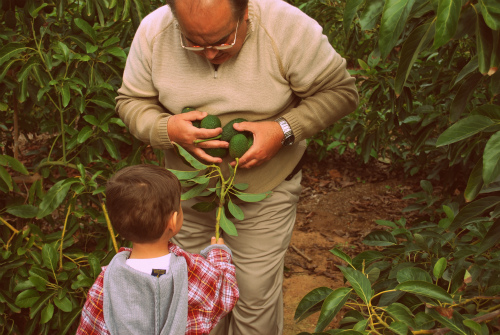 For years the two acres sat empty, just dirt and a ramshackle playhouse from our youth. As it turned out, the cost to landscape that much land made the cost of maintaining orange trees look thrifty. It wasn't until about 7 years ago that my mom looked into planting trees again–and verified that watering said trees wouldn't put her on the street. Slowly, with time, over 200 avocado trees found their way onto the property. We took advantage of the trees and the beauty this weekend with a series of family pictures. Some of us, some of my parents, some of my brother and his wife and baby.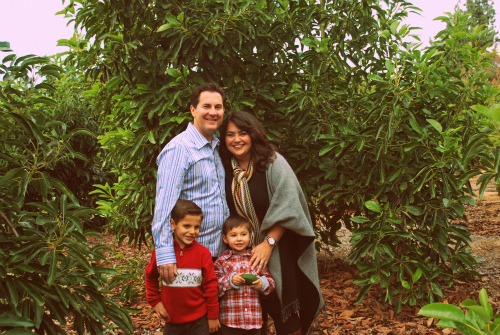 Avocado trees take 8 years to bear fruit, and during that time they grow fat and wide like children under a grandmother's care. The boys like to dart in and around the trees with swords made from fallen branches. I like to sit at the top of the stairs and survey the grove for short stories. I'm positive that if I imagine hard enough, I can pluck one from the trees like a fresh fruit.