Hello! Please click on the image below if you would like to learn more about The William Morris Project. Thank you for visiting!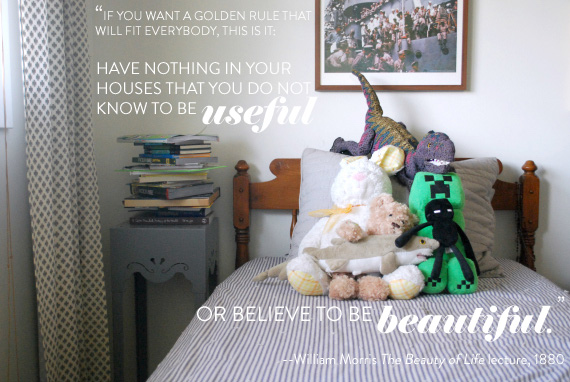 I've talked about our linen closet a lot over the years. It's tall, deep, and the linens are never organized because I can't reach the shelves on which they sit. I'm short. Real short.
I've cleaned it out at least twice and changed the handles.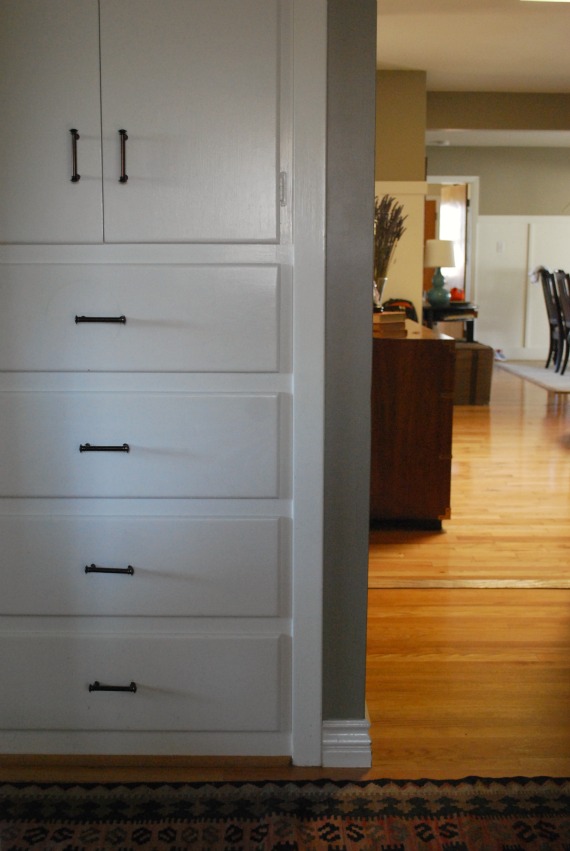 At least it looks good from the outside. The inside, not so much.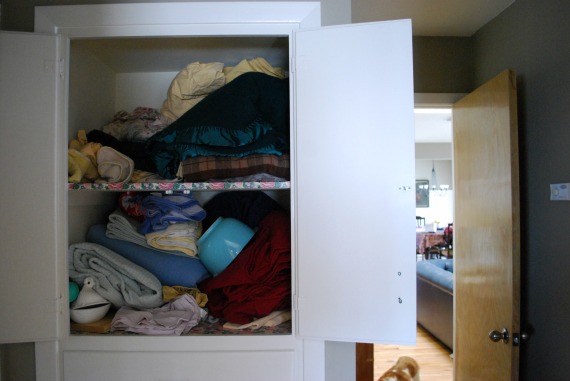 The drawers are fine, much like I left them last time. The top shelves where I store the linens, though, are ridiculous. Yes, that bowl is there on purpose. Nico is, sadly, a thrower-upper. It's best to keep a bowl as close to his room as possible. Anyway, the other day as I was jumping up to slam dunk some sheets on the top shelf, I realized I don't need to use the linen closet the way the home builder planned. I live here, not him. (And it was a him. I know this because of some records an historian friend of mine found.)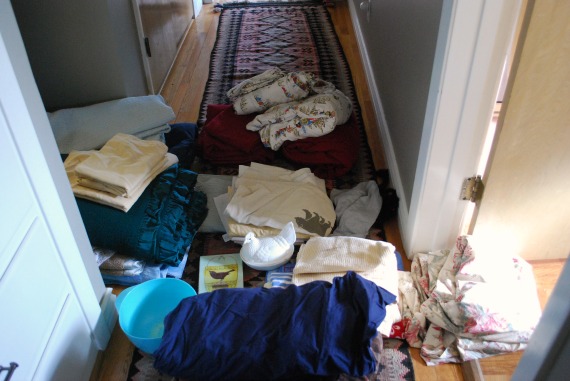 I took everything out off the shelves and looked for items to donate. I didn't find anything, so at least I can say I've done a good job sticking to what we need. I did the same thing with the drawers and found one or two items. The real problem is that my picture drawer has now extended to two drawers. I'm doing something about that soon.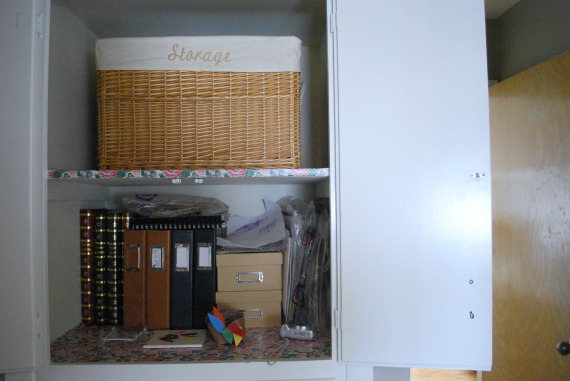 After years of complaining I finally moved our linens into the drawers, which I can reach, and placed the less used items on the shelves. So obvious, so brainless, so unbelievable that it took me 8 years to figure this out.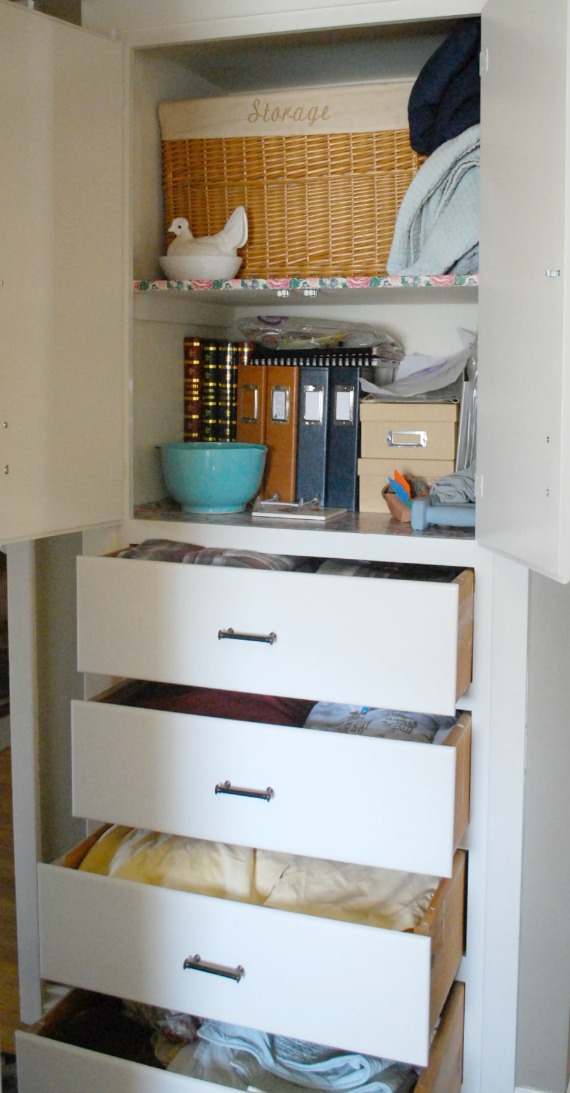 The closet is difficult to photograph, but you get the idea. It's a closet.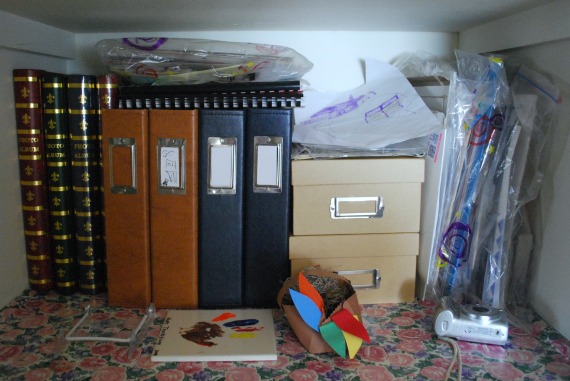 The pictures. This is the year I get them organized and in albums. I'm committing to it here and now. The first thing I need to do is sort, purge, and create adequate "waiting for an album" storage. The plastic bags and paper envelopes are out. Next, I need to pick a "scrapbooking" style that doesn't make me want to hurl. Or take much time or equipment since both would go against The William Morris Project. I'm looking at Project Life. No glue, no cutting, no mess. Not that Project Life can't be messy–to my eyes, since beauty is in the eye of the beholder. I've seen some pages that have so many stickers, cut outs, tags, twine, and dangling things that you don't even notice the picture. I have friends who scrapbook like that and that's fine. It's great that we don't have the same taste because we learn from each other. I prefer a simple layout with an emphasis on the picture. In fact, the only reason I don't continue with my "slip pictures into a 4×6 album" technique I started last fall is because Project Life (and various other companies) solve the instagram 4×4 problem I had.
I would love to share a layout every week! So love it! I thought about doing just that, but I'll be starting from scratch. I have no idea how I would be able to afford to work on Project Life weekly without product on hand. I foresee doing a lot of organizing and prep work while I slowly building up my supply of layout pages. Until then, I'll be adding pins to my new Project Life pinterest board and finding bloggers and designer who share my aesthetic. Here are the blogs I recently started following:
Paislee Press | Pink Ronnie | this and that | Tracey Larsen Blog
Please recommend more blogs, sites, boards, products–especially for photo storage, money saving tips, etc. I'm a total rookie and have no idea what I'm doing!
Edit: Some recommendations for digital Project Life/albums, which makes sense because you don't have to store supplies, you can reorder books in case of loss, and they don't take up a lot of room. My concern is that I will create all these fancy folders on my desktop full of pictures to publish into a book…and it will never happen. It takes up so little space that I have no motivation to do anything! Thoughts? Which format do you prefer, and why?