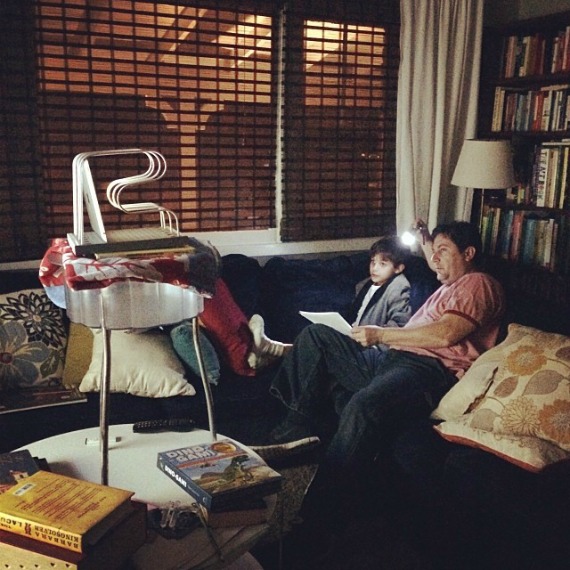 The Mission Report is sort of done!! For the record, I don't recommend anyone do a Minecraft mission project. Mikey disagrees with me, though now that he's finished(ish), he admits there is a lot he would do differently. It was, for Mikey at least, an enormous amount of work. He never complained, but watching him work for hours and hours when we could have put together a $12 Mission Kit from JoAnn's or Michaels in a quarter of that time was frustrating. On top of this, he's been sick for the last week and couldn't narrate his own video without a coughing fit. I had to do it in the end, not knowing what I was talking about and completely butchering the pronunciation of everything, I'm sure. Not a big deal, but this might be played at Open House. I'm not excited.
I say the mission report is sort of done because our first cut with a camera wouldn't import into the computer. We had to think on our feet (it was Oh Crap! o'clock by that point) and this is how we set up what is possibly the most ridiculous production ever known to cinema. See above picture. My iPad nestled in my pyrex dish organizer, on a book, then a towel, balanced precariously on my old plant stand, which is on top of our coffee table. The Mister was holding the flashlight so Mikey could read his notes while he simultaneously directed the video by making "Steve" fly around the property. This was before the coughing fits. Just imagine the Mister holding that flashlight over my shoulder for the final cut.
Once we did that we had to figure out what to do with the video. I tried uploading it to Vimeo, but so far nothing. It might be too big? No clue. In a panic, I downloaded an app (Magisto), picked a song from my library, and let the app do its thing. It took our 7:51 minutes of video and condensed it to 2:00 minutes of Tarantino meets Fellini. Really not excited.
Mikey is, and that's what makes me happy. This project was his idea, he built everything, researched floor plans and aerial views of the property, read countless books (only one cover to cover, and it was very short), searched the internet for images, and even finished his written report a week ahead of schedule. He worked so hard.
Below is the video I emailed his teacher 15 minutes ago, just so he had something to turn in on the due date. Hopefully by Sunday he'll be able to talk and narrate the original video we took, which the Mister just told me finally imported. We are so not tech people.
EDIT TO ADD: Mikey admitted to me this morning that he is disappointed he can't turn in the longer version of the video. He also admitted that it bothers him that it's my voice reading his words. He's convinced everyone is going to think I did the project. (Sweetheart, no adult in their right mind is going to think a parent spent 37 hours in Minecraft building a mission.) I told him I understood, and that I would see if his teacher would allow him to narrate the longer video over the weekend once he can talk. I did warn him that this Mikey Narrated video would not go towards his grade, and what I emailed last night was it. Now we're both really not excited! Haha. (What you see below is what we turned in.)