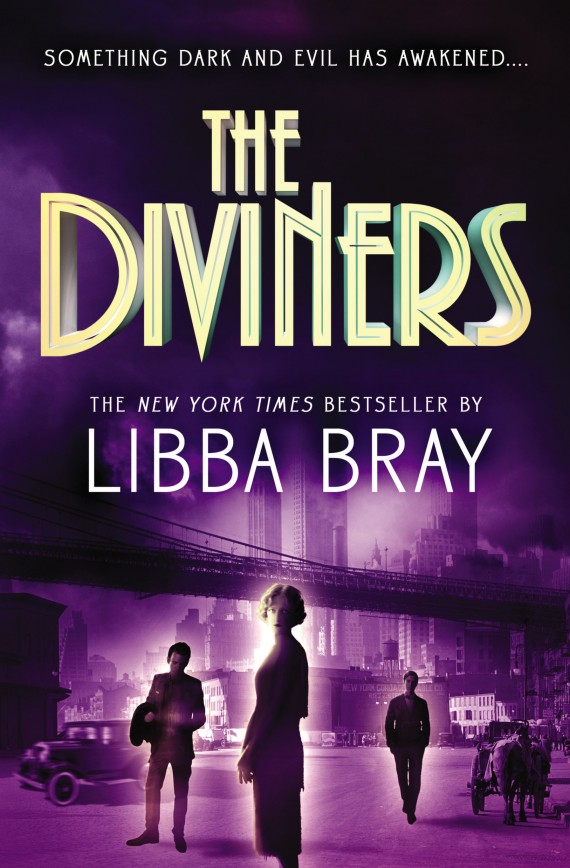 This post was supposed to be a review of The Diviners by Libba Bray, but my migraine over the Thanksgiving holiday cheated me out of 5 days of reading. I did watch a lot of Being Human, Doctor Who, and the back of my eyelids, so not all was lost. I'm about halfway through, though, and so far I really like it. It's dark, which seems to be what I'm drawn to these days. However, had I played the trailer, which I just watched after inserting the code into this post, I would have run screaming into a pool of holy water.
The book is spooky, but so far it's not that spooky.
I was offered a copy–no review was necessary for this post–and I took it thinking I could read it and turn around and donate it to the library. To quote Evie, the main character, that is posi-tute-ly not going to happen. The Diviners falls firmly in the 14+ camp, at least for someone who volunteers at a Catholic K-8 school. I've seen kids at school read books that are just as mature, but they bring them from home. There is no way I could get my principal to approve a book about a serial killer, the occult, and the 17 year old speakeasy-hopping teens that chase him.
Evie O'Neill has been exiled from her boring old hometown and shipped off to the bustling streets of New York City—and she is pos-i-tute-ly ecstatic. It's 1926, and New York is filled with speakeasies, Ziegfeld girls, and rakish pickpockets. The only catch is that she has to live with her uncle Will and his unhealthy obsession with the occult.

Evie worries he'll discover her darkest secret: a supernatural power that has only brought her trouble so far. But when the police find a murdered girl branded with a cryptic symbol and Will is called to the scene, Evie realizes her gift could help catch a serial killer.

As Evie jumps headlong into a dance with a murderer, other stories unfold in the city that never sleeps. A young man named Memphis is caught between two worlds. A chorus girl named Theta is running from her past. A student named Jericho hides a shocking secret. And unknown to all, something dark and evil has awakened.
Libba Bray is an excellent writer, and she so far she hasn't disappointed with The Diviners. I know some of you disliked Going Bovine, and I'm curious to know if you've read The Diviners and enjoyed it. There are so, so, so many young adult paranormal stories out there, and it's refreshing to read one that I, an adult, find myself enjoying. It's smart young adult fiction. Libba Bray and her contemporaries prove young adult literature exists and it's not all candy floss and soda. The trick is to hold out for the good stuff.
Kind of like this giveaway, which is for one book and one tote bag. The book and tote bag aren't what makes the giveaway great–I mean, yes, they're great and you should enter and tell all your friends!–but much like young adult books, it pays to hold out for the good stuff. I try to limit the giveaways and sponsored posts on the blog. I turn down quite a bit, even for books, because (1) this isn't my livelihood and (2) giveaway posts can be really dull, especially when the blogger hasn't finished the book and doesn't have a story to share.
Luckily, I have a story to share. Last week I was offered product and payment for a post on something I thought my boys would like because it's an interest they recently acquired. My discussion with the company was going well until they said they could not proceed unless I agreed I wouldn't disclose the post was sponsored and that I received free product. Long story short: I said NO.
They didn't care. They were confident someone else would do it; maybe they're right. After blogging for 6 years (this blog turned 6 on Saturday!) my only piece of advice to anyone starting out is this: don't sell out. Blog in a way that aligns with your principles. Don't let a big company or a fancy publicist manipulate you into thinking that if you don't take this deal right! now! you will never become a blogging sensation, because giveaway or no giveaway, the odds of you becoming a blogging sensation are very, very slim.
There are very few Evie O'Neils in this world, and there are even fewer successful full time bloggers. If you're destined to be one of them, it's better to get there on your own terms. I'm not destined to be a successful full time blogger and knowing that makes blogging a lot more fun.
Wait for the good stuff. Giveaway the good stuff. Read the good stuff. Or be like me and try to do those three things as often as you can, with a little fluffy brain reading tossed in to cleanse the palate. (A lot of fluffy brain reading. Ahem. No one's perfect.)
SHOW OFF YOUR LOVE FOR THE DIVINERS!
One (1) winner receives:
An exclusive The Diviners tote bag & a copy of the book!
Prizing courtesy of Little, Brown
Giveaway open to anyone 18 years of age and older with a current mailing address
One comment per person on this post
Giveaway closes Friday, December 13, 2013
Good luck!