I did it! I made the garland and then I made another one. I made two garlands for $6 each using supplies from the 99¢ Only Store. They have ornaments and lights. They are not heirlooms Christmas decorations. They are going up in the library. They are bright and colorful, more bright and colorful than I would ever pick for my own home, but I designed them to match donated decorations that don't really…match. We have traditional decorations, modern decorations, kid decorations, adult decorations. You know, donated decorations. These garlands pull in almost all the colors I'll have going on. (Wowza!)
A few of you asked for a tutorial on Facebook, so here you go. I'm not a tutorial person, so I'll share what I did and if you have questions, feel free to ask in the comments. I'll be decorating in the library today, so I may not be as prompt as I normally am, but I will answer any questions I can when I get home. If you want to see how the garlands look in place, follow me on Instagram. I'm @theMrsKendall.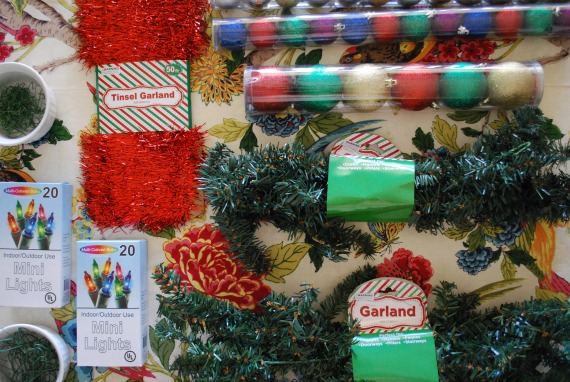 Here is everything you need. Some items, like the tinsel and lights, are optional.
For one 6′ garland (approximate) you will need:
Two 6′ garlands
One pack of large ornaments
Two packs of small ornaments
One pack of tinsel (you will have soooo much leftover)
Two packs of mini lights
Small ornament wires (or twist ties, twine, floral wire, etc.)
Large ornament wires (or twist ties, twine, floral wire, etc.)
I already had the ornament wires, which is why my garlands came out to $6 each. If you don't, you'll be paying $8 per garland.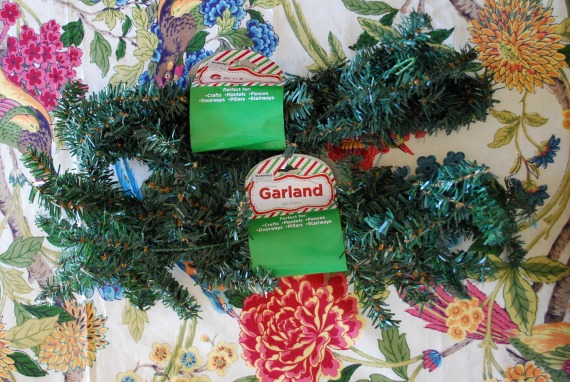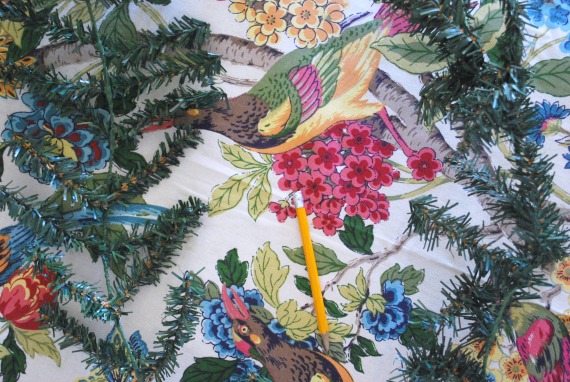 You'll need two 6′ garlands because the garlands are so thin and cheap that you'll be doubling them up. The pencil is there for scale. The garland on the left is open while the one on the right is right out of the package. Don't be alarmed. It will look like a Charlie Brown Christmas Garland.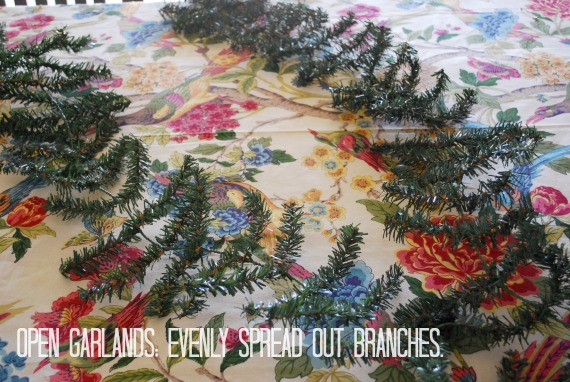 Open and smooth out both garlands. Spread their cheap, flimsy little branches out. They will look like something that should go in a goldfish tank.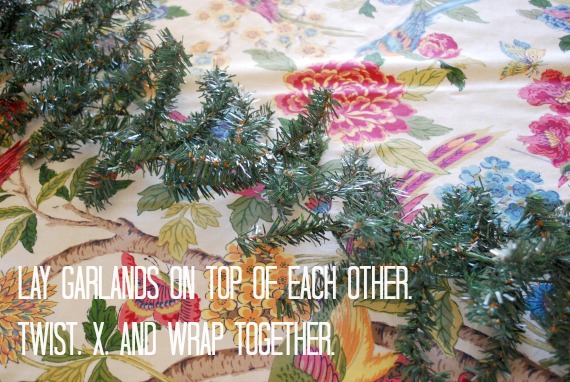 Stack your garlands. You could do more than two, I suppose, but I think at that point you should march yourself to a craft store and let go of the under $10 lighted garland dream.
The instructions get a little tricky here. Basically, you're attaching the garlands. You do that in three ways. You twist them together; you take a bottom garland branch and cross it with a top garland branch and make an X. (Like a twist, but you're twisting branches, not the garlands.); you wrap the branches around the garland stem front to back and front again. You can do one, two, or all three. I did all three because I wanted the garland to look as natural as possible (hah!) and I think I did that by avoiding a construction pattern.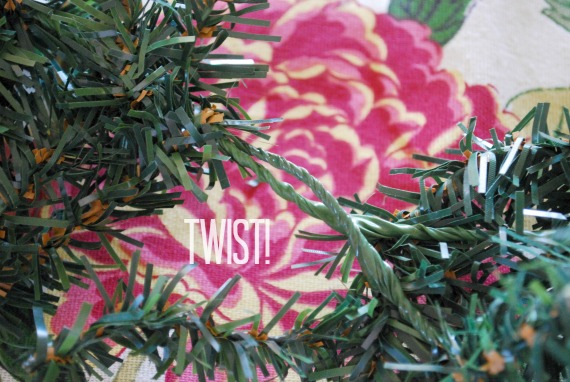 The twist is self explanatory.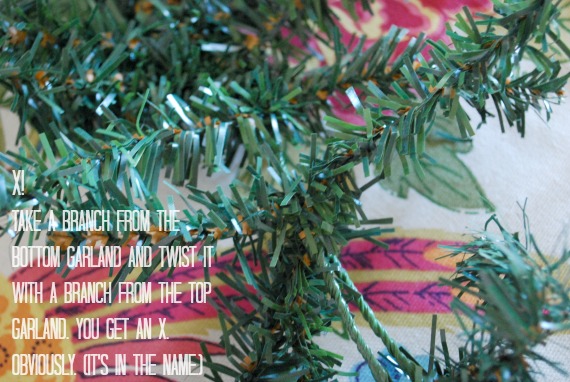 The X is similar to the twist, but instead of twisting the stem (see above picture) I joined the garland by twisting the branches. You can see in the picture that the garlands aren't attached.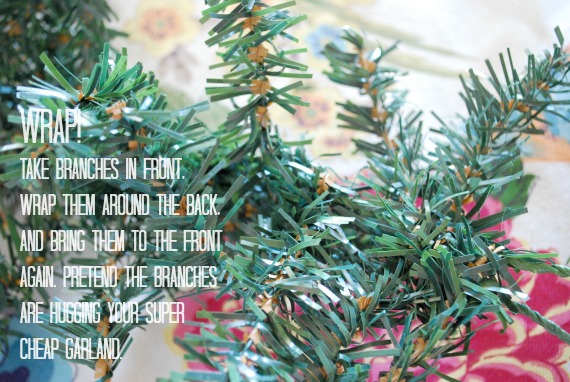 The Wrap is impossible to explain and even more impossible to photograph. Here goes nothing. Take the branches from the top garland and wrap then around the bottom garland, bringing them back up to the top. Do the opposite with the bottom branches. The branches are hugging the stem, in other words.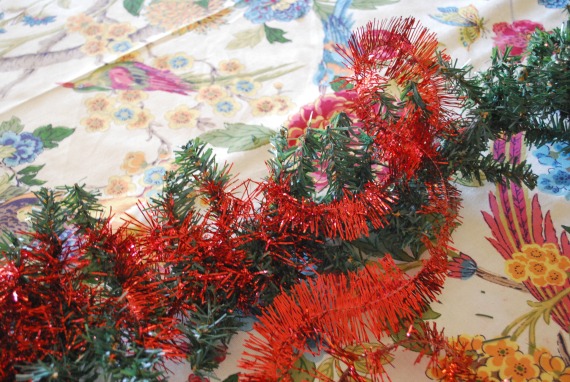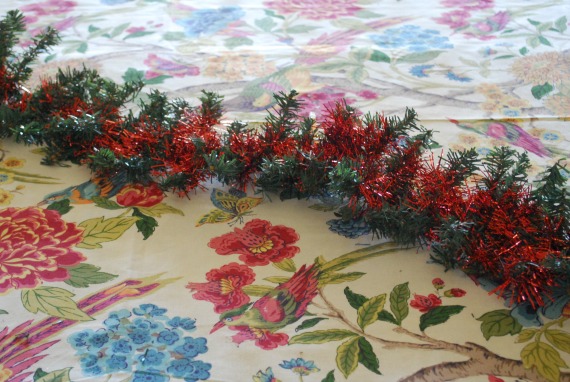 I bought the tinsel garland because I thought it would be the fat, feather boa tinsel garland of my youth and could add girth to my garland. I didn't realize it would be as thick as dental floss. I almost didn't use it, but I gave it a shot. I'm not sure it's necessary, but in this case, where I wanted lots of color, it works. This is definitely an optional supply.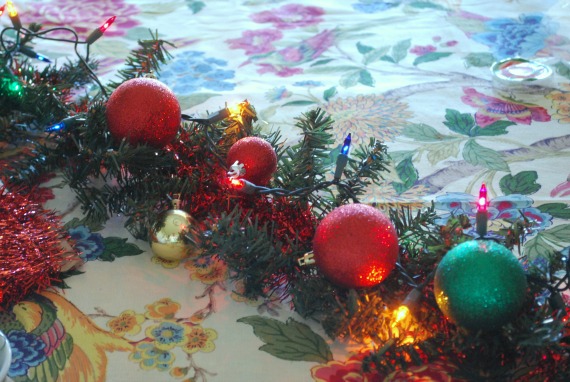 I can say the same thing about the mini lights. The ornaments in this picture aren't in place. They are there to show you how they look with the lights. In my head, I was imagining colored lights like you find at craft stores: distinct, with a soft glow. These are bright and indistinct. Is it yellow? Blue? Red? It's all a blur. Also, there is only an outlet on one side, so you can't connect several mini lights together. You have to plan carefully your placement and how you will ultimately install your garland.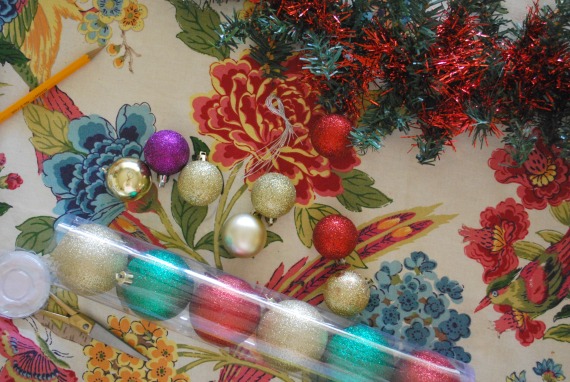 Time for ornaments! My only plan was to avoid any suggestion of a pattern. I wanted it to look random, but not chaotic. Sort of hard when you're working with 234 colors, but I tried. I started in the middle with three ornaments threaded together with a large ornament wire.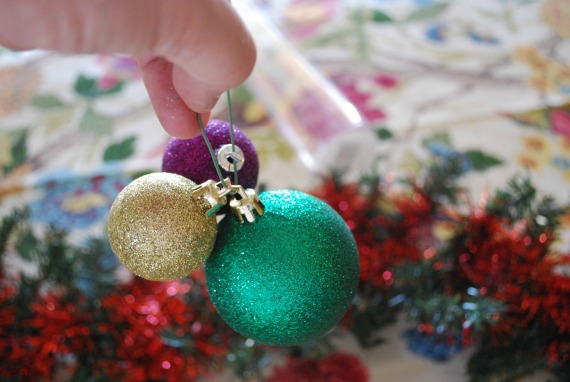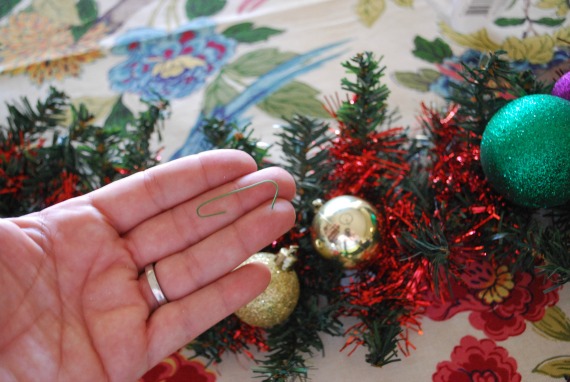 I worked out from there, using small ornament wires for small ornaments. Attaching the ornaments to the garlands was straightforward. I bent the wire and wrapped them around the garland, taking care not to poke or cut the mini lights.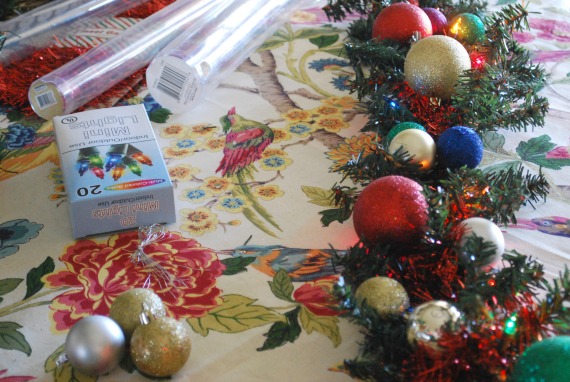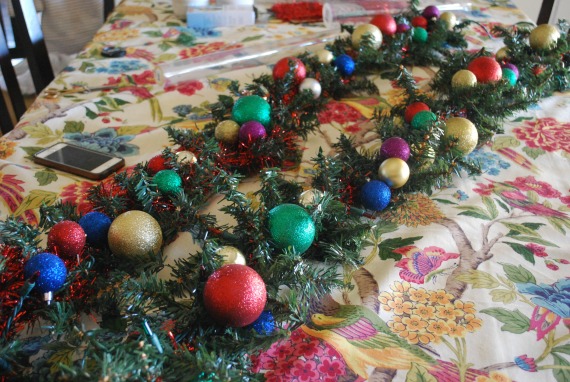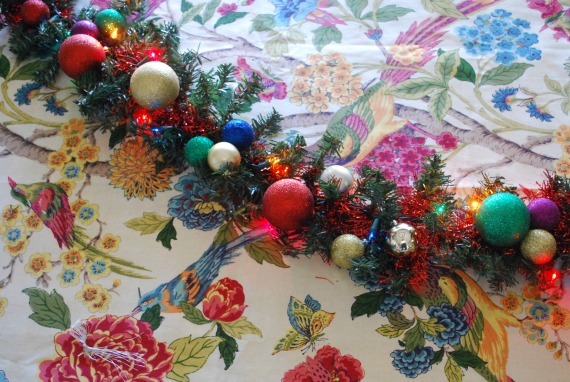 And that's it! The garlands took about 30-60 minutes to make. I'm honestly not too sure on the time because I was stopping to take pictures. It wasn't hard and didn't feel like an eternity. That much I can tell you.
Thanks to my friend Kelly–whose family owns Patio World/Christmas World–for showing me the double garland trick and convincing me I could make my own garlands.