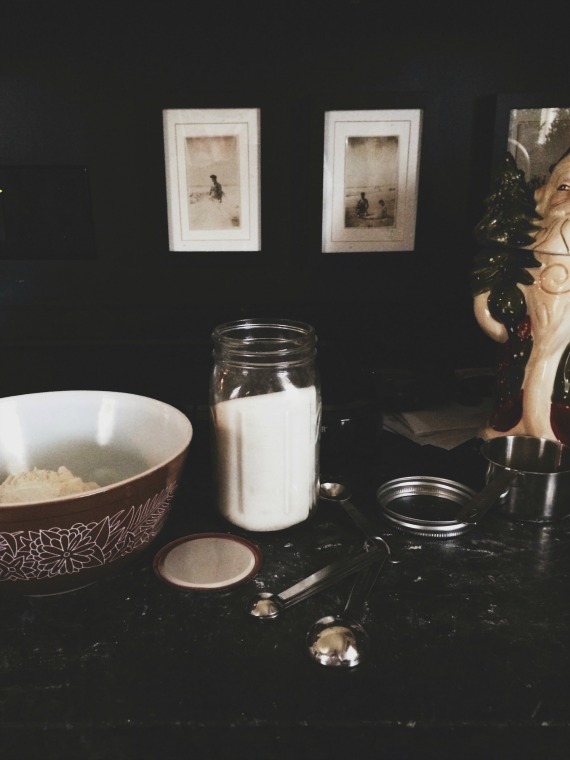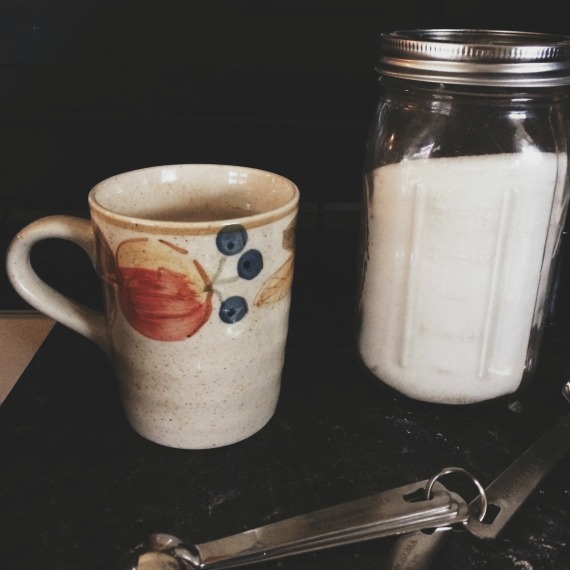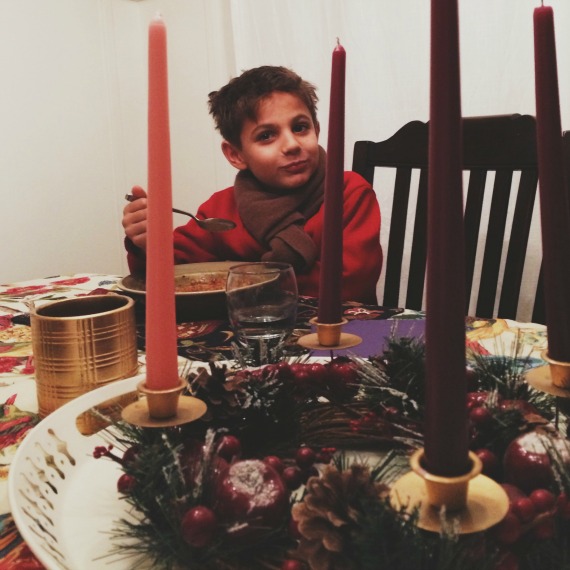 Saturday morning pancakes has become a tradition around here. I use a Martha Stewart Buttermilk Pancake recipe I found a few months back. It's my keeper recipe. I've tried several since then, and so far this one is almost everyone's favorite. Mikey favors one that produces thick, chewy pancakes no one else likes, so his vote doesn't count.
I make the pancakes in the same thrifted, brown pyrex bowl every time. It's one of my very few thrifting successes (the color could be better) and I use it for all of my baking. I have other bowls, but this one is the perfect size for mixing baked goods. If it's dirty and I have other bowls I can use in the cupboard, I'll wash this bowl.
The speckled mug with the peach and the blueberries and the inexplicable autumn leaf is for melting butter. Always and only. One day I heard a knock on the door, and on my porch were a three members of a new Seventh Day Adventist church going up in the neighborhood. We chatted for a while (Catholic, not going anywhere) and they gave me the peach/blueberry/autumn leaf mug with some literature. I didn't want them to waste money when surely there was someone on the fence who could use a good mug, so I tried to give it back. They insisted I keep it as a gift. That was 8 years ago, and every time I pull down that mug to melt butter I think of them. I shared this story with the Mister once when I asked him to bring me the "butter mug" and he looked at me like I asked him to mend a rift in time. When I explained to him the origins of the mug he didn't know we had, he called it marketing well done. I call it a darn fine butter mug. Seriously, perfection. I can melt an entire stick of butter in the microwave without the butter spilling over or the mug overheating. It's, like, the best butter mug ever.
I have the best bowl for baking and the best butter mug. I'm sure something else would work–maybe even something that wasn't thrifted or given to me for free–but I'm not willing to try because I've convinced myself that if I make pancakes in a different bowl or melt butter in a different mug the world will immediately splinter into sharp, irreparable pieces. And the pancakes are sure to taste terrible. Thick, chewy things only Mikey would like.
I've been eyeballing a Dutch oven for, oh, 13 years. I'm thinking it could become another one of my superstitious kitchen items. I would use it for soups, stews, and braised meats. Le Creuset has been out of my price range, but there are lower priced cast iron ovens on the market now. I don't know how they compare. I bought one two weeks ago (the one from Kohl's) and it's still in my trunk. I'm undecided.
It doesn't help that I made a beef and barely soup last night, only to discover no one really likes barley. Mikey called it "chewy, like tofu." Nico asked for more bread "because that's the only way I can eat this soup, mama." The Mister and I just chewed, and now I have heartburn. I knew I would get heartburn–barley has a similar texture to oatmeal, and I can't eat that in any form without my esophagus exploding into a fiery rage.