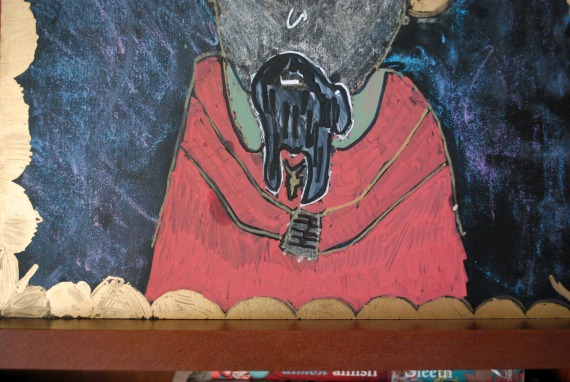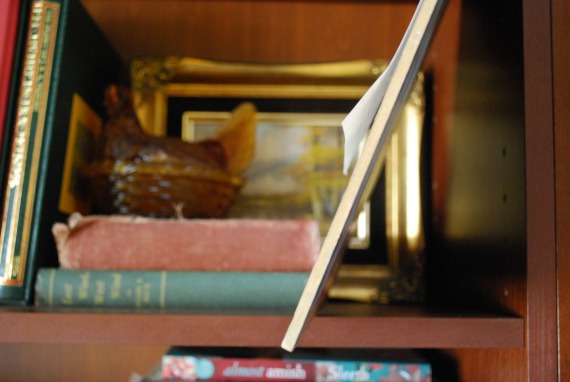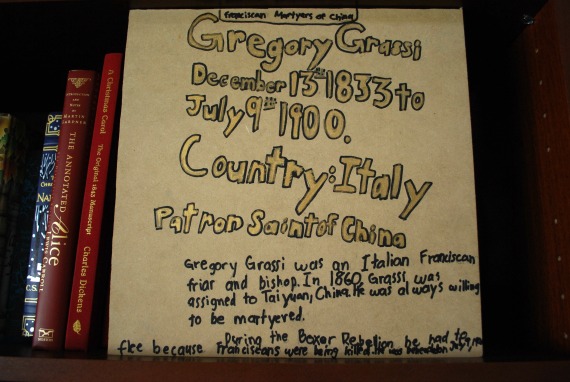 Mikey turned in his saint report lat week. He narrowed down the Franciscan Martyrs of China to Saint Gregory Grassi to avoid writing reports on 29 martyrs. Smart move. Saint Gregory represented the martyrs, who represented the 100,000 of executed Christians. Lots of representation going on; it was quite the bureaucratic saint report.
The original plan was to make a 12×12 Pokemon card for Saint Gregory. Just like a Pokemon card, it was going to have all his info, his "power" and his value. Mikey wanted to do this on wood since paper wouldn't be thick enough to paint on both sides. I sent the Mister to Home Depot to buy some thin veneer, and when he called and gave us all the options available he mentioned casually that they also had sheets of chalkboard.
That's all Mikey had to hear. His new idea was to do a chalk drawing of Saint Gregory, still in Pokemon format. Once he started drawing with the chalk, though, he realized how hard it was going to be to get any sort of detail. Midway through he changed his plans and decided he was going to make a "fancy old painting" of Saint Gregory using chalk, chalk pens, and paint pens. (I think he meant a renaissance style painting. That big gold orb behind Saint Gregory's head is his halo.) These were his reference images.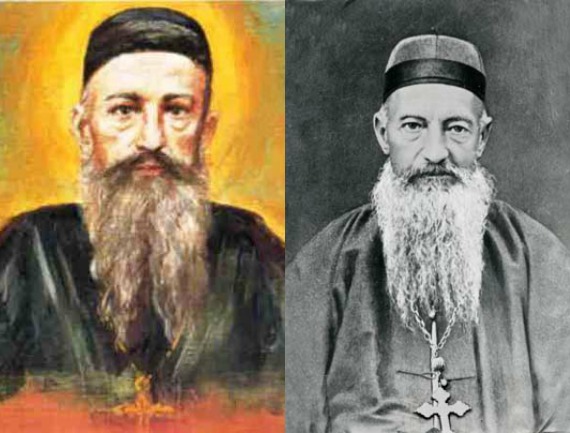 He was especially proud of his scalloped gold "frame" and the little lines that come out at each corner. Those lines, he says, is what makes the frame look real. I took a close up picture of the scallops. Guess which three scallops were mama's showing Mikey how to apply the right pressure with the paint pen? Guess who rolled his eyes and said, "Yeah, mom, I got this."
I'm curious to see what his grade is because there were some instructions that he felt messed with his "vision." He says he spoke with the teacher and got the okay to do what he wanted to do. We'll see what happens.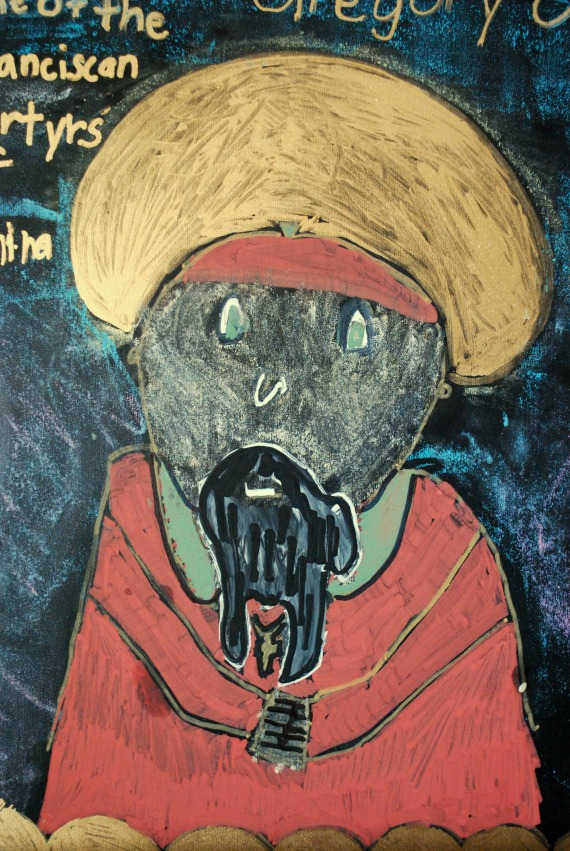 The saint reports (Nico had one, too, but only written) must have inspired me, or more likely I was desperate and looking for something to write about for NaNoWriMo, because I'm now writing a middle school book about an academy of future saints. Maybe. Not really. The story changes every day (today the main character is a regular kid convinced he's destined for sainthood, and I'm pretty sure that's the right direction to go) but I'm not letting myself go back and edit or I'll never get past the second paragraph. I'm incredibly behind on my word count and I want to burn down to cinders all…four pages I've written. This is easily the hardest project I have ever undertaken. Harder than walking every day, harder than any 31 day series, harder than eating at home for 30 days straight. In fact, if I wasn't working with Carey and Kendra or announced my intentions here, I would have already tossed in the towel. I should be at just over 6,000 words but I'm closer to 2,000, in case you were wondering.
My only saving grace is that I haven't put pressure on myself to create a work of art. I remind myself every day that I'm only doing this to get in the habit of writing fiction and to have fun. No more, no less. To facilitate that, I'm sticking to what I know: little boys, brothers, and quirky-dry humor. The main characters–two brothers–bear a remarkable resemblance to Mikey and Nico. Much of the dialogue comes from conversations with Mikey and some of the plot comes from his Friday journal. Every Friday Mikey's teacher has the kids write to their parents in journals they keep for the school year. They are supposed to discuss the week, shares their thoughts and feelings, etc. The parents (one or both) write back. When I am in the library, Mikey barely looks at me. I am the uncoolest of the uncool. If I ask him about his day after school, I sometimes get a mumble. I might get a little more if I'm lucky or if someone has especially wronged him that day. But in his journal, he tells me the best stories using his clear, unmistakable voice. (You've read his 3rd grade baseball essay, right?) It's one of my favorite parts of the week.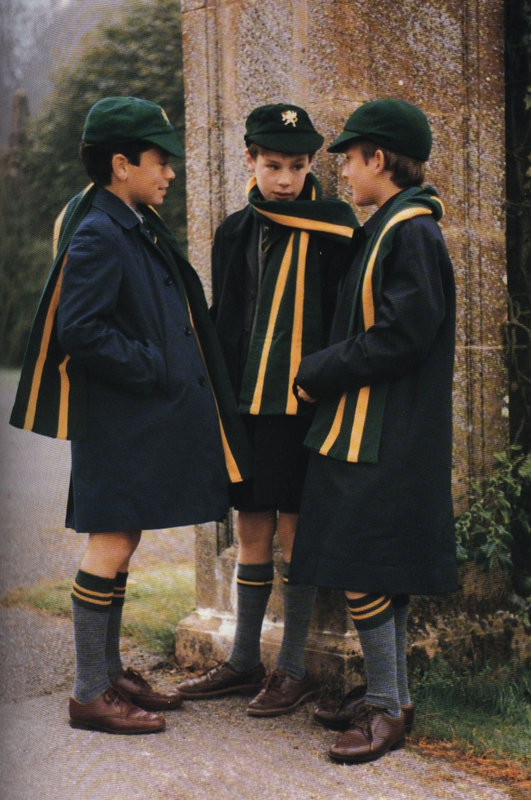 (An excerpt, but not the beginning. This is somewhere in the middle of the huge stack of 4 pages I've written.)
My name is Thomas, but everyone calls my Tommy. I am the future Patron Saint of Students. I bet you didn't see that one coming.

Forget everything you know about saints. We're neither heroes nor infallible. We're not gods. We're human, just like you. Sister Thérèse once said during assembly that our Lord needs from us neither great deeds nor profound thoughts. Neither intelligence nor talents. He cherishes simplicity.

That made me think of the Angelopoulos twins and what happened in Chemistry when they combined potassium nitrate and table sugar over an open flame. God is smart to keep His expectations low.
Thomas, for Saint Thomas Aquinas.
"I bet you didn't see that one coming" is a phrase Mikey uses often in real life and in his short stories.
"Assembly" is a weekly school meeting between students and teachers at Catholic schools. More spiritual than a pep rally, but nothing like mass.
The simplicity quote is one attributed to Saint Thérèse of Lisieux.
The Angelopoulos twins are really Sts. Cosmas and Damian, twin brothers and the patron saints of chemists. Angelopoulos–Greek for bringer of good news–is the first name that popped up when I Googled 'Greek last names.'
Image from Pinterest, no source.